FYI
Music News Digest, Sept. 17, 2018
Kensington Market Jazz Festival and Tiki Collective (pictured) shine, Drake tops AMA noms list, and WE Day returns to Toronto. Also in the news are Bandzoogle, Manitoba Showcase, Lennon Stella, Supercrawl, SXSW, Brad Fordham, SAC, Cowboy Junkies, Storyhive, and farewell Ira Sabin. Videos added for your enjoyment.
Sep 17, 2018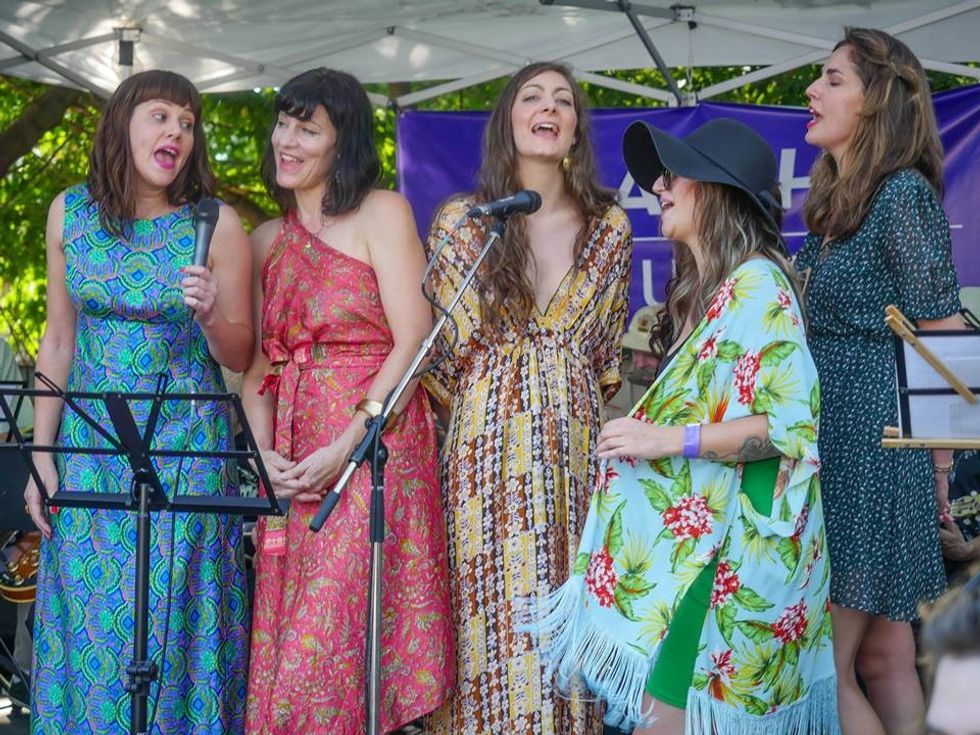 By Kerry Doole
The third annual Kensington Market Jazz Festival took over that famed Toronto 'hood on the weekend with over 150 shows in varied locales. The acts we caught on Saturday afternoon were of a uniformly high calibre. Inside the warm St. Stephen's Church, acclaimed pianist/composer/vocalist Fern Lindzon and accompanists Colleen Allen and Ross MacIntyre impressed with some fresh takes on classic jazz tunes and well-crafted originals. On the Slaight Music stage at El Gordo, Jaymz Bee's Tiki Collective charmed the crowd. Some of the city's best female jazz singers were backed by a stellar band on tunes taken from debut TC album Muse. Those dazzling included Geneviève Marentette, ( a co-founder of KMJF), Lily Frost, Irene Torres, Joanna Majoko, and Heather Luckhart. Over at Handlebar, the world music meets jazz strains of Peruvian-Canadian artist Patricia Cano met with a warm response. Our congrats to Molly, Genevieve, Ori, Celine and the KMJF crew.
---
– Drake and Cardi B lead all artists in the recently-announced nominations for The 2018 American Music Awards with eight total nods each. Shawn Mendes with two and The Weeknd with one are the only other Canadians on the list. See all the categories here The 2018 AMAs air live Oct. 9 on ABC at 8 pm.
– Youth empowerment event WE Day is set for Toronto's Scotiabank Arena on Sept. 20. Co-hosts Nick Robinson and Miss Piggy are joined by speakers and performers including Kareem Abdul-Jabbar, March for our Lives co-founders Adam Alhanti and Jaclyn Corin, Arkells, Celebrity Marauders, Michael "Pinball' Clemons, The Muppets, Penny Oleksiak, Mason Ramsey, Jessie Reyez, Lilly Singh,  Margaret Trudeau, and many more. In the evening, WE Day Family Toronto feature Peter Mansbridge, Serena Ryder, Walk Off The Earth and WE co-founders Craig and Marc Kielburger. A WE Day Toronto broadcast special premieres on Nov. 24 at 7 p.m. EDT on CTV 
– Musician website platform Bandzoogle has promoted Stacey Bedford, an 11-year veteran at the company, to CEO. Hired in 2007 as Bandzoogle's only support technician (and third staffer overall), the Ottawa-based Bedford has helped lead the company to record growth. Currently approaching its 15th year of operations, Bandzoogle now powers over 36,000 websites for musicians, who have sold more than $36 million in music and merch commission-free through the platform. Founder Chris Vinson continues with the company in his ongoing role as Chairman.
– The Manitoba Arts Network presents its Manitoba Showcase 2018 at the Portage and District Arts Centre (PDAC) in Portage la Prairie from Oct. 25-28. The event combines a full, 3-day art exhibition, daily music and arts seminars/workshops as well as five different performance showcases featuring 15 various performers from across Canada. Royal Wood, Those Guys, and JC Campbell are amongst the artists appearing.
– 19-year-old Ontario native Lennon Stella made a huge splash with younger sister Maisy for their onscreen and musical roles in the hit series Nashville. Lennon recently signed her first solo label deal with Records LLC/Columbia Records and has just released a debut single, "Bad," from an upcoming EP. 
– The 10th annual Supercrawl in Hamilton over the weekend was another popular hit, with the excellent weather helping out. Fest veteran and Hamilton Spectator music scribe Graham Rockingham tells FYI  it is likely the biggest yet, thanks to the addition of an extra day this year (on Thursday, it featured Broken Social Scene, Zeus, and Terra Lightfoot). We caught the fun yesterday afternoon and was impressed by sets from hometown favourite Ian Thomas, Aussie Will Crighton, and Lindi Ortega.
– South by Southwest has announced its first keynotes and initial speakers for the 2019 conference, taking place in Austin, March 8-17. Keynotes include Instagram C.E.O. Kevin Systrom, and a conversation among Shirley Manson of alternative rock band Garbage, singer-songwriter Lauren Mayberry of the Scottish electronic pop band Chvrches, and writer, producer, and director Marti Noxon.
– Many Toronto music scene notables were at The Great Hall on Friday night to witness a stellar show by two American roots music heroes, Dave Alvin (The Blasters) and Jimmie Dale Gilmore. Those spied included Russell deCarle, Richard Flohil, Steve Kane, Bob Roper, Tim Perlich, Gord Cumming and Tim Armour. Shining on bass onstage was former local boy Brad Fordham. He cut his teeth here with Rang Tango before relocating to Austin and working with the likes of The Wagoneers and Kelly Willis.
– Songwriters Association of Canada & Culture Days present Pro Co-Lab: A Look into a Pro Co-writing Session with Rob Wells and Shobha. It takes place Sept. 28 (2 pm) at SOCAN in Toronto or online via Livestream. Register for tickets via Eventbrite. Free registration for all attendees as part of Culture Days. 
– The recently released Cowboy Junkies album All That Reckoning has been notching excellent reviews internationally. A video for one track, "Mountain Stream," is now out, with songwriter Michael Timmins explaining "the song is an allegory about aging...about lost dreams and missed opportunities. It's based on the William Blake poem 'The Angel' and like the poem, it is set in a dream state." The group plays Ontario dates next month, followed by shows in the UK  and Europe.
– Storyhive is a music video program that makes funding accessible for creative projects for emerging musicians in B.C. and Alberta. It encourages emerging musicians from all genres to team up with filmmakers to pitch music video projects. 40 grants will be awarded and are valued at $10K each. Application deadline is Oct. 2.
RIP
Ira Sabin, Washington D.C. record-store owner and founder of JazzTimes magazine, died Sept. 12 at age 90, of cancer.
At 15, Sabin was working as a professional musician in the Washington DC area. In the 1950s, he served as an Army musician and performed in musical groups in the United States and Japan.
By the late 1950s, he was producing concerts featuring such acclaimed musicians as Count Basie, Duke Ellington, Miles Davis and Oscar Peterson. In 1962, he started Sabin's Discount Records, which carried one of the country's largest collections of jazz recordings. He began to publish a four-page newsletter for his customers, highlighting new record albums and upcoming performances at jazz venues.
The publication expanded and was christened Radio Free Jazz in 1970, then renamed JazzTimes in 1980. It reached a peak circulation of more than 115,000 in the late 1990s. The Sabin family sold the magazine in 2009, but it remains, along with DownBeat, one of the primary journals chronicling the music, personalities and educational opportunities in jazz. Source: Washington Post