FYI
Music News Digest, Oct. 25, 2021
Bruce Liu (pictured) wins a prestigious Chopin competition, the Music N.B. Awards are handed out, and the CCMA announces performing stars. Also making news are Barenaked Ladies, Andrea Ramolo, Swedish House Mafia, The Weeknd, Music NL, Chris Grey, Downchild, 519 Gala, Dominic Mancuso, and farewell Jonny Wong, Jay Black, and Bernard Haitink.
Oct 25, 2021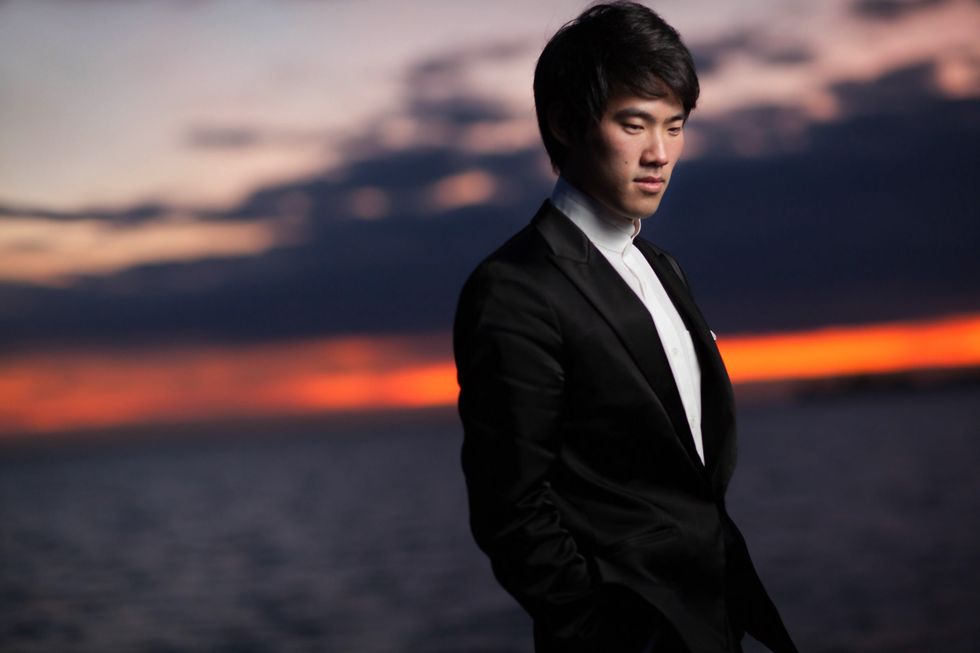 By Kerry Doole
On Oct. 21, Montreal pianist Bruce (Xiaoyu) Liu was named  the winner of the 40K Euro ($45K) first prize in the 18th Frederic Chopin international piano competition, a prestigious event that launches pianists' world careers. The Globe and Mail reported that "the announcement from the jury came just hours after Liu played as the last entrant among the 12 finalists, performing Chopin's concerto in E minor, opus 11 with the orchestra at the packed National Philharmonic in Warsaw. His inspired performance was met with huge applause." A video clip of Liu's performance has quickly received over 1.1M YouTube views. The victory also brings him a recording contract with famed label Deutsche Grammophon. 
---
– This year's Music N.B. Awards took place Thursday night, live-streamed from the Charlotte Street Arts Centre in Fredericton and hosted by David Myles. Wolf Castle and Les Moontunes topped the list of winners, with two trophies each, while the SOCAN Song of the Year prize went to One8tea. See the full list of winners here. Read CBC's report on the event here.
– The Canadian Country Music Association has announced the first round of performers for the 2021 CCMA Awards, and the list comprises Dallas Smith, Tenille Arts, Tim Hicks, MacKenzie Porter and Dustin Lynch. The show takes place at Budweiser Gardens in London, ON, on Nov. 29. Additional talent announcements are coming. For each ticket sold here, $1 will go directly to the CCMA Foundation, in support of The Unison Fund and MusiCounts. 
– Barenaked Ladies have announced a run of holiday concerts entitled Hometown Holidays with Barenaked Ladies, kicking off Dec. 2 and running to Dec. 23, at the CAA Theatre in Toronto. The majority of the shows will be Hits for the Holiday evening performances featuring hits, holiday fan faves from the Barenaked for the Holidays album. BNL will also perform Snacktime! matinee shows for the young, featuring songs from the Snacktime! album along with holiday favourites and classic hits. General on-sale starts Nov. 1 here  
– EDM star trio Swedish House Mafia has returned, announcing its first new tour in nearly a decade. Helping its reunion gain attention is the presence of The Weekend on the new SHM single, Moth to a Flame. The track will be included on an upcoming album, Paradise Again, and the group's 44-date tour of the US, Canada, and Europe starts next July. Itinerary and tix here.
 – MusicNL has announced the top 6 for the Fans' Choice 2021 Entertainer of the Year. In no particular order, the top 6 vote-getters are Rachel Cousins, Justin Fancy, Kellie Loder, Jason Benoit, Mallory Johnson, and Rum Ragged. The second-round of voting here will conclude on Oct. 31. The winner will be announced at the annual's awards show during the last week of Nov.
– Through earlier work as one half of roots duo Scarlett Jane and a series of solo albums, Toronto singer/songwriter Andrea Ramolo has established herself as a major talent. On Oct. 22, she released a new album, Quarantine Dream, produced, mixed and engineered by Sarah MacDougall. Her most recent single, Free, features Kinnie Starr, and was co-written by Ramolo, Starr, and Hill Kourkoutis. Ramolo plays release shows in Toronto (Nov. 11, Paradise Theatre), London (Nov. 12, Aeolian Hall), and Ottawa (Nov. 13, National Arts Centre). MacDougall guests on the latter two shows. Details and tix here. 
– Last week, 20-year-old Canadian producer (88GLAM) turned R&B singer/songwriter Chris Grey received a career boost by performing his single Seamless in the newest episode of Grammy.com's Press Play feature. Check it out here.
– Ongoing Covid concerns have forced veteran blues band Downchild to postpone its planned Nov. dates to spring 2022. Check out the new schedule here. Tix will be honoured for the new dates.
– The annual 519 Gala will be held as a virtual concert this year. Set for Nov. 14 (7.30 pm), it benefits Toronto's the 519, Canada's most prominent 2SLGBTQ+ community centre. The top-notch cast of performers includes Alan Cumming, Ben Vereen, Buffy Sainte-Marie, Serena Ryder, Jackie Richardson, and Theo Tams, plus surprise guests. Tix here.
– Acclaimed Toronto singer/songwriter Dominic Mancuso recently released Dances In My Mind, an album collaboration with famed Italian pianist/arranger Vittorio Mezza that Mancuso terms "my most ambitious yet." Back in 2010, Mancuso's album Comfortably Mine won the Juno award for World Music Album of The Year and earned him a Canadian Folk Music Award for World Music Artist of the Year. The new release confirms his formidable talent. More info here
RIP
Jonny (Jonathan Kevin) Wong, a blues saxophonist much loved on the Toronto scene, died on Oct. 15, at age 36, of leukemia.
In 2011, Wong took his sax to Humber College's Jazz Performance program. There he met his bandmates-to-be; Emily Burgess, Jesse Whiteley, Michael Archer and Lindsay Beaver. They formed the 24th Street Wailers and set out on a musical career that took them touring to festivals and clubs across Canada and the US.
The Toronto Blues Society's Maple Blues Awards acclaimed The Wailers as New Artists of the Year in 2012, and over the next six years the band recorded five CDs and performed extensively. The Wailers' album Wicked,  recorded in Austin in 2015, was nominated for a Juno Award for Blues Album of the Year. Wong's showmanship was a key element for the band.
Wong won Maple Blues awards as Horn Player of the year four times, in 2012, 2013, 2015 and 2017)
After years of music, touring and teaching, Wong pursued a career in computer coding and web development, with rapid success.
In lieu of flowers, a donation may be made to the Canadian Cancer Society or the Leukemia and Lymphoma Society of Canada in memory of Jonathan Wong. Sources: Mount Pleasant Group, Kawartha Now
International
– Jay Black (born David Blatt) singer of Jay and the Americans, died on Oct. 22, of complications from pneumonia, at age 82.
In his final years, Black, who performed his last concert in 2017, also suffered from dementia.
In the 1960s, he joined the band, taking over for original singer Jay Traynor. Black recorded a series of hits with Jay and the Americans, including Come a Little Closer (which peaked at No. 3 on the Billboard Hot 100 songs chart, in 1964), Cara Mia (peaked at No. 4, in 1965) and This Magic Moment (peaked at No. 6, in 1969).
Jay and the Americans were the opening act for the Beatles at their very first U.S. concert in 1964, in Washington, D.C.
The band parted ways in 1973, with Black moving forward with his career as a solo artist. He also enjoyed a short stint as an actor, with a supporting role in Frank Sinatra's Contract on Cherry Street in 1977.
Black often performed as a solo artist in the tri-state area and in Florida. He held an annual gig at New York's Westbury Music Fair, a theater on Long Island. Source: Billboard
– Bernard Haitink, a noted Dutch conductor who led the London Philharmonic Orchestra, has died aged 92.
His management company announced his death on Oct. 21, saying that one of the most celebrated conductors of his generation had died peacefully at his home.
The Guardian termed him "among the most revered conductors of his generation, having started out with the Netherlands Radio Philharmonic in the 1950s. 
It was in the Netherlands where Bernard Haitink forged his reputation as a conductor, starting his musical career as a violinist after spending much of his childhood under Nazi occupation.
He was principal conductor of the London Philharmonic from 1967 to 1979, music director at England's Glyndebourne opera for a decade until 1988, and music director of the Royal Opera , Covent Garden, from 1987 to 2002. He later became principal conductor of the Boston and Chicago symphony orchestras, and was chief conductor of the Dutch orchestra Concertgebouworkest from 1961 to 1988."
Even in his final months at the podium, two years ago, his performances with the London Symphony Orchestra received high praise.
Haitink made more than 450 recordings over his long career.
Read the full Guardian tribute to him here.