FYI
Music News Digest, Oct. 10, 2018
54-40 (pictured) recovers most of its stolen gear, FAI announces its showcase lineup, and Gord Downie's legacy shines brightly. Others in the news are the Rock & Roll Hall of Fame nominees, Chris Topping, The Dawson City Music Festival, Boi-1da, Taylor Swift, The Stratford Writers Festival, Radio Starmaker Fund, Lindsay Beaver, Covenant Awards, Monowhales, Ryan Dahle, and farewells to John Wicks, Hamiet Bluiett, and Montserrat Caballe. Videos added for your enjoyment.
Oct 10, 2018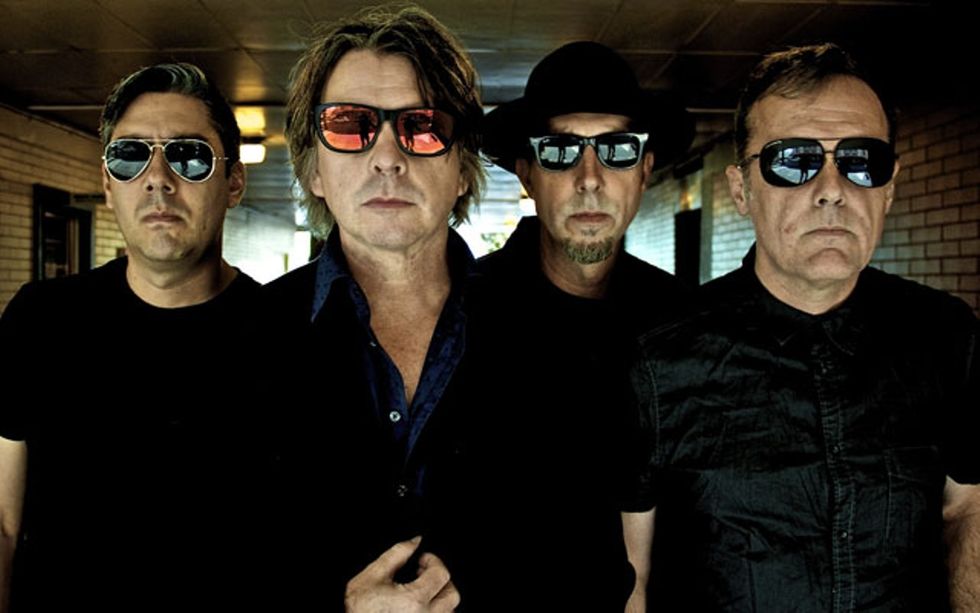 By Kerry Doole
The theft of instruments from bands on tour is sadly still common. The latest victims were 54-40, robbed of six guitars and one mandolin from an 18-foot U-Haul cube van in New Westminster last week, just before the group's homecoming shows at The Commodore in Vancouver. The band offered a $5K reward for the safe return of the equipment, and received good news on Sunday evening. Five of the seven instruments were recovered in Surrey after a search warrant was executed.
---
A Facebook post from the band's account said the instruments were irreplaceable and collectively were worth approximately $50K. On Instagram, guitarist Dave Gennposted a photo of the prized axes, captioned "Home safe and sound from their lost weekend in Surrey." Still missing are a Gibson SJ200 acoustic guitar and a Gibson Dove acoustic guitar. Further descriptions here
– Folk Alliance International (FAI) has announced the 2019 Official Showcase artists lineup for the 31st annual conference taking place Feb. 13-17, 2019, at Fairmont Queen Elizabeth in Montréal. Over 1,000 artists from 28 countries applied for 180 Official Showcase slots. A formidable list of Canadian artists includes David Myles, Mo Kenney, Shakura S'Aida, Matt Mays, The Wailin' Jennys, Stephen Fearing, Kaia Kater, Matt Andersen, Hawksley Workman, Frazey Ford, Harrison Kennedy, Oh Susanna, Dione Taylor, and Jenn Grant.
– Taylor Swift and Camila Cabello were the big winners at the 2018 American Music Awards (AMAs) last night (Oct. 9), taking home four trophies apiece. Shawn Mendes won as Favorite Artist - Adult Contemporary, edging out Pink and Ed Sheeran, but multiple nominee Drake was shut out. A full winners list here
– The nominees for induction into the Rock & Roll Hall of Fame in 2019 have been announced. They are Def Leppard, Devo, Janet Jackson, John Prine, Kraftwerk, LL Cool J, MC5, Radiohead, Rage Against the Machine, Roxy Music, Stevie Nicks, The Cure, Todd Rundgren, Rufus & Chaka Khan, and The Zombies.  Inductees will be named in December, and the 2019 Induction Ceremony is at Barclays Center in Brooklyn, March 29.
– The Burlington Performing Arts Centre, in collaboration with The Gord Downie & Chanie Wenjack Fund (DWF), will present Legacy: A Tribute to Gord Downie on Oct. 17, marking the one-year anniversary of Downie's death. The concert will include performances of his songs and shared stories by Twin Flames, Bruce McCulloch, Tom Wilson, Danny Michel, Trent Severn, Matthew Barber, and Damhnait Doyle. Speakers will include Chief R. Stacey Laforme, Mississaugas of the New Credit First Nation, and Sarah Midanik, President & CEO of The Gord Downie & Chanie Wenjack Fund.
Funds raised at this inaugural event will go directly to the DWF and the designation of the Downie/Wenjack Fund Legacy Space at the Burlington Performing Arts Centre - the first performing arts centre in Canada to do so. Legacy Spaces are designated spaces that are dedicated to providing accurate information regarding the Indigenous history and the journey of reconciliation.  Tix can be purchased by telephone (905-681-6000), online or in person.
– In other Gord Downie news, on Friday (Oct. 12) at 9 pm, CBC-TV will screen Finding The Secret Path, a documentary look at Gord Downie's heroic efforts in publicising the story of Chanie Wenjack and the horrors of residential schools.  That has involved an album (Secret Path), graphic novel, animated feature film, and a concert special.  The new doco is written and directed by Gord's brother, Mike Downie. It also airs Oct. 14 on CBC News Network and at cbc.ca.
– Popular Toronto music industry veteran Chris Topping has stepped down as Vice-President and General Manager of CARAS/The Juno Awards to develop some new ideas and projects and start a new company, Steady Go. He has worked with the Junos for the past 14 years. Steady Go is involved in management (Joel Stouffer of Dragonette), and many other projects, including SiriusXM's Top of the Country, The Sawdust City Music Festival (Topping is ED), the SOCAN Awards Gala, and CBC's Sounds of the Season fundraiser. We wish Topping all the best.
– The Dawson City Music Festival operates an annual Songwriter in Residence program with the support of the Klondike Institute of Art & Culture. The program brings a musician to Dawson City for a month-long, mid-winter stay (January) where the artist receives studio and living space at the historic goldrush-era Macaulay House. Submissions are now open, closing on Oct. 31. Apply here 
– Star Toronto hip-hop producer Boi-1da (Drake, Eminem) performs on a bill with 2 Chainz, Killy, and Savannah Ré at the Mod Club in Toronto on Oct. 24. The free show is presented as part of LOTTO MAX's Up Close program. Enter online for a chance to gain admission. 
– Taylor Swift has always been apolitical in public, but that has just changed. The star has announced she is endorsing two Democrats for the upcoming midterm elections while aligning herself to fight for LGBTQ rights, gender equity, and an end to the "terrifying, sickening and prevalent" racism in the US. "In the past I've been reluctant to voice my political opinions publicly, but due to several events in my life and in the world in the past two years, I feel very differently about that now," Swift wrote on social media on Sunday night, in a plea for her young fans to register and vote. Source: The Guardian
– The Stratford Writers Festival presents a Songwriters Circle featuring Donovan Woods and Trent Severn at Revival House in Stratford, ON, on Oct. 19. More info here
– Radio Starmaker Fund has announced details for its next round of funding. The deadline for applications via the website is 5:00 PM EST, Nov. 15. The funding org has increased the number of live appearances it will consider funding in Canada, the United States, the United Kingdom, France and Germany. The number of Canadian live appearances rises from 30 to 35 per year, the US rises from 35 to 40 per year, and the UK, France and Germany are up to 20 from 15. The subsidy amount available for each Canadian live appearance will stay at $1.5K and in all other territories at $2.5K.
– Signing to prestigious US blues label Alligator Records is a huge career boost for Canadian singing drummer, songwriter and bandleader Lindsay Beaver. Her solo debut, Tough As Love, comes out on Friday, and a major North American tour has been announced. After US club gigs starting Oct. 10, Beaver heads north for four western Canada shows, Nov. 10-21, followed by more US gigs in early 2019. Now based in Austin, Beaver formerly fronted Toronto band The 24th St. Wailers.
– The Covenant Awards recognize Christian music in Canada, and its 40th annual gala takes place on Jan. 24 at The Shaw Conference Centre in Edmonton. The nominees were recently named.
– Toronto rockers Monowhales have just released a new video for the third single from their EP Control Freak. Next month they play a co-headline tour with The Royal Foundry in Ontario, Quebec, Winnipeg and Saskatoon, with Alberta dates TBA.
– Canadian rocker Ryan Dahle (Limblifter, Age of Electric, Mounties) has a cool new recording credit. He is featured on Blow, the new album from acclaimed US saxophonist Donny McCaslin, known for his work on David Bowie's Blackstar. Other guest vocalists on the album include Sun Kil Moon's Mark Kozelek and fellow Bowie collaborator Gail Ann Dorsey
RIP
John Wicks, singer-guitarist of the British power-pop band The Records, died in Burbank, CA, on Oct. 7, of pancreatic cancer.
The Records were best known for the classic 1978 power-pop gem "Starry Eyes." Aside from fronting The Records, Wicks also had a productive solo career on such collections as the country-flavoured album Solace in Wonderland (1994) as well as Lessons Learned (2011) and Works in Progress (2012).
Wicks relocated to Los Angeles in 1994 and kept performing until shortly before his death. Sources: LA Weekly, Pitchfork
Hamiet Bluiett, an American jazz saxophonist, clarinetist, and composer, died on Oct. 4, age 78, of complications from a stroke.. His primary instrument was the baritone saxophone, and he was considered one of its finest exponents.
For more than four decades, Bluiett found a way to combine the avant-garde with traditional jazz. Along the way, he redefined the role of the baritone saxophone and co-founded one of the most successful groups in modern jazz: The World Saxophone Quartet.
Upon moving to NYC from his birthplace of St. Louis in 1969, Bluiett played with Charles Mingus and Sam Rivers before co-founding WSQ in 1976. Bluiett later led a virtuosic quartet, the Bluiett Baritone Nation. He also worked with Babatunde Olatunji, Abdullah Ibrahim, Stevie Wonder, and Marvin Gaye. Sources: NPR, Wikipedia
Montserrat Caballe (born Maria de Montserrat Viviana Concepcion Caballe i Folch), a Spanish opera singer renowned for her bel canto technique and her interpretations of the roles of Rossini, Bellini and Donizetti, died on Oct. 6, age 85. No cause of death was given.
Condolences poured in from the world of opera and Spain's highest authorities. King Felipe VI tweeted that Caballe was "the great lady of opera, legend of universal culture, the best of the best" and that "her personality and unequaled voice will accompany us forever." Spanish Prime Minister Pedro Sanchez said "a great ambassador of our country has died."
For tenor Jose Carreras, opera lost its "best soprano" with the passing of Caballe. "Of all the sopranos that I have heard live, I have never heard anyone like Montserrat," Carreras told Catalunya Radio.
Caballe was also a noted recitalist, particularly of songs of her native Spain. She was admired for her purity of voice, vocal shadings and exquisite pianissimos. She starred in 90 opera roles with nearly 4,000 stage performances. A 1964 performance at Carnegie Hall set her on the path to international stardom.
In a brief excursion into pop music, Caballe's duet "Barcelona" with Queen's Freddie Mercury was a hit single in 1987, accompanied by an album of the same name. The title track later became the anthem of the 1992 Summer Olympics in the city. In 1997, she sang on two tracks on an album by New Age composer Vangelis.
Caballe dedicated herself to various charities and was a UNESCO Goodwill Ambassador. Her funeral was held on Monday in Barcelona. Source: AP