FYI
Music News Digest, March 8, 2019
Shopé (pictured) wins CBC's Searchlight 2019, Randy Bachman gets profiled, and Unison teams with StayBillety. Also in the news are Squamish Constellation Festival, Tami Neilson, CIMA, Chris Hardy, Come From Away, Mappe Of,  Drake, SING!, The Police, Farnaz Ohadi, Carbon Memory, and farewell Robbie Smith and Charlie Panigoniak. Videos added for your enjoyment.
Mar 08, 2019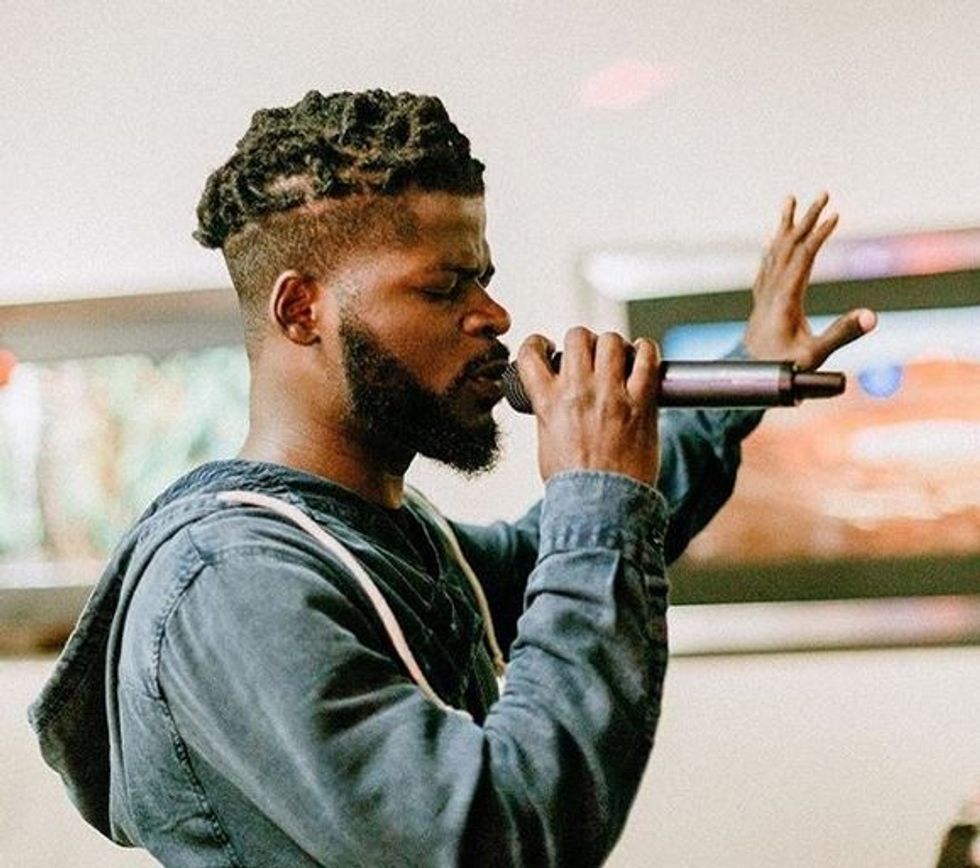 By Kerry Doole
Shopé (pronounced Show-Pay)is the winner of CBC's Searchlight 2019 competition. With almost 2,000 original songs entered since January for this year's edition of the annual contest, music acts from across the country vied for the top spot through a combination of public votes, a Canadian music industry panel and celebrity judges.
---
Shopé (Mosope Adeyemi)  impressed judges with his submitted track "Come Wid It." As part of the grand prize, Shopé will take part in Canada's premiere artist development program: the Allan Slaight Juno Master Class. This includes a performance spot at the 2019 Juno Master Class music industry showcase in Toronto and a trip to the 2020 Juno Awards in Saskatoon where he will perform at Junofest.
– Bachman, a documentary on the life and music of Randy Bachman (Guess Who, BTO) comes out on DVD, iTunes, Amazon Prime Video and Google Play on March 26. Directed by John Barnard(The Sheepdogs Have At It, Menorca), the film follows Bachman's journey from his early years growing up in Winnipeg through to his first taste of stardom with The Guess Who, his partnership with Fred Turner, and BTO's radio domination in the 1970s to the present, with Bachman still on the road at age 75. Such peers as Neil Young, Buffy Sainte-Marie, Paul Shaffer, Peter Frampton, and Alex Lifeson are featured. Source: ET Canada
– Commencing this week, The Unison Benevolent Fund, the national support organization for music professionals, has partnered with online accommodation service StayBillety.com to assist the music community with housing when travelling. "Unison Benevolent Fund is excited about our partnership with StayBillety and the unique resource that it offers to the Canadian music community," says Unison ED, Amanda Power.  "Whether you are a music lover travelling for a concert, a music-maker on tour, or an industry colleague attending an awards show, our friends at StayBillety offer great accommodation options and new friendships with like-minded individuals along the way." Further info at StayBillety.com/Unison 
– BC's new Squamish Constellation Festival, running July 26-28, has announced a strong inaugural lineup. It includes headliners Bahamas, Serena Ryder, and A Tribe Called Red, plus Dear Rouge, Peach Pit, the Boom Booms, Art D'Ecco, Half Moon Run, and Foxwarren. More headliners TBA. General admission full-weekend passes go on sale today (March 8) here
– Canadian turned Kiwi roots dynamo Tami Neilson celebrates International Women's Day by releasing a fiery new single, "Big Boss Mama," today (March 8). Conceived and directed by Tami's brother, Todd Neilson, the accompanying video is a homage to badass women throughout history, from Cleopatra and, Amelia Earhart to Buffy Sainte-Marie (an inspiration for Neilson) and NZ PM Jacinda Ardern.
– Toronto-based music presenter Soundstreams launches three performances of Seven Deadly Sins, an original musical at The Great Hall in Toronto on April 9–11
The cardinal sins, first enunciated by fourth-century theologian and monk Evagrius Ponticus, are the inspiration for Soundstreams' artistic director Lawrence Cherney who promises great contrasts both between and within the commissioned pieces, in styles ranging from classical, jazz, soul and avant-garde, to pop, and world music
– The next Lunch & Learn info session presented by CIMA and WorkInCulture is on March 19, at Array Space, 155 Walnut Ave, Toronto. The topic is Measuring Your Metrics: Data Tracking with Nielsen. Free for CIMA/MusicOntario members; $15 for non-members.
– Kobalt's recording company AWAL has hired Chris Hardy as Head of Operations, Canada. Based in AWAL's newly opened Toronto office, Hardy will act as the Canadian contact for global label clients. Hardy joins AWAL with more than 20 years of music industry experience in the Canadian market, with Sony Music Canada and, most recently, the Orchard. Source: MBW
– The U.K. version of hit Canadian musical Come From Away is nominated for nine Olivier Awards, Britain's equivalent of the Tonys. It's up for Best New Musical against Fun Home, Six and Tina — The Tina Turner Musical, and is tied with Stephen Sondheim's Company for the most nominations. Winners will be announced April 7 in London.
– Live dates by Mappe Of across Ontario and Quebec for April and May 2019 have been announced. They are accompanied by iPhone footage he captured while on tour, compiled by photographer and director, Colin Medley (U.S. Girls, Alvvays, The Weather Station). It features A Northern Star, A Perfect Stone track "Scathefire".
– Drake begins his series of shows in Las Vegas May 4, at the 3,000-person capacity XS Nightclub. This comes from his multi-year "partnership" with Wynn Las Vegas that reportedly calls for a minimum of 10 shows for a total payout of $10M. The deal includes construction of a new stage and "cutting-edge production to the storied 40,000 square-feet indoor and outdoor space". Tickets are tiered by gender with female indoor general admission set at $75 and males at $125. Previous acts for the venue include The Chainsmokers, Diplo, Marshmello, Kygo and DJ Snake. Sources: The Blast, WENN
– On the heels of their 5th consecutive award as a Top 100 Festival in Ontario from Festivals and Events Ontario, SING! The Toronto Vocal Arts Festival is launching in BC at the Port Theatre in Nanaimo, March 13, with The Tidesman Chorus and Countermeasure as part of Festival Nanaimo. 
– In our Headlines section on Wednesday, we linked to an iHeartRadio feature on The Police, and Sting's recent visit to Toronto's Horseshoe Tavern, site of the trio's Canadian debut show. Eagle-eyed readers Gary Topp and Doug Chappell pointed out errors in that story, namely the sequence of the following T.O. Police shows, promoted by the Garys, Topp Cormier. In the correct order: The Edge, the Music Hall, Massey Hall. Chappell was VP of the band's record label A&M back then and additionally notes that the group's album Outlandos d'Amour was released in Canada in Feb. 1979, not Nov. 1978, as stated in the story.
– Upstream Music Association and Halifax Jazz Festival present internationally acclaimed bassist Michael Formanek for a performance and workshop of exploratory music tonight (March 8) at Art Bar +Projects in Halifax.
– Vancouver-based Iranian-Canadian singer Farnaz Ohadi performs her presentation of Persian/Flamenco Bird Dance along with Mashregh Ensemble, March 9 and 10, at Toronto Centre for the Arts for the Tirgan Nourouz Festival. This is followed by shows at Shenkman Arts Centre, Ottawa (March 13) and La Sala Rosa, Montreal, (March 14).
– Toronto based alt-rock band Carbon Memory plays that city's Opera House venue on March 15, following a positive response to last year's debut EP, Panoramas. Here's a taste.
RIP
Robbie Smith, a singer/songwriter and multi-instrumentalist musician from Shelburne, NS, passed away on Feb. 27 at the age of 64 after being diagnosed with stage 4 incurable cancer in December.
He was one half of folk duo Naming the Twins, alongside Kathleen Glauser. The duo performed at numerous venues throughout Canada and the eastern U.S. over the past 10 years and recorded four albums, including Sing the Winter Away, released last fall.
Smith and Glauser were scheduled to start a 26-date tour through the United States to promote the album in January, but the tour was cancelled after Smith's cancer diagnosis.
A GoFundMe fundraising campaign was organized by Nicole Colbeck, music manager at Little Acorn Music, to both assist with the costs associated with the record and to help with Smith's end-of-life care and other personal matters. The campaign has raised over $21k.
At this time, there are tentative plans to hold a celebration of life for Smith in the spring. Source: Shelburne County Coast Guard
Charlie Panigoniak, a singer whose music spanned Inuit legends, modern Arctic life and Christmas carols, died on March 6 at his home in Rankin Inlet, Nunavut. He was 72 and had been in declining health for some years, suffering from dementia and Parkinson's disease.
Born in 1946 in a traditional camp on the land near Chesterfield Inlet, Panigoniak didn't move into a community until the late 1950s. He learned to play the guitar on an instrument his father made from a tin can.
In 1967, tuberculosis forced him south to a hospital in Brandon, Man. There, his ears were opened to the sounds of country and folk music.
Inspired, Panigoniak began writing Inuktitut songs about his friends, family and daily life and made his first recording in 1973. For decades after that he filled radio airwaves and community halls across the North, often working with his wife and musical partner Lorna Panigoniak, who survives him.
John Main, a music festival organizer and now a member of the Nunavut legislature, said in a 2018 interview that Panigoniak was popular across the Arctic. "He definitely draws a crowd. Everybody knows his name."
Panigoniak's music was sometimes religious, sometimes rooted in traditional stories. One song featured a talking seal. In another, he tapped his fingers on a guitar to imitate the sound of a traditional Inuit drum. Many of his songs were for children, and he did an Inuktitut version of "Rudolph the Red-Nosed Reindeer," which translates as "Rutami tuktugaqalaunipuq."
Nancy Mike of The Jerry Cans said Panigoniak was one of a pioneering generation of musicians and bands such as Northern Haze that performed in Inuktitut and sang about local experiences.
"To be able to express my feelings or thoughts, my go-to was always Inuktitut music, and Charlie Panigoniak was one of those people," she said. "He was an inspiring man."
Panigoniak received the Order of Nunavut in 2012, the territory's highest honour. Source: CP