FYI
Music News Digest, March 17, 2022
Arcade Fire (pictured) releases a new single today, Alex Lifeson has written a song in tribute to Neil Peart, and Tenille Arts grabs two CMT Awards noms. Also in the news are Music Publishers Canada, a Cape Breton Music Hall of Fame, Laketown Ranch, Folk Alliance, NSMW, MMF Canada, 604 INFINITE, Geoffroy, Rory Taillon, and farewell Donald Coakley and Barry Bailey.
Mar 17, 2022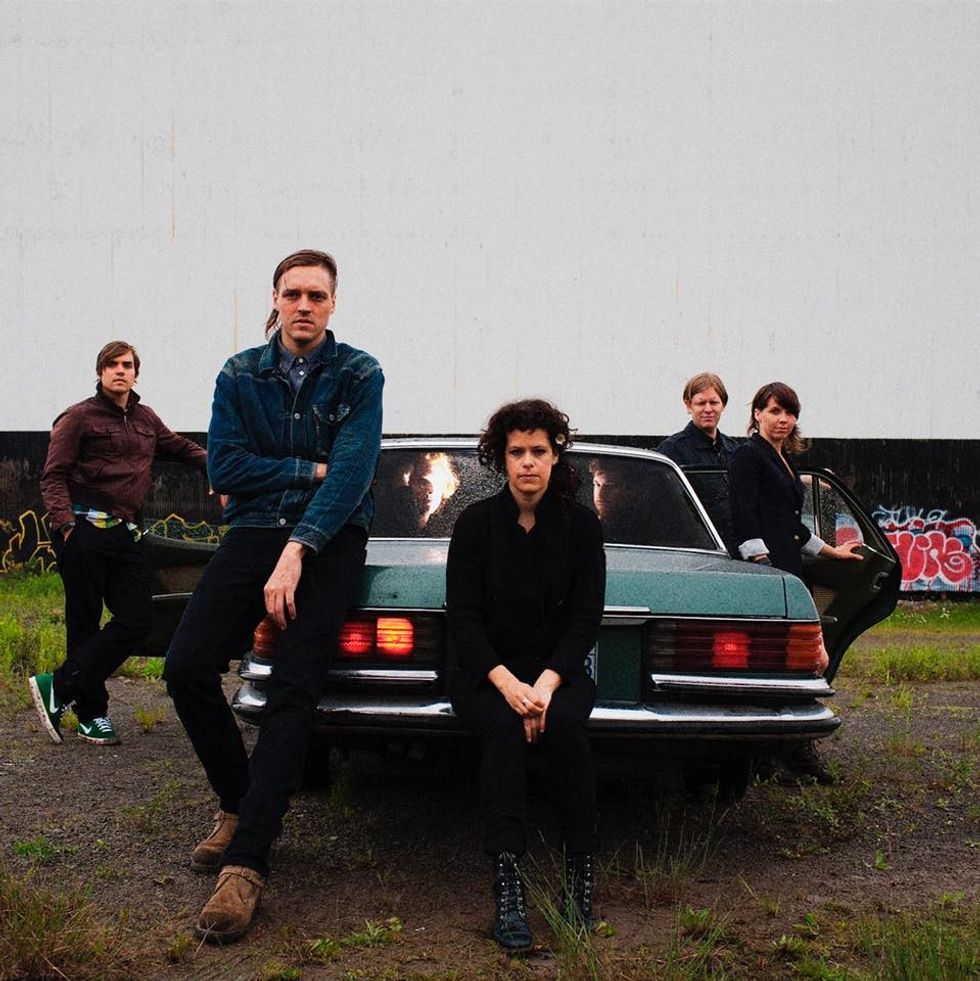 By Kerry Doole
Arcade Fire releases a new single, the band's first in three years, today (March 17). The arrival of The Lightning I, II follows a series of mysterious postcards that the band sent to fans, declaring "We missed you." The Montreal group's last album was 2017's Everything Now, and a new album has been promised since 2020. Arcade Fire recently played a show at New Orleans' Toulouse Theatre, with proceeds going to Plus1's Ukraine Relief Fund. 
---
– CP reports that Rush guitarist Alex Lifeson has written a song in tribute to his late comrade, Neil Peart. The Toronto musician says that the guitar-based instrumental Western Sunsets came together after Lifeson spent time with Peart at the drummer's home in Santa Monica shortly before he died of brain cancer in January 2020.
– Two Canadian female artists are included in the just-announced nominations for the Country Music Television (CMT) Awards. Tenille Arts is nominated in both the Female Video of the Year and Breakthrough Video of the Year categories, for Back then, Right Now. MacKenzie Porter is nominated for Collaborative Video of the Year, for her feature on Dustin Lynch's Thinking Bout You. Of note: Porter co-wrote the Arts hit. See the full noms list here.
– On March 7-9, Music Publishers Canada (MPC) & Australian Music Publishers Association Limited (AMPAL) collaborated on CREATE Australasia Canada Song Camp, an initiative to showcase Canadian and Australian songwriting and production talent through a virtual writing camp. It featured 40 songwriters and producers from Canada and Australasia in virtual writing rooms in which artists, producers and songwriters wrote original songs together in the pop and singer-songwriter genres. The boards of the two orgs also met virtually, to learn about the two markets and explore how their members can work together in the future. Notable Canadian song camp participants included Alex Sampson, Dan Davidson, Demetri James, Erin Costelo, new Juno nominee Hill Kourkoutis, and Jeremy Voltz.
– Planning has begun for a Cape Breton Music Hall of Fame, CTV reports. Nigel Kearns, chair of the board for Cape Breton Music Industry Cooperative, is heading up the Hall of Fame efforts, and he says the plan is to open a Cape Breton Music Hall of Fame somewhere in downtown Sydney. He explains it would include the music and memorabilia of some of the region's biggest names through displays and interactive experiences, as well as a 'Walk of Stars.' Organizers expect a combination of public sector support and private sponsorship to make the project succeed.
– A Live Nation Canada presentation, Laketown Ranch is a two-day concert series in Lake Cowichan, BC, July 22-23, with John Fogerty headlining the Sat. night and Tom Cochrane with Red Rider the Fri. night. Others on the lineup include Big Sugar, Keb Mo, and Wide Mouth Mason. Tix on sale tomorrow (March 18) here.
– Folk Alliance has announced that acclaimed jazz and blues singer Madeleine Peyroux and UK folk legend Shirley Collins will keynote the 2022 Folk Alliance International Conference. Set for May 18-22 at the Westin Crown Center Hotel in Kansas City, the conference will take place as a hybrid event this year, with both in-person and online options to attend. Registration is now open here.
– Each Nov., Music Nova Scotia presents Nova Scotia Music Week (NSMW) in different communities across the province. The org is seeking bids for Nova Scotia Music Week 2023, 2024, and 2025. Single or multi-year bids will be accepted. NSMW contributes over $2M to Nova Scotia's GDP annually. To view the RFP in full, click here.
– On March 23, 1-2 pm EST, MMF Canada presents a web discussion around live event contracts, contractor agreements and more with lawyer and musician Paul Banwatt. Topics include recent case law and best practices for contract clauses, including insurance, termination, force majeure, limitation of liability, and indemnification. Register here.
– Vancouver-based 604 Records is preparing to launch 604 INFINITE, an NFT platform to give fans a new way to experience their favourite artists at 604records.com. It will focus on the label's diverse roster of music artists, album artwork, and associated content spanning over 20 years. 604 INFINITE's first drop will come in the next month, featuring a marquee artist from the 604 label, followed by drops from all of 604's group of labels including Light Organ Records, Comedy Here Often?, and new ambient label Intraset.
– Quebec singer/songwriter Geoffroy released his third album, Live Slow Die Wise, in Jan, and he's about to set off on a 15-date cross-country tour, starting on March 24 at Quebec City's Imperial Bell and closing out at Ottawa's Club Saw on April 23. Tix here.
– Mundial Montréal has extended its call for showcase artists by two weeks. The annual conference runs Nov. 15-18. Apply here by April 1.
– Ottawa-based, classically-trained folk songsmith Rory Taillon has put out a video to accompany his current single,  Welcome, The song is from his album Drifting, which came out during Covid in 2020 and could not be properly supported. Check it out here.
RIP
Donald James Coakley, a noted Canadian classical musician, composer, and educator, died on March 2, age 87.
Born in Cambridge, ON, Coakley completed his undergraduate studies in 1960 at the State University of New York, in Potsdam, New York, earning a Bachelor of Science degree in Music Education.  Following graduate school, he taught at Cardinal Daugherty High School in Philadelphia, and also served as conductor of the Camden Choral Arts Society in Camden, NJ. He then joined the faculty of the School of Arts of the School of Music at Temple University.
In the early '70s, Coakley joined the Music Department of the Scarborough School System, becoming Assistant Coordinator of Music shortly thereafter. He was responsible for the elementary instrumental music program in the school system. He also headed the instrumental wing at the Scarborough Music Camps. and in 1970 he founded the Scarborough Schools Symphony Orchestra.
He wrote successfully for school, university and professional groups. He was a member of the Canadian League of Composers as well as an Associate Conductor with the Canadian Music Centre. In 1977, Coakley received the Distinguished Service to Education Award from the State University of New York; and in 1994 he received the Anson Taylor Award for excellence in teaching from the Scarborough Board of Education.
Donations in his memory may be made to a music education org, The Hammer Band. Source: Heritage Encyclopedia of Band Music
International
Barry Bailey, guitarist in Southern rock band Atlanta Rhythm Section, died on March 12, age 73, after a long battle with multiple sclerosis.
After playing on other artists' recordings, the Atlanta Rhythm Section was christened in May 1970, with Bailey on board as an original member. He and bassist Paul Goddard had played together in several groups and had also backed up Roy Orbison.
Signed by Decca Records, the band released their first album, Atlanta Rhythm Section, in January 1972, to limited commercial success. the band's second release, Back Up Against the Wall (1973), also failed to sell and Decca dumped ARS from their roster.
Polydor put out their third release, Third Annual Pipe Dream, in August 1974. It yielded the band's first hit single, Doraville" which peaked at #35 and pulled the album up to #74 on Billboard's Top 200 by Nov. 1974. The group released 13 studio LPs across their five-decade career. Along the way, the group scored several Top 20 hits, including So into You, I'm Not Gonna Let It Bother Me Tonight, Imaginary Lover, Do It or Die, and Spooky.
Bailey would play on every album until his retirement in 2006, the most successful of which was 1978's platinum-selling Champagne Jam. Sources: Wikipedia UCR,