FYI
Music News Digest, June 4, 2020
The Weeknd and Michael Bublé (pictured) dig deep for worthy causes, Howard Shore and Finding The Secret Path score at the 2020 Canadian Screen Awards, and Dan Mangan heads a CIMA webinar. Also in the news are The Polaris Music Prize, Bryce Clifford, Donny Anderson, Ori Dagan, Chad Brownlee, Rush, The Lowest Of The Low, T. Thomason, Summer Solstice Indigenous Festival, Mark Miller, Sonny Greenwich, Melissa Bel, The Music Hall, and farewell Majek Fashek, Bob Kulick, and Jimmy Capps.
Jun 03, 2020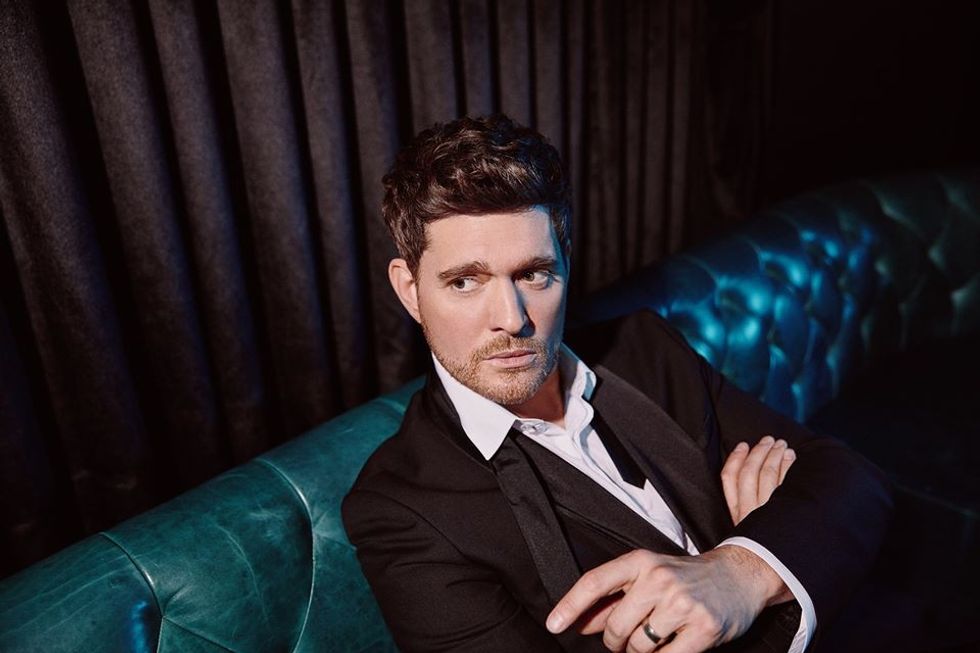 By Kerry Doole
The Weeknd donated $500K late Monday night ahead of Blackout Tuesday.  Organizations receiving the funds are Black Lives Matter Global Network ($200K), Colin Kaepernick's Know Your Rights Camp ($200K) and National Bail Out ($100K). The star followed up his donation—which he proved by posting receipts—with another tweet challenging UMG, WMG, SME, Spotify and Apple Music to "go big and go public" with their donations. He added "no one profits off black music more than the labels and streaming services. It would mean the world to me and the community if you can join us." Source: Hits Daily Double
---
Michael Bublé has pledged $100K to the ACLU (American Civil Liberties Union) in a matching challenge to his fans "to be part of the solution to help seek justice and equal rights," it was announced on June 3. Bublé added, "I stand in solidarity with the Black community and all people who seek justice and equal rights. I pray for the safety of the millions of peaceful demonstrators around the world in these devastating times — as they express their outrage and need for real change." Bublé will match every donation to the ACLU up to $100K. Source: Variety
– Today (June 4) is the deadline to fill out the Collaborative Canadian Music Event Survey. This is designed to assist conference and fest organisers in their planning in this pandemic age. Complete here
– The 2020 Canadian Screen Awards were presented online recently. In the film music categories, Howard Shore won for Best Original Score and Best Original song, both for The Song Of Names. On the TV side, the Best Original Music, Fiction award went to Amin Bhatia and Ari Posner, for Anne with an E, Ken Myhr won for Best Original Music, Non-Fiction forThe Accountant of Auschwitz and theBest Original Music, Animation award went to James Chapple, Graham Cornies, David Kelly, and Brian Pickett, for PAW Patrol – Mighty Pups Super Paws: When Super Kitties Attack.
The 2019 Juno Awards won for Best Live Entertainment Special, while Finding The Secret Path, featuring Gord Downie, won as Best Biography or Art Documentary Program or Series, with Gord's brother Mike Downie winning for Best Direction: Documentary Program. A complete list of all of the nominees and winners here.
– The Polaris Music Prize will reveal its 40 albums' Long List on June 15, with a little help from its friends. Past Polaris nominees currently confirmed to participate as presenters for this 15th edition of the prize include Art Bergmann, Jean-Michel Blais, Bonjay, Braids, Cadence Weapon, Charlotte Cornfield, Dilly Dally, Elephant Stone, Elisapie, Great Lake Swimmers, Haviah Mighty, Zaki Ibrahim, iskwē, B.A. Johnston, Partner, Klô Pelgag, PUP, Shad, Snotty Nose Rez Kids, Wintersleep, and Hawksley Workman. The 2020 Long List will be revealed via live stream on the Polaris Facebook page and YouTube channels starting at 12 p.m. EDT The 10 album Short List will be named on July 15 on a CBC Music radio special. The Polaris Prize-winning album will be revealed via CBCMusic.ca/Polaris at a later date. 
– After a decade-long stint on the Austin music scene, roots-rock singer/songwriter Bryce Clifford has moved back home to Hamilton. He has just released a new single Second Hand Smoke, ahead of a new record, Rebounder, due this August. Two years in the making, the album was produced in multiple studios between Ontario and Austin. Clifford tells FYI that "the record includes tracks produced with Elliott Brood, and with pedal-steel by Kim Deschamps (Cowboy Junkies / Blue Rodeo)."  A talent to watch.
– On June 4, from 5 pm EST, CIMA and Side Door present a zoom webinar entitled Making a Living with Rewarding Online Shows. It features singer/songwriter Dan Mangan, founder of online concerts presenter Side Door Access. Register here 
– Donny Anderson has released his first single of 2020, Lovin' You. The retro flavoured pop tune features soul star Divine Brown, and was written by Anderson with Rykka and producer Arun Chaturvedi at a Songwriters Association of Canada camp. Look for a debut solo album later in the year.
– Popular Toronto jazz vocalist Ori Dagan is live-streaming every Thursday in June via his Facebook page (2 and 7 pm). Themes include tributes to Judy Garland and Cole Porter.
– Canadian country singer Chad Brownlee is in serious hot water after sharing an anti-Semitic image on his social media accounts earlier this week. Exclaim!reports that the image featured a Photoshopped image of Jewish billionaire George Soros, alluding to a conspiracy theory about his control over the media. The posts have since been deleted, and Brownlee apologised on Twitter, but not before serious damage was done. Songwriting collaborator Donovan Woods tweeted the end of that relationship, and Jonathan Simkin, head of 604 Records and Light Organ Records, wrote, "some people used Blackout Tuesday (June 2) to promote bullshit anti-semitic conspiracy theories."
– Ron Hawkins and his former The Lowest Of The Low bandmate Stephen Stanley shared a live-stream concert last night (June 3), all for a good cause. Both artists solicited requests from their fans, with a $25 donation for each song (30 tunes in all) going to Black Lives Matter.
– Rush is on track to have its first top 10 album in the U.K. in 28 years, with a reissue of the 1980 album Permanent Waves, in all its prog-rock glory. Meanwhile, a New York radio show called Talking Golf became the first forum for one of the band members to express that they're in no hurry to return to any stage after the death of their drummer Neil Peart. Source: Marc Weisblott's 12:36
– The virtual edition of Ottawa's Summer Solstice Indigenous Festival began on June 1, running to June 21. Live streamed performances will include: local Inuit throat singers and Juno finalists Silla & Rise with DJ Trio, award-winning Métis and Inuit duo Twin Flames, Amanda Rheaume, Cody Coyote and more. The Pow Wow dance competition runs in partnership with the Social Distance Pow Wow Facebook group. More info here 
– Widely regarded as Canada's premier jazz journalist and author, Mark Miller has just self-published his 12th book, Of Stars and Strings, a biography of acclaimed Canadian guitarist Sonny Greenwich. Check the usual outlets for availability and read an excerpt here
– Canadian-born and UK-based artist Melissa Bel has released a new folk-pop single Can't Go Home. Her previous single, If She Hadn't Lied, reached #10 on iTunes Canada Top 200 Singer/Songwriter chart. Bel co-wrote Avril Lavigne's recent hit single Tell Me It's Over.
– In a blow for the Oshawa live music scene, The Music Hall venue has closed its doors. An announcement was made on its Facebook page Monday. The club owners stated that they did not qualify for any financial assistance and were unable to come to an agreement with the landlords. The Music Hall opened its doors in late 2015.
– East Coast artist T. Thomason has released a new version of Loser, a track from last year's self-titled album. This one features Ria Mae, and Thomason explains "it is a part of my Part II Project, continuing the album's story."
Obits
Majek Fashek (Majekodunmi Fasheke), a Nigerian reggae legend has died, age  57. No cause of death has been reported, though he'd been in poor health for some time.
The performer was popular for hits such as Send Down the Rain and So Long for Too Long, and he also worked with stars like Jimmy Cliff, Tracy Chapman and Snoop Dogg.
He was drawn to reggae in the 1980s at a point when highlife and juju were more dominant in Nigeria. His 1991 release So Long for Too Long, which carried a strong political and pan-African message gained Fashek acclaim across Africa. As a sign of his international reach, he appeared in 1992 on the high-profile David Letterman show on US television, where he sang the track. He also wrote the song Free Africa, Free Mandela, calling for the release of Nelson Mandela. Source: BBC 
Bob Kulick, a guitarist who played with Lou Reed, Meat Loaf, KISS, W.A.S.P, and others, died on May 29 aged 70. The news was confirmed by his guitarist brother Bruce.
Meat Loaf paid tribute via Facebook: "Bob, we could not have done it without you. As your Brother Bruce wrote yesterday, keep playing that guitar loud in heaven."
Kulick auditioned for Kiss in the early 1970s, but the lead guitarist role went to Ace Frehley. The musician contributed to several of Kiss' albums and worked with Paul Stanley on his 1978 solo album in 1978.
Kulick auditioned for Kiss in the early 1970s, but the lead guitarist role went to Ace Frehley, who went on to co-found the band with Gene Simmons, Paul Stanley and Peter Criss in 1973. The musician contributed to several of Kiss' albums and worked with Stanley on his solo album in 1978. 
His brother Bruce Kulick also played guitar for Kiss between 1984 and 1996, and the two brothers toured with Meat Loaf together.
Kulick also co-wrote the song Sweet Victory for the Super Bowl-inspired episode of Nickelodeon's SpongeBob Squarepants. Sources: Variety, UCR
Jimmy Capps, a US guitarist, Musicians Hall of Fame member and Grand Ole Opry veteran, has died, at age 81.
After getting his start with The Louvin Brothers in 1958, he went on to become one of the most sought after session players in Nashville. Some of the recordings he played on include Kenny Rogers' The Gambler, George Jones' He Stopped Loving Her Today, George Strait's Amarillo by Morning, The Oak Ridge Boys' Elvira, and Tammy Wynette's Stand By Your Man.
He also recorded with Janie Fricke, Lacy J. Dalton, Andy Williams, Ray Charles, Mac Davis, Moe Bandy, Barbara Mandrell, Joe Stampley, Johnny Paycheck, John Conlee and countless more.
Capps became an Opry member in 1959, then joined the Opry house band in 1967, playing lead guitar behind the radio show's guest artists every week up until his death. He appeared as "Sheriff" Jimmy Capps on Larry's Country Diner, and in 2018 published his autobiography, The Man in Black.  Source: Rolling Stone