FYI
Music News Digest, June 29, 2018
The Friar's Music Museum (pictured) celebrates Toronto's history, Drake's new album arrives, Prince's catalogue finds a new home, and the SOCAN Foundation launches an ncubator program. Also in the news are the Radio Starmaker Fund, Amplify BC, Avril Lavigne, Michael Buble, Guns 'N Roses, Celtic Colours fest, Jim Galloway, Halifax Urban Folk Festival, Jr. Gone Wild, The Lowest Of The Low, and a farewell to Joe Jackson. 
Jun 29, 2018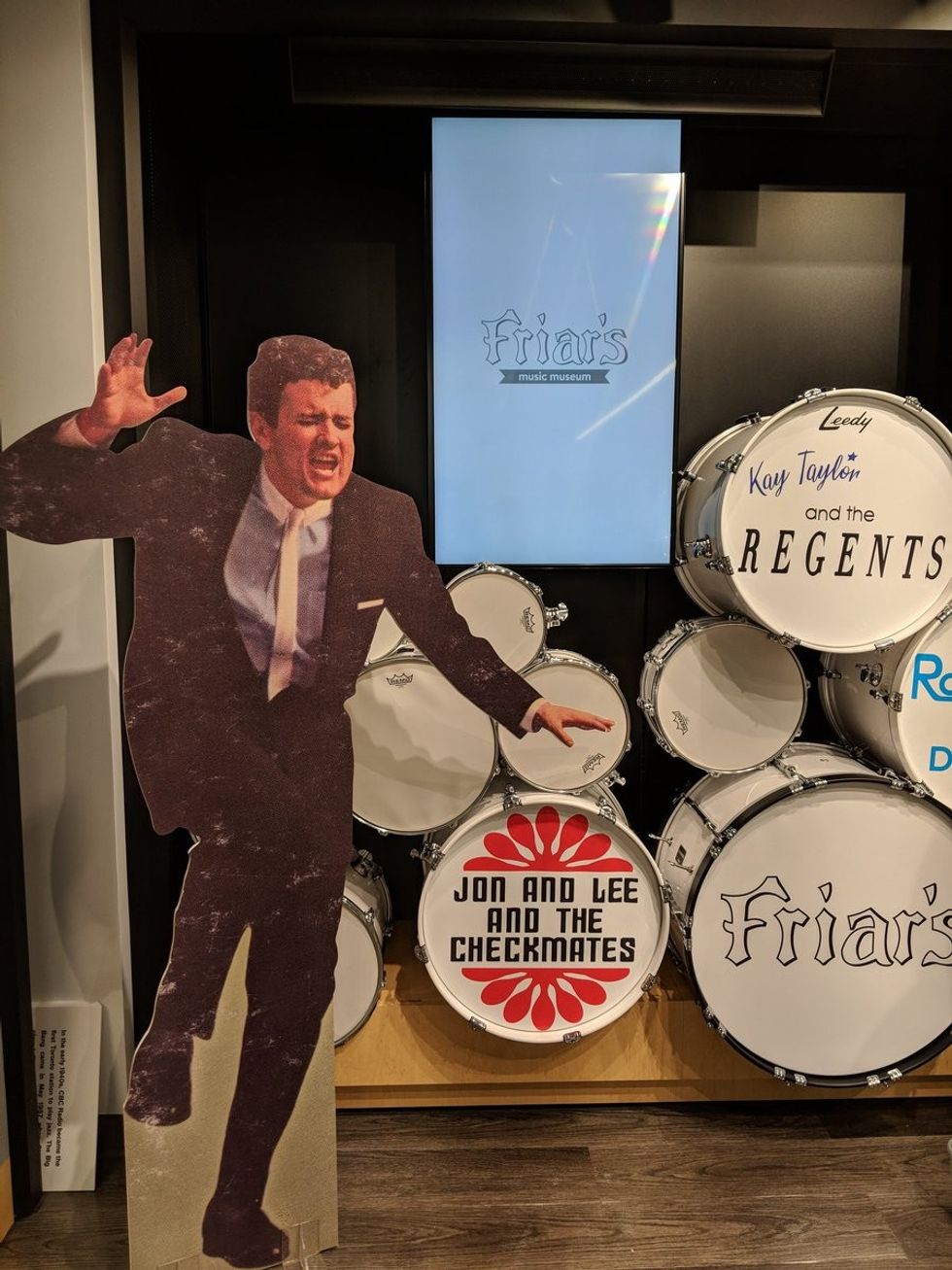 By Kerry Doole
Friar's Music Museum, a small space dedicated to the rich music history of Toronto's Yonge Street, opened yesterday (June 28). Located in a Shoppers Drug Mart store that previously housed Friar's Tavern and later, The Hard Rock Cafe, the nod to the past was spearheaded by Grammy-winning archivist Jan Haust and local music historian/author Nick Jennings. Instrumental in bringing the project to fruition was the Downtown Yonge BIA, a strong proponent for the revitalization of music—past, present and future—on Yonge.  A few blocks north of the site are large murals also depicting the strip's musical heritage. Source:  The Globe and Mail
---
– The subject of intense speculation, Drake's new album, Scorpion, is released today (June 29). It is described as a double-side rap/R&B album. Drake's longtime producers/collaborators Noah "40" Shebib and Olivier El-Khatib returned to work on this release. His fifth official full-length, Scorpion features 25 songs, and includes a contribution from Jay-Z. Sure to elicit comment is the track "Emotionless," on which Drake apparently confirms rumours that he has a son.  "I wasn't hiding my kid from the world, I was hiding the world from my kid," he raps on that cut. Sources: Rolling Stone, The Independent
– Sony Music Entertainment has signed an exclusive distribution agreement with Prince's estate covering 35 previously released album titles from the late star's catalogue. The catalogue will be distributed by Legacy Recordings, with worldwide rights beginning immediately to 19 album titles released between 1995 and 2010. The pact also includes rights to other material recorded post-1995 including singles, b-sides, remixes, non-album tracks, live recordings and music videos. 
From 2021, Sony/Legacy's distribution rights will be expanded to include 12 Prince non-soundtrack catalogue albums, featuring music recorded by the artist from the 1978-96 era for distribution in the US. This includes such albums as Prince, Dirty Mind, Controversy, Around The World In A Day, Sign 'O' The Times, and Lovesexy. Source: MBW
– The SOCAN Foundation has partnered with TD Bank Group to launch the TD Creative Entrepreneur Incubator program. Each participant will receive $3K for start-up costs (marketing, business development, branding, etc.), mentorship by an industry professional., and access to a webinar series led by industry professionals and experts.
They also gain a chance to participate in the Canadian Songwriters Hall of Fame residency (CSHF) residency. Five of the incubator participants will be invited to Toronto to take advantage of studio time at the Slaight Studio, a showcase opportunity, and an additional creative mentorship opportunity with an established songwriter, all during a residency in Toronto. Applications to the TD Creative Entrepreneur Incubator are currently being accepted until Aug. 8. More information about the program and eligibility requirements here 
– The website for the Radio Starmaker Fund is now back online and ready to take applications for its 68th round of funding. The next deadline for online applications is Aug. 16 at 5 pm.  The Vice-President of Programs & Applications, Jerry Leibowitz (jerryleibowitz@starmaker.ca), will be happy to help you with your questions should you need assistance.
– A "comeback" sixth album from Avril Lavigne has sure been a long time coming, but the singer tweeted this week that she is adding "finishing touches" to it. Lavigne also reported she has been working with top songwriter Bonnie McKee (Katy Perry, Britney Spears). Album release date TBA. Her last album, Avril Lavigne, came out in Nov. 2013.
– Amplify BC's Career Development program funds sound recording, marketing, and music videos for BC artists. The first deadline is July 25. The organisation has also just launched the 'Record in BC' category of the Career Development program, one in which national and international artists can apply for grants between $10-$50K. Applications will be accepted on a rolling basis, until March 31, 2019, or funds are no longer available. More details here
– Add one more to the long list of awards and honours superstar vocalist Michael Buble has received, with the announcement he'll be getting his own star on the Hollywood Walk of Fame next year. The honour is bestowed by the Hollywood Chamber of Commerce, with others in 2019's class including Robert De Niro, Anne Hathaway, and Daniel Craig.
– This weekend (June 29-July 1), a Guns 'N Roses pop-up shop is open in the Scarborough Town Centre, Toronto. It is designed to celebrate the re-release today of their classic debut album Appetite For Destruction, out on Geffen/UMC. The shop will sell different formats of the reissue plus never before seen exclusive Canadian Guns N' Roses merchandise.
 – The rich musical culture of Cape Breton will be celebrated by the upcoming Celtic Colours International Festival. It kicks off with a concert by Natalie MacMaster and Scotland's Blazin' Fiddles in Port Hawkesbury on Oct. 5. The nine-day fest features 49 concerts, with other artists named including Kate Rusby, Mary Jane Lamond, Phil Cunningham, Dave MacIsaac, Dave Gunning and J.P. Cormier, Véronique Plasse, Andrea Beaton, Calvin Vollrath, Wendy MacIsaac, Doug MacPhee, Brenda Stubbert, Howie MacDonald, and Ray Legere. Tix on sale soon.
 – Bandleader, saxophonist and longtime artistic director (1986-2009) of The Toronto Jazz Festival, the late Jim Galloway was a major force in Canadian jazz. A new documentary about his life and times, Jim Galloway: A Journey in Jazz, receives its TV premiere on TVO on July 5 at 10 pm, and can, from July 6, be viewed online across Canada here. The film, directed and produced by James Cullingham, fittingly received its first public screening at the Toronto Jazz Festival last night, followed by performances from Mike Murley and Mark Eisenman. 
 – The ninth annual Halifax Urban Folk Festival has announced the first three names on its lineup. They are former Crash Test Dummies mainman Brad Roberts, Hey Rosetta!'s frontman Tim Baker and Nashville singer-songwriter Lilly Hiatt. Primarily based at The Carleton, the fest runs Aug. 26-Sept. 2. Tix on sale now.
 – There is no shortage of July 1 shows across the country this year. The strong lineup for a free concert at Riverfront Park in downtown Moncton comprises local rock heroes The Monoxides, Quebec's Laurence Jalbert and Steven Page & the Odds.
 – Edmonton's Jr. Gone Wild was a leading Canadian exponent of the country-punk sound of the late '80s and early '90s. They reunited a few years back, but Toronto shows have been few and far between, so the return to The Horseshoe on Wednesday was keenly anticipated. They didn't disappoint, serving up old favourites plus a few new songs that impressed equally. Openers The Lowest Of The Low courageously seized the occasion to deliver 11 new songs, and they all sounded full of potential. Those spied included local musos Moe Berg, Ian Blurton, Kathryn Rose and John Borra, as well as scene veterans Richard Flohil, Ron Proulx, Jeff Rogers, Bruce Eaton, Jude Coombe, and Scott Dobson.
RIP
Joe Jackson, 89, the patriarch of the famed Jackson musical clan, died in Los Angeles on June 27, according to TMZ.  He had been hospitalized for terminal cancer. Jackson had 10 children with wife Katherine, whom he had been married to for more than 60 years.
Joe Jackson played a key role in launching the careers of his sons in The Jackson 5, helping to land the group a deal with Motown Records in Detroit and later starting his own label, Ivory Tower International Records. He also helped his daughter Janet launch her career via a record deal with A&M in 1982. His relationship with Michael Jackson became increasingly strained as Michael developed a successful solo career and, in 1984, Michael left the Jacksons (formerly the Jackson 5) amid allegations of physical abuse against the elder Jackson.
In 2002, the Rock and Roll Hall of Fame honored him as Best Entertainment Manager of All Time. Sources: Billboard, Celebrity Access, TMZ