FYI
Music News Digest, June 12, 2019
Arcade Fire (pictured) raise $250K in Montreal, Hot Child in the City enters Canadian Songwriters Hall of Fame, and a celebration of the life of Ralph Murphy is planned in Toronto. Also in the news are Elvis Costello, CIMA's Road Gold, Supercrawl, Toronto Fringe, Canada's Walk of Fame, Acoustic Guitar Project, Woodstock 50, The Sadies, and farewell Bushwick Bill. Videos added for your enjoyment.
Jun 12, 2019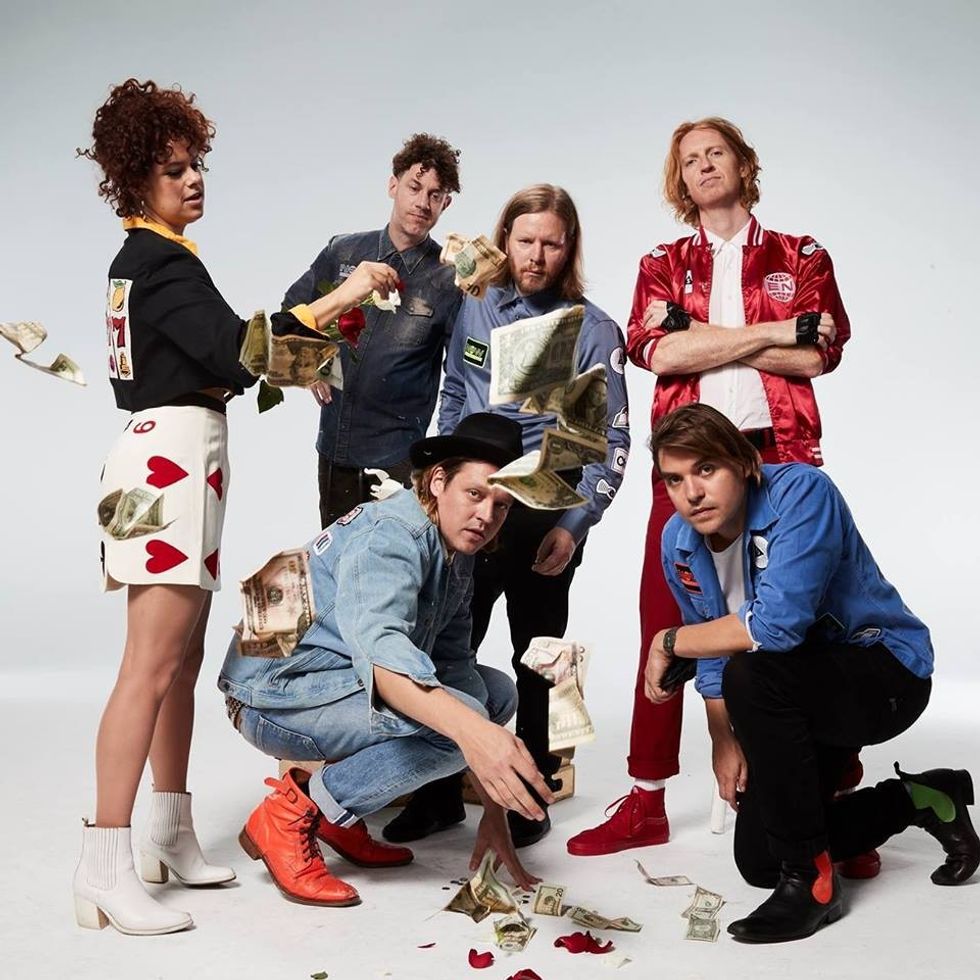 By Kerry Doole
Arcade Fire performed at an exclusive party at the Ritz-Carlton in Montreal on Saturday night, as part of a dual fundraiser for the band's Haiti relief foundation Kanpe and Toronto-based Artists for Peace and Justice(APJ), which also works in Haiti. Both organizations are celebrating 10th anniversaries this year. Arcade Fire received APJ's Peace and Justice Activist Award for its work helping communities in need in Haiti. The group has often played at APJ's annual fundraising event in Toronto.
---
More than $250K was raised over the course of the night, which featured a $500-per-seat dinner for 200 people, plus an auction. Arcade Fire's 20 minute set included the early classic Wake Up. Source: Montreal Gazette
–A reminder that applications for CIMA's Road Gold certification can be made anytime. The award acknowledges the dedication and drive artists must have to achieve success, broaden their fan base and express their artistry through strong public performances. Eligible are Canadian artists who have sold 25K or more tickets in Canada over any 12 month period on the road. Past Recipients include Big Sugar, Big Wreck, Colin James, Dean Brody, Johnny Reid, Matt Andersen, Natalie McMaster & Donnell Leahy, Paul Brandt, Terra Lightfoot, The Dead South, The Sheepdogs, and The Trews. 
–  Nick Gilder's Hot Child in the City reached Billboard's No. 1 in 1978, and it is now set to be inducted into the Canadian Songwriters Hall of Fame (CSHF). This takes place at a ceremony in Vancouver on June 18, as part of SOCAN's annual general meeting for members. The song was written by Vancouver rockers Gilder and James McCulloch after they left their successful glam-rock band, Sweeney Todd. In addition to platinum-record sales, Hot Child was recognized with Junos for Best-Selling Single and Most Promising Male Vocalist of the Year for Gilder, while he and McCulloch were also nominated for Composer of the Year in 1979.  
– A Canadian celebration of the Life of Ralph Murphy is set for Toronto on July 11, at Louis Cifer Bew Works (414 Danforth Ave), 7-10pm. The event will benefit Unison Benevolent Fund.
– Elvis Costello has been named an Officer of the Order of the British Empire, for 'Services To Music', which he has accepted with wit. Costello said in an open letter he was "happy to accept this very surprising honour," but was amused that nobody may have listened to some of his anti-establishment lyrics, especially regarding British politics. He included a Donald Trump insult, dubbing him a "mediocre entrepreneur" in his message. Other British musicians to be honoured in this latest round included Feargal Sharkey (The Undertones) and Andrew Roachford (Mike & The Mechanics).
– Some major Ontario music festivals continue to be impacted by cuts in provincial funding. Hamilton's large free streetfest Supercrawl has learned it will not receive any funding from Ontario Creates this year, after receiving $275K last year, but it is proceeding with the full previously announced lineup. Another Hamilton event, the Festival of Friends, received $49.7K from that fund last year but also comes up empty for 2019. Source: The Hamilton Spectator
– Venus Fest and Slaight Music are helping to program The Toronto Fringe Postscript Patio, with free, outdoor music happening every day July 3 - 14. It features performances by SATE, Cyber, DJ Max Mohenu, Moscow Apartment, New Chance, and more TBA.
– Now in its seventh year, Canada's Walk of Fame has opened submissions for its RBC Emerging Musician Program, with a deadline of Aug. 2. The Grand Prize Winner receives a cash prize of $20K, recording time at Metalworks Studios, introductions to established music artists and industry executives, public performance opportunites, and more. Info here
– Rescheduled from an earlier date is the Year 3 Finale Concert for The Acoustic Guitar Project, now set for June 19 in Toronto. The event features appearances from the current crop of songwriter/performers,  Amber McLean, Scarlett Flynn & Kevin Howley, Lori Cullen, Noah Zacharin, and Trevor Larose, plus guest appearances by songwriters from previous years. Tix and venue info here
– The latest setback for the problem-plagued Woodstock 50 festival is the news that the planned site, Watkins Glen International Raceway, has pulled out. Fest organizers insist the event will still proceed at a different locale, one yet to be announced. Source: Variety
– It is well-known that US indie film auteur Jim Jarmusch is a huge fan of Toronto roots-rockers The Sadies. In his brand new movie, The Dead Don't Die, at one point characters played by Danny Glover and Caleb Landry Jones  discuss the guitar prowess of the band's Dallas and Travis Good. 
RIP
Bushwick Bill (born born Richard Stephen Shaw), a rapper best known for work with Geto Boys, died June 9, age 52, of pancreatic cancer .
His macabre lyricism in the group Geto Boys was imbued with horror-movie violence drawn from life in Houston's rough Fifth Ward, and is credited with laying the groundwork for transgressive rap scenes to come.
The rapper was born in Kingston, Jamaica, with a form of dwarfism (he stood roughly 3 feet, 8 inches). After spending his early life in the Bushwick neighborhood of Brooklyn, his family moved to Houston in the '80s. He initially joined Geto Boys as dancer billed as Little Billy but soon became its most recognizable MC from the group's 1988 debut Making Trouble onward.
The group gained notice on the Houston imprint Rap-A-Lot, which helped pioneer a Southern-rap style of brash, noisy and tape-warped productions. Geto Boys immediately attracted controversy and intrigue for their surreally violent lyrics.
Geto Boys were an independent commercial hit, selling hundreds of thousands of copies of their albums across the south, and soon signed with mega-producer Rick Rubin.
Rubin reworked their second album, Grip It! On That Other Level, into what would have been the group's Geffen Records-distributed debut. But in an era when N.W.A became Christian-right villains and 2 Live Crew challenged obscenity charges in court, the major-label debut was thwarted after the label got nervous, declining to distribute it over its NC-17 content.
The group's 1991 album, We Can't Be Stopped, is perhaps its most infamous, featuring gory cover art. Bill released a solo album, Little Big Man, in 1992. Bushwick Bill would cameo on Dr. Dre's landmark 1992 album, The Chronic. 
Geto Boys had a lasting feud with Tipper Gore, wife of Vice President Al Gore and founder of the Parents Music Resource Center, an activist group that pressured labels into censoring lyrics the group found objectionable, But it likely only stirred their notoriety.
Geto Boys were scheduled to reunite this year for a short tour called The Beginning of a Long Goodbye: The Final Farewell, which acknowledged Bill's dire illness. However, the tour was soon canceled as Bill's prognosis worsened. Source: LA Times