FYI
Music News Digest, June 10, 2021
The Prism Prize announces its Top 10 (pictured), Global Toronto 2021 gets ready to roll, and a new take on Hall of Fame hit Black Velvet. Also in the news are Savannah Ré, JazzinToronto Live, Canadian Song Conference, Roger Mooking, The Atlantic Presenters Association, MMF Canada, Music Publishers Canada, and The John Lennon Songwriting Contest.
Jun 10, 2021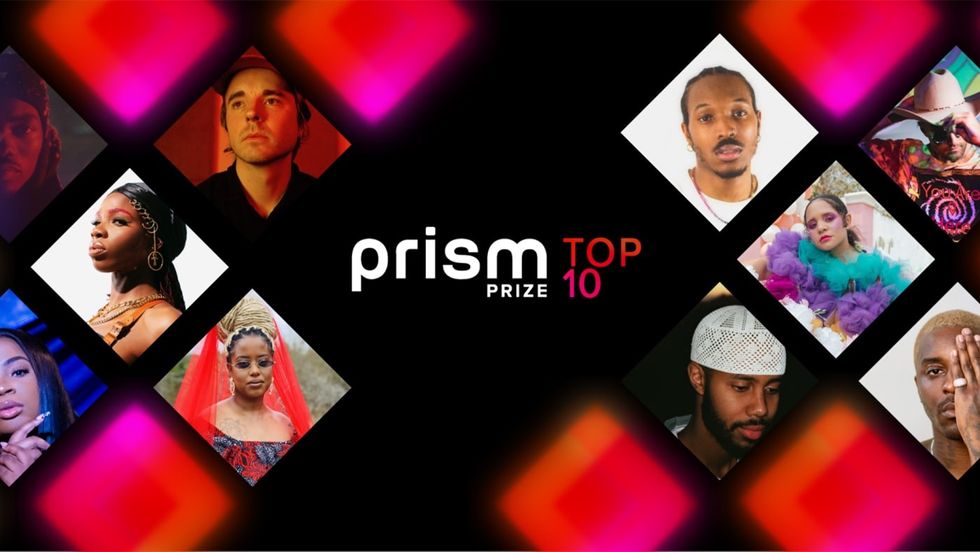 By Kerry Doole
The Prism Prize has named the Top 10 Canadian music videos shortlisted for the Grand Prize, to be announced during the 2021 Prism Prize virtual presentation on July 26. The 10 artists featured (in alphabetical order) are: Andy Shauf, Clairmont The Second, Haviah Mighty, Lido Pimienta, Mustafa, Rich Aucoin, Savannah Ré, Sean Leon, TOBi, and Witch Prophet. For a list of the directors of the nominated clips, go here.
---
Each year the Prism Prize jury reviews more than 300 eligible Canadian music videos and votes to determine the Top 20 (announced on April 29) and this Top 10 shortlist. One of these nominated videos will be named the Grand Prize winner and awarded $20K, while all other creative teams on the Top 10 shortlist will receive $1K courtesy of Patron partner Slaight Music. View the nominated Canadian music videos below. 
– Produced by Small World Music, the annual Global Toronto 2021 (GT21) music conference and showcase runs June 14-18. This year's global gathering explores equitable systems, climate justice, and the barriers that continue to exclude equity-deserving communities. The conference achieves this through action-based conversation, programming and events that will assist in developing ways to improve full-sector participation. Folk Alliance is partnering with Global Toronto to present two panels at the event: Facing Forward: Centering Disability across the Music Industry and Genre: What is it good for – and Where Does it Do Harm? Check out the full schedulehere. Global Toronto is offering free registration to the entire conference with the code FREEFOLK. – 
– It has been quite a week for Toronto R&B singer-songwriter Savannah Ré. She won a Juno on the weekend and has just been named on the Prism Prize shortlist for her video, Opia Experience. She has also just released a new track, 24hrs, via UMC. The emotional ballad was written by Savannah Ré and produced by YogiTheProducer (Kehlani, Jessie Reyez) and adamjosh.  Streaming linkshere 
– JazzinToronto has just announced an upcoming festival, set forJuly 20 - 23. JazzinToronto Live: A Community Celebration is a free fest that will  live-stream from some of the city's most beloved venues. The four-day digital event will present an impressive lineup, including Heather Bambrick, Jane Bunnett, Reg Schwager, Neil Swainson, Laura Hubert, Rebecca Hennessy, Alexis Baro, Nathan Hiltz, Donovan Locke, Jesse Ryan and Caity Gyorgy.. The org started on a social media platform, and this is the first fest it has produced. Stream for free on JazzinToronto's Facebook page here. The audience will be invited to make donations which will be split between the artists and participating venues. A GoFund me campaign to support the fest is here.
– As we reported earlier, the smash Alannah Myles hit Black Velvet, co-written by David Tyson and Christopher Ward, will be inducted into the Canadian Songwriters Hall of Fame on Global's The Morning Show today (June 10). In honour of the occasion comes an exclusive video recording by award-winning artists Serena Ryder and Damhnait Doyle, performing Black Velvet with Ward, which will be available on the Canadian Songwriters Hall of Fame website.
– Word from Music PEI is that its online Canadian Song Conference, held in the last week of May, was a major success. It offered an opportunity for artists from PEI and across the country to engage with music industry professionals to learn more about developing multiple revenue streams from their work. Panels on topics including royalties, film scoring, publishing, and livestreaming were delivered via Zoom by renowned international and domestic music industry delegates participating in the conference.
The event included the Canadian Songwriter Challenge. 9 Island artists were paired with other songwriters from Canadian Music Industry Associations and a Canadian music producer to, virtually, workshop, co-write and record two songs which were presented to music industry delegates at Listening Sessions at the conference.  Listen to those songs on a playlist here. A-list producers involved included Gavin Brown, Jason Barry, Daniel Ledwell, Howard Redekopp, Jon Matthews, and Steph Copeland. 
– On this week's episode of Steve Waxman's popular The Creationists podcast features musician turned celebrity chef Roger Mooking. He scored a Juno as a member of Bass Is Base, then turned to the kitchen, with stellar results.  At the end of the episode, Mooking walks viewers through the process of how he created the fried chicken dish he serves at his Twist restaurant in Toronto's Pearson International Airport. View it here.
– Today (June 10), from 5 to 7 pm, Music Publishers Canada and MMF Canada present a Mixer, an opportunity to  connect virtually with music publishers, artist managers, self-managed artists and music industry professionals from across Canada and beyond. This event is part of the MMF Canada Music Publishing Masterclass, a 2-day in-depth professional development series. This networking event is FREE for MMF Canada Masterclass participants, MMF members, and MPC Members, but is open to anyone. Tix are $20 for non-members. Register now here.
– The Atlantic Presenters Association (APA) is presenting a workshop on June 23 & 24 that focuses on creating top-notch hybrid conferences. The sessions run 2-4 pm on June 23, and 2-4.30 pm EST on June 24. Topics include designing online, event production, digital technologies for speakers and performers, programming formats, building an effective learning and networking environment, role of speakers, budgeting, revenue streams, and more. Discussion leaders include  Inga Petri, Lynn Feasey, Jason Guille and G.R. Gritt. Register HERE (it's free).
– The John Lennon Songwriting Contest Session 1 deadline is fast approaching  -- June 15.  The JLSC, celebrating its 25th year, will present over $300K in cash awards and prizes to contestants entering their original songs in 12 categories. Winners, including one Grand Prize Winner in each of 12 musical genre categories and 36 Finalists (3 in each category) will be announced Sept. 1, 2021. Session 2 opens for submissions June 16. The 2020 Song of the Year winner will be announced July 6, with a cash prize of $20K, plus studio gear and instruments. More info here.