FYI
Music News Digest, July 15, 2021
Crown Lands (pictured) announce their biggest tour yet, The Axis Club takes over from The Mod Club, and Charlotte Cardin will tour in January. Also in the news are Sal Slaidy, JazzinToronto Live, Jane Bunnett, Justin Nozuka, The TD Halifax Jazz Festival, Drom Taberna, POP Montréal, The Casbah, Lowest of the Low, Folk Music Ontario, MMF Canada, and farewell Skinny Tenn, Jeff LaBar, and Byron Berline.
Jul 15, 2021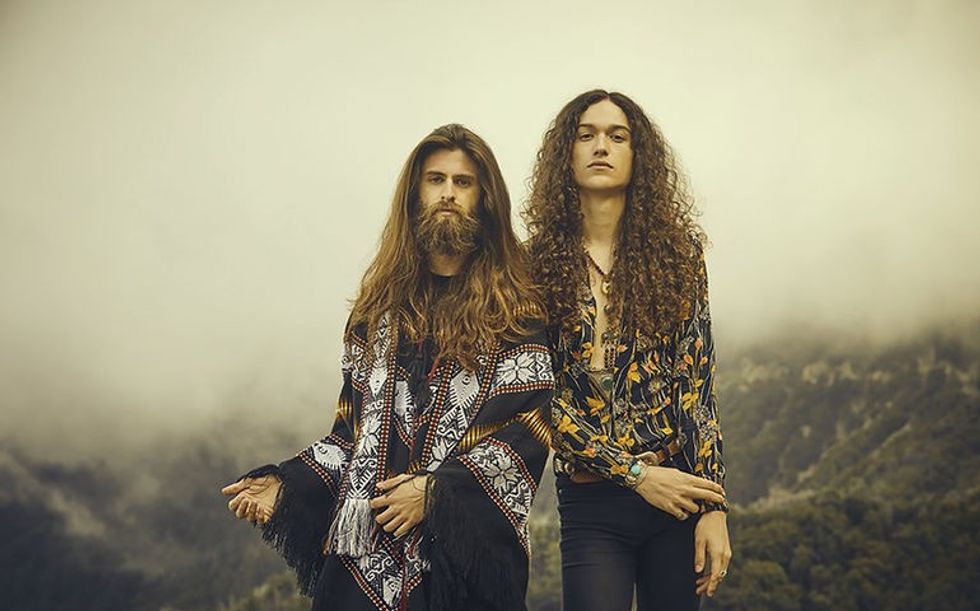 By Kerry Doole
Juno Award-winning, powerhouse rock duo Crown Lands – Cody Bowles (vocals and drums) and Kevin Comeau (guitar, bass, and keys) – has announced The Big Wave Tour, launching this Oct. The band's debut headlining tour will be a 13-date cross-Canada trek, with Skye Wallace joining as support. See list of full tour dates here. Tix will be available tomorrow (July 16) at 10 am local time on Crown Lands' website. In a press release, Crown Lands note "This is the biggest moment in our history: our first headlining tour.  Live music is back. We are here to push the boundaries of what two people can create together. It's been a hell of a year and we are emerging out of our musical cocoon better for it. The musicality and the production will set new bars across the board. We promise."

Last week the group released two new tracks, White Buffalo and The Oracle, out through Spinefarm Records/UMC. Both were recorded with 3x Grammy Award-winning, Toronto producer David Bottrill (Tool, Mastodon, Rush, Peter Gabriel).
---
– Quebec star Charlotte Cardin has announced dates for the Canadian leg of her Phoenix North American tour. She plays Edmonton's Starlite Room on Jan. 25, Victoria's Capital Ballroom on Jan. 28, NAC in Ottawa on Feb. 8, London Music Hall on Feb. 11, and Toronto's Winter Garden Theatre on Feb. 12. Tix on sale July 16 at 10 am here
– Here's some welcome good news for the Toronto live music scene. The Axis Club, the newly-renovated venue formerly known as The Mod Club, will open with the Axis Festival Sept. 9 & 10. The venue has partnered with Happin, a ticketing and live streaming platform, for the venture. The 618-person capacity club has been retrofitted to facilitate live broadcasting. NOWreports that the new venue's general manager is Orin Bristol, who comes from INK Entertainment where he directed of operations for Rebel and Cabana. Venue manager Jorge Dias was with The Mod Club and the pair is working with Alex Patton and AP Productions (Boots & Hearts, OVO Fest, WayHome). Bristol is also helping relaunch Revival and the Markham Fairgrounds Complex. A portion of ticket prices for The All Axis Festival will be donated to Unison Benevolent Fund. More info here. Acts booked for Axis in the upcoming months include Arlo Parks, Crown Lands, The Zolas, and Marie Davidson & L'Oeil Nu. The venue will primarily be booked by outside promoters, including Live Nation, Collective Concerts, an Embrace.
– The Royal Conservatory and JazzinToronto are co-presenting JazzinToronto Live: A Community Celebration, a free digital festival live-streaming from various venues. The four-day digital event will run from July 20 - 23, culminating in a double bill at Koerner Hall with multi-award winning headliners Jane Bunnett and Heather Bambrick. Other shows feature Reg Schwager, Neil Swainson, Laura Hubert, Rebecca Hennessy, Alexis Baro, Nathan Hiltz, Donovan Locke, Jesse Ryan and Caity Gyorgy.
– Canadian singer/songwriter Justin Nozuka will perform a virtual live concert on July 22 at 7 pm. He announced the show via an Instagram post. The stream will be available exclusively in the Justin Nozuka App, and will be rebroadcasted on July 23. He previously shared his new EP, then, now & again, out via Post 1988/Black Box. 
– Sean 'Diddy' Combs (the artist formerly known as Puff Daddy) has announced his signing of a management deal with top Canadian artist manager Wassim 'Sal' Slaiby (The Weeknd, Doja Cat, Ali Gatie). Source: Billboard
– The TD Halifax Jazz Festival announces its TD Jazz Labs and Creative Music Workshop as part of the 35th annual TD Halifax Jazz Festival. The Jazz Labs will include artist talks, master classes, and discussions surrounding creativity in today's musical landscape. Workshops will run every Sat. from July 17 - Aug. 14 at 11 am on Facebook and Youtube. Mainstage acts appearing at the fest include Ben Caplan (July 15), Measha Brueggergosman (July 16), and Hillsburn (July 17), while the St. Matt's Church virtual series, from July 21-24, includes Blackwood, Kim Harris, and Jennah Barry. More details here.
– Drom Taberna is a Toronto bar/resto now hosting live music on its patio. Recommended is a July 21 show (7 - 10 pm) featuring local jazz combo the Nick Maclean Quartet and noted special guest Brownman Ali. Info here. It is also a Facebook event .
– POP Montréal dans la ruelle is a series of five pop-up hybrid concerts in the backyard at Ursa, running between July 17 and Aug. 21. Artists featured include Thus Owls, Myriam Gendron, Hua-Li, Eve Parker Finley, Thanya Iyer, Daby Touré and more.
– Noted Hamilton music venue The Casbah is not able to host shows indoors just yet, but has begun presenting live music on its patio. Upcoming are local singer/songwriters Matty Simpson (July 20), Brennagh Burns (July 21), and Mary Simon (July 25).
– Toronto indie rock favourite Lowest of the Low is partnering with RSD Drops (Record Store Day Canada) on July 17 to retail a blue vinyl 12-inch single, titled Lowest of the Low - Live at Lee's, available only at participating record stores. It features Bleed A Little While Tonight on the A-side and a ska cover of The Weakerthan's Pamphleteer on the B-side, recorded in Dec. 2019 at a Lee's Palace gig.
– Folk Music Ontario is now seeking individuals to stand as candidates in the 2021 election of its Board of Directors. Submit a nomination form here. Deadline is July 16.
–  On July 21 (1-2 pm), MMF Canada presents a Webinar entitled Intro to Private Copying, with Lisa Freeman, Canadian Private Copying Collective (CPCC) . Register here.
RIP
William 'Skinny' Tenn, a veteran Toronto-based artist manager, A&R exec, and independent label head, died on July 13. A full obituary/tribute will appear in FYI soon.
Byron Douglas Berline, an American fiddle player who played rock, country and many roots music styles, died on July 10, at age 77, of complications of a stroke
Born in Kansas, he recorded the album Pickin' and Fiddlin' with the Dillards in 1965. That year he met Bill Monroe at the Newport Folk Festival and joined Monroe's Bluegrass Boys for a brief spell in 1967, prior to getting drafted.
He won the National Oldtime Fiddlers' Contest Championship in Weiser, Idaho, in 1965, 1967 and 1970.
Discharged from the Army in 1969, Berline joined Dillard & Clark on the album Through the Morning, Through the Night. He moved to Southern California that year.
He played on Country Honk on the Rolling Stones' album Let It Bleed—the song the Stones later recorded as Honky Tonk Women.
Berline joined The Flying Burrito Brothers in 1971, recording two albums, Last of the Red Hot Burritos (Live) and Six Days On the Road: Live in Amsterdam. After the Burritos' breakup, Berline briefly worked with Stephen Stills's band Manassas, then, early in 1972, he co-founded Country Gazette.
 He then formed Byron Berline and Sundance, whose self-titled debut album was released on MCA Records in 1976. The album Live at McCabes was released in 1978.
In 1981 he formed the band Berline, Crary, and Hickman (BCH)  That group later became known as California and was named the International Bluegrass Music Association Instrumental Group of the Year in 1992, 1993, and 1994.
In April 1995, Berline moved to Guthrie, Oklahoma, to open a fiddle shop called Double Stop. From the jam sessions there on the upper floor The Byron Berline Band was formed, and it regularly play edaround the US and in Europe until recently.
Two years later he founded the annual Oklahoma International Bluegrass Festival.
Berline recorded several solo albums, most notably Fiddle and a Song, with guest performances from Earl Scruggs, Bill Monroe, Vince Gill and Mason Williams. In 1995 it was nominated for a Grammy Award for Best Bluegrass Album. Its song Sally Goodin was nominated for Best Country & Western Instrumental Performance.
In Feb. 2019, the Double Stop Fiddle Shop burned to the ground while Berline was in Mexico. He opened a new venue, the Double Stop Fiddle Shop and Music Hall, across the street.
Berline recorded with many well known musicians including The Rolling Stones, Bob Dylan, Elton John, The Byrds, Janis Ian, Earl Scruggs, Dillard & Clark, Willie Nelson, Bill Monroe, The Flying Burrito Brothers, Doc Watson, John Denver, Gene Clark, Rod Stewart, The Eagles, The Band, Vince Gill, Gram Parsons, Emmylou Harris, Tammy Wynette, Alabama,  Mary Chapin Carpenter,  Mason Williams,  Bill Wyman, Manhattan Transfer, Joe Diffie, The Doobie Brothers, Lucinda Williams,and Mickey Gilley.
His music has also appeared in television and film soundtracks, including Star Trek, Blue Collar, Basic Instinct, Blaze, Back to the Future Part III, Northern Exposure, and Stay Hungry.
Sources: Wikipedia, Variety
Jeff LaBar, longtime guitarist of the glam metal band Cinderella, has died at age of 58. LaBar's son, Sebastian, shared the news of his father's passing in a social media post on Wednesday.
LaBar joined Cinderella in 1985 right as the band hit the studio to record their debut album, Night Songs. Thanks to its breakout single, Nobody's Fool, as well as a slot opening on tour for Bon Jovi, Night Songs became one of 1986's biggest albums, achieving triple platinum status and peaking at No. 3 on the Billboard 200.
Cinderella's follow-up, 1988's Long Cold Winter, was another hit. With a pair of top 20 singles in Don't Know What You Got (Till It's Gone) and Coming Home, the band's sophomore album was later certified as triple platinum.
Vocal issues experienced by singer Tom Keifer led to a significant delay in the recording of Cinderella's album Still Climbing, and by the time it was finally released in 1994, interest in the band had waned.
Cinderella briefly broke up in 1995, but got back together just a year later for the release of a greatest hits album. Though they never recorded another album of new material, Cinderella would remain a significance force on the hard rock touring circuit for the next three decades, routinely linking up with fellow metal bands like Poison, RATT, and Tesla. Source: Consequence of Sound