FYI
Music News Digest, July 14, 2022
Laura Niquay (pictured) wins the TD Indigenous Songwriter Award, the Polaris Prize announces its Shortlist today, and  BreakOut West 2022 has multiple partnerships this year. Also in the news are the Oshawa Music Awards, CIMA, Global Music Match, Unity Fest, Tegan and Sara, The Weeknd, CNE, Folk Alliance, Shawn Mendes, Michelle McAdorey, Jess Moskaluke, Toronto International Samba Reggae Festival, Bernie Finkelstein, Alicia Toner, and Sharon, Lois & Bram.
Jul 14, 2022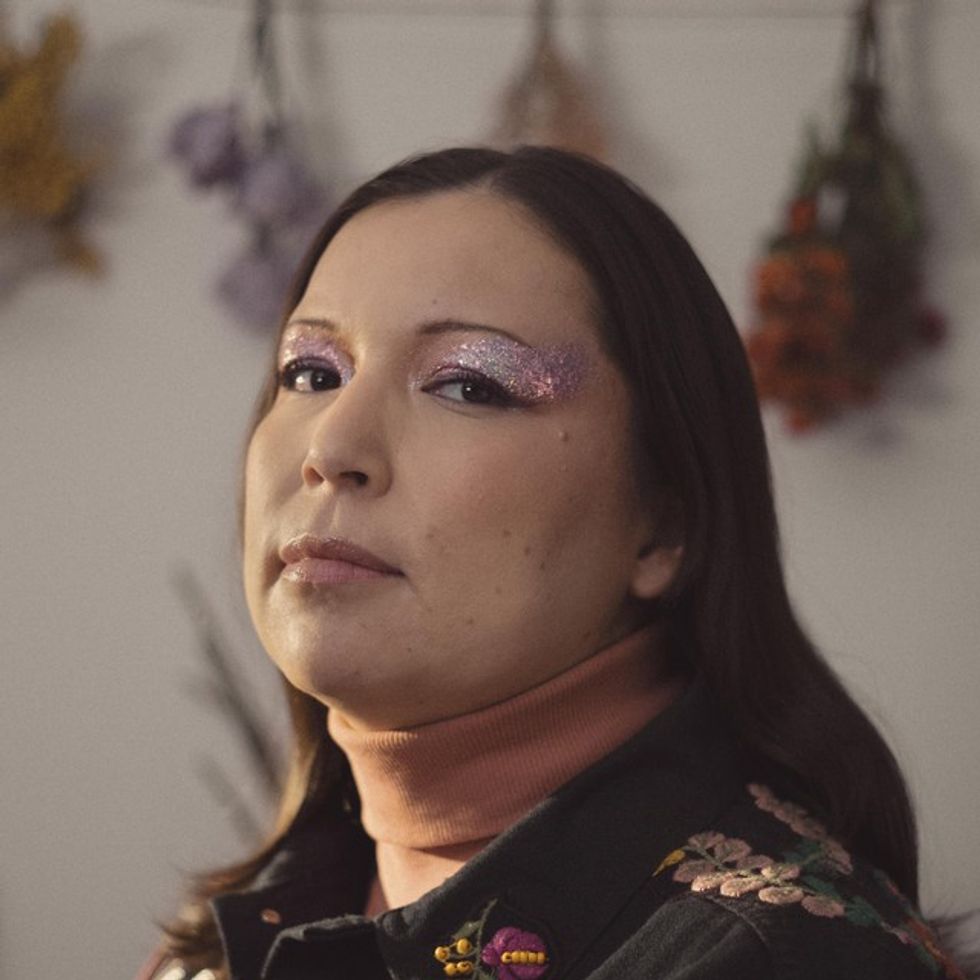 By Kerry Doole
Awards news
---
CBC Music, Polaris Music Prize's presenting sponsor, will showcase the 10 Short List nominated albums as separate radio specials with an "in-depth look" at each leading up to the PMP winner announcement on Sept. 19. The shortlist is TBA July 14 at a 2-hour event, hosted by A. Harmony, streamed by CBC Music and CBC Listen.
– The SOCAN Foundation has announced Laura Niquay as the recipient of the annual TD Indigenous Songwriter Award. The acclaimed Attikamek artist from Trois-Rivières is being recognized for her songs Moteskano and Nicto Kicko. Created in 2018, the Award was created to recognize and celebrate the artistic merit demonstrated by Indigenous songwriters of any genre. Niquay will receive a cash prize of $10K in addition to opportunities for her career development. Special distinction awards of $1K are also being made to Anyma, Jayli Wolf-Saulteau, Kristi Sinclair, LJ Tyson, and Shane Ghostkeeper.
– The 5th Annual Oshawa Music Awards has announced this year's nominations, with the big show set for Sept. 29. Notable nominees this year include Jadea Kelly, Tania Joy, Excuses Excuses, and Lindsay Schoolcraft. See the full list here. Public voting is open here now.
Festivals and conferences news
– Calgary hosts BreakOut West 2022 from Sept. 28 to Oct. 2. Together with partners from Wales, Sweden, Iceland, the Nordics and other European countries, international artists will take to Calgary stages for the music festival this fall. This marks the second time in 2022 that BreakOut West has partnered with Future Echoes – Sweden's new showcase festival - and Nordic Bridges, an initiative to support Nordic creative industry and artists from Nordic countries performing in Canada throughout 2022. This features BoW hosting such artists as  Kid Vicious, Kitka, BSÍ,  and The Magnettes. 
BoW continues its six-year-long partnership with FOCUS Wales, which sees western Canadian artists showcasing each year in Wales, and Welsh artists, in turn, showcasing at BoW thanks to FOCUS Wales, Wales Arts International and the Welsh Consulate. In partnership with the Welsh Government, BreakOut West will soon be announcing Indigenous programming highlighting the start of the UNESCO International Decade of Indigenous Languages (2022-2023). BreakOut West also has an East Meets West partnership with the East Coast Music Association (ECMA) – an initiative which aims to open new markets for artists touring the country. BoW is also partnering with KeyChange for its conference. Finally, the Western Canadian Music Alliance will present the Western Canadian Music Awards during BoW. Registration is available now here and a full sked of events will be available at breakoutwest.ca.
– Unity Fest, Unity Charity's annual flagship event and one claiming to be Canada's only national hip-hop festival, returns on July 21 with a concert at the El Mocambo in Toronto. .The concert will feature artists from Unity'shomegrown program for emerging MC's, The Rough Draft, and headline performances from No Tourists, Ghettosocks, and Lex Leosis. 
– After a Covid-induced two-year hiatus, the Canadian National Exhibition returns to Toronto's Exhibition Place in Aug., and a strong performance lineup has been announced. Bruce Cockburn and Hawksley Workman start the music on Aug. 20, with following artists including Gordon Lightfoot, Johnny Reid, Tom Cochrane, Glass Tiger, The Spoons, Marianas Trench, Monowhales, Iskwe, and JJ Wilde. Full sked here.
– Folk Alliance International has revealed stats for its 34th annual conference, held in Kansas City in May. 1,229 attendees FAI in person, while 318 tuned in online. Folks from 38 countries attended, 120 in-person and 38 virtual Official Showcases took place, and there were 1,014 private showcase performances. Read the Post-Conference Report here
– Mundial Montreal is now offering its PRO OF PROS and PRO badges at a super early bird price, on offer until July 26. More info here. Programming for the 12th edition of the conference (running Nov. 15-18) is TBA.
– Launched by Lula Music and Arts Centre, BIG on Bloor and TDot Batu, the inaugural Toronto International Samba Reggae Festival runs July 14-17. The first of its kind in Canada, it will gather 100+ samba reggae drummers, including artists from across Canada, Brazil, the US and Bermuda. They include Mestre Memeu, Adriana Portela, Mateus Vidal, Marcos Costa, Tdot Batu and CIbele Iglesias. More details here.
Industry news
– CIMA is a partner in Global Music Match 2022, a project featuring a "try before you buy" environment that provides the selected acts with a risk-free framework to start building their international networks, along with direct access to the world's premier folk festival programmers who make up the GMM elite coaching personnel. Applications are now open for artists interested in taking part in the third edition of GMM. Apply here by July 29 for the 14-week, artist-driven program which commences Sept. 1. 
– Production has begun on the feature documentary Atomic Reaction, one that will shine a light on Canada's role in The Manhattan Project. One of the exec producers is veteran record label head/artist manager Bernie Finkelstein (True North, Bruce Cockburn).
Artists news
– The Weeknd's After Hours Til Dawn stadium tour was scheduled to kick off last Friday night in his Toronto hometown, at the Rogers Centre. The show had to be postponed just hours before its start time because of the nationwide Rogers outage, one that affected operations at the venue. Rogers Centre says all tickets will be honoured for a new date, one not yet announced.
– Also announcing show postponements last Friday was Canadian pop star Shawn Mendes. The Pickering, Ont.-raised musician posted a statement on his Instagram account saying that a string of US dates would be postponed so he can "heal and take care" of himself. Mendes explained that "After a few years off the road, I felt like I was ready to dive back in, but that decision was premature and unfortunately the toll of the road and the pressure has caught up to me and I've hit a breaking point."  A resumption of his world tour is expected after a three-week break.
– Acclaimed Canadian/Kiwi roots artist Tami Neilson has cancelled three indoor Ontario shows, citing Covid concerns, but is still performing outdoor festival dates in Ontario and Quebec this summer, including a free show at Toronto Harbourfront Center tomorrow (July 15), also the release date for new album Kingmaker, and an appearance at Guelph's Hillside Festival the following weekend.
– Platinum-selling, Juno-winning country star Jess Moskaluke has announced the national 2022 Mapdot Tour kicking off on Oct. 29 in Montreal. The news comes on the bootheels of her latest single, Knock Off, which you can stream here. The tour makes 20 stops at Canadian cities before wrapping in Saskatoon on Dec 2. Support act TBA, and tix on sale tomorrow (July 15). Itinerary here. 
– Live performances by former Crash Vegas vocalist Michelle McAdorey are rare, so her show tonight (July 14) at Toronto's Monarch Tavern is strongly recommended. Also on the fine bill are Long Branch and Fortunato Durutti Marinetti.
– Hit Canadian duo Tegan and Sara release their 10th studio album, Crybaby, on Oct.  21 as part of a recently announced new deal with Mom+Pop Music. It'll be supported by North American tour dates. Itinerary here. A new single, Yellow, has just been released. Learn more about what T and S have been up to in this clip.
– Following the publication of the Canadian bestseller, Sharon, Lois & Bram's Skinnamarink, Tundra Books is publishing the famed trio's One Elephant Went Out to Play, a new picture book, with co-author Randi Hampson and Skinnamarink illustrator Qin Leng.The counting picture book is based on the classic song by the trio of children's entertainers (and featured as the theme on The Elephant Show). The book hits stores on Aug. 9 the very same day Sharon, Bram & Randi will release a new single, One Elephant Went Out to Play (All Friends Version), available on all streaming platforms.
– PEI-based artist Alicia Toner has been on a roll since the release of her sophomore albumJoan. She took home a 2022 Canadian Folk Music Award, became the most nominated artist at the Music PEI Awards this year, and received multiple ECMA nominations as well. She worked with noted Canadian producers Stuart Cameron (Crash Test Dummies, Amanda Marshall) and Peter Fusco on the album.  To celebrate the one-year anniversary of Joan, she just released a new single, Tonight featuring Joey Landreth, who guested on several of the album tracks.