FYI
Music News Digest, Jan. 30, 2019
Bluesman Steve Strongman (pictured) wins in Memphis, Canadian Music and Broadcast Industry Awards nominations open, and a coup for Citadel Theatre. Also in the news are Stompin' Tom Connors, CMW, Devin Townsend, Pandora, Sirius XM, and farewells to Ray Walsh and James Ingram.
Jan 30, 2019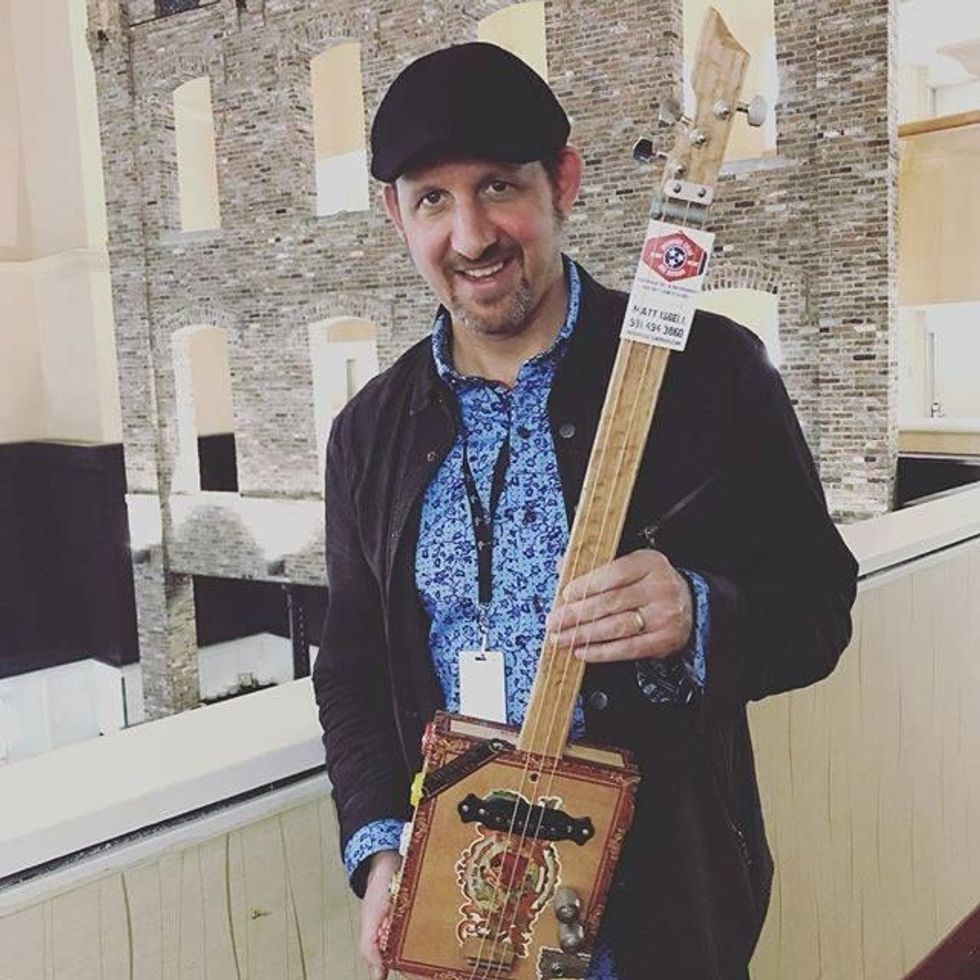 By Kerry Doole
Nominations are now open for the 2019 Canadian Music and Broadcast Industry Awards. Industry trailblazers and outstanding professionals are celebrated annually at the Awards. To be considered, companies are encouraged to submit their nominations here. The deadline is March 11.
---
 – Nominations are also now open for the Allan Waters Young Broadcaster of the Year Award in Honour of Steve Young. Presented at Canadian Music Week, this is the 11th annual award to recognize Canada's outstanding young broadcasters, many of whom have gone on to big successes since receiving the award. The deadline for submissions is March 11.
 – Canadians fared well at the International Blues Challenge in Memphis last week. Representing the Grand River Blues Society, Hamilton guitar slinger Steve Strongman made it to the Finals and won the Memphis Cigar Box Guitar Award. Justin Saladino and Jack DeKeyzer reached the semi-finals. Upon his return to Ontario, De Keyzer learned that his album Checkmate is nominated for a Juno Blues Album of the Year award.
– Edmonton's Citadel Theatre has landed the Canadian premiere of hit London musical Six: Divorced. Beheaded. Live in Concert, one that also has its sights on Broadway. The production, which reimagines Henry VIII's wives as a Spice Girls-style group on a reunion tour, will play Edmonton in Nov. 2019 in between a summer run at Chicago Shakespeare Theatre and an expected New York debut. "It's a pretty spectacular production, and the music is fantastic," says Citadel Theatre artistic director Daryl Cloran, who announced the Citadel's full 2019-20 season on Monday. Source: The Globe and Mail
– Stompin' Tom Connors was presented with the Dr. Helen Creighton Lifetime Achievement Award in 1993. At that time he agreed to accept the award on one condition – that he could return it and requested that a trophy would be created to honour all those who have made a long-term contribution to the East Coast Music Industry. The Stompin' Tom Award today is given to an individual or group from each of the East Coast Music Association's five regions (Prince Edward Island, New Brunswick, Mainland Nova Scotia, Newfoundland & Labrador and Cape Breton). Submissions for the ECMA's 2019 Stompin' Tom Award are now open here.
 – Canadian hard rock guitarist Devin Townsend releases a new album, Empath, via InsideOut Music, on March 29. He has also announced a 23-date European tour for Nov. and Dec. 2019. Contributors to his new record include Chad Kroeger and Ryan Dahle.
 – Stockholders of Pandora have approved the $3.5bn all-stock acquisition of the streaming platform by Sirius XM Holdings Inc. When the buyout closes, Roger Lynch, Chief Executive Officer of Pandora will be stepping down from his role and exiting the company. Following Lynch's departure, Jim Meyer, Chief Executive Officer of Sirius XM, will lead Pandora and Sirius XM as a combined company. Source: MBW
RIP
Ray Walsh, the renowned Newfoundland accordionist, died Jan. 27 at age 75.
Hailing from Bay de Verde, Walsh made a name for himself at home before becoming a featured player on CBC's Saturday Night Jamboree and All Around the Circle from 1964 until 1975.
Walsh was famous around the province for his work on the piano accordion. In 1995, he formed the Walsh Family Band alongside his brothers, Gerard and Ron, as well as son Greg and daughter Michelle.
In 2013, Walsh was awarded the Newfoundland and Labrador Folk Arts Society's lifetime achievement award, for his contributions to the "cultural fabric of this province through his talent and passion for the music." Source: CBC
James (Edward) Ingram, the famed jazz, R&B singer and songwriter, has died of brain cancer at the age of 66.
The Akron, Ohio-born vocalist was a two-time Grammy winner and a two-time Academy Award nominee.
He had his first hit as the featured singer of Quincy Jones 'Just Once' in 1981. The following year, 'Baby Come To Me' with Patti Austin was a No. 1 US hit.
In 1986, Ingram scored another Top 10 hit with another duet 'Somewhere Out There' with Linda Ronstadt. It was the lead song for the movie An American Tail. He was also a co-writer for Michael Jackson's "PYT." Source: Noise11.com