FYI
Music News Digest, Jan. 25, 2021
YongeTOmorrow aims to reimagine Yonge Street (pictured), South African Music Week has a strong Canadian presence, and Bandzoogle merch helps Unison. Also in the news are Drake, Be Kind Festival, SOCAN Foundation, Saskatchewan Music Awards, Ralph Alfonso, Kaytranada, Jerry Leger, Bob Rock, LB SPIFFY, Markham Jazz Festival, and farewell James Purify and Jimmie Rodgers.
Jan 25, 2021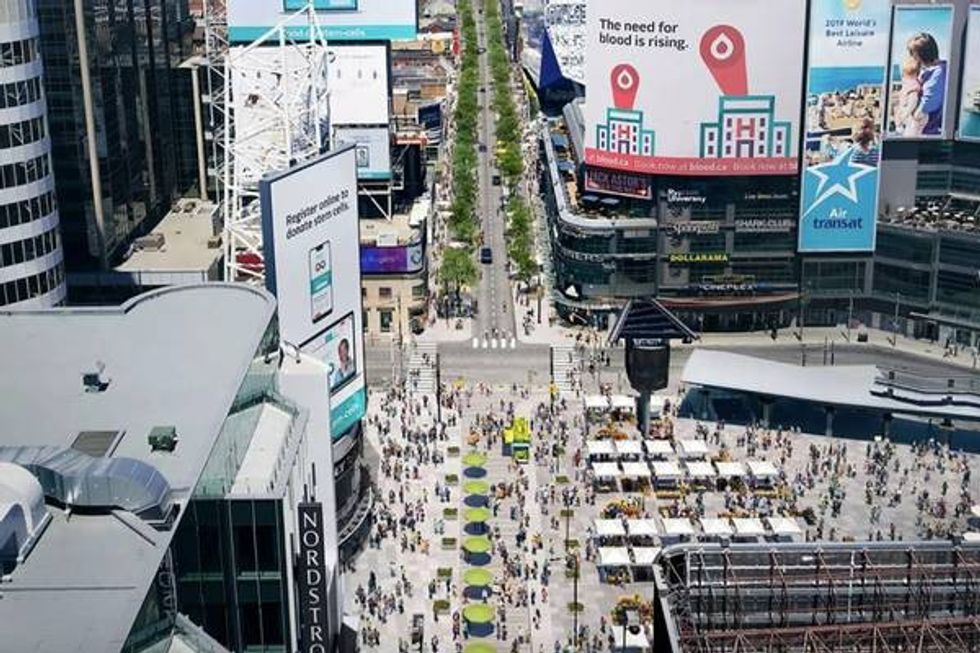 By Kerry Doole
YongeTOmorrow is an ambitious project that reimagines the Queen Street to College Street strip of Toronto's famed Yonge Street. Various arts groups are involved in helping inform Toronto City Council of the issues, with Warner Music Canada prez Steve Kane actively advocating for the music community. He tells FYI that "one of my talking points has been that on a street that once shaped Toronto and Canada's musical landscape, it's a shame that music is all but absent. With the reopening of Massey Hall, we should look at what the revitalization could mean for music." 
---
On Feb. 2, the long-awaited final report on yongeTOmorrow will be discussed and voted on at City Council. On its website, yongeTOmorrow states "this is our once-in-a-lifetime opportunity to transform Yonge Street into a world-class, 21st-century urban destination that supports critical public health objectives - for a world with Covid-19 and beyond. yongeTOmorrow proposes a full and flexible redesign of the street from College St, south to Queen St, where sidewalks will be expanded, vehicle lanes modified, restaurant patios extended and street furniture and streetscape elements added." Learn how you can support this plan here.
– The first edition of South African Music Week (SAMW) runs virtually this week, from Jan. 26-28. Inspired by Canadian Music Week (CMW), the free event is courtesy of a partnership between South Africa and Canada. Its panel discussions will explore potential ways to maximise the convergence of music, technology and business, and aims to forge a new successful path for musicians. Both countries are seeking to develop a mutually beneficial collaborative investment paradigm. Canadian speakers billed for the event include CMW president Neill Dixon, Canadian Live Music Association CEO Erin Benjamin, The Management Trust CEO Jake Gold, and music journalist and digital specialist Erin Ashley Lowers. SAMW also showcases some domestic artists. More info here. Source: Music In Africa
– Drake has pushed back the release of his new album, Certified Lover Boy, to allow himself more time to recover from ACL knee surgery he had back in Oct. On Instagram last week, Drizzy posted that "I was planning to release my album this month but between surgery and rehab my energy has been dedicated to recovery," he wrote on Instagram on Wednesday. "I'm blessed to be back on my feet and feeling great and focused on the album." No upcoming release date has been announced. Source:  Noise11
– In celebration of its 17th birthday, Ottawa-based musician website and direct-to-fan platform Bandzoogle is sharing new custom merch designed by Canadian illustrator Jacqueline Oakley. Profits from all sales of this merch will go directly to Unison's Emergency Mental Health for the Music Community campaign, a charity focused on providing emergency relief to the Canadian music community. The company says it plans to match donations up to $5K. 
– The 2020 Saskatchewan Music Awards were held last night (Jan. 24) as a virtual event. Topping the winners list was Tenille  Arts, with three, while Saskatoon's Broadway Theatre was a double victor this year, for Industry Achievement and Venue of the Year,
Performers for the virtual event - ADEOLUWA, Last Birds, Belle Plaine, and The North Sound – were filmed for the SMA show in special closed-door performances leading up the event. See the full list of winners here. 
– The official 46-song playlist for Joe Biden's inauguration is now out, and it includes the track What You Need, by Canadians Kaytranada and Charlotte Day Wilson. The playlist is available on Spotify, Apple Music, Tidal, Amazon Music and YouTube. Source: Narcity
– The 2nd annual SPEAK Music Be Kind Festival will proceed in virtual form this year, Feb. 5-6. The creation of Toronto's SPEAK Music, it is a free event, though donations are encouraged. There will be options for artist tip jars and donations to Black Lives Matter Canada. The diverse, and gender-balanced lineup includes Alysha Brilla, OKAN, Nick Sherman, Mimi O'Bonsawin, Desirée Dawson, JV's Boogaloo Squad, and more. They will be presented in pre-recorded video performances, from the festival website 
– The SOCAN Foundation invites up-and-coming music creators (songwriters, producers, and composers) over the age of 18 to apply now to the TD Incubator for Creative Entrepreneurship.  Each participant in the program will receive a cash grant of up to $3K, mentorship by an industry professional, and other career-enhancing tools and resources.  For more information about the program and to apply, please visit www.creativeincubator.ca. The deadline to apply here is March 1.
– Montreal record store/art space BBAM! Gallery, co-owned by popular Canadian music biz veteran Ralph Alfonso, was recently vandalized with graffiti referencing QAnon conspiracy theories. A police report has been filed. Source: Bad Feeling 
– Much-heralded Toronto singer/songwriter Jerry Leger has released a new single, Jumped In The Humber. The single is an outtake from Leger's 2019 album Time Out For Tomorrow, which is being released as a deluxe edition on March 26. Also out on March 26 is the vinyl release of 2020's home-recorded album Songs From The Apartment. As with all the tracks from Time Out For Tomorrow, Jumped In The Humber was produced by Michael Timmins of Cowboy Junkies and recorded with Leger's long-time backing band, The Situation. 
Canadian superstar producer Bob Rock has sold his rights in songs by Metallica and Michael Buble to investment firm Hipgnosis Songs Fund. The deal, for an undisclosed amount, gives rights to 43 songs. These include material on Metallica's eponymous album and Bublé's Call Me Irresponsible, Crazy Love, and Christmas. Source: The Guardian
– Apple Music has launched its Shazam Predictions 2021 spotlighting five emerging artists to watch for this year. The list comprises Masked Wolf, BLACKSTARKIDS, Serena Isioma, Tai Verdes, and Toronto teen rapper LB SPIFFY who first entered Shazam's emerging artists lists in 2017. His track, Again, has been featured on prominent Apple playlists and the peaked at No. 12 on Apple Music's Hip-Hop chart in Canada.
– Ontario's current covid lockdown protocols have forced the TD Markham Jazz Festival to postpone its Jan. 31 concert featuring Tanika Charles until the latest restrictions are eased. Check the fest's website for updates. The first three events in a Live + Virtual Concert Series are available for viewing anytime here. 
– Saskatchewan artist applications are now being accepted for the 34th annual SaskTel Saskatchewan Jazz Festival, July 9-18. Applications will be accepted here until Feb. 5. 
RIP
James Lee Purify, R&B/pop singer of I'm Your Puppet Fame, died on Jan. 22, at age 76, of Covid complications.
He was half of the duo James and Bobby Purify, whose single I'm Your Puppet landed at #6 on the Billboard Hot 100 and #5 on the R&B chart in 1966
I'm Your Puppet was the first, but not the only hit logged by the duo, whose other member, Robert Lee Dickey, Purify's cousin, died in 2011. It was followed by eight further charting singles, none of which reached the top 10. Of those, the most successful were a raucous cover of Shake a Tail Feather, which reached #25, and Let Love Come Between Us (#23), both in 1967.
Purify and Dickey began singing as a duo in 1965, The following year, they were signed to Bell Records, and released I'm Your Puppet, written by Spooner Oldham and Dan Penn. It spent 14 weeks on the Billboard pop chart and was nominated for a Grammy Award for Best R&B Performance by a Duo or Group with Vocals in 1967.
The pair also released two albums for Bell, neither of which charted. They continued to work together until 1971, when Dickey retired from singing professionally.
Purify continued to work, as a solo singer, until 1974, when he teamed with Ben Moore, a veteran singer, who assumed the name Bobby Purify. They continued to perform together until the 1980s.
I'm Your Puppet has remained a staple of oldies radio and has been covered by numerous other artists.  Source: Best Classic Bands
Jimmie (James Frederick) Rodgers, singer of the 1957 hits Honeycomb and Kisses Sweeter Than Wine whose career in music and movies was disrupted by a severe head injury a decade later, died on Jan. 18, age 87. He had tested positive for Covid-19 recently, but kidney disease was listed as the cause of death.
Rodgers had a run of hits and mainstream popularity in the 1950s and 1960s. His string of crossover singles ranked highly on the Billboard Pop Singles, Hot Country and Western Sides, and Hot Rhythm and Blues Sides charts; in the 1960s, Rodgers had more modest successes with adult contemporary music.
Rodgers performed for $10 a night around Nashville while stationed there with the U.S. Air Force after the Korean War. He appeared on a talent show and got an audition with Roulette Records, which signed him after hearing him perform Honeycomb, a song by Bob Merrill, and that became a major hit.
With a style of singing and playing guitar that included elements of country, folk and pop, he recorded many other Top 10 hits during the late 1950s, including Secretly, Oh-Oh, I'm Falling in Love Again, and Are You Really Mine?
Rodgers continued making albums for the better part of the 1960s, producing music that ranged from covering traditional songs like The Wreck Of The 'John B.' and English Country Garden to popular fare such as the ballad Child of Clay.
He moved into acting in movies during the 1960s. His film credits included The Little Shepherd of Kingdom Come and Back Door to Hell with a young Jack Nicholson.
In 1967, Rodgers was found in his car on a Los Angeles freeway suffering from a fractured skill and other injuries. LA police officers insisted that Rodgers had injured himself in a fall while drunk, though he claimed to have been assaulted. Lingering injuries hampered his career.
He later had a summer TV show on ABC in 1969 and also performed at his own theatre in Branson, Mo. Rodgers' songs continued to make the Billboard Country and Easy Listening charts until 1979. He performed sporadically after that.
In 2010, Rodgers wrote and published his autobiography, Dancing on the Moon: The Jimmie Rodgers Story. Sources: Billboard, Wikipedia