FYI
Music News Digest, Feb. 8, 2021
Rum Ragged (pictured) win big at the MusicNL Awards, Jaymz Bee's Caravan of Music goes virtual this year, and Nagamo Publishing will boost Indigenous music creators. Also in the news are Kevin Breit, FACTOR, SING!, Barrymore's, Sam Coffey & The Iron Lungs, Nickelback, Indie Week, Stay At Home Festival, and farewell Stefan Cush and Jim Weatherly.
Feb 07, 2021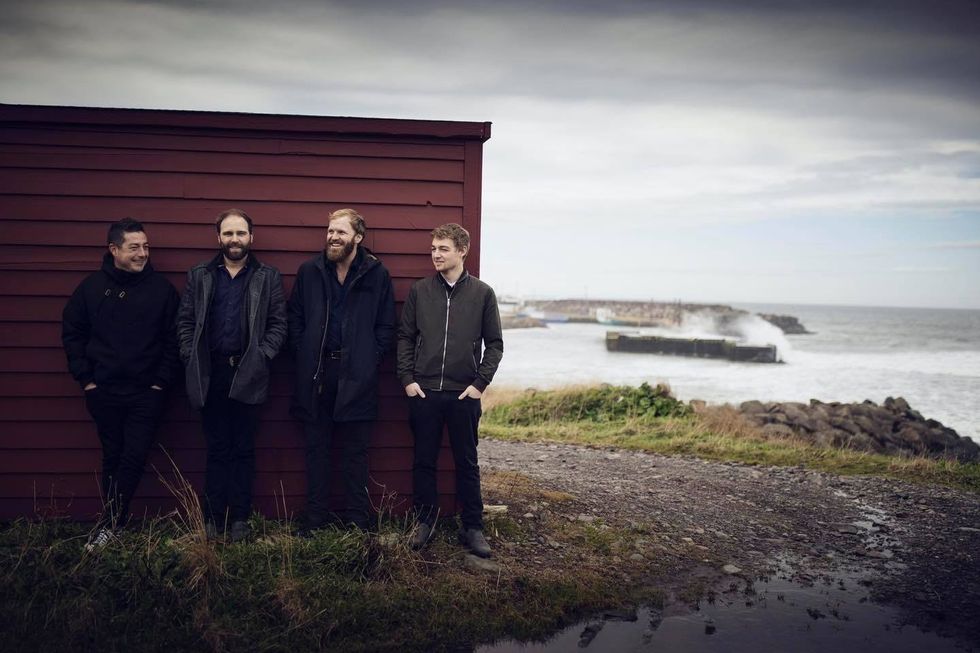 By Kerry Doole
The MusicNL Awards were handed out, in virtual fashion, in three stages over the weekend. Emerging as the biggest winner, with three awards, were Rum Ragged, for Traditional Artist, Album of the Year, and Entertainer of the Year. Sherman Downey, Justin Fancy, and Nick Earle & The Reckless Hearts all won in two categories. Honorary Legacy Awards went to Wheelers Lounge and The Stround Lounge, and Honorary Denis Parker Industry Builder Awards were given to Echo Music and Recording Studio and Clode Sound Productions.
---
The winners of Industry awards were Trails Tales and Tunes Festival, Caroline Clarke, Mike McDonald, Greg Smith, Joanna Barker, Steady Entertainment, and The Ship Pub. See the winner in the Video of the Year category below. Check the MusicNL website for more info.
– Jaymz Bee's popular annual Caravan of Music is virtual this year. The jazz-themed event, presented by Vesuvius Music and Slaight Music, streams on Valentine's Day, Feb. 14, at 8 pm, and is raising money for the Unison Benevolent Fund. During the two hours broadcast people are encouraged to donate - #TogetherAtHome  #QuarantineConcerts. Lorenzo DiGianfelice at Vesuvius Music has, once again, offered to cover the editing expenses for this event, so that every dollar raised goes directly to the charity. Slaight Music has also signed on as the show's presenting sponsor. VMI's Jaymz Bee is producing and hosting, and the A-list performers include VMI recording artists Irene Torres, Genevieve Marentette, June Garber and John Finley.
– FACTOR will be holding a virtual information session for black artists and entrepreneurs on  Feb. 17 from 6:30 - 8:30 pm EST. This virtual session provides an overview of FACTOR programs, the application process, and eligibility requirements, focusing on two juried programs, Artist Development and Juried Sound Recording. A FACTOR-funded artist (TBD) will share their experience applying to the programs. Register here.
– Recently launched, Nagamo Publishing terms itself the worlds first Indigenous created production music library that spans all genres and nations. The company was created by Bedtracks in partnership with The Aboriginal People's Television Network (APTN). Nagamo is a subsidiary of Dadan Sivunivut, the holding company created by APTN. A press release states that "Nagamo's goal is to provide much needed opportunities for Indigenous music creators to showcase their talents in the film and media industries. As this library continues to grow, Nagamo will also grow into the premiere agency to connect with the leading Indigenous composers working today." Learn more from this short video.
– For the 7th consecutive year, acclaimed Toronto vocal festival SING! has won a Festivals & Events Ontario (FEO) Achievement Award. The SING! 2021 fest is set to run May 27 to June 6. More info here.
– A very strong lineup of Canadian talent will perform in the upcoming Songwriter Series Virtual Music Festival, to live-stream on YouTube Live on Feb. 26 at 3 pm. That list includes Serena Ryder, The Darcys, Haviah Mighty, Kaia Kater, Shan Vincent de Paul, Lydia Persaud, Shawnee, B.Knox, and Sam Johnston. Join the free stream by going to The Songwriter Series website here
– Toronto rock band Sam Coffey & The Iron Lungs have released What This City Needs, a new track and video from their third album, Real One, out Feb. 19, via Dine Alone Records. The video features an off-the-floor live performance recorded as part of the LootBag Live Sessions.
–The future of noted Ottawa music venue Barrymore's Music Hall is reportedly now in jeopardy. George Syriannis, owner and operator of Barrymore's, recently posted on Facebook that "for more than a decade, my landlord has been harassing, and bullying me, ignoring addressing safety issues with the building that have been brought to his attention on numerous occasions and now trying to illegally evict me. On Jan. 25, 2021, without prior notice, he instructed a bailiff to change the locks of Barrymore's Music Hall and post an illegal lease termination on the door effectively illegally evicting Barrymore's."
– The unexpected sea shanties craze has now recruited a major name, Nickelback. A shantified version of the band's hit Rockstar recently became a viral TikTok hit, and Nickelback has taken that a step further by again joining forces with UK group The Lottery Winners to deliver a full-length rendition of Rockstar Sea Shanty, one featuring a guest appearance by fiddle star Donnell Leahy. In a press release, Ryan Peake of Nickelback notes "It's all internet lockdown shenanigans and we're happy that people are enjoying Rockstar 15 years later." 
– The next Indie Week webinar is entitled Create the Most Effective Website Presented by Bandzoogle, it is on Feb. 9, at 4 pm EST. Melanie Kealey (Communications Manager, Bandzoogle) discusses how artists can achieve maximum results by creating an impactful website. Free registration here.
– The Manitoba Arts Network and its 50 rural arts organizations is partnering with the West End Cultural Centre in Winnipeg to present the Stay At Home Festival. This festival is supported by funding from Safe at Home Mb and will present artists from across Manitoba throughout Feb. and March. Concerts start Feb. 21, and will play every Sun and Wed at 7 pm on MAN's Facebook live. Music, theatre, dance and circus is being presented. More info here.
– Acclaimed Canadian guitar virtuoso Kevin Breit is known for working under the radar, and new project the Bona Fide Scoundrels is no exception. Without advance fanfare, the group released a debut album, Bone Fidelity, via Bandcamp on Friday. Joining Beit are fellow ace players Dave Clark (Rheostatics), Michael Herring, and Michael Jude Ward-Bergeman. ON FB, Breit posts that "This was a live off the floor, all original project. Most of the songs were first takes complete with wrinkles and creases...the stuff of life."  
RIP
Stefan Cush, vocalist and guitarist of English folk punk group The Men They Couldn't Hang, died on Feb. 4, after a heart attack, age 60.
Cush worked as a roadie for The Pogues before he formed The Men They Couldn't Hang in 1984 alongside brothers Philip and Jon Odgers, Paul Simmonds and Shanne Bradley. The band split in 1991, but reformed five years later and continued to play live regularly.
Those paying tribute to Cush included Billy Bragg and Spider Stacey of The Pogues. Sources: NME, The Guardian
– Jim (James Dexter) Weatherly, a Nashville Songwriters Hall of Fame member and recording artist, died on Feb. 3, at age 77. No cause of death has been reported.
His classic compositions include Midnight Train to Georgia, (You're The) Best Thing That Ever Happened to Me, Someone Else's Star, Neither One of Us and Where Do I Put Her Memory. Country superstar Ray Price recorded more than 50 of his songs.
His early rock band The Gordian Knot signed to Verve and put out an album in 1968.
Song publishers took an interest in his songs, and in 1973-75, Gladys Knight & The Pips had big hits with Neither One of Us, Where Peaceful Waters Flow, Best Thing That Ever Happened to Me, Love Finds Its Own Way, and, unforgettably, Midnight Train to Georgia.
Some of these tunes also became country hits, like Price's No. 1 version of Best Thing That Ever Happened to Me and Charley Pride's take on Where Do I Put Her Memory.
Songwriting success led to a solo recording contract, and Weatherly reached No. 9 on the country charts with 1975's I'll Still Love You. He released seven albums on RCA, Buddah, and ABC in the '70s, and later recorded a number of CDs for his own Brizac label.
In 1984, he had Top 10 country hits with songs recorded by Glen Campbell, Ed Bruce, and Earl Thomas Conley. Bryan White hit No. 1 with Weatherly's co-written Someone Else's Star in 1995. Since 2000, the songwriter's works have been recorded by Kenny Rogers, Delbert McClinton, Jeff Carson, Etta James, The Manhattans and more.
Other stars to record his songs include Dionne Warwick, Vince Gill, Tanya Tucker, Mac Davis, Marie Osmond, B.J. Thomas, Andy Williams, Eddy Arnold, Lynn Anderson, Neil Diamond, The Temptations, Trisha Yearwood, The Oak Ridge Boys, Hall & Oates, The Spinners, Reba McEntire, Dean Martin, Ray Charles, Brenda Lee, Aretha Franklin, Steve Wariner, Kenny Chesney, Julie Andrews, Garth Brooks, The Indigo Girls, Johnny Mathis, Peggy Lee and Widespread Panic.
Weatherly was inducted into the Nashville Songwriters Hall of Fame in 2006 and became a member of the national Songwriters Hall of Fame in New York in 2014. He published Midnight Train as his autobiography in 2018. Source: Music Row