FYI
Music News Digest, Feb. 8, 2019
Arkells celebrate the 2018 MusiCounts Passion Prize recipient (pictured), T. Thomason wins on The Launch, and Royal Mountain Records establishes a mental health fund. Also in the news are Audrey Ochoa, Edmonton Music Prize, Spotify, ole, Al Pedecine, CMA International Awards, Grammy odds, Sharon and Bram, TR/ST, and Said The Whale. Videos added for your enjoyment.
Feb 08, 2019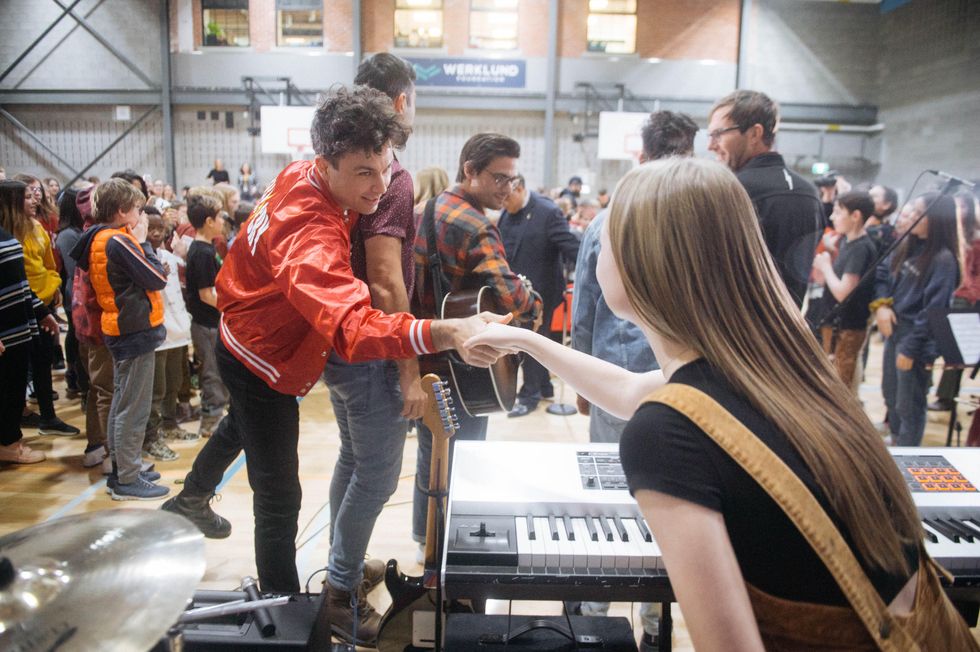 By Kerry Doole
Halifax indie-pop/rock artist T. Thomason is the winner of the second episode of Season 2 of CTV's The Launch. He was chosen by CEO/Founder of Big Machine Label Group Scott Borchetta, Québec pop star Marie-Mai, celebrity mentor Sarah McLachlan, and music producer Alex Hope to record the new original single "Hope". The second single from the hit music series was released to radio stations across the country immediately following the broadcast. The song is also available now on music services everywhere. FYI profiled Thomason in 2017. Encore presentations of The Launch air Saturdays at 8 p.m. ET/PT on CTV and Sundays at 11 a.m. ET on Much (visit CTV.ca and Much.com to confirm local listings).
---
– On Wednesday (Feb. 6), Juno-winning rock band Arkells joined MusiCounts to celebrate the 2018 MusiCounts Passion Prize recipient, Calgary Arts Academy. The band surprised students by joining them for a special collaborative performance of their winning entry, a cover of Arkells' hit "People's Champ." Calgary Mayor Naheed Nenshi then helped Arkells present the school with a $5K MusiCounts Band Aid Program instrument grant. Current tour dates for Arkells here
– Toronto indie label Royal Mountain Records, has established a fund to help the acts on its roster get treatment for mental health and addictions issues. As reported by Ben Rayner in The Toronto Star, as of Feb. 1, every Royal Mountain act has access to $1,500 to expend at the act's discretion on mental wellness. No strings attached to the money, which is not a recoupable label expense. Acts on the label, run by Menno Versteeg of Hollerado, include Alvvays, Mac DeMarco, METZ, and U.S. Girls.
– Earlier this week, Audrey Ochoa was named the recipient of the 2018  Edmonton Music Prize, worth $10K. The trombonist-composer-bandleader won for her second album, the trio recording Afterthought. The release on Chronograph Records presents a mix of jazz, Latin and dance grooves. Theatre designer, puppeteer, and filmmaker Zsofia Opra-Szabo won the Edmonton Film Prize.
– Streaming giant Spotify finished 2018 with 96m paying subscribers around the world, up by 25m year-on-year, according to Music Business Worldwide. Even more significantly, Spotify's freshly announced financials for Q4 2018 showed the company posted its first-ever quarterly operating profit (€94m) in the final three months of last year, driven by lower operating costs.
– ole has appointed Al Pedecine to the role of interim Chief Financial Officer. Pedecine will work closely with Senior Vice President of Finance & Administration, Chris Giansante, ole's finance team, and all of ole's operating units to identify strategic and operational growth opportunities. His rich history in the music business includes senior executive roles at Arista, Def Jam, EMI, Harry Fox, and PolyGram, and he is a Certified Public Accountant who started his career at Price Waterhouse. 
– The Country Music Association has announced the nominees for the 2019 CMA International Awards, which honors industry executives and artists who have supported and made a difference to the growth and promotion of Country Music in the International market place.
Three Canadian notables make the list :
Rob Farina (iHeartRadio) is up for the Wesley Rose International Media Achievement Award, Casey Clarke for international Country Broadcaster award, and The James Barker Band, for the Jeff Walker Global Country Artist Award. Congrats to the nominees.
– The oddsmakers are busy in advance of this Sunday's Grammy Awards. The offshore entertainmentcompany Bookmaker.eu predicts Childish Gambino to win Record of the Year for "This is America," and Lady Gaga and Bradley Cooper to take home the trophy for Song of the Year for "Shallow." The closest race of the night belongs to Album of the Year. Kacey Musgraves was originally the favorite; however recent wagers have pushed Black Panther: The album into the front runner spot. Current odds here  
– Children's entertainers Sharon and Bram release a new single,"The Hug Song," today (Feb. 8), followed by a public sing-along and meet-and-hug event on Feb. 9 at 1 p.m. at Indigo, 1033 Robson Street, Vancouver. This new track will be simultaneously released with a Sharon and Bram Facebook frame promoting the sharing of virtual hugs. The duo is adding concerts dates added to its 40th Anniversary farewell tour, produced by Calgary-based Jeff Parry Promotions. 
– TR/ST (Robert Alfons) releases his new (and third) LP, The Destroyer, on April 19, via Royal Mountain Records. Following this LP, TR/ST will release The Destroyer - 2 in November. In the five years since releasing Joyland, TR/ST's last full-length album,  Alfons wrote and recorded songs in a farmhouse in southern Ontario and in Los Angeles, and worked with an all-star cast of collaborators, including Maya Postepski (of Austra).
The Indigenous Music Development Program at Manitoba Music will host two nights at this year's Indigenous Voices Showcase at the Folk Alliance International (FAI) conference, Feb. 15-16.These feature artists from across Canada and around the world, including Juno winners Leela Gilday and Susan Aglukark, WCMA Western Canadian Music Award winner Celeigh Cardinal, Ila Barker and Tracy Bone from Manitoba, and arists from Australasia.
Indie rock band Said The Whale releases its new LP Cascadia today, Feb. 8, via Arts & Crafts, and has begun a 26-date tour across Canada with B.C.-based pals Mother Mother. Dates here. Here's STW's new single.