FYI
Music News Digest, Feb. 2, 2023
Feb 01, 2023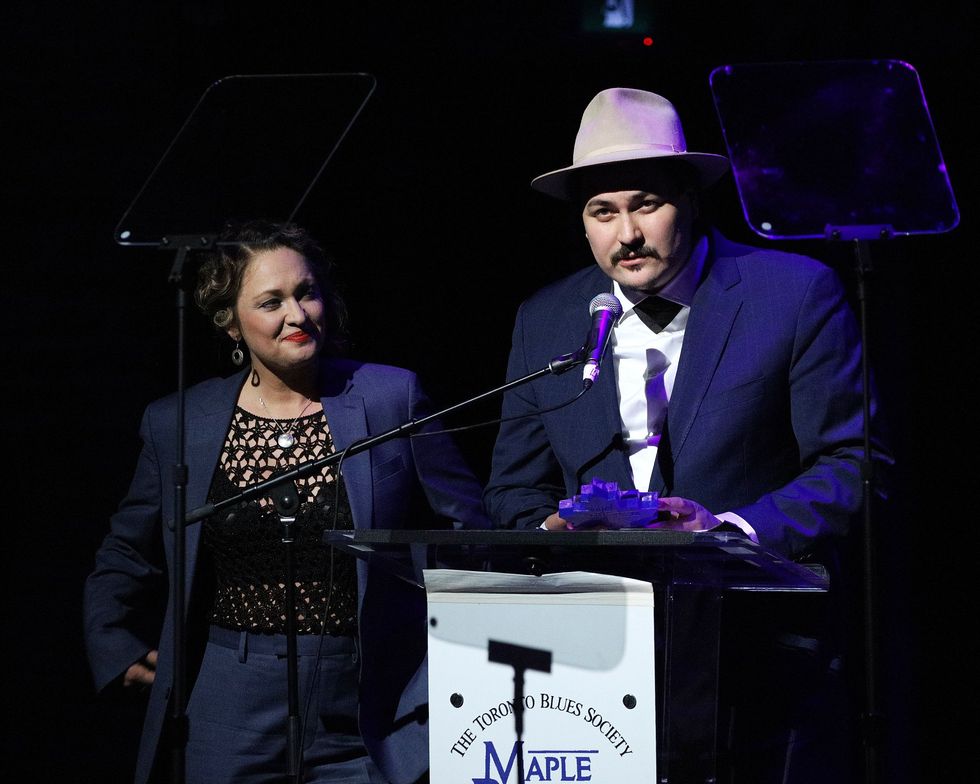 By Kerry Doole
Awards news
---
The 26th Maple Blues Awards were presented to a sold-out audience at The Harbourfront Centre Theatre in Toronto on Jan. 30, with 15 awards handed out. BC-based Blue Moon Marquee led the way with four victories, while Angelique Francis took home two trophies. Long-time blues DJ Patrick Monaghan of Ontario was presented with the Blues Booster of the Year award, while blues/soul veteran Harrison Kennedy received the prestigious Blues With A Feeling Award (for lifetime achievement). See a full list of winnershere.
The performers at the gala included Meghan Parnell and Dave Barnes of Bywater Call, Kevin Harvey and Neil Elsmore of Durham County Poets, AV (Ann Vriend), Blue Moon Marquee, show host Quisha Wint, and Paul Reddick with Kyle Ferguson. All were backed by the house band and newly signed Cordova Bay recording artists, The Maple Blues Band. 
– The 12th Annual Country Music Alberta Awards will take place in Calgary for the first time, on April 1 and 2, at Grey Eagle Resort and Casino. The two-day event will serve as an opportunity for music industry professionals from across the province to connect as well as for live music fans to hear performances by some top Alberta artists. Events include a songwriters' series (April 1), and the fan zone will be in place during the CMAB Awards show on April 2. A record number of 23 awards will be handed out at the gala. The CMAB Awards nominee announcement will take place at 6 pm (MST) on Feb. 7, via Facebook Live.
– Canadian roots music sensation Allison Russell continues to stuff her trophy case. Last week she won two UK Americana Awards for International Artist of the Year and International Song of the Year (with Brandi Carlile for their collaborative track, You're Not Alone). A full list of winners here.
– The Ontario Arts Foundation is presenting the sixth biennial Christina and Louis Quilico Awards, a vocal competition featuring the rising young stars of the Canadian Opera Company Ensemble Studio. The competition takes place on Feb. 6 (5.30 to 7.30 pm) at Toronto's Four Seasons Centre for the Performing Arts as part of the COC's Free Concert Series in the Richard Bradshaw Amphitheatre.
– Honey Jam Canada founder and E.D. Ebonnie Rowe and hip-hop star turned label exec Kardinal Offishall will each receive the Ontario Black History Society's inaugural Arts & Culture Leadership Award. 
Festivals news
– CP reports that "a groundswell of support for the Vancouver Folk Music Festival has its board of directors rethinking plans to cancel this year's event and dissolve the society. An open letter from the board says several parties have offered possible solutions for funding and support since it announced the plan to end the festival last week." The fest states, "Given these developments, we have rescheduled the AGM previously scheduled for Feb. 1  to Mar. 1 and are pausing the motion to dissolve the Society while we explore possible options to save the Festival.  In place of the previously scheduled AGM on Feb. 1, a Town Hall will be held. It will be an opportunity for Members to ask questions and meet with the Board. " Stay tuned.
– Mundial Montréal will return for its 13th edition, to be held from Nov. 14-17. Register for the early bird rate here. Artists and their teams interested in being part of the 2023 program are invited to apply now until March 15. Submit here.
– Calgary's Sled Island Music & Arts Festival has shared the first wave of artists playing the 2023 event, which runs June 21 - 25, and featuring over  200 bands. The eclectic lineup includes guest curator Bartees Strange, Osees, DEHD, Helado Negro, Akintoye,  Emma Ruth Rundle, Mannequin Pussy, Amindi, THaviah Mighty, SPELLLING, SUMAC, Liturgy, Water From Your Eyes, and Sessa. More acts will be announced in the coming months. Sled Island passes are currently on sale at SledIsland.com.
Industry news
– The Canada Council, in partnership with the National Arts Centre, is launching a video series on the NAC's website with performance highlights from Canadian jazz artists at Germany's jazzahead!  conference and festival. Canadian musicians took centre stage at the fest in Bremen, from April 28 to May 1, 2022 when Canada was recognized as the festival's first-ever overseas partner country. Notable artists featured included Audrey Ochoa, François Bourassa Quartet, Larnell Lewis, Marianne Trudel & John Hollenbeck, Gordon Grdina's Haram, Josh Zubot Strings, and Lina Allemano Four. Check out the series here.
– On Feb. 10, the TD Music Hall, a new state-of-the-art 500-capacity performance space in the Allied Music Centre in Toronto (home of Massey Hall), opens its doors. The Halluci Nation (formerly A Tribe Called Red) christens the stage that evening. A strong lineup of mostly Canadian artists has been announced for the upcoming months, and that list includes Whitehorse, Bobby Bazini, Jill Barber, Dylan Sinclair, Shakura S'Aida, Ombiigizi, Samantha Martin & Delta Sugar, Quique Escamilla, and Elise Legrow. Visit TDMusicHall.com for ticket information.
– Popular Toronto roots musician Freeman Dre recently had an aneurysm and is recovering in hospital. A GoFundMe campaign to assist him is now active here.
Artist news
– ON is a Toronto power trio made up of Lucy Di Santo (vocals, bass), Dan Cornelius (drums) and Steve Fall (guitars), and is described as a group carrying on the legacy of the former 90's Sire Records-signed band Acid Test. A self-titled album was recently released via Toronto-based indie imprint Indiestructable Records.
– A free HATZIS@70 concert in honour of famed Canadian composer Christos Hatzis takes place on Feb. 4 (2.30 pm) in Walter Hall, University of Toronto. Two world premieres with three multimedia performances are featured in a concert that concert promises to be the climax of his 70th Anniversary season. Performers include Sarah Slean. More infohere.
– Toronto rockers Ace Of Wands have released a new single, I Taste Blood, from the upcoming album Desiring, set for release on March 31, via Fortune Stellar Records. The group plays The Tranzac Club for Toronto's Long Winter on Feb. 4 and has an album release show at The Velvet Underground on March 30.
– Vancouver singer/songwriter Colleen Rennison previously impressed us while fronting rock band, No Sinner, a group that made a bit of a splash across the Atlantic. She's now a solo artist with a new album, Persephone, set for release later this year. Here's her new single.
–Toronto concert promoters Hugh's Room Live are keeping busy. Two local world music stars, Donné Roberts and Amai Kuda et Le Bois, share a Feb. 12 double bill at Revival. The same venue hosts bluesman Spencer MacKenzie tonight (Feb. 2), guitar ace Don Ross on Feb. 5, and Alfie Zappacosta on Feb. 8.
– East Coast blues/roots powerhouse Matt Andersen has released a new single, Only An Island. The track is taken from his forthcoming album, Matt Andersen & The Big Bottle of Joy, set for release on March 10 via Sonic Records. He is playing US dates this month. Info here.
– Retro jazz stylist Linda Carone debuted her sophomore album, Lemon Twist, at Reid's Distillery in Toronto recently, accompanied by A-list local players George Koller (he produced the album), Luis Orbegoso, Jeremy Ledbetter,  Alexander Brown, and Ben Wittman. A talent worth checking out.
– Singer/songwriter Ben Kunder presents the first instalment of Songs On Fire: Live And In The Round at The Cameron House in Toronto on Feb. 5 (7-9 pm). He'll perform alongside two noted peers, Caroline Marie Brooks and Lydia Persaud. The series will run on the first Sunday of every month.