FYI
Music News Digest, Feb. 17, 2022
Hillsburn (pictured) and The Town Heroes lead the ECMAs nominations list, Ram Ranch bugs the occupying truckers, and the CMAO Awards sets a date. Others in the news include Pink Mountaintops, Music NS, Creative Manitoba, Buffy Sainte-Marie, Ryland James, Allegories, Thus Owls, Roots North, Linda McRae and Doug Cox, and farewell Kerry Chater, Phil Murphy, Howard Grimes, and Sandy Nelson.
Feb 17, 2022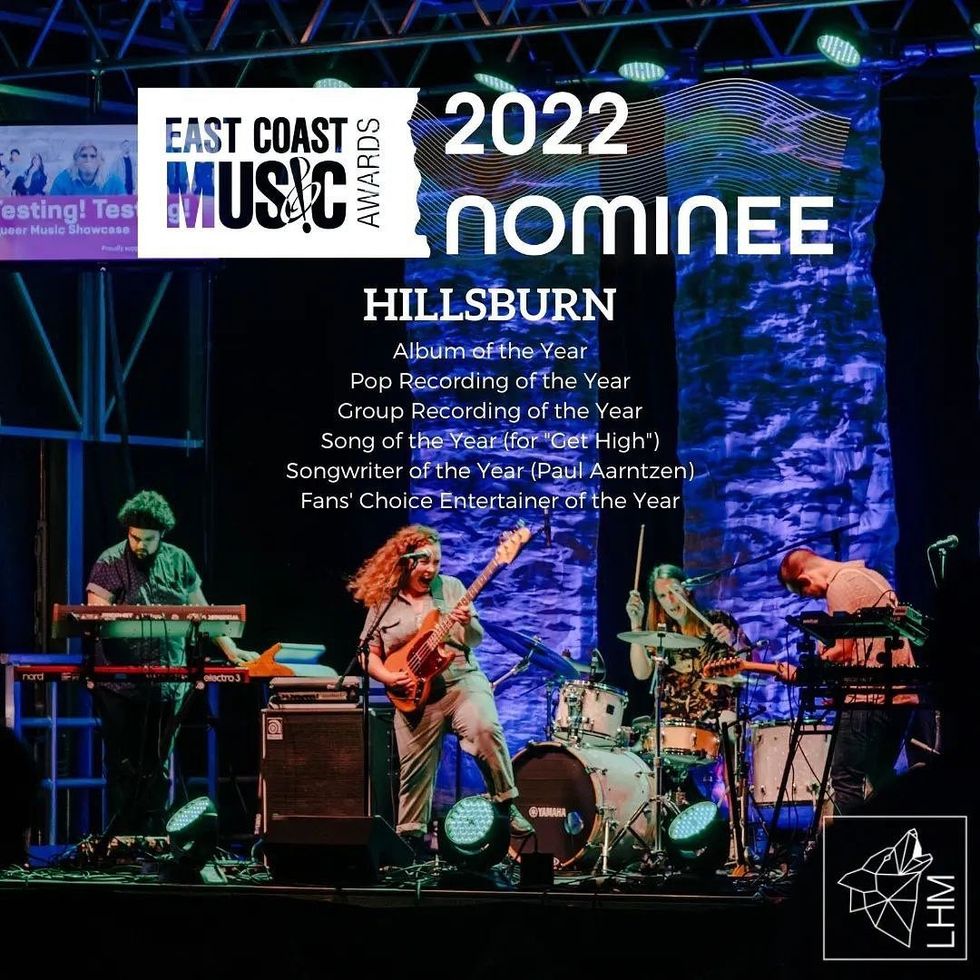 By Kerry Doole
Two Nova Scotian bands, Hillsburn and The Town Heroes, lead the group of nominees for the upcoming 2022 East Coast Music Awards, with six and five nominations respectively, followed by AndrewWaite, with four. artists scoring three noms apiece are Andy Creeggan, Chloé Breault, Justin Fancy, Kelly McMichael, Morgan Toney, Paragon Cause, and Quote the Raven. The 34th annual festival and conference for the ECMAs will be held in Fredericton, NB,  from May 4 - 8. See the full nominations list here.
---
– The Canadian anti-vax mandate truck rallies and blockades have grabbed attention in the US, including an American group of liberal-leaning subversives who go by the name #RamRanchResistance. They decided to fight back against the alt-right protestors by resurrecting an eight-year-old raunchy gay metal song, Ram Ranch, by musician Grant MacDonald.
American Songwriter reports that #RamRanchResistance has been blasting the song, filled with homoerotic lyrics, to subvert the idea of all the (Dodge) Ram trucks involved in the Canadian protests. Some Ottawa residents have been blaring the track at the occupying truckers. MacDonald recalls the song "was written to get back at the homophobia of Nashville. That was the whole foundation. Now, I'm just elated, totally elated that my song could be used to stand up for science."
– The CMAO (Country Music Association of Ontario) has set its 2022 Awards show for June 5, in London, ON. Expect a Live + Loud 10th Anniversary celebration. Tickets on sale to the public tomorrow (Feb. 18) here
– Pink Mountaintops, the much-heralded side project of Vancouver's Black Mountain frontman Stephen McBean, returns after eight years with the announcement of their new album Peacock Pools, out May 6 on their new label home ATO Records. It is previewed via this slab of solid rock, Lights Of The City.
– Music NS has announced revisions to its Artist Development Program. Before, this program offered an annual grant of $3K, going toward one year of artist development activities including sound recording, touring and showcasing, video production, marketing, and promotion. Now: Artist 1 level applicants are invited to choose their funding stream, allowing for more opportunities. Those categories are Recording, Marketing, and Tour Support, with grants of up to $1.5K per applicant. The next deadlines are March 15 and June 15. More info here.
– On March 16 (2-3 pm), Creative Manitoba presents a free online event featuring Buffy Sainte-Marie in conversation, with Daina Warren, Director of Urban Shaman Gallery, about her most recent show, Buffy Sainte-Marie: Pathfinder, a retrospective by an innovator of digital art currently running at Urban Shaman Contemporary Aboriginal Gallery. More info here.
– Juno-nominated pop singer Ryland James will sing the Canadian national anthem at Sunday's star-studded 2022 NBA All-Star Game in Cleveland. He's in fine company, as Macy Gray will sing the US anthem, and Earth, Wind & Fire will perform their hit Shining Star.
– 13 years after a well-received debut full-length, Hamilton, ON electronic-pop duo Allegories will release a second, Endless, on April 29, on Hidden Pony Records. Here's a preview.
– Thus Owls will release a fifth album, Who Would Hold You If The Sky Betrayed Us?, on March 4, followed by a short tour. this comprises shows at Toronto's Baby G (March 22), Ottawa's Gallery SAW (March 24), Montréal's Sala Rossa (March 31), and Quebec City's Grand Théâtre (Studio Telus), Apr. 27. 
– The Roots North festival comes to Orillia, ON, April 22 & 23. The strong lineup includes Terra Lightfoot, Steve Poltz, Good Lovelies, Logan Staats, and Lydia Persaud. More info here.
– Two acclaimed Canadian roots music veterans, Linda McRae and Doug Cox have collaborated many times, and are now teaming up for some Western dates. From Feb. 17-19, they have shows in Salmon Arm, Penticton and Christina Lake, respectively, with later shows in Prince George and Edmonton. More info here.
RIP
Kerry Chater, a noted Canadian singer/songwriter who wrote hits for many country music stars, died on Feb. 4, age 76.
Born in Vancouver, Chater got started when he joined a band called the Progressives in the mid-1960s. He eventually left the group and joined a pop-rock band that would go on to become known as Gary Puckett & The Union Gap. Chater served as the band's bass player and arranger during their live performances.
In just two years' time, Gary Puckett & The Union Gap had four songs land in the Top 10 on the charts. These songs included Woman, Woman, Young Girl, Lady Willpower, and Over You.
The group scored another Top 10 hit, This Girl Is a Woman Now, in 1969. Chater left the group the following year, taking his career in a new direction. He studied musical theatre and released two solo albums, Part Time Love and Love on a Shoestring.
Chater found later success as a country songwriter. He co-wrote the 1979 Top 10 country hit,"I Know a Heartache When I See One, recorded by Jennifer Warnes. Several songs he co-wrote in the '80s became #1 country hits,  including George Strait's You Look So Good in Love, Reba McEntire's You're the First Time I've Thought About Leaving, and Alabama's If I Had You.
Chater also co-wrote Lee Greenwood's 1983 single I.O.U. Greenwood's performance earned the Grammy for Best Performance by a Male Artist. Chater and his co-writer, Austin Roberts, were nominated for a Best Country Song Grammy. Other Chater compositions became hits for Ed Bruce, Paul Brandt, David Frizzell, Juice Newton, Kathy Mattea, and Tanya Tucker. Canadians to cut his songs included Brandt, Anne Murray, Eddie Eastman, and Lisa Brokop.
Chater and his wife, Lynn Gillespie Charter, made the move to Nashville in 1987. Together, they wrote songs for artists such as Restless Heart, Lorrie Morgan, and Anne Murray. The couple later wrote two thriller novels, Kill Point and Blood Debt. A third novel, titled Collusion, is in the works.  Sources: Yahoo News, Larry Delaney
– Phil Murphy, a leading figure in the London ON music scene for decades, died Feb. 13 at the age of 92.
Murphy, who played saxophone and clarinet, was a professional musician in swing bands, a teacher at high schools and Fanshawe College, a bandleader and principal clarinet player for the London Symphony Orchestra. 
"He was an icon in music education in London," Mario Circelli, founder of the Forest City London Music Hall of Fame, told the London Free Press.  Murphy was inducted in 2007.
Murphy was a professional musician for eight years in swing bands in the 1940s and into the 1950s, touring across Canada and the United States before returning to study at Western University's music teachers college. He taught at H.B. Beal, Central and Catholic Central secondary schools and also taught jazz at Fanshawe College.
He led the Phil Murphy Big Band and was the principal clarinet player. Source: London Free Press
International
– Howard Grimes, a drummer termed the the backbone of Memphis soul, has died on Feb. 12, of kidney failure, age 80.
NPR observes that "As a drummer for Hi Records' house band the Hi Rhythm Section in the 1970s, Grimes worked closely with artists including Al Green, Ann Peebles and Otis Clay, among others. His beats on songs including Green's Let's Stay Together and Peebles' I Can't Stand the Rain served as a crucial foundation for the burgeoning Memphis soul sound of the era.
Grimes was affectionately nicknamed "The Bulldog" for his notoriously steady beat behind the drum kit, a name he earned from mentor and Hi Records founder Willie Mitchell.
Hi Records was sold in 1977 and by the 1980s, Grimes began to struggle professionally and became homeless.  In later years, Grimes performed as a member of The Bo-Keys, and in 2021 he released his autobiography Timekeeper: My Life in Rhythm, chronicling his life and career as an artist who left an indelible mark on the musical legacy of his hometown. Read more here.
– Sandy (Sander Lloyd) Nelson, a chart-topping drummer and composer, died on Feb. 14, age 83. 
Nelson was born in Santa Monica and became one of the legendary rock-n-roll drummers of the late '50s and early '60s. His #4 Billboard hit Teen Beat along with the 1961 top ten song Let There Be Drums were rare accomplishments as they were both instrumentals and were top 10 hits in both the US and the UK.
Sandy also played with Phil Spector's the Teddy Bears on the hit To Know Him is to Love Him and several other popular groups of the era. He appeared on such top ten hits as Alley-Oop and A Thousand Stars. In all, he released over 30 music albums and was a highly respected and sought-after session drummer for decades.
In 1963 he was in a motorcycle accident that caused the amputation of his right foot and part of his leg, but this never slowed him down.  His home on Avenue D in Boulder City became something of a spectacle, as he dug a 26′ deep cave in the backyard where for a while, he operated a bootleg radio station called KPOOP 1590 until it was shut down by the FCC. Sources: Boulder City News, Drummer World