FYI
Music News Digest, April 25, 2018
Shania is named the host of the CCMA Awards, a flurry of Canadian gold and platinum certifications, and Hugh's Room Live celebrates its first anniversary. Also in the news are Tebey, Eamon McGrath, Coleman Hell, Tears For Fears, CheZZa, and a farewell to Bob Dorough. Videos provided for your enjoyment.
Apr 25, 2018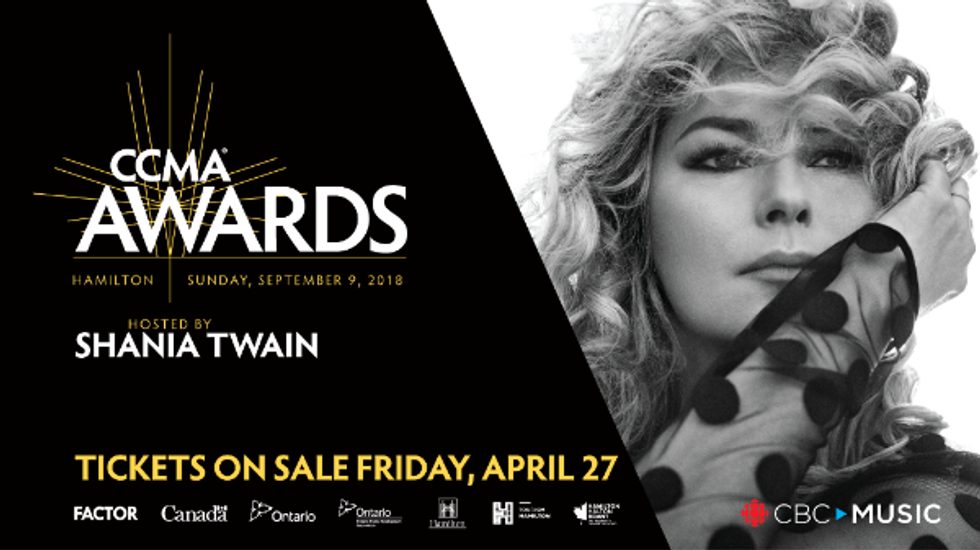 By Kerry Doole
Country star Shania Twain has been announced as the host of the 2018 Canadian Country Music Association (CCMA) Awards at FirstOntario Centre in Hamilton, ON,  on Sunday, September 9. The announcement was jointly made by the CCMA, and the CBC which will broadcast the awards live at 8 p.m. ET (5 p.m. PT) on CBC and cbcbmusic.ca/ccmas.
---
At the show, Twain will also accept The Generation Award. She will be just the second artist to receive this honour, in celebration of her significant impact on the country music industry and her unmatchable ability to create mass awareness of country music around the globe. Taylor Swift received the inaugural Generation Award in 2012.
–  April has seen a flurry of new Music Canada gold and platinum certifications for Canadian artists. Scott Helman earned gold for his single "Pda," with Shawn Mendes matching that feat with "In My Blood" and The Weeknd following suit with "Call Out My Name." Drake's single "Nice For What" also achieved gold status, while earlier smash "God's Plan" is now quintuple platinum. Tyler Shaw earned gold for "Wicked," with Dallas Smith going platinum for his hit single "Wastin' Gas."
–  Hugh's Room Live is the recent incarnation of Toronto roots music hub Hugh's Room. Survival as a live music club hasn't been easy, so the one year anniversary of HRL is a feat worth celebrating. That takes place this Saturday (April 28), with a party featuring many club regulars. The list includes Sheila Carabine (Dala), Jack deKeyzer, Kellylee Evans & Drew Gonsalves (Kobo Town), Jaron Freeman-Fox, David Woodhead, French Squeeze (Marjorie Maltais and Jacques Arsenault), HRL Kitchen Band, Amanda Martinez & Donné Roberts and authors/poets Joe Fiorito, John Lorinc and Robert Priest. Holmes Hooke MCs. More info here
–  On Monday, Nashville-based Canadian country artist and songwriter Tebey was the recipient of a #1 award for "Somebody Else Will," the song he co-wrote with Kelly Archer and Adam Hambrick that was performed by Justin Moore. The award was presented by the Nashville Songwriters Association at an event that celebrated all the #1 Country songs for the past 12 months. "Somebody Else Will" went #1 on both the Billboard Country Chart & Mediabase Country Airplay Charts, and the video (below) has 11M YouTube views. Tebey's new EP, Love A Girl, is out April 27.
–  Known as one of the hardest-working cats in Canadian music, rootsy troubadour/author/booking agent-author Eamon McGrath has announced additional Canadian tour dates following his current European Spring tour. The shows run from May 26 to June 26 (an NXNE gig is June 14) and are in support of his 6th studio album Tantramar, due June 2 via Saved By Vinyl. The moody, offbeat first single "Power" is available now and features a guest appearance from Peter Dreimanis of July Talk on background vocals and piano.  
–  JAZZ.FM91, in collaboration with Music Ontario and TD Bank Group, presents a full-day Music Business Seminar: Sunday, April 29 from 1:00pm-7: 00 pm at Hugh's Room Live in Toronto. Speakers and panelists are present for a day of learning and networking about careers in jazz music, and the event features an interview with international jazz sensation Larnell Lewis. Best of all, it is free. More info here
–  Multi-platinum electro R&B artist Coleman Hell has just released a new track "Killer", the first single from a sophomore album due this summer (date TBA) via 604 Records. Check out the cut below
–  '80s new wave faves Tears For Fears are finishing up their first new album in 14 years, with plans for a release this fall. A preview taste late last year was the track "I Love You But I'm Lost." A planned UK arena tour was recently postponed "due to unforeseen health concerns and on doctor's orders," but dates have been rescheduled for early 2019.
–  CheZZa (Chezare Miller) is a Brampton-based artist whose work fuses hip-hop, R&B, and dancehall elements. His latest track and video is "Bruk It Down," featuring Barrie Dancehall/Hip-Hop artist, Tha Chameleon and CheZZa's brother, artist/producer, Mister Miller. Check it out below and learn more here
Bob Dorough, jazz musician and composer, died on April 23 at age 94. Raised in Texas, he joined the bebop scene in NYC in the '50s, with his first recording, He did his first recording "Devil May Care," coming in 1956.
In 1962, he recorded vocals for two original songs with Miles Davis: "Nothing Like You" and "Blue Xmas." He released a number of solo albums, including three for Blue Note Records. His compositions included "Conjunction Junction," "Verb," "The Shot Heard 'Round the World," and "Comin' Home Baby", which gave Mel Tormé a Top 40 hit and two Grammy Award nominations. He was also active as a musical director, and, along with Stuart Scharf, he produced two albums for the folk-pop band Spanky and Our Gang and
Dorough's most well-known work came during his tenure as musical director of ABC's Schoolhouse Rock! (which originally aired between 1973 and 1985). The Saturday morning cartoon combined animation with catchy songs that helped teach children subjects like math, grammar, and history.  Sources: Pitchfork, Wikipedia