FYI
Music News Digest, April 21, 2022
Shawn Mendes (pictured) is honoured with the Junos' International Achievement Award, ElyOtto cashes in on his viral hit, and the ECMAs announces its honorary awards. Also in the news are the CMAOntario Awards, Tebey, Shania Twain, Salome Bey, MacEwan University, Cue-Sheet-Palooza, Outer Range, the TBS, The Tragically Hip, Arlene Bishop, Ian Lane, CBC Searchlight, Randy Bachman, Sophia Bel, The Baby G, Softcult, and farewell Bill Bourne, Jerry Doucette, Pastelle LeBlanc, Art Rupe, DJ Kay Slay, Charnett Moffett, and Ken West.
Apr 20, 2022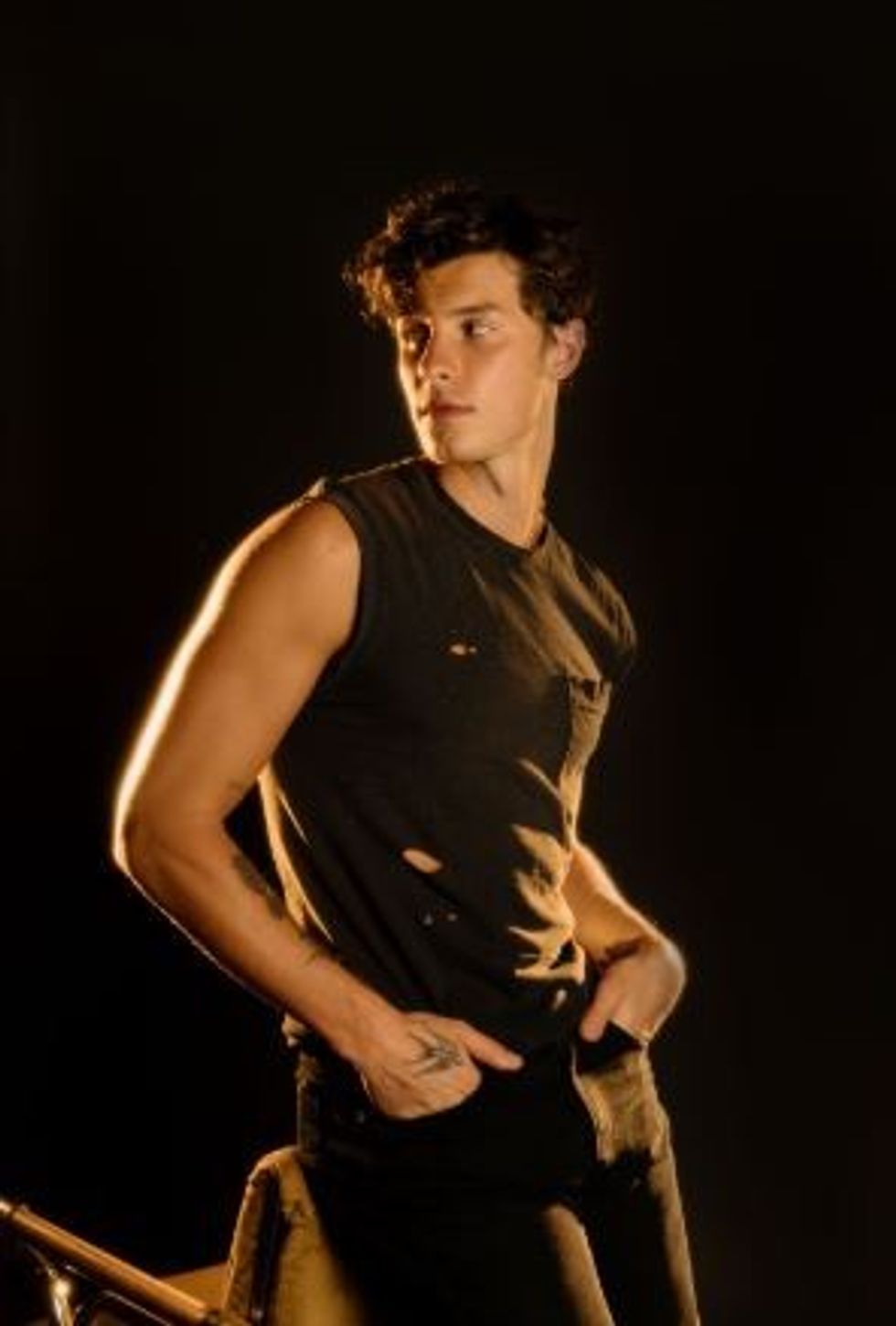 By Kerry Doole
Awards news
---
Global pop star Shawn Mendes will be honoured with the International Achievement Award at The 2022 Juno Awards Broadcast in Toronto, CARAS has announced. Mendes will make a special appearance to receive the distinguished decoration during next month's show, set for Budweiser Stage in Toronto, on May 15 and broadcast and streamed live across Canada at 8 pm ET/5 pm PT on CBC TV, CBC Gem, CBC Radio One, CBC Music, CBC Listen, and globally at CBCMusic.ca/junos and CBC Music's Facebook, YouTube and Twitter pages. The multiple Grammy-nominated Mendes has won 11 Juno Awards.
In a press release, he stated that "Accepting this award will be a surreal moment. To be recognized for my work not only in Canada, but around the world, is a tremendous honour and I am humbled to join an outstanding group of artists who have helped put Canadian music on the map." He joins such previous recipients as Arcade Fire, Bryan Adams, Celine Dion, Drake, Sarah McLachlan and Shania Twain.
– The ECMA Board has named the recipients of the 2022 Honorary East Coast Music Awards, to be handed out May 8, during the ECMA Awards Part II at 11 am at the Delta Fredericton, and available to view online at ECMA.com. The recipients of the 2022 Honorary East Coast Music Awards are as follows: Director's Special Achievement - Patsy Gallant; Bucky Adams Memorial Award: Tachichi - Tyrone Thompson; Dr. Helen Creighton Lifetime Achievement Award: Cutting Crew; Industry Builder Award: Le Grenier musique - Carol Doucet; Musician's Achievement Award: Yvette Lorraine; Stompin' Tom Awards: Buddy MacDonald, Jean Surette, Gordon Quinton, Charles Austin, Scott Parsons. Learn more about the 2022 recipients here 
– Presented by AccessNow TV and Creative Saskatchewan, The Saskatchewan Country Music Awards take place on April 23 (8-10.30 pm) as a free online event. Tune in here.
– The Country Music Association of Ontario (CMAOntario) has announced its lineup of performers for the 10th Annual CMAOntario Awards, presented by Slaight Music and taking place on June 5 at Centennial Hall in London, ON. Tix are on sale now here. Hosted by Jason McCoy and Robyn Ottolini, the Awards will include in-person performances by nominees Tebey, Tim Hicks, Genevieve Fisher, Sacha, Cory Marks, Jason Blaine,  Kristine St-Pierre, Nate Haller, River Town Saints, and The Western Swing Authority (the CMAOntario house band).
The Awards will also include a special appearance by guest artists Michelle Wright, Beverley Mahood, and Patricia Conroy, who will be joined by The WSA's Stacey Lee Guse, in a tribute performance to Carroll Baker, one of the recipients of the CMAOntario Impact Award. The Award Show is preceded by the CMAOntario Festival & Awards Weekend, June 2-5, which will include Songs & Stories: Songwriters in the Round, R2i TuneUp Conference, Street Fair, Bonfire concert, and Tailgate Party. Additional details are TBA. 
Festivals news
– Canadian artists figure prominently in the lineup of California fest Coachella this year, but it was a surprise guest who stole some attention last weekend. Shania Twain showed up onstage during Harry Style's reportedly sensational set. She delivered her anthemic hit Man, I Feel Like A Woman, then dueted with Styles on You're Still The One. The Guardian reports that Styles told the crowd that "In the car with my mother as a child, this lady taught me how to sing. She also taught me that men are trash."
Industry news
– Canada Post is celebrating the life and work of award-winning singer-songwriter, composer, producer, director, and actor Salome Bey, with the unveiling of a historic new stamp. This is officially launched at an event this morning (April 21) at Meridian Hall in Toronto, one that features special guests, including her daughters, musician/artist tUkU and SATE, a 2022 Juno Award nominee for Alternative Album of the Year. In other Salome Bey news, her acclaimed self-titled debut album is soon to be reissued.
 –CBC Music's Toyota Searchlight contest returns, with submissions now open for Canadian artists here, until May 5. The long-standing talent search will again feature prizes aimed at kickstarting the finalists' music careers, including; a spot in the Allan Slaight Juno Master Class, a recording residency at the National Music Centre in Calgary, a Play MPE distribution deal, a performance slot at the next CBC Music Festival, and more. The grand prize winner and runners-up will be announced on June 28. More info here
– On Tuesday this week, MacEwan University in Edmonton launched the Distinguished Visiting Artist in Country Music program, the first university program of its kind in Canada. "We're going to give students an opportunity to learn all there is to learn about what I truly believe is one of the incredible genres in the world, and that's country music," said country star Brett Kissel, honorary campaign chair. The only other program of its kind is at Belmont University in Nashville, one of Edmonton's sister cities. The program will include workshops in areas like songwriting with guest artists like Michelle Wright. The role of the visiting artist in the program will be given to "renowned professionals representing various aspects of the country music industry including performing, writing and producing," added the university in a news release. There is a fundraising campaign in support of the initiative. Source: CTV News
– Natalja Chestopalova and Rudolf Olah have won the $3K first prize at the 2022 Cue-Sheet-Palooza event, held at a marathon 24-hour in-person session in Toronto earlier this month. The duo developed a CueConnect prototype that will help streamline the cue sheet process by which SOCAN members receive their royalties for on-screen music. The Cue-Sheet-Palooza Hackathon, hosted by The Screen Composers Guild of Canada (SCGC) and SOCAN, offered an opportunity for teams of developers to explore ways music creators and stakeholders can get paid their screen-based performance rights royalties faster and more precisely.  Read more here
– Outer Range is an American supernatural mystery thriller TV series that has just premiered on  Amazon Prime Video. We suspect the music supervisor must be Canadian, as the gripping first episode featured songs by Colter Wall, Leonard Cohen, and Jason McCoy, alongside Dolly Parton and Emmylou Harris. Kudos.
– The Toronto Blues Society has announced the appointment of musicians, community leaders, and educators Diana Braithwaite and Quisha Wint to the Board of Directors. 
Artist news
– In just six months, the rocket ride to success of 18-year-old Calgary high school student ElyOtto  (born Elliott Ferrous-Martin Platt) has landed him a major record deal. This is primarily attributable to just one track, the hyperpop-accented Sugarcrash!, a cut that blew up on TikTok and Soundcloud when released last Aug. It spawned 6.8M video creations on TikTok, making it that platform's top song of 2021, and a label bidding war began. A Toronto Starfeature stated seven labels were in the running, with RCA emerging as the winner. That label released ElyOtto's debut EP, Hellscape Suburbia, on April 8.
– Mike Downie, brother of The Tragically Hip's frontman Gord Downie, is working on a "definitive documentary" on the band, CP reports. The filmmaker will direct a documentary series chronicling the Hip's ascent from high school band to Canadian musical icons. As announced last week as part of Amazon Prime Video's slate of original Canadian productions, the four-part series is set to be released in fall 2024 to mark the 40th anniversary of the band's formation. Mike Downie has previously profiled The Hip and Gord in the 1993 concert tour film Heksenketel and in 2018's Find the Secret Path documentary.
– Randy Bachman says he's postponing his upcoming spring concert tour after "a series of health challenges." The scheduled dates in Saskatchewan, Alberta and Ontario in late April and May are the ones affected. "The past six months have been the hardest of my entire life," Bachman wrote in a Facebook post. "In my heart, soul and mind, I feel fantastic, but physically, I realize I can't perform at this time and need to postpone." His health issues have not been revealed. Tickets for the tour will be honoured for the as-yet-announced rescheduled shows or can be refunded. Source: CP 
– Toronto-based singer/songwriter Arlene Bishop has long been praised for her witty stage banter as well as her poetic material. She is about to make her standup debut at a hometown dinner show at Mandy's Bistro tonight (April 21). After her monologue (entitled Welcome to the Apocalypse), another gifted songsmith, Yawd Sylvester, has a set, followed by a more traditional Bishop set.  Highly recommended. Tix here.
– Montreal pop-punk rocker Sophia Bel released her debut album, Anxious Avoidant, last week, on Bonsound. Upcoming shows include a Toronto gig at The Baby G on May 11. Here's her new video.
– The aforementioned The Baby G is one of Toronto's favourite venues for artist discovery. May's free weekly series, Happy Sundays, features Status / Non-Status, ROY, Whitney K and more. The April 24 lineup comprises OMHOUSE, Robin Hatch, Lydia Persaud, and DJ Coldboi. Full listings here.
– Toronto singer/songwriter/actor Ian Lake releases a new album, What It Is, tomorrow (April 22), and launches it with a hometown show at The Dakota Tavern the same night (6.30-8.30 pm). Tix here
– The next episode of the Indie Weekly series features an in-depth conversation with fast-rising indie rock band Softcult, one led by twin sisters Phoenix and Mercedes Arn-Horn. It is set for April 26 at 4 pm ET. Free with registration here.
RIP
– Bill (William Sigurd) Bourne, an acclaimed veteran Canadian folk/roots singer/songwriter/guitarist, died on April 16, age 68, of cancer.  
The news was announced by his family on his Facebook page. The post reads in part: "On behalf of Bill's family, to Bill's music family around the world, it is with sadness and relief, that we announce that Bill passed on this morning. He was surrounded by family and love and went peacefully and gratefully into whatever is next. The family requests privacy at this time to mourn his death. Kind thoughts and good wishes to you all, at this sad time. He will live on in his beautiful music - Dance and Celebrate!"
The multiple Canadian Juno nominee and winner was diagnosed with Stage 4 bladder cancer in late 2020. Early this year, Bourne's daughter Emily created the 'Help Bill Heal' GoFundMe campaign to assist her father and it already raised more than $36K.
Bourne was born in Red Deer, Alberta.  After launching his solo career in 1975, he toured and recorded both as a solo artist and in collaboration with a wide range of other roots artists.
In the early '80s, Bourne recorded and toured with noted Scottish folk band the Tannahill Weavers before forming the duo Bourne and MacLeod with the Weavers' former piper Alan MacLeod.
The duo won a 1991 Juno award for their album Dance and Celebrate and a second nomination for its follow-up, Moonlight Dancers.
Bourne then teamed up with Shannon Johnson, now a member of the Juno-winning McDades, and released two albums as Bourne and Johnson, notching a Juno nomination for the sophomore album, Victory Train.
Bourne then recorded the album No Special Rider, a trio project with Andreas Schuld and Hans Stamer. It earned Bourne his fourth Juno nomination and his first in the blues category as opposed to the roots and traditional one. 1999 solo release, Sally's Dream, gained him a fifth Juno nomination, and in 2001 Bourne his second Juno, this time as a member of Tri-Continental, a 'super trio' trio also featuring Lester Quitzau and Madagascar Slim
In 2004, Bourne produced and sang a duet on an album by the then 21-year-old Faroese singer-songwriter Eivør Palsdottir, which went on to win two Danish Music Awards.
As news of his passing spread, Bourne's peers weighed in with eloquent tributes to the man and his music.
Aengus Finnan, a fellow folk songsmith and ED of Folk Alliance, posted this on Facebook: " Godspeed Bill Bourne, the kindest quirky philosopher on the trans-Canada. I first heard him as part of the Tannahill Weavers with his searing rendition of Gordon Lightfoot's Marie Christine and later bought and wore out his Bourne & MacLeod  cassette in an Atco trailer circa 1991 in Northern Alberta... The least career-driven musician I've known, his "career" was about authentic creative passion for all things, and connecting with people, be they the organizers, fellow musicians, or audiences. He will be missed! But his sweet positive outlook will forever move me, get me singing along, and have my toes tapping. Farewell Ole Buffalo!"
Mike McDonald of Jr. Gone Wild posted that "Back in the day, Holger Petersen took a chance on me and hired me for the Edmonton Folk Festival. My very first workshop I ever did was hosted by Bill Bourne. I was so green and didn't know shit. Didn't matter to Bill, he treated me as an equal (very generous of him…I really sucked back then) and made me feel comfortable. Gonna miss you. Glad you were part of our lives."
The Grievous Angels: "We mourn the passing of Bill Bourne. We played some beautiful shows with him in western Canada back in the day. He was such a powerful singer and a good presence. We didn't even grudge losing a Juno to him. He is with the other angels."
Kim Beggs: "Another beautiful inspiring gem gone. RIP Bill Bourne. You were raw and kind." Sources: Roots Music Canada, Facebook, Wikipedia
– Jerry Doucette, a BC-based classic rock guitarist and singer/songwriter, died on April 18, age 70, of cancer.
Doucette, 70, was best known for Mama Let Him Play, his 1977 hit from the album with the same name, which hit the Billboard Top 100. In 1979, his band, Doucette, won a Juno for Most Promising Group of the Year.
Doucette was born in Montreal and grew up in Hamilton, learning to play guitar at age six. In 1972 he moved to Vancouver where he played with bands The Seeds of Time and the Rocket Norton Band before signing with Mushroom Records as a solo artist.
Between 1977 and 1999 Doucette released five albums as a solo artist and continued playing in small venues in Western Canada until 2018.
A family friend of Doucette's said in a statement the inspiration for Mama Let Him Play came from what his father would say after coming home from work to his son playing guitar. His mother would tell him to be quiet, but Doucette recalled his father saying she should let him keep playing. He thought that would make a good song title, and said he finished writing the hit in about an hour.
Details on a celebration of life will follow. Sources: CTV News, Delta-Optimist
– Pastelle LeBlanc, one third of the international touring Acadian powerhouse trio, Vishtèn, passed away on April 8 of breast cancer, at age 42.
LeBlanc, a talented multi-instrumentalist, along with her sister Emmanuelle, began performing together at an early age and have been touring as Vishtèn for close to 2 decades. Her life partner Pascal Miousse made up the other third of the band.
As part of Vishten, Pastelle and her bandmates were nominated for and/or won multiple awards including at the Junos, the Canadian Folk Music Awards, ECMAs and Music PEI Awards. They performed on major stages around the world including the New Orleans Jazz and Heritage Festival, Woodford Folk Festival in Australia, France's Festival Interceltique de Lorient, Shetland Folk Festival in Scotland and so many more. Sources: Music PEI, Saltwire
International
– Keith Grayson (aka DJ Kay Slay), a US hip-hop artist, died on April 17, age 55, of Covid-19.
The news of his death came via New York radio station HOT 97, where he hosted The Drama Hour for more than two decades.
Grayson grew up in Harlem, immersed in New York City's early hip hop scene. He got his start as a teenage graffiti artist and was featured in the 1983 hip-hop documentary Style Wars. He began selling bootleg mixtapes on street corners in the early '90s and released his first studio album, The Streetsweeper, Vol. 1, in May 2003. Grayson released several more albums and worked with the likes of Nas, Kendrick Lamar, Jadakiss and Busta Rhymes. Source: AP
– Charnett Moffett, an American jazz bassist and bandleader, died on April 11, age 54, of a heart attack.
Moffett began playing bass in the family band, touring the Far East in 1975 at the age of eight. In the mid-1980s, he played with Wynton Marsalis and Branford Marsalis. In 1987 he recorded his debut album Netman for Blue Note Records. He worked with Art Blakey, Ornette Coleman, Pharoah Sanders, Dizzy Gillespie, Ellis Marsalis, Sonny Sharrock, Stanley Jordan,  Arturo Sandoval, Courtney Pine, David Sanborn, David Sánchez, Dianne Reeves, Harry Connick, Jr., Herbie Hancock, Joe Henderson, Kenny Garrett, Kenny Kirkland,  Melody Gardot, Mulgrew Miller, Tony Williams, and many more.
His other releases on Blue Note were Beauty Within (1989), featuring five family members, and   Nettwork (1991), produced by Kenny Kirkland. In 1993, Moffett recorded Rhythm & Blood for Sweet Basil's Apollon Records. A mix of jazz and pop, it placed high on the music charts in Japan, and he continued to release albums under his own name for a number of labels.
In 2013, he released The Bridge: Solo Bass Works and Spirit of Sound, both on Motéma Music. To celebrate his thirtieth year as a recording artist, Moffett next released his first live album, Music From Our Soul. His final album was 2019's Bright New Day. Sources: Wikipedia, Jazz Times
– Art Rupe (born Arthur Goldberg), an early rock 'n' roll music mogul and founder of the influential Specialty Records, died April 15 at his home in Santa Barbara, Calif. He was 104.
Specialty championed such pioneering artists as Little Richard, Sam Cooke, Lloyd Price, Roy Milton and Percy Mayfield after its launch in Los Angeles in 1946. Rupe was also an oil and gas entrepreneur. He spent his final decades devoted to the work of his Arthur N. Rupe Foundation in Santa Barbara.
Rupe was born Arthur Goldberg to a working-class Jewish family in Pennsylvania. He grew up outside the Pittsburgh area. He developed an interest in the blues, gospel and R&B music that he heard growing up in McKeesport, Pa.
The LA Times noted that "the producer, businessman, philanthropist and Rock & Roll Hall of Fame member served as an essential amplifier of the vibrant post-World War II music scene along Central Avenue in South Los Angeles." 
Rupe was a contemporary of Jerry Wexler, Leonard Chess and other white businessmen-producers who helped bring Black music to a general audience. He founded Specialty in Los Angeles in 1946 and gave early breaks to such artists as Cooke and his gospel group the Soul Stirrers, Little Richard, Lloyd Price, John Lee Hooker and Clifton Chenier.
"Specialty Records' growth paralleled, and perhaps defined, the evolution of Black popular music, from the 'race' music of the 1940s to the rock 'n' roll of the 1950s," music historian Billy Vera wrote in the liner notes to The Specialty Story, a five-CD set that came out in 1994.
Rupe's most lucrative and momentous signing was Little Richard, a rhythm and blues and gospel performer since his teens who had struggled to break through commercially.
Read more at Variety and The Washington Post
– Ken West, co-founder of the Big Day Out, the Australasian touring colossus, died on April 7 at the age of 64. No cause of death was reported.
Billboard notes that "Big Day Out's multi-stage, single-day format became the template for alternative rock festivals across a generation...The BDO was a rite of passage for music fans in Australia, held during the hottest weeks of summer, with all the hottest acts in the world making the trip, from The Prodigy to Rage Against the Machine, Nick Cave and the Bad Seeds and Red Hot Chili Peppers, Kanye West, Iggy Pop and many more."
West, along with his business partner Viv Lees, created the BDO 30 years ago, borrowing its format from the successful Livid event that had made its home in Brisbane, Queensland. The BDO started life as a one-date show in Sydney. The earliest incarnation of the event hosted performances by Violent Femmes and Nirvana and played before less than 10,000 fans. West and Lees moved fast, and took the show on the road, expanding to Adelaide, Melbourne and Perth, and across the sea to Auckland.
In 2010, BDO reached the 100-show milestone, with ticket sales for that edition topping 337,000. During its heyday, the Australasian BDO entourage numbered about 850, with about 20 side-shows.
BDO would run its final lap in 2014. Live Nation acquired Big Day Out, but despite speculation, that BDO would return in some shape or form, nothing tangible would transpire.
Earlier this year, West announced a new project, a book to mark the 30th anniversary of the inaugural BDO, and a website at kenfest.org, where the entrepreneur would share his impressive collection of photographs and stories.
Billy Bragg was amongst those paying tribute to West. He posted "UK bands called it the Big Day Off. Lots of fun memories hanging with Ken and the BDO crew. So long mate." Source: Billboard