FYI
Music Biz Headlines, Nov. 1, 2019
A look back at Downchild (pictured), Arnold Gosewich remembered, and a boom time for Live Nation and Apple. Others in the headlines include Little Scream, Glenn Gould, Prince, Sorrey, dead celebrities, Miles Davis, farewell tours, Ricky Reed, Amazon, X, Ronnie Wood, Ticketmaster, Sex Pistols, Ringo Starr, Lana Del Rey, Lou Reed, and Maria Muldaur.
Nov 01, 2019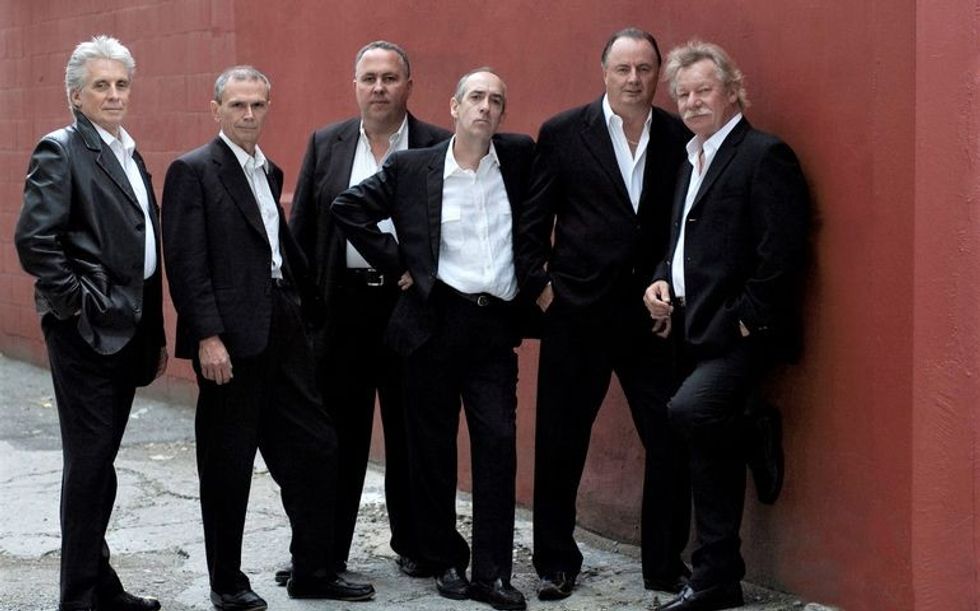 By FYI Staff
Downchild Blues Band's singer and harmonica man Chuck Jackson admits a few things have changed over the decades he has been fronting Canada's longest-running, most popular blues group. – Edmonton Journal
---
Gosewich played an integral part in setting the stage for today's vibrant Canadian music scene. As president and COO of Capitol Records Canada (1969 to 1977), he advanced the careers of Anne Murray, Edward Bear, Pierre Lalonde and Beau Dommage while at the same time providing distribution for smaller independent labels that signed bands such as Rush and April Wine. –  Susan Ferrier Mackay, Globe andMail.
Montreal's Laurel Sprengelmeyer calls Speed Queen a road diary, "in the sense that it incorporates news, class and poverty, intertwined with struggling to make it as a musician." – T'cha Dunlevy, Montreal Gazette
After the CanRock explosion of the 1990s and indelible contributions to the 2000s golden age of indie, Canadians' musical output at-large took on subtler forms over the past ten years. But as Exclaim!'s 50 Best Canadians Albums of the 2010s demonstrate, just because they were subtler doesn't make them any less impactful. – Staff, Exclaim!
The project analysed recordings of Gould's playing to reproduce his style mechanically. – James Russell,  Music Radar
Kate Dion is flying to Tokyo next month for the 17th annual Karaoke World Championships. – Spectator
Less than six months after its triumphant return, the Royal Albert Arms has once again shut its doors — albeit with a plan to open again in a few weeks. A Facebook post Wednesday from Mat Perlman, the live music venue's booker, said venue and restaurant staff were "not given prior warning" and locked out Tuesday. – Erin Lebar, Winnipeg Free Press
Launched 13 years ago, Musical Stage Company's UnCovered concerts present songs by pop and rock artists in musical theatre arrangements. The latest in this series features music by Stevie Wonder and Prince. Mitchell Marcus, the company's artistic and managing director, calls them "anti-jukebox musicals." – Karen Fricker, The Star
Music category winners include Hugh's Room Live, The Horseshoe Tavern, the Rex, Arts & Crafts, and Sonic Boom. – NOW
The band hits its stride with a new album and a new city to call home. – Jonathan Briggins, The Coast
On her debut EP Red Mind, the electro-soul artist's commanding voice can feel oddly tentative. – C.V. Grier, NOW
International
Live Nation reports nearly 100 million fans are expected to spin turnstiles by year-end, with 92 million tickets already sold through mid-October – some 5 million more than the same YTD in 2018. Revenue per fan grew by $2.50 in the sheds to more than $29 per head. — Pollstar
You can't stop the music, even when its creator has shuffled off this mortal coil. That's evident in the makeup of our Halloween-spooky ranking of highest-paid dead celebrities, where nine musicians grace the list of 13, up from just six a year ago.  – Zack O'Malley Greenburg, Forbes 
The company posted its Q4 2019 financial results October 30 for the three months ended September 28, 2019. A record $12.5bn in services revenues for the quarter is up from $10.6bn in Q4 2018. – Murray Stassen, MBW
Elton John and many other musicians are filling venues with farewell tours. 'As soon as you say it's farewell, guaranteed you're selling out.' – Chris Kornelis, WSJ
"Miles Davis made an indelible mark on both popular music and culture," said Downtown Music Holdings and Downtown Music Publishing CEO Justin Kalifowitz in a statement. –Chris Eggertsen, Billboard
Navigating a complicated, ever-changing industry such as the music business is difficult for everyone. But because a tiny percentage make it look easy, it's no surprise others will stop at nothing to gain a competitive edge, or think shortcuts are the fastest route to fame. You've been warned. – Mark Tavern,  DJ Booth
The 10th edition of his groundbreaking 1991 book All You Need to Know About the Music Business is out this week on Simon & Schuster. Passman estimates the book has sold a half-million copies in its various iterations over that time. – Roy Trakin, Variety
Anthem Entertainment has acquired a catalog of songs co-written by songwriter/producer Ricky Reed (real name Eric Frederic) of Boardwalk Music Group. The catalog includes Reed's contributions to hits by Lizzo, Halsey, and Leon Bridges, as well as songs by Meghan Trainor, Pitbull, and Jason Derulo,and others. – Celebrity Access
As revenue from Spotify starts to sag for the first time, companies like Universal may need to look for new ways to boost earnings. – Tim Ingham, Rolling Stone
A cautionary tale when scouring the internet for Black Friday vinyl deals or seeking out the perfect Christmas gift online, perhaps: Tommy Boy Records has claimed that Amazon is selling counterfeit vinyl – titles that the record label has never even had pressed to vinyl. – What Hi-Fi
"I was in the hands of destiny all my life," the Rolling Stones guitarist says, "and being in the right place at the right time." – Andy Greene, Rolling Stone
For years, deaf and disabled music fans have faced huge barriers when it comes to booking concert tickets. Whether it's the requirement to call premium rate helplines, or having to provide evidence of their disabilities, the experience has put many fans off. Now Ticketmaster is introducing a new system that allows gig-goers to book tickets online "like anyone else". – Mark Savage, BBC 
Amid a mountain of musings, Prince took aim at a couple of fellow pop stars who've been getting heavy airplay for years now. "We need to tell them that they keep trying to ram Katy Perry and Ed Sheeran down our throats and we don't like it no matter how many times they play it," he wrote in a letter unearthed at his home after his death in 2016. – Christie D'Zurilla, LA Times
Two drummers turned frontmen go deep on their craft, losing John Lennon and Kurt Cobain, and finding life after their legendary bands. – Hank Shteamer, Rolling Stone 
A rare vinyl pressing of God Save the Queen by the Sex Pistols is expected to fetch up to £15,000 at auction. The single was originally recorded for A&M Records in 1977, but the label dropped the band before it was issued and most of the copies were destroyed. – BBC
There's a new sizzling hot jazz venue in New York City: Café Bohemia, downstairs at the Barrow Street Alehouse. Back in the day, Café Bohemia was home to some of greatest jazz players in history: Miles Davis, Cannonball Adderly and Art Blakey. A score of other musicians including John Coltrane, Miles Davis, Lester Young, and Charles Mingus played and recorded albums at Café Bohemia. – Margie Goldsmith, Forbes
Before we celebrate the way L.A. punk changed the lives of everyone from broken-home runaways to Academy Award-winning actors to modern-art icons, let's start with the outrageous stuff. More Fun in the New World: The Unmaking and Legacy of L.A. Punk is a collection of essays by those who witnessed the rise and aftermath of one of alternative music's most fabled scenes. – Mike Usinger, Georgia Straight
Here's a wild idea: What if Lana Del Rey is exactly who she says she is? Her music keeps making us think otherwise. It's still too elegant, too plush, too slippery to be real. Chris Richards, – Washington Post
Apparently, the early 1970s were a much more innocent time in the music industry. Stories revealing the deep debauchery of Led Zeppelin or the Rolling Stones may suggest otherwise, of course, but singer Maria Muldaur says her record label showed some paternal and slightly priggish concern early in her career. – Eric Volmers,Calgary Herald
Dozens of previously unreleased songs by Velvet Underground founding member Lou Reed were recently discovered on a cassette tape at the Andy Warhol Museum in Pittsburgh. – Eric Hegedus, New York Post
The Eagles' sixth LP, Hotel California is a deceptively multi-layered masterpiece that bundles cinematic rock, sleek balladry and subtle surrealism into one multi-platinum package. – Ryan Reed, Ultimate Classic Rock