FYI
Music Biz Headlines, June 9, 2022
The Sheepdogs (pictured) are happy living in the past, a milestone anniversary for Avril Lavigne, and Tate McRae thrives on pressure. Others in the headlines include Tami Neilson, Something Else!, Louise Glatt, Vancouver Opera, Hugh's Room Live, Justin Bieber, Cadence Weapon, Patrick Dexter, The Strokes, Universal Music Group , Virgin, Chris Blackwell, Drive-By Truckers, Post Malone, Ringo Starr, and Johnny Rotten.
Jun 08, 2022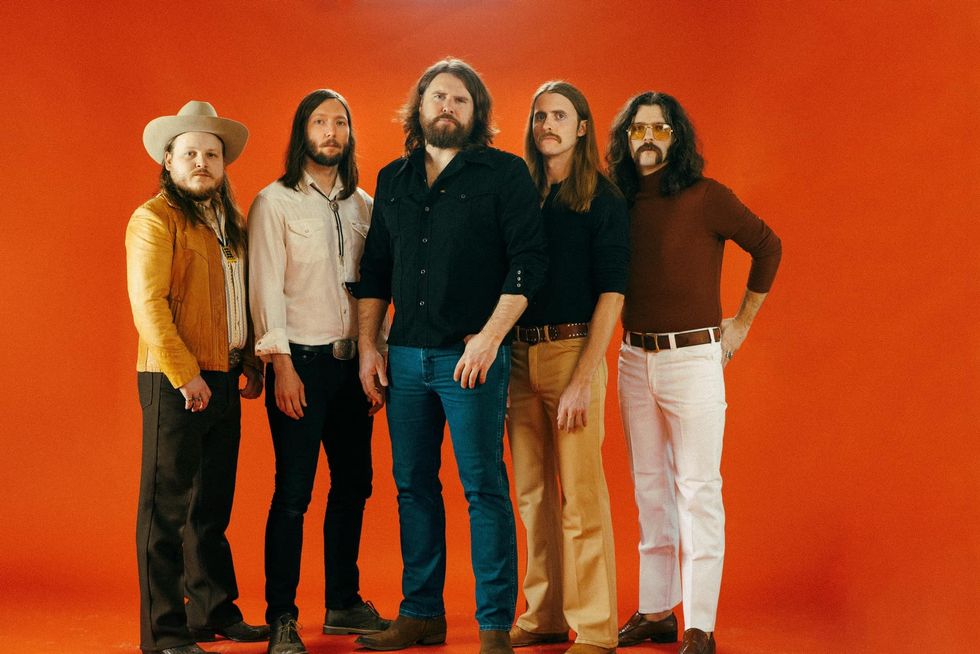 By Kerry Doole
From musical influences to the idea for new song, "Scarborough Street Fight" Currie said the band is "pretty firmly living in the past musically.' – Nick Krewen, Toronto Star
---
To a new generation of female artists, from the top of the charts to breakthrough indie acts, Lavigne is the sisterly Canadian north star. Her appearance at this year's Juno Awards was one of the ceremony's buzziest performances. And she just wrapped her first cross-Canada tour since 2011, a celebration of both her endurance (a seventh album, Love Sux) and her enduring legacy: the 20th anniversary of her debut album Let Go. – Cliff Lee, Globe and Mail
Justin Bieber postponed two Toronto concert dates this week as he deals with a persistent illness. The Stratford, Ont.-raised pop star was set to play Scotiabank Arena on Tuesday and Wednesday as part of his Justice world tour. He will also postpone a date in Washington, D.C., on Friday.   – David Friend, CP
The Calgary popstar racked up nearly one billion streams on the alt-pop bop "You Broke Me First" after it went viral on TikTok. – Demar Grant, Toronto Star
Tami Neilson has admitted openly that Dolly Parton is a huge inspiration on her music, and one quote from the book inspired Neilson to write this new song. – Charlotte Ryan, Stuff
Since launching in 2014, Hamilton's Something Else! Festival has created its own distinct format, making it one of the key events for the more creative edges of jazz and improvised music in Southern Ontario. – Stuart Broomer, The Whole Note
"It wasn't just my dad who impacted the music world in Ottawa," said Margot Glatt, eldest of the three Glatt children. "They really did it as a team." – Lynn SaxbergOttawa Citizen
After two years of false starts and ongoing restrictions, the summer of 2022 is looking promising. Music festivals are back, theatres have reopened, and many of us are feeling more comfortable inviting friends and family members to join us at home or at the cottage for beachside board games and al fresco dinners. – Globe and Mail
Productions like Vancouver Opera's "H.M.S. Pinafore" have their place, but we in Canada are operatically underserved. – William Littler, Toronto Star
Venerated Toronto folk venue Hugh's Room Live held an event recently to show off what it hopes will be its new home. Its board of directors reached an agreement to buy the church at 296 Broadview Ave. after securing a loan guarantee from the City of Toronto. – Paul Corby, Roots Music Canada
"It's one of my biggest wishes but, unfortunately, it is not possible," Ebi says ahead of his Toronto Scotiabank Arena concert. – Nick Krewen, Toronto Star
Consider dropping any thoughts on the possible song of the summer in the next few months, and try instead to listen to music as God and Adele intended: On albums – top to bottom. first song to last. Which ones? Here are 10 records to look forward to during the sunny season. – Brad Wheeler, Globe and Mail
Meet Exclaim!'s latest New Faves, including Nova Scotian metal magicians and a Vancouver folk experimentalist. – Exclaim!
You may know Rollie Pemberton by his stage name, Cadence Weapon. He's the Edmonton-born rapper, who won the Polaris Music Prize in 2021, is known for his music with a political bent. In his new book, Bedroom Rapper: Cadence Weapon on Hip-Hop, Resistance and Surviving the Music Industry, Pemberton charts his path through the music industry. Learn more here.  –The Globe and Mail
Summer concert season is here and while there are plenty of reasons to stay in the city, consider taking to the highway for some music festival magic. – Gilles LeBlanc, Toronto Star
Early in the pandemic, when the internet became a portal to the world that was suddenly closed to us, I discovered an Irish cellist. The video showed a young man in an Aran sweater playing the cello outside his seaside cottage on the west coast of Ireland. – Marsha Lederman, Globe and Mail
International
Julian Casablancas, frontman and main songwriter of the Strokes, has sold a stake in his renowned Strokes catalog to Primary Wave. Primary Wave confirmed the purchase but declined to specify exactly how much of a stake in the catalog it had purchased or the price paid. – Billboard
Believe-owned DIY music distributor TuneCore has overhauled its pricing structure for independent artists – in what it says is its "biggest change since opening for business 16 years ago". Announced by Andreea Gleeson, TuneCore's Chief Executive Officer, the platform is introducing new 'Unlimited Release Pricing Plans'. – MBW
Universal Music Group (UMG) has launched Virgin Music Label & Artist Services in Africa. UMG says the new division will focus on supporting the next wave of independent artists, labels, influencers, and entrepreneurs from the region. – Murray Stassen, MBW
Below-the-line union says that 75% of music supervisors signed unionization cards. – Jeremy Fuster, The Wrap
Blissed-out crowds, sunny fields and pop-up tents. This year was meant to be a vintage year for festivals, and there's barely a weekend this summer when there isn't one happening somewhere around the country. But major problems arose. –The Guardian
With the imminent publication of his autobiography (co-authored with Paul Morley), Island Records founder Chris Blackwell talks about recording sessions with Grace Jones, the importance of good cover art, and the trouble with U2. – Matthew Ingram, The Quietus
Back in summer 2021, the hard-touring southern rock band didn't want to practice, per se, before getting back on the road; they just wanted to get used to performing together again. So they decided to demo songs Patterson Hood and Mike Cooley, the band's two leaders, had written earlier in the pandemic. – Justin Curto, Vulture
On his new album, Post Malone sincerely, relentlessly, almost heroically hates being famous. "Twelve Carat Toothache" is perhaps the most self-loathing album by any conflicted pop idol since Kurt Cobain, whose biggest hit Malone nods to right at the beginning: "You're the superstar / Entertain us," he sings in opener "Reputation." – LA Times
The short-lived punk movement generated decades of mythmaking. A new television series, "Pistol", continues the tradition. – The Economist
The Sex Pistols are Number One in the chart race with the re-issue of God Save the Queen exactly 45 years to the day that the punk band were kept off the top spot after its original release in 1977. – Tom Bryant, Daily Mirror
Starr said receiving the honour was like "some strange fairy tale." – Ali Shutler, NME