FYI
Media Beat: February 01, 2021
Feb 01, 2021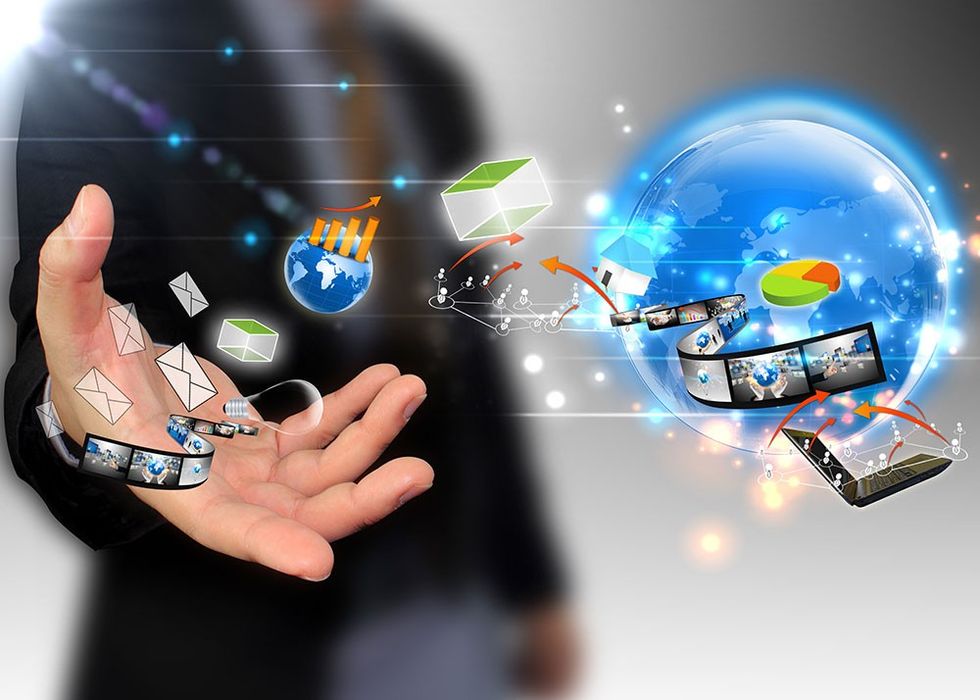 By David Farrell
In the past few weeks, incoming Bell Media president Wade Oosterman cleaned house after the departure of Randy Lennox.
---
The departures will trim millions from the balance sheet, but that's not the only reason behind the cuts. In Bell's words: "Any changes in roles would reflect our strategy to make Bell Media easier to work with while driving content and platform innovation."
So what is Bell's strategy?
Mirko Bibic, president and CEO of BCE and Bell Canada, and Oosterman, also vice-chair for BCE and Bell, have apparently decided broadcasting has a limited and decidedly less profitable future.
It appears Bell has decided that online subscriptions — not broadcasting — are where the eyeballs and bucks are heading. – Mark Sikstrome, The Star
No wonder Canadians of color complain that they don't see themselves on homegrown shows. Numeris, the country's ratings firm, doesn't count them.
The Canadian TV industry since last summer's Black Lives Matter protests has increasingly talked about ensuring people of color in major markets like Toronto and Vancouver and their underrepresented cultures are reflected on screens.
But efforts for expanded on-screen representation have been held back by Numeris, the Canadian TV industry's stats-collector, not measuring BIPOC media audiences. – Etan Vlessing, The Hollywood Reporter
The Canadian Association of Broadcasters, which represents private broadcasters, expressed concern about the public broadcaster "being market-driven rather than mandate-driven" and argued it's focusing too much on attracting more viewers and advertisers.
Kevin Desjardins, president of the CAB said that by selling ads on TV and its digital services, the CBC is disrupting the advertising market for private broadcasters. – Victoria Ahern, The Canadian Press
The broadcaster has proposed making it a condition of licence that it report annually on the percentage of diverse and Indigenous staff and managers hired each year. It's also proposed reporting on diversity in its programming, as well as on the number of and budgets for programs created by Indigenous producers. 
The hearings had also forced the corporation to defend its plans for branded content on its digital platforms. The new marketing division, called Tandem, has sparked criticism from a number of stakeholders, including former and current CBC journalists. They worry that the paid content blurs the lines between advertising and news and will erode the organization's integrity. – CBC News
Trickster co-creator and director Michelle Latimer has served the CBC with a notice of libel over reporting on her claimed Indigenous ancestry.
On Friday she said that she has raised "grave concerns" about the fairness and accuracy of the CBC's reporting on her ancestry.
CBC spokesperson Chuck Thompson confirmed on Friday that the network was recently served with a notice of libel from Latimer's lawyer, and said "we are now reviewing what's in the notice." – Barry Hertz, The Globe and Mail
The Liberal government will introduce legislation early this year that addresses how social-media companies should compensate Canadian news organizations, Canadian Heritage Minister Steven Guilbeault told MPs Friday.
The news media legislation will be in addition to another bill the Minister is planning to introduce that will create a new federal regulator to oversee how companies including Google and Facebook deal with illegal content such as hate speech and child pornography. – Bill Curry, The Globe and Mail
According to a proposal from Toronto's chief technology officer, the city would run its network on a wholesale basis — effectively providing the pipes over which qualified internet service providers (ISPs) could sell super-fast services to end users.
By controlling the wholesale rates and enabling competition between ISPs, the city would ensure affordable internet by taking the power to set consumer prices out of the hands of Bell and Rogers. – Peter Nowak, Toronto Star
Starting this Monday, a new CBC Music schedule is coming to a radio near you. Alongside your favourite CBC Music shows, this new schedule will feature three brand new radio shows: The Block with Angeline Tetteh-Wayoe, Frequencies with Errol Nazareth and About Time with Tom Allen. – CBC
Podcasting: Business or Hobby?
I met a guy the other day who didn't have a podcast.
There are now more podcasts in the world than content strategists in Brooklyn. The questions is: Is a podcast a business or hobby?
In my mind, the difference between a business and a hobby is that a business makes money. By that definition, podcasting is overwhelmingly a hobby. According to an article this week in Axios"The podcast business is booming, but few are making money." I always think of podcasting like the music business - fifty people making a million dollars and a million people making 50 dollars.
Some facts on podcasting:
   - 1% of podcasts get 99% of the downloads
   - The total of all podcast advertising revenue is less than $1 billion annually
   - The median number of downloads per month for a podcast is 124  
   - Even the top 20% of podcasts only average about 1,000 downloads/month
Here's a chart from the Axios article that shows how skimpy podcast download activity is:
Podcasting is very popular with certain groups of people, but it won't be replacing TV any time soon. For the most part, it is a good way to communicate with relatively small groups of people interested in a niche subject. I will be very surprised if the Qanon nutjobs don't become some of the heaviest podcasters once they figure out how a microphone works. -- Ad Contrarian Bob Hoffman
Apple is using its dominant position in the mobile phone market to unilaterally impose a major change to how user data is tracked and shared online. Establishing an "opt in" regime, in which privacy is the default and users have to give affirmative consent to share their data, has long been a dream of privacy activists. Few people are willing to take the trouble of opting out of every individual site or app they use, let alone the ones they don't know are tracking them. Opt-in is considered so politically and even legally difficult to achieve, however, that even California's newly enacted privacy law, the most ambitious in the nation, doesn't go that far. And yet Apple, a private company, can flip a switch and achieve what no US government regulator has—at least when it comes to the roughly half of the US mobile market that it controls. (Internationally, Google's Android operating system is much more prevalent.)
Does that mean, as Zuckerberg argued, that Apple's move is not really about user privacy at all, but about enriching itself? If you squint, you can see a case for the shift helping Apple's bottom line. If free apps like, say, the Weather Channel app can no longer turn a profit by selling user data or serving targeted ads, they may switch to a paid model. That would mean more transactions in the App Store, and more commissions for Apple. – Gilad Edelman, Wired
A Massachusetts man who goes by "Roaring Kitty" on social media helped fuel the frenzy around GameStop. His $53,000 investment in the company briefly reached $48 million in value. – Nathaniel Popper & Kellen Browning, The New York Times
The US government response to Trump supporters storming the Capitol is already beginning to mirror the tactics of America's global war on terror, with discussions of placing the invaders on "no fly" lists, and a former intelligence official suggesting that the lessons learned fighting al-Qaida could now be used against domestic terrorists.
For some Americans, including the Muslim and Arab Americans who have faced decades of government surveillance and suspicion, the war on terror has always been operating at home. But the reaction to the 6 January attack may represent a new stage of the "imperial boomerang", in which tactics developed by empires to maintain control abroad end up being used against the residents of the homeland. – Louis Beckett, The Guardian
Trump's policy record included major changes at home and abroad. He achieved a string of long-sought conservative victories domestically, including the biggest corporate tax cuts on record, the elimination of scores of environmental regulations and a reshaping of the federal judiciary. In the international arena, he imposed tough new immigration restrictions, withdrew from several multilateral agreements, forged closer ties with Israel and launched a tit-for-tat trade dispute with China as part of a wider effort to address what he saw as glaring imbalances in America's economic relationship with other countries. 
Many questions about Trump's legacy and his role in the nation's political future will take time to answer. But some takeaways from his presidency are already clear from Pew Research Center's studies in recent years. In this essay, we take a closer look at a few of the key societal shifts that accelerated – or emerged for the first time – during the tenure of the 45th president. – Michael Dimock & John Gramlich, Pew Research Center
There are many issues associated with introducing this many satellites into orbit, from the dangers of space junk to obstructing our view of the night sky. But the shift toward mega-constellations is also a challenge for global space governance.
There are almost 3,000 active satellites in orbit around Earth today, and this is set to sky rocket in the coming years. The European Commission, for example, recently announced plans to launch thousands of satellites into orbit around Earth, adding to a growing list of planned mega-constellation launches. – Lauren Napier, The Conversation
Six journalists in New Delhi are up on sedition charges after reporting on a farmers' tractor protest on Republic Day.
Editors Guild president Seema Mustafa said the government's actions against journalists are meant to "intimidate and harass" them.
"This is only being done to intimidate, harass, victimise the journalists against whom these cases ae being filed. But also to terrorise the professionals as well, to make you think twice, to make you afraid of doing your job, to be worried every time you write, to be looking over your shoulder, and then of course the editors, the proprietors, those who control the news to be very reluctant in reporting the news as it is," Mustafa said. – The Times of India
If you have ever wanted to see the totally unfiltered opinions of the American people, look no further than the comments on your local news station's Facebook page. It is here, behind a thin veil of internet anonymity — or at least as much anonymity as a Facebook profile provides — that we tarnish one of our nations founding principles. The truth.
It is not news that Americans have an unfavorable outlook on the media. Public confidence in the press has trended downward since the late 1970s. A September 2020 Gallup poll on trust in media showed 60% of Americans have "not very much trust" or "none at all." But if not the news media, where else can one go for "the truth" but to their elected officials? – Arushi Gupta, The Badger Herald
Even in tough times, advertisers still want a Super Bowl.
CBS is "virtually sold out" of all its commercial inventory for Super Bowl LIV, according to a spokesperson for parent company ViacomCBS, a sign that Madison Avenue remains interested in the Big Game despite some of the rockier economic conditions surrounding it.
Fox's 2020 broadcast of Super Bowl LIV generated around $435 million in in-game advertising — a record haul, according to Kantar, a tracker of ad spending. Fox Corporation said the company had likely taken in around $600 million when pre- and post-game advertising was included. – Brian Steinberg, Variety
Facebook Inc. and Apple Inc. are edging perilously close to all-out legal war, with the social-media giant strongly considering a lawsuit that could ultimately sway antitrust investigators.
The conflagration centers on Apple's new iOS 14 policy, due this spring. It includes new privacy features that will for the first time require apps to ask for users' permission to track them around the web. Such a feature, Facebook claims, would severely limit online advertising and kill small businesses in the process.
Tension between the companies has escalated for years to the point where Facebook is considering suing Apple for giving preferential treatment to its own apps while imposing restrictive rules on third-party apps from Facebook and others, according to reports. – Jon Swartz, MarketWatch
You've definitely seen it.
A grid of ads with can't-miss headlines like, "You won't believe what these celebrities looked like in high school" or "64% of seniors who try CBD gummies say it helped them."
These ads (often called a "chumbox") are primarily powered by 2 native advertising companies: Taboola and Outbrain, which almost merged last year before a deal fell apart.
Last Monday, Taboola announced that it would go public via a SPAC deal, valuing it at $2.6B (with forecast 2020 revenue of $1.2B and payouts to publishers totalling $2B+ in the past 3 years).
The Hustle spoke with Taboola's CEO Adam Singolda to find out about the business:
Like the proverbial box of chocolates in "Forrest Gump," you never knew what you were going to get (on his show, Larry King Live). Guests ranged from world leaders to aging movie stars. And even within those interviews, King would zig and zag all over the place.
One of my earliest columns on King made mention of just such an occasion, when King was interviewing President Clinton and Vice President Gore in June 1995. 
The column noted that King asked a number of direct questions on important issues, but near the end of the hour, King somehow persuaded Clinton -- the president of the United States -- to share his impersonation of Marlon Brando with the American people. And the president did it. – Adam Buckman, MediaPost
The great question of China's Maoist experiment now looms over the United States: Why did a powerful society suddenly start destroying itself? – Pankaj Mishra, The New Yorker
RIP
Former Toronto Star entertainment columnist James Bawden, aged 75.