FYI
The FYI Bulletin: July 07, 2022
Murray (Edward) McLauchlan, CM, is to be Inducted into the Canadian Songwriters Hall of Fame at the 2022 Mariposa Folk Festival this Saturday, July 9
Jul 07, 2022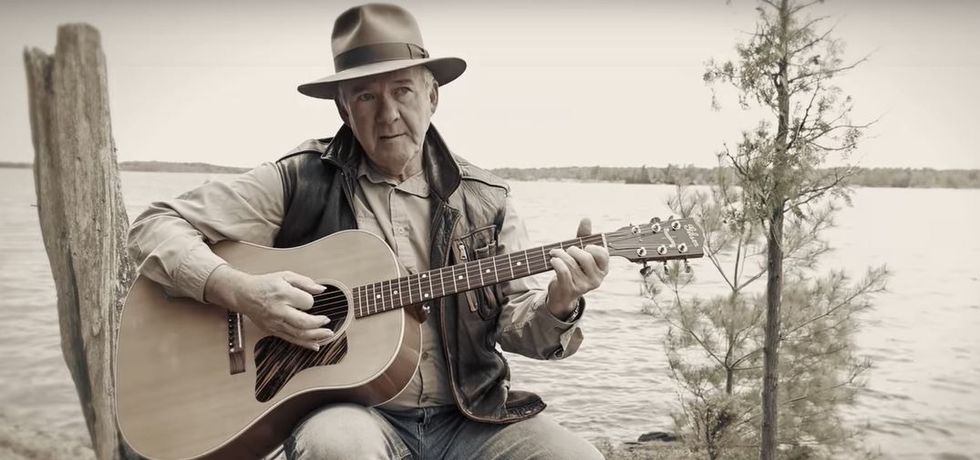 By David Farrell
Murray (Edward) McLauchlan, CM, is to be Inducted into the Canadian Songwriters Hall of Fame at the 2022 Mariposa Folk Festival this Saturday, July 9. Hailed as one of Canada's most culturally conscious songwriters of the '70s, his sympathetic portraits in song have become part of our consciousness. Songs such as Farmer's Song, Down by the Henry Moore, Child's Song, Do You Dream of Being Somebody, Shoeshine Workin' Song, If the Wind Could Blow My Troubles Away, Red River Flood, Song for Captain Keast and, more recently, A Thomson Day are tender portrayals infused with a bittersweet nostalgia for a Canada that once was when minstrels were messengers and politicians were true. The other side is a resolute humanist who sees honour in empathy and unadorned honesty.
---
Marking its first in-person songwriter induction ceremony since the pandemic, the Canadian Songwriters Hall of Fame is partnering with Mariposa Folk Festival to recognize McLauchlan on Saturday, July 9 on the Festival's main stage.
– UMC is pulling out all the stops in launching Toronto singer-songwriter Renforshort's debut album this Friday. Dear Amelia appears on the Interscope imprint and follows several earlier viral hits and an EP – teenage angst – that explored topics as grim as a nightly newscast. Born Lauren Isenberg, the self-styled twenty-something angst icon sets off a showcase tour in her hometown's Longboat Hall on Sept. 15. Below is a track from her aforementioned release…
–Donnie Walsh is to be inducted into the North Bay Musicians & Entertainers Hall of Recognition on Sept. 1. The honour takes place as part of the city's Capitol Centre Bluesfest events schedule. Mr. Downchild, as he is often called, spent his formative years in North Bay, when his parents moved to the city in 1957 and bought The Lakeview Inn in West Ferris, now part of North Bay. It was at the Lakeview Inn where he and brother Richard "Hock" Walsh discovered music on the jukebox.  "At 11:30 every Saturday night it was closing time," says Walsh. "People would load up the jukebox throughout the night to play well past the time we shut down for the evening. Hock and I would sneak in there on Sunday mornings and plug it back in and listen to hours and hours of great music by Chuck Berry, Little Richard, Bill Haley and the Comets, Louis Prima, and Keeley Smith, to name a few. It was around this time that I got a steel guitar one Christmas and quickly exchanged it for a regular guitar. Then I took guitar lessons for almost a year from local guitar legend, Russ Smith, who played guitar on a TV show with Irwin Prescott and His Mellowtones," the surviving brother recalls.
The band's international fame is largely due to three of its songs, the originals I've Got Everything I Need (Almost) and Shot Gun Blues, and its adaptation of Flip, Flop and Fly, all from its 1973 album, Straight Up, being featured on the first Blues Brothers album, Briefcase Full of Blues. Downchild has released 19 albums and received numerous trophy awards. Walsh's song I've Got Everything I Need (Almost) was inducted into the Canadian Songwriters Hall of Fame in 2019.
– Stubble-cheeked Thunder Bay-born wunderkind Michael Rapino has signed a 5-year contract extension that keeps him at the helm as CEO of Live Nation, the global live events company that Goldman Sachs predicts will increase revenue by US$6B to $87.6B in 2022 (as per Digital Music News). Rapino has been CEO since 2005. The Hollywood Reporter yesterday stated that his salary remains unchanged at $3M per year, but his annual target cash bonus is being bumped from $6M to $17M per under the new deal. Possibly the fondest treasure the former Labatt salesman has received in his kingly post is an honorary doctorate of commerce from Lakehead University, awarded in 2015.
– CBC Gem series Topline has released a 16-track companion album to the show that follows a young Filipina singer-songwriter played by rising star Cyrena Fiel, as she breaks into the music industry. The s/t features eight artists performing material written and composed by show creator Romeo Candido.
– Modishly post-post-teen rock eminence and memoirist Greg Godovitz is back in the limelight with a glittering new ensemble calling itself The Scarberians, or more correctly Greg Godovitz & The Scarberians that includes former bandmate and drummer Marty Morin. Notably, its star attraction can be found not playing bass but rhythm guitar in horn-laced sets that include new material and air-brushed vintages drawn from the still exhilarating Goddo collection. Whispers have the McCartney-esque frontman in talks with managers with an eye to re-creating himself in a rather novel show.
– Better late than never: Jeffrey Latimer pulled off another coup recently with The Tenors (and Cirque du Soleil) performing at the opening ceremony at the Summit of the Americas in L.A. last month. As the trio's manager, Latimer can now boast the claim that The Tenors have now sung for the last 6 Presidents (Carter, Bush 42nd and 43rd, Clinton, Obama, and now Biden) and 5 past Prime Ministers, (Trudeau and Harper while in power and Martin and Chretien and Mulroney as guests at events). FYI: Cirque du Soleil acrobats dangled from the stage to a rendition of Lean on Me performed by The Tenors, with the musical accompaniment from The Presidential Marine Band. Attendees exited to John Williams' theme music from the movie Hook.  Below is a stunning tease from an upcoming album from the Kenyan Boys Choir with the Canadian trio performing an extraordinary rendition of a well-known Leonard Cohen classic.
– Music Managers Forum (MMF) is launching a Trailblazer Award "recognizing Canadian managers or self-managed artists who are carving new paths within the industry landscape." The recipient will be celebrated during the annual MMF Canada Honour Roll Awards in Toronto this fall. Nominations are open, with MMF Canada members encouraged to put forth deserving candidates (including themselves) for consideration before the July 24 deadline. Guidelines and the nomination form can be found here.
–  Sakamoto Agency has added two new development artists to its Canadian country roster; Albertans Amy Hef, and Robert Adam. Sakamoto's Operating Partner Paul Biro will be responsible agent for both acts, with agent Carla Hackman supplementing bookings.
– Victoria, BC music entrepreneur Piers Henwood recently published a piece on his website remembering legendary manager Elliot Roberts (Neil Young, Joni Mitchell), who died 3 years ago. "We had the opportunity to work with Elliot after he signed Tegan and Sara to his label (Vapor) in the early 2000s, so my piece recounts a couple of fun stories and some enduring management principles from him," Henwood writes the column. Here's the link to his recollections and below a 2018 interview with the legendary manager.
– Harris faculty adventures: The George Bernard Shaw saying, "Those who can, do; those who can't, teach", does not apply to Harris Institute's faculty of active leaders with over 60% having won awards for 'doing what they teach'. You can read the entire (and impressive) list here.