FYI
Five Questions With… Maddison Krebs
The young Albertan country singer/songwriter is now chasing her dream in Music City. Her new EP comes out today, and here she reflects upon the new record, her artistic evolution, and love of Bryan Adams.
Feb 08, 2019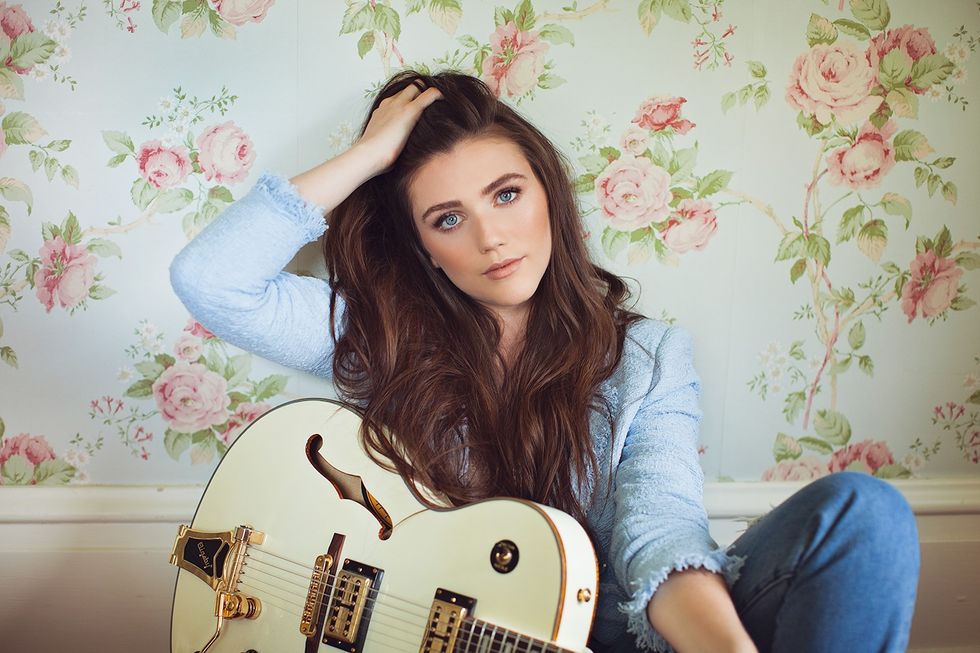 By Jason Schneider
When Maddison Krebs turned seven years old, her parents gave her a Dream Book, and right away she started filling it with notes, along with target dates for those dreams to come true. On one page, she wrote of moving to Nashville by 2018 to pursue her country music career. You can probably guess where she lives now.
---
Krebs's new eponymous EP is available on February 8 on all digital platforms, collecting the best songs she's done so far with Grammy-winning writer-producers Jeff Trott (Sheryl Crow, Stevie Nicks) and Drew Bollman (Blake Shelton, Lady Antebellum). The EP showcases Krebs's pop-country sound, from the upbeat lead single "Real Real Thing," to the bittersweet breakup ballads "Rain On Stone" and "Live For Love."
Her journey from the small southern Alberta town of Okotoks began when she released her first EP at age 15, followed by a full-length album, Your True Love, in 2014, which received an Alberta Country Music Association award nomination for Album of the Year.
After chalking up some high profile appearances at the Calgary Stampede, Big Valley Jamboree and elsewhere, in 2016 Krebs was named the winner of ole Music Group's On The Spot competition, which helped bring her to Nashville for the first time. She hasn't looked back since, and that Dream Book now contains notes about playing the Ryman Auditorium and meeting her hero Dolly Parton.
Based on her track record so far, there's no reason to think these dreams won't come true either. We caught up with Maddison on the eve of the EP's release, and you can find out more at maddisonkrebs.com.
What makes this new EP different from other work you've done?
The simple answer is time. I'm grateful for the development I went through the past few years to hone my craft. I've always been digging deeper within myself to be as vulnerable and real in my songs as possible, and this EP reflects that growth. These songs will let listeners in on where I am right now in my life and where I'm headed.
What songs on the EP are you most proud of and why?
I don't know if I can pick a favourite! Each one shows a glimpse of a different side of me, and a moment in time where I felt I needed to speak up about what's in my heart. All of these songs were a form of therapy for me; I learned to open up and be honest regardless if it sounded perfect or not. I am grateful for my amazing co-writers who dove into the deep end with me to help bring these songs to life.
How would you describe your artistic evolution so far?
It's been a steady climb and will continue to be. I've learned so much about myself as an artist and how to articulate my truth even clearer. In the process of creating this EP, I began pushing myself to expand my artistic boundaries, lyrically and sonically. I feel I continue to find something magical and new in those times of being outside of my comfort zone.
What's been the most significant change in your life over the past year?
There has been a lot, but I would say the biggest one was moving to Nashville. Finding my ground in such an amazing music community far from home has been a fantastic experience. I'm teaching myself to become friends with change and everything that has happened this past year I know will lead me to where I'm meant to be. I'm excited for what's yet to come!
What song by another artist do you wish you had written?
There are so many but off the top of my head I'd say "Walk On By" by Bryan Adams. He's always been one of my favourites. I saw him live in Calgary when I was 12 years old and he sang that song acoustically. He inspires me so much to keep dreaming and writing.