FYI
Essentials… Best Of 2021
Each week, Essentials allows Canadian musicians to share the things that have helped get them get through the pandemic, and why they still can't live without them. Here are the choices of the column's curator.
Dec 16, 2021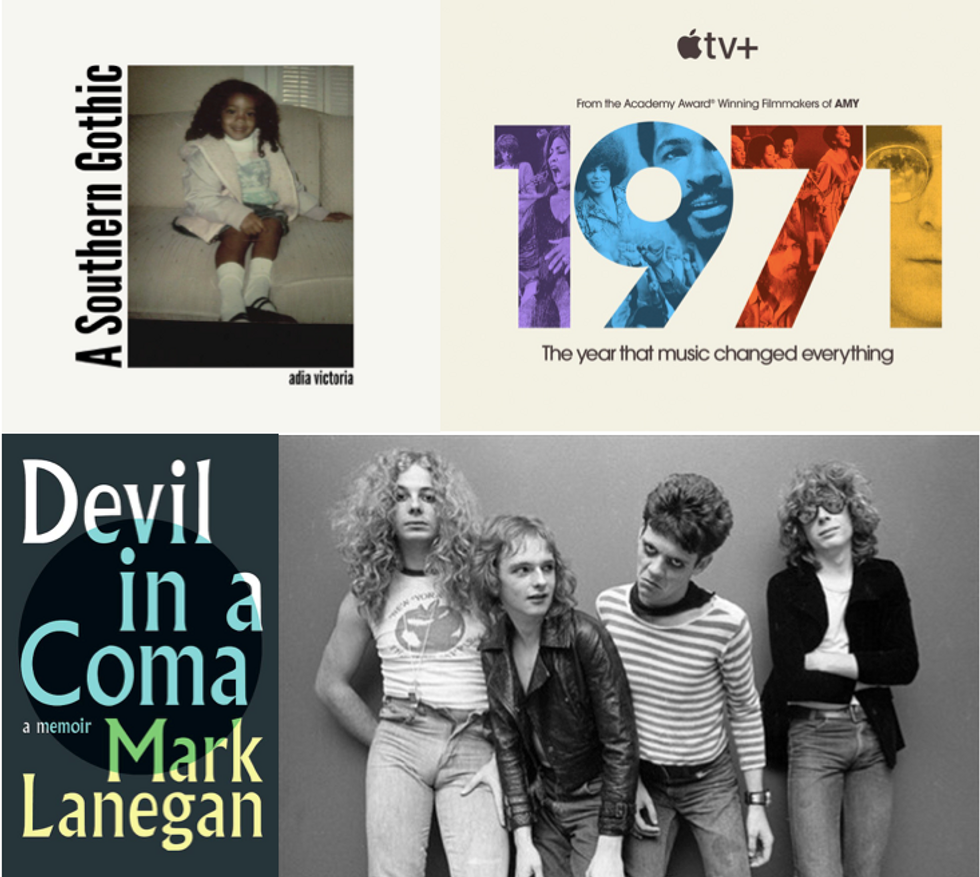 By Jason Schneider
Each week, Essentials allows Canadian musicians to share the things that have helped get them get through the pandemic, and why they still can't live without them.
---
In the spirit of the von Trapp family, I'm using this week's Essentials column to highlight a few of my favourite things that have given me new insight and inspiration this year. They all reflect, to some degree, the chaos and frustration we've all likely experienced, while also hopefully pointing a way forward. I could have included many other fine works of art created in our current environment of social change, and to those people I can only say that your efforts will undoubtedly be noted and appreciated as we gain more perspective on this period of history. Happy holidays and keep finding ways to tell great stories.
Essential Album: Adia Victoria, A Southern Gothic (Atlantic/Warner)
South Carolina-born, Nashville-based Adia Victoria emerged this year as part of the new wave of diverse voices redefining American roots music. In large measure, these artists are accomplishing this through exploring connections between their own life experiences, and music made a century ago when blues and country carried strong regional identifiers. After working with The National's Aaron Dessner on her 2019 album, Silences, Victoria turned to producer T Bone Burnett for A Southern Gothic, which was actually heralded by the appropriately visceral 2020 single South Gotta Change. Together, along with Victoria's primary musical collaborator Mason Hickman, they crafted a modern blues classic containing echoes of Skip James, Memphis Minnie and Alan Lomax field hollers, but above all driven by Victoria's deeply affecting storytelling that deconstructs Southern mythology in her own Faulkner-esque way. It's been 100 years since Mamie Smith released Crazy Blues, and everything about Adia Victoria's A Southern Gothic feels as if the music has finally come full circle.
Essential Book: Mark Lanegan, Sing Backwards And Weep / Devil In A Coma (Hachette, 2020/2021)
Although he built his reputation as the lead singer of pioneering Seattle grunge band Screaming Trees, over the past two decades Lanegan has become one of the most powerful voices in alternative music, both as a songwriter in the Leonard Cohen/Nick Cave mode, and as a collaborator whose bluesy baritone never fails to effectively apply itself to any musical situation. Against all odds, he's also one of the few high-profile survivors of the drug-ridden Seattle scene of the '90s, which he chronicled in brutal detail in his first memoir, Sing Backwards And Weep, published in 2020. Amid his own experiences as a heroin addict, the book contains endless heartbreaking stories of his close friendships with Kurt Cobain, Layne Staley and others, along with blow-by-blow accounts of Screaming Trees' legendary infighting.
Yet, just as it seemed Lanegan could savor life as an author in his new home base in Ireland, Covid-19 hit him with a vengeance this past March, leaving him at death's door and unable to function for several months. The just-published Devil In A Coma is a hallucinatory chronicle of Lanegan's Covid battle, with every page underscored by the irony of Mother Nature nearly taking him out after years of cheating death through his own actions.
Essential TV:1971: The Year That Music Changed Everything (Apple TV+, 2021)
Turning 50 this year meant that I was bombarded with reminders that I'm the same age as a lot of my favourite albums—Led Zeppelin IV, Who's Next, Sticky Fingers, L.A Woman. I suppose it's some kind of badge of honour to have been born in such a banner rock and roll year, but after seeing director Asif Kapadia's eight-episode documentary, my eyes were opened a bit wider about everything else that was going on at the moment I arrived on the planet.
Although some of the big moments in rock are put into proper context, such as Pete Townshend's groundbreaking work with synthesizers and the Rolling Stones tumultuous recording sessions for Exile On Main Street, equal time is given to the crucial evolution of Black artists that year, from Marvin Gaye's What's Going On and Sly & The Family Stone's There's A Riot Goin' On, to Gil Scott-Heron's The Revolution Will Not Be Televised and the little known Soul To Soul concert staged in Ghana, featuring the likes of The Staple Singers and Ike & Tina Turner.
Set against the backdrop of Vietnam War protests, the Attica prison riot and other explosive events, 1971: The Year That Music Changed Everything is a compelling time capsule that succeeds by deftly avoiding common music documentary clichés.
Essential Movie:Picture My Face: The Story Of Teenage Head (2020)
Premiered late in 2020 on TV Ontario, Douglas Arrowsmith's documentary on the career of one of Canada's most beloved punk rock bands is both a much-needed celebration of their achievements and a harrowing glimpse at the personal struggles of its members. Opening with electrifying footage of the band's performance at the 1980 Heatwave Festival (headlined by Elvis Costello, The Pretenders and Talking Heads), the theme steadily shifts from this career peak to the tragic downfall of lead singer Frankie Venom, and in contemporary footage, the mental health challenges of guitarist Gord Lewis. Balancing this is the ever-optimistic attitudes of bassist Steve Mahon and singer Dave "Rave" Desroches, who took over Venom's place in the band with an amazing sense of reverence for his legacy.
The film is truly an emotional roller coaster, as highlighted by scenes of the band members meeting Venom's full-grown son for the first time, and their triumphant 2019 hometown half-time performance at Hamilton's Tim Horton's Field for the annual Labour Day Classic between the Ti-Cats and Argos. Even if you might only know a couple of Teenage Head's hits, Picture My Face is a crushingly revealing testament to those who have devoted their lives to rock and roll, and sometimes paid a steep price for it.