FYI
Dean Brody Returns To His Roots With 'Dirt Road Stories' Tour
The 2x Juno winner with 16 CCMA awards and 22 Top 10 hits in his hip pocket is heading out on a 35-show acoustic, low-fi tour that focuses on the stories behind some of his more poignant songs.
Aug 22, 2018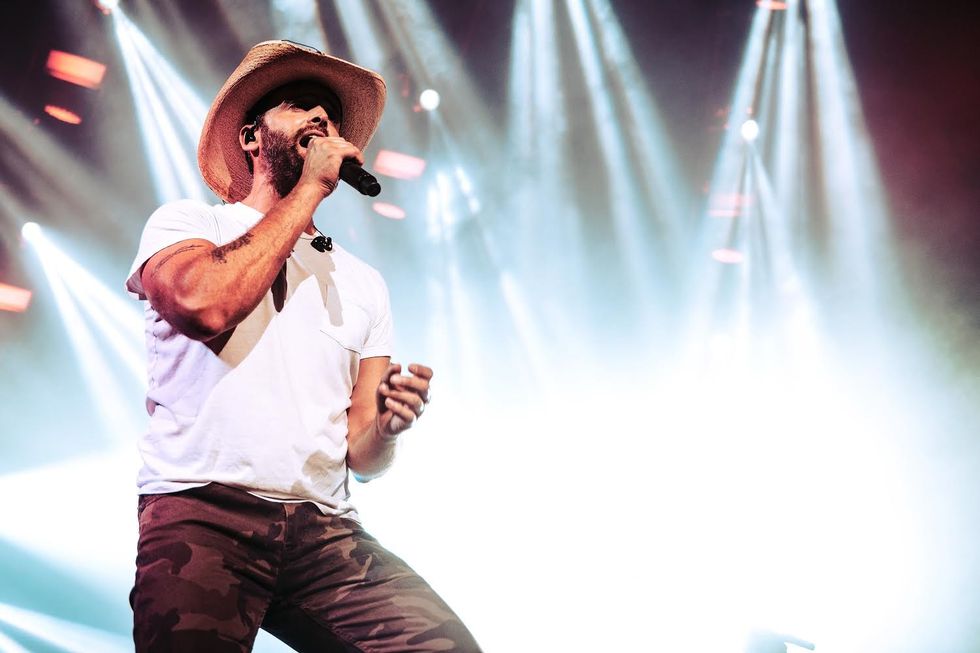 By FYI Staff
Current CCMA Fan's Choice winner Dean Brody is going back to his roots as a singer-songwriter this fall with 'Dirt Road Stories', an acoustic, low-fi 35-show small town tour that opens at the Marigold Centre in Truro, NS on October 20.
---
With six albums, 16 CCMA awards, two Junos, and 22 Top 10 country hits to his credit, Brody, with longtime manager Ron Kitchener, has proven himself to be one of Canada's top line stars with an original and unconventional songbook that is parts country, pop and rock.
His last tour, promoting his sixth album, Beautiful Freakshow, was an unprecedented success that included a bold move to cement success in Toronto with a headlining show at Budweiser Stage on Toronto's waterfront. It wasn't a one-off deal either. Last Friday (Aug. 17), Brody returned to the same stage and attracted close to 9,000 fans drawn to his upbeat catalogue of songs that cover the gamut of emotions and celebrate the youthful draw of summertime sun, fun and beer-swilling good times.
Brody's reputation for penning thoughtful, articulate, original narratives in music began back in 2009 with the release of "Brothers", a touching song about a loved one leaving for the military, which resonated both north and south of the border.
Celebrated songs such as "Trail in Life", "Another Man's Gold", and "Bounty" have gone on to place Brody in a unique category all his own, rising beyond the conventional tracks that can be heard on mainstream radio in lyrical composition, and yet still retaining conventional success, with Brody recently landing his 22nd Top 10 hit at country radio, with "Good Goodbye." His ballad "Time" released in 2016, laments on the passing of time, becoming especially poignant in a social media era with less one-on-one interaction with loved ones. It earned critical acclaim and a great deal of recognition, showcasing Brody's unique ability to make people think about their actions through his lyrics.
Many of Brody's songs penned at his kitchen table, and the acoustic tour is meant to replicate that intimate setting that inspires his original works, "I want to give my fans a window into how my songs were written, how they sound in their rawest form, performed in an intimate theatre setting," Brody explains.
The focus on storytelling in country continues with the addition of sterling songwriters he is hiring on as opening acts in various markets.
Acclaimed singer-songwriter Jessica Mitchell joins Brody on the East Coast dates, including Montreal, giving listeners a taste of her songs included on her recently released debut album, Heart of Glass.
Country musician Andrew Hyatt, who recently released his second Top Ten hit, "Do It With You", joins Brody on his dates in Ontario.
SK native Tenille Arts, who was recently featured on The Bachelor, joins him for shows in Manitoba, Saskatchewan and British Columbia, providing insight into the meaning behind the songs on her debut EP.
The complete itinerary as follows
The below dates are with singer-songwriter Jessica Mitchell:
Oct
20 – Marigold Centre – Truro, NS
22 – Rebecca Cohn Auditorium – Halifax, NS
23 – Playhouse Theatre – Fredericton, NB
24 – Imperial Theatre – Saint John, NB
25 – Homburg Theatre – Charlottetown, PE
26 – Convocation Hall – Wolfville, NS
27 – Capitol Theatre – Moncton, NB
29 – Imperiale Bell – Quebec, QC
30 – Corona Theatre – Montreal, QC
The below dates are with Andrew Hyatt:
Nov
1 – FirstOntario – St. Catharines, ON
2 – Burlington Performing Arts Centre – Burlington, ON
3 – Rose Theatre – Brampton, ON
4 – Fraser Auditorium – Sudbury, ON
5 – Academy Theatre – Lindsay, ON
7 – Sanderson Centre for Performing Arts – Brantford, ON
8 – FirstOntario Arts Centre – Milton, ON
9 – The Grand Theatre – Kingston, ON
10 – River Run Centre – Guelph, ON
11 – Regent Theatre – Oshawa, ON
12 – Festival Hall – Pembroke, ON
The below dates are with Tenille Arts:
15 – Club Regent – Winnipeg, MB
16 – Club Regent – Winnipeg, MB
17 – Casino Regina – Regina, SK
20 – Vic Juba Theatre – Lloydminster, SK
21 – Red Deer Memorial Centre – Red Deer, AB
22 – Douglas J Cardinal Performing Arts – Grande Prairie, AB
23 – Pomeroy Hotel & Conference Centre – Fort St. John, BC
24 – Quesnel + District SR Citizen Centre – Quesnel, BC
26 – Massey Theatre – New Westminster, BC
27 – Port Theatre – Nanaimo, BC
28 – Tidemark Theatre – Campbell River, BC
29 – Cowichan Performing Arts Centre – Duncan, BC
30 – Vernon Performing Arts Centre – Vernon, BC
Dec
1 – Charles Bailey Theatre – Trail, BC
2 – Key City Theatre – Cranbrook, BC