FYI
CP Holiday Train Wins Gary Slaight Music Humanitarian Award
The innovative rolling food bank fundraiser started by Canadian Pacific 23 years ago will receive this prestigious honour during Country Music Week 2021 in London, ON, in November.
Sep 15, 2021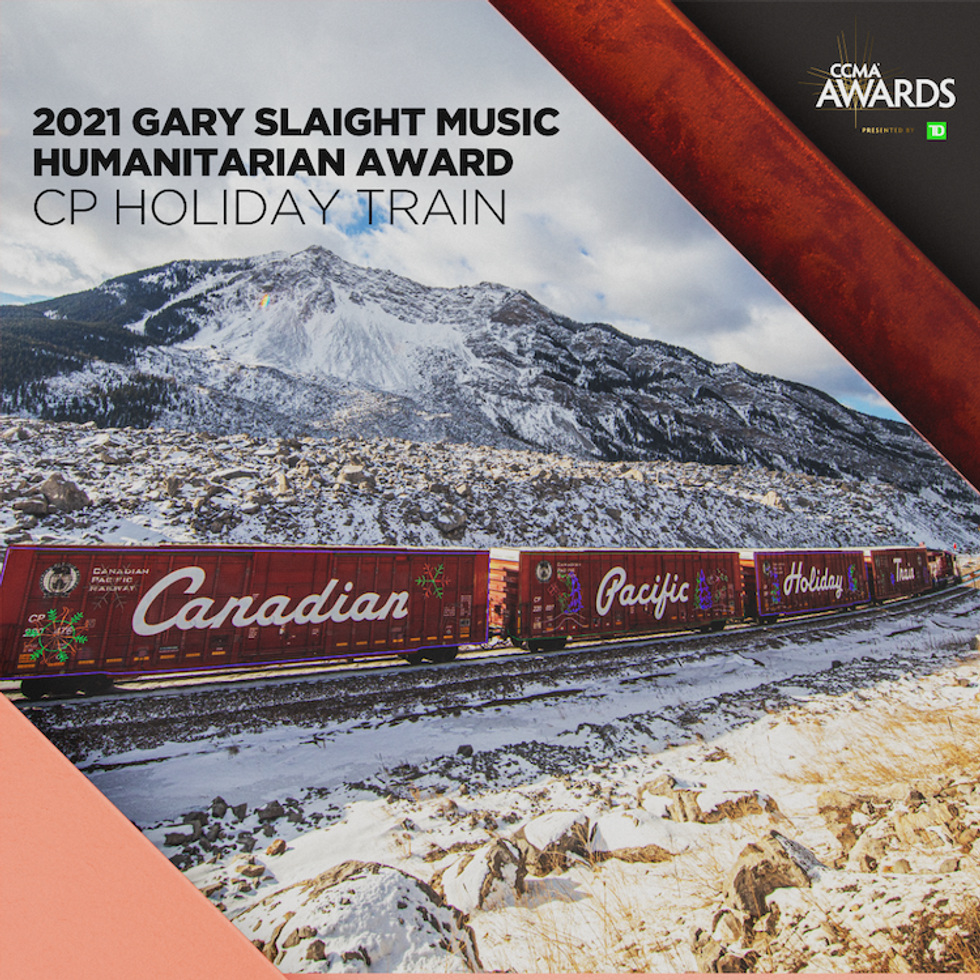 By FYI Staff
The Canadian Country Music Association (CCMA) Board of Directors has announced that the Canadian Pacific Holiday Train, a community initiative established by Canadian Pacific, has been selected as the 2021 recipient of the Gary Slaight Music Humanitarian Award. Now in its 23rd year, the CP Holiday Train is North America's largest rolling food bank fundraiser and will be celebrated for its success during Country Music Week 2021 in London, ON, Nov. 26-29.
---
"I'd like to thank the CCMA for naming the Humanitarian Award in my honour and want to congratulate the CP Holiday Train as its first recipient," said Gary Slaight, President and CEO, Slaight Communication Inc.. "The CP Holiday Train champions two causes which I am very passionate about; helping those in our communities in times of need as well as supporting and promoting Canadian artists and their music. I look forward to seeing their campaign come to life this year." 
Established in 1999, the CP Holiday Train is an important initiative for the company and a program that its over 12,000-strong CP family showcases with pride. Initially conceived as a way for CP to give back to the communities where it operated across its network in North America, the CP Holiday Train program has now raised more than C$19.4 million and distributed 4.9 million pounds of food.
"Our entire CP family is deeply honoured to receive the Gary Slaight Music Humanitarian Award. Since 1999, the CP Holiday Train program has helped raise funds and donations for food banks throughout North America," said Keith Creel, CP President and CEO. "Every year, this beautifully illuminated train travels across Canada and the U.S., stopping in communities along our network and bringing people together in the spirit of celebration and giving. We love being a part of these communities, and we are proud to support local food banks along the way." 
With food insecurity on the rise in many North American communities, the CP Holiday Train program focuses greatly on raising the profile of local food banks and their ongoing need for support throughout the season. Making stops in more than 170 communities each year, the CP Holiday Train encourages local communities to donate (food or money) in exchange for attendance to a free concert. The CP Holiday Train has seen performances by Terri Clark, Jim Cuddy, Dallas Smith, The Moffatts, Great Big Sea, Patricia Conroy, Sheryl Crow, Johnny Reid and Sarah McLachlan among many others. Bringing artists and fans together in a unique concert setting, each CP Holiday Train stop allows communities to rally in the battle against hunger, all while celebrating North American talent. 
"We feel so privileged to be able to highlight the incredible work that Canadian Pacific does year-round to make this massive annual fundraiser possible," explained Amy Jeninga, President, CCMA. "Understanding the increased need for food banks across North America, we couldn't think of a more deserving initiative — one that helps communities feed themselves through generosity and brings people together over a shared love of music. Congratulations to everyone at CP for this very deserved accolade." 
Planning for the 2021 CP Holiday Train Program is already underway. Visit cpr.ca/holiday-train to keep up with 2021 stop announcements.