FYI
2023 Prism Prize Eligible Videos: 5 Must Watch Indigenous Clips
2023 is here and we have an exciting lineup of videos for you.
Jan 04, 2023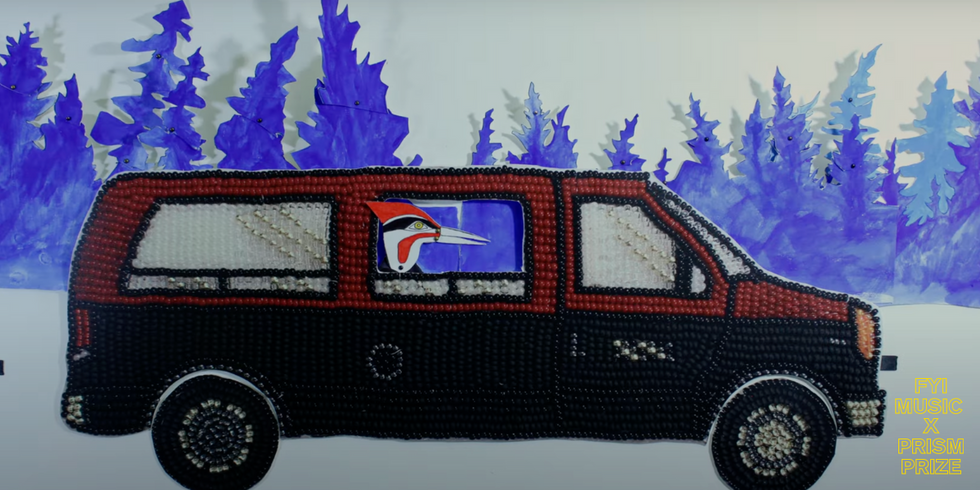 By External Source
2023 is here and we have an exciting lineup of videos for you. This month we are highlighting some very talented Indigenous recording artists who have made creative, beautiful and emotional music videos. These videos are sure to start the new year on a good note. 
---
Status/Non-Status - Mashkiki Sunset
Led by Anishinaabe-Canadian singer-songwriter Adam Sturgeon, Status/Non-Status is a Canadian alternative rock band. Mashkiki Sunset follows an animated paper bird who goes on a colourful adventure all while travelling in a van. The video is painted with shades of blues, purples, reds and yellows - springing life into the animation. 
Credits:
Shot and Directed by Sarah Houle
additional support from Justin Skrundz
Van beaded by Mikaila Stevens/Flourish & Grow
Snotty Nose Rez Kids - Damn Right
The music video for Damn Right, by First Nations hip-hop duo Snotty Nose Rez Kids, is entertaining and full of energy. The video tells a story of a music group as they go through various performances, album covers, disagreements, interviews and more. It's very fun to watch and thankfully has a happy ending with the group staying intact. 
Credits:
Director: Sterling Larose
Executive Producers: Chris Wilkinson, Miles Forster, Ryan Marchant
Production Company: Hadron Films
Producer: Ellie Cameron-Smith
Production Manager: Darci McDonald
Director of Photography: Kaayla Whachell
1st AC: Sam Barrington
2nd AC: Valeriya Khan
Robot Tech: Sam Weir
Gaffer: Phoenix Simon
Key Grip: Maddie Boutry Klingbeil
Swing: Martin Calvo
Production Designer: Tiana P. Gordon
Production Assistant: Megan MacAuley
Art Assistants: Louisa Birkin, Preston Reid, Amelia Simard, Anna Shearing, Nadine Watkins, Ciara Deery, Rachel Sugden
Stylist: Riva Pollard, Quinton Nyce
MUA: Xander Terrin Chen
Hair: Krystal Dumais
PA Ciara Deery
BTS Photo/Video: Jacob Harris
SNRK Mgmt: Brodie Metcalfe
Colourist: Dave Tomiak
Editor and Animation: Sterling Larose
Assistant Editor: Riley Orr
VFX: Efrain Perez
Wolf Castle - Get Lit 
Mi'kmaw rapper Wolf Castle touches on classism in his video for Get Lit. Set in a real castle, this video is filled with gold-coloured decor, trendy costumes, Indigenous jewellery and fire dance moves.    
Credits:
Directed By: Jeff Miller
Dancers: Yasmin Rashid, Ariel Callias, Brandon Skeete, Brooke Conrod
DOP: Charlie Benoit
1st AC and Gaffer: Simon Carrier
2nd AC: Gabe Bibby
Costume Design: Maggie Jayne
MU and Hair: Kyla Nicolle 
Production & Design: Hella Lockhart
Tanya Tagaq - Colonizer
Canadian Inuk throat singer & songwriter Tanya Tagaq's music video for Colonizer can really only be described as "powerful." The video is an emotional response to the graves found on land previously used for residential schools. This video allows us to bear witness to the land where such atrocities happened and to never forget the lives lost. 
Credits:
Directed by: Leah Fay Goldstein + Peter Dreimanis
Produced by: Peter Dreimanis
Animation + Technical Direction: Luca Tarantini (AOK)
nêhiyawak - secret 
First Nations group nêhiyawak has made a fiery music video for their song secret. This video takes place in a forest set ablaze in the fiery hues of reds, yellows and oranges. Amidst the flaming forest, we see log drums being played as traditional Indigenous dancing is performed. It is a video that will take you on a rhythmic and multicoloured journey which you'll never forget. 
Credits:
Director: Casey Koyczan
Director of Photography: Casey Koyczan
Assistant Director: Peatr Thomas
Producer: Rob Bakker / NEON LEGACY
Editor: Casey Koyczan
On-Screen Talent: Tracy Richard (a.k.a. Falling Star) - Dancer, Miyawata Dion Stout - Dancer, Dreyden Flett-Roulette - Dancer, Jayden Flett-Roulette - Dancer, Leighton Roulette - Dancer, Amanda Smart - Drummer, Cierra Causey - Drummer.