Tv Film
Metric Cover A Classic Canadian Song in New Netflix Series 'Scott Pilgrim Takes Off'
Emily Haines returns as the singing voice of Envy Adams (otherwise voiced by Brie Larson) for a covert piece of CanCon.
Nov 17, 2023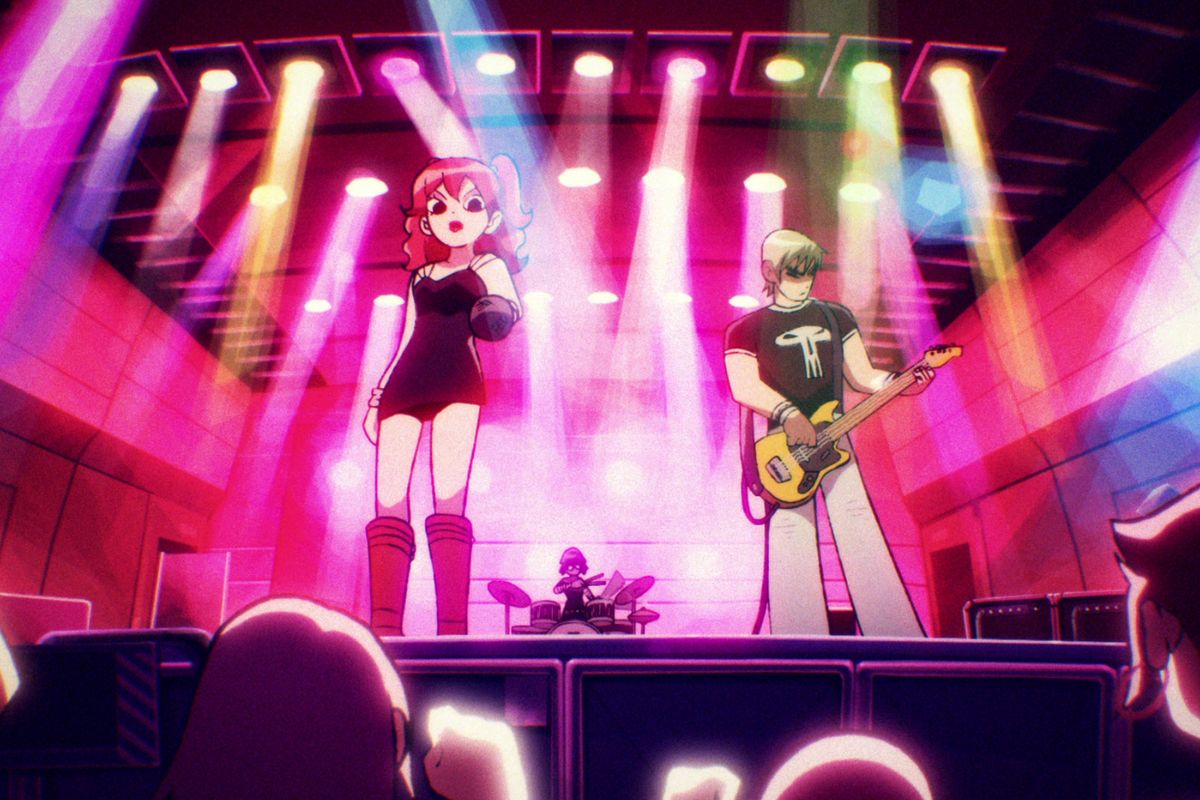 Toronto's favourite 20-something slacker is back in the new animated series Scott Pilgrim Takes Off, which dropped today (Nov. 17). All eight episodes are streaming now on Netflix.
The original Scott Pilgrim comic series and the 2010 movie adaptation, Scott Pilgrim Vs. The World, became cult classics for their mix of video game references, indie rock and beloved Toronto locations (some of which have now been gentrified out of existence). The movie's voice cast was filled with names that later became much bigger stars, and they all return for this new series — from Michael Cera to Brie Larson, Alison Pill, Aubrey Plaza, Chris Evans, Kieran Culkin, Ellen Wong and many more.
---
There's one return, though, that is a bit of a surprise to eager-eared fans — and maybe a minor spoiler (be warned). Brie Larson plays Scott's rock star evil ex Envy Adams, but, as in the movie, her singing voice is played by Emily Haines of long-running Canadian band Metric. That's the case here too, as Haines and Metric perform a cover version of a classic '90s song by Canadian singer-songwriter Sarah McLachlan: "I Will Remember You" (which peaked at No. 14 on the Billboard Hot 100).
"When I got the call from Edgar [Wright] asking me to do a vocal cameo in a Scott Pilgrim anime show featuring the original cast of the movie, of course I was interested," Haines tells Billboard Canada in an email. "He sent me the funeral scene and showed me how Envy performs Sarah's song and I just loved it. Jimmy [Shaw] crafted the track with the team into a total cartoon banger in the vibe of 'Black Sheep.' Scott Pilgrim forever!"
It's a synth-poppy take on the sentimental ballad, and it's available on the Scott Pilgrim Takes Off soundtrack.
The rest of the soundtrack is largely performed by chiptune band Anamanaguchi (who also did the soundtrack for the Scott Pilgrim Vs. The World video game) and composer Joseph Trapanese. Sex Bob-Omb, the character Scott Pilgrim's fictional band, also has three songs.
As for the series, despite the voice cast it's more based on the original comic series than the movie. Bryan Lee O'Malley, who wrote the comics, is the co-showrunner. Fans can expect even more nods to anime, music and Toronto locations that go well beyond the CN Tower to music venues like Lee's Palace.
Metric's song "Black Sheep" from Scott Pilgrim movie charted in 2021 over a decade after its original release. In the same year, Brie Larson performed a solo version that she posted online.