Rock
Watch Green Day's Fiery Halftime Show At Canada's Grey Cup
The rock stars lit up the sky on a cold night at the Tim Hortons Field in Hamilton for the Canadian Football League's halftime show of their big game.
Nov 20, 2023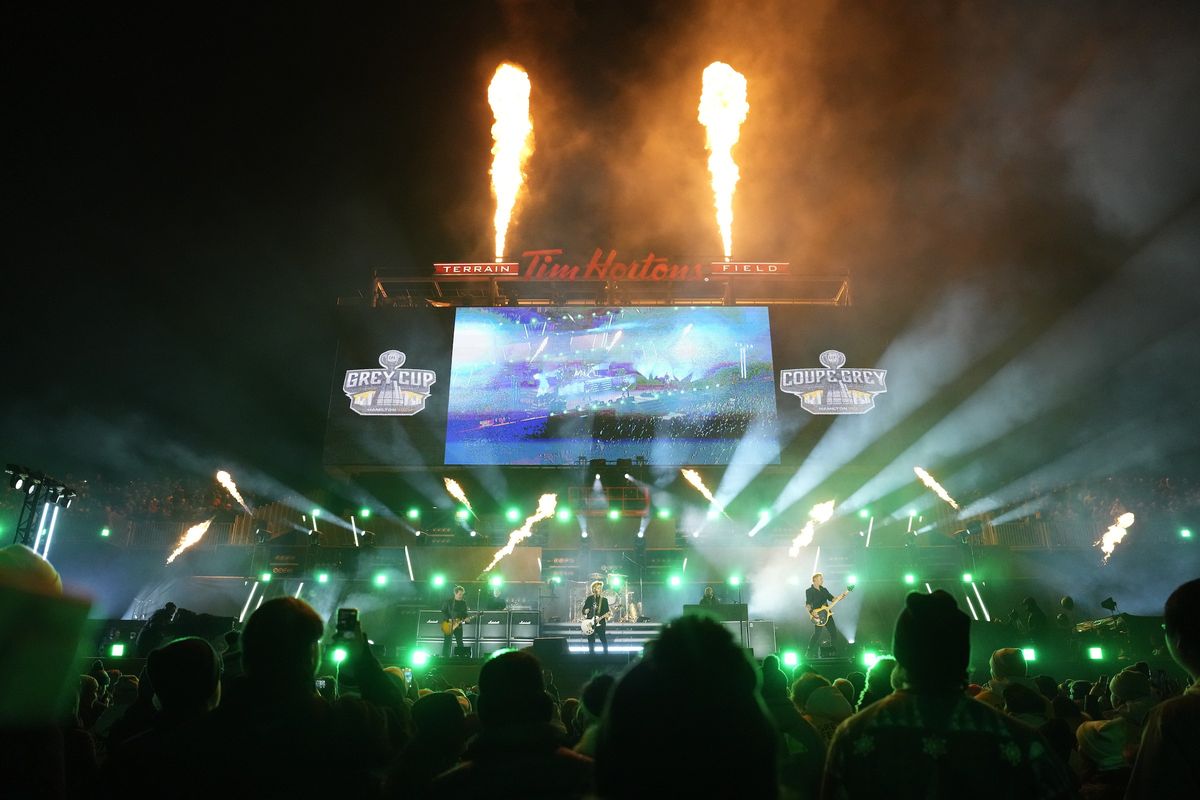 Green Day turned up the heat at Hamilton's Tim Hortons Field last night (Nov. 20) for the Grey Cup halftime show. While crowd members were decked out in puffy jackets and mittens for the game between the Winnipeg Blue Bombers and Montreal Alouettes, the band showed no signs of suffering from the Canadian cold in their fireworks-filled set.
The rock legends — who have three No. 1 albums on the Billboard 200 and were inducted into the Rock and Roll Hall of Fame in 2015 — took to the stage with their new single, "The American Dream Is Killing Me." The single is the first off their upcoming album Saviors, set for release in January, and it recently became Green Day's seventh No. 1 on the Rock & Alternative Airplay charts.
---
From there, they took the crowd back to the '90s with "Basket Case," with Tré Cool smashing some drum fills on a leopard-print kit that matched Armstrong's guitar strap. The pyrotechnics were out in full force on "Basket Case," as were bassist Mike Dirnt's forearms, frigid air aside.
Next up was "Boulevard of Broken Dreams," the band's highest-ever charting single, which peaked at No. 2 in 2005. During the anthemic track, Armstrong took an audience member's phone and filmed from the stage. The video from the fan's phone came out later, his vocals barely audible over cheers (and a "hi, mom!") from the crowd.
The trio closed out with the angry and energizing "Holiday," "This song is anti-war!" Armstrong told the crowd before they launched into the American Idiot single. The 2004 album was written as a rock opera and a critique of the Iraq War, and has since been adapted into a Broadway musical. But it had an extra resonance now during a tense time in the world.
They finished the performance with a final guitar strum and a burst of red fireworks into the sky, keeping the crowd warm until the game came back.
It may have been a short set, but Green Day are coming back to Canada next summer for the Saviors Tour, celebrating 30 years of Dookie and 20 years of American Idiot. The band will be playing Rogers Centre in Toronto and Osheaga in Montreal.
Watch their full half-time show below.