FYI
Serena Ryder To Receive 2021 WoF Allan Slaight Music Honour
The Honour recognizes a Canadian artist who has had a significant musical influence within Canada, and whose career in the music industry has been further recognized around the world. Ryder is to be presented the honour at a gala on Dec. 4 and televised at a later date on CTV.
Sep 30, 2021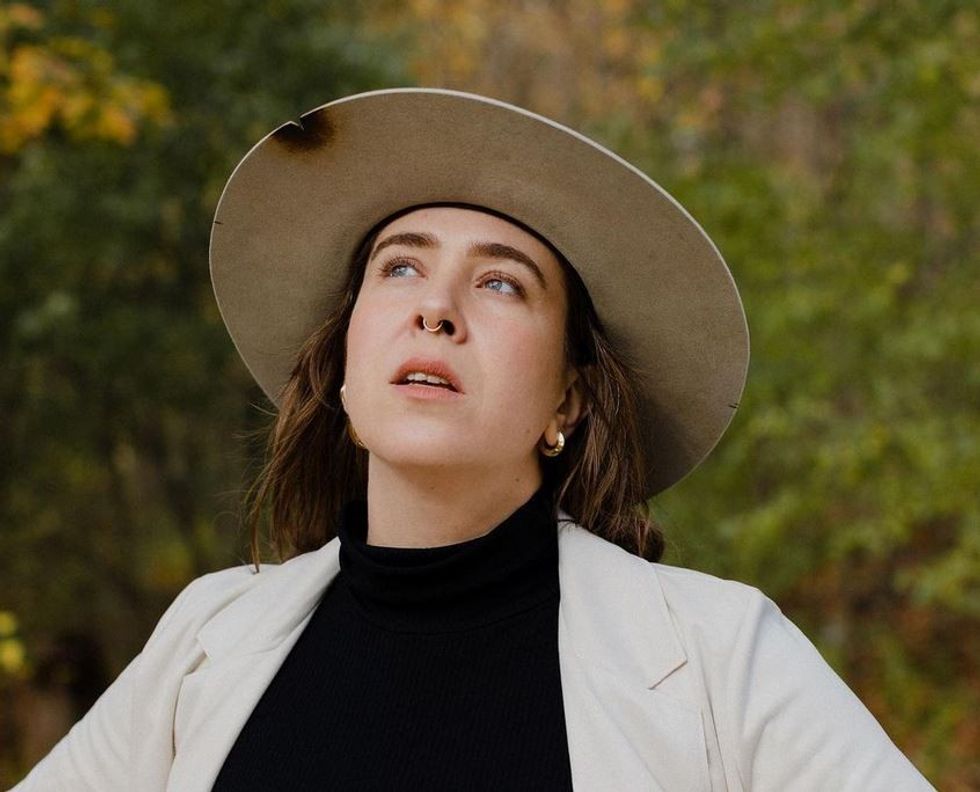 By External Source
---
Canada's Walk of Fame has announced that six-time Juno Award winner Serena Ryder is named to receive this year's Allan Slaight Music Impact Honour.
The Honour recognizes a Canadian artist who has had a significant musical influence within Canada, and whose career in the music industry has been further recognized around the world.
She is to be presented the honour during the  23rd Annual Canada's Walk of Fame Awards Gala at Toronto's Beanfield Centre on Saturday, December 4. A broadcast of the event will air at a later date on CTV.
Past Honourees include Alessia Cara, Jessie Reyez, Drake, Melanie Fiona, Shawn Hook, Brett Kissel, Carly Rae Jepsen, Shawn Mendes, The Weeknd, and Nikki Yanofsky. 
"Being recognized for my work as a mental wellness ally through the Allan Slaight Music Impact Honour means the world to me," stated Serena in a release. "I am honoured to continue the late Allan Slaight's dedication to effect positive change, and am so touched to share this with so many incredible musicians who have been using their gifts for the greater good of the world. I promise to do everything in my power to continue to be of service to anyone who wants to keep walking the path to wellness through music and community."
Her own personal story in dealing with a deep depression is rooted in Ryder's latest album, The Art of Falling Apart, and pushed her to travel across the country sharing her keynote message – which share's the album's name – and released an animated version to inspire and reach audiences worldwide. She was awarded the Margaret Trudeau Mental Health Advocacy Award in 2018 and, more recently, launched an Art of Wellness interactive series designed to help fellow artists and creative professionals manage stress.
On behalf of the board of directors of Canada's Walk of Fame, Randy Lennox said, "Serena continues to be her authentic self, through the accolades, awards and music success, allowing us into her experiences, heartbreak, joys and passions – including being a champion  for mental well-being.  We're proud to recognize her work in the community, with artists, youth, and other charitable organizations supporting mental health, and can't wait to shine the Canada's Walk of Fame spotlight on her incredible career and impact."
Lennox continues, "Allan's impact on the  music industry was profoundly transformative; through his many philanthropic endeavours including establishing the Allan Slaight Music Impact Honour, his legacy will continue to inspire today's stars and tomorrow's changemakers for generations more."
"Serena exemplifies all the values and qualities that my father Allan had in mind for this special honour. She is an incredibly talented singer-songwriter who leads with compassion and empathy, which is why she is able to connect so deeply with her fans and invite dialogue and hope. On behalf of the entire Slaight family, I congratulate you on all of your achievements, and know that you will continue to be an inspiring voice in the important conversation of mental wellness," said Gary Slaight, President and CEO, Slaight Communications.
About Canada's Walk of Fame
Canada's Walk of Fame is a national not-for-profit organization that inspires all Canadians by proudly  shining a light on extraordinary achievers and their journeys. Canada's Walk of Fame recognizes the significant impact of Canadian accomplishments and provides the foremost national platform to celebrate achievement in the fields of Arts & Entertainment, Sports & Athletics, Entrepreneurship & Philanthropy, Humanitarianism, and Science, Technology & Innovation. Current programs include the RBC Emerging Musician Program, the Community Hero Program (Presented by MLSE and Scotiabank), Canada's Walk of Fame Hometown Stars, presented by Cineplex, and the nationally televised broadcast designated by the CRTC as a program of national interest. Canada's Walk of Fame has over 190 inductions to date, with stars having a permanent place of tribute on the streets of Toronto's Entertainment District.
The org.'s Board of Directors is led by Board Chair Walter Schneider, Chairman & Founder, Waltmar Capital and President & Co-Founder RE/MAX Europe, includes: Vice-Chair Nick Di Donato, President & CEO, Liberty Entertainment Group; Tom Anselmi, President Business Operations and COO of The Edmonton Oilers Hockey Club and Ice District; Amanda Lang, Anchor, BNN Bloomberg, Randy Lennox, Executive Chair, Elevate, Linda Mantia, Kim Mason, Senior Vice President & Head, Private Banking Canada, RBC Wealth Management, Dan McGrath, Chief Operating Officer, Cineplex Entertainment; Lewis Rusen, Vice Chairman, Korn Ferry; Ron Suter, Executive Vice President, NBCUniversal Television & New Media Distribution Canada and Deputy Mayor Michael Thompson, City of Toronto.
The WoF was established in 1998 by founders Bill Ballard, Dusty Cohl and Peter Soumalias, with Dianne Schwalm in partnership with Gary Slaight.
About Slaight Family Foundation
The Slaight Family Foundation was established in 2008 by John Allan Slaight. Allan Slaight is known as Canada's broadcast pioneer, music leader and a prominent Canadian philanthropist. Through his generosity, the Foundation proactively supports charitable initiatives in the areas of healthcare, at-risk youth, international development, social services and culture.