FYI
Prism Prize Eligible Videos: 5 Clips Highlighting Queer Stories 
5 Music Videos Highlighting Queer Stories 
May 30, 2023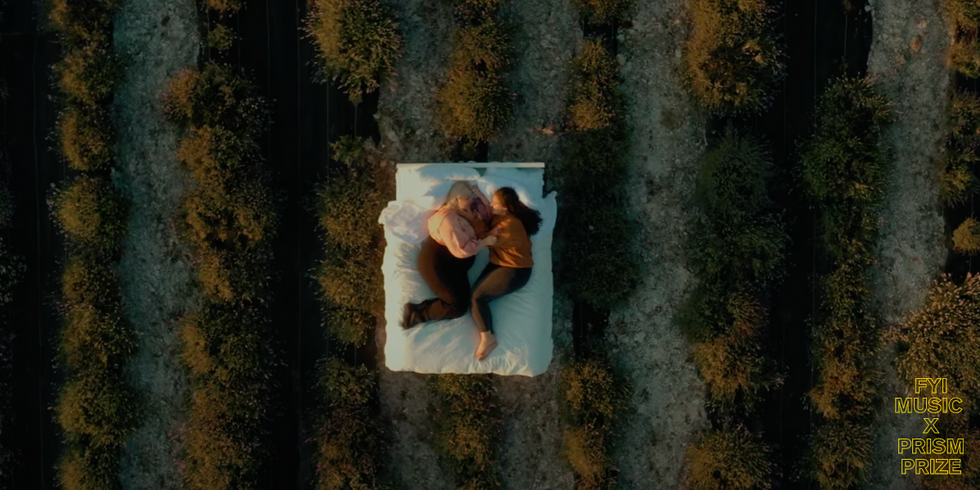 By External Source
5 Music Videos Highlighting Queer Stories 
---
It's hard to deny the large impact that the LGBTQ+ community has on the music industry - from the rise of disco & dance music to their greater influence on makeup, costumes and pop culture as a whole. Nowadays, we see the creativity & talent of the LGBTQ+ community just about everywhere in mainstream culture, including in music videos. Celebrate this amazing community with us by watching these emotional and sensual music videos, which center on queer stories listed below. 
Kim Harris - Lavender
Set in a sea of lavender, the queer love story which unfolds in the music video for Lavender is truly touching. The clip follows two young women on their journey to falling in love. This round 7 MVP Project-funded video is soft and full of beautiful scenes of lavender fields that will surely enchant you. 
Credits:
Production Company - Mirror Image Media 
CoDirectors - Meaghan Wright & Marie Wright 
DOP - Marie Wright 
Producers - Meaghan Wright and Ash Scriven 
Grip/Gaff - Chelsea Innes 
Drone - Meaghan Wright 
Production Assistants - Jessi Janes, Elyse Whitman 
Hair & Makeup - Emily Astrid Moore 
Photographer - Carolina Andrade 
Editor - Meaghan Wright 
Talent - Kim Harris and Olivia Fader
Created with support from Prism Prize and RBCxMusic MVP Project
Written by Kim Harris
Co-Produced by Daniel Ledwell and Kim Harris
Engineered and mixed by Daniel Ledwell at Echo Lake 
Mastered by J. Lapointe at Archive Mastering
LHM Records 2023
Vivek Shraya - Chapter 5: Good Luck (You're Fucked)  
Trans author and artist Vivek Shraya is the stunning voice behind the video for Chapter 5: Good Luck (You're Fucked). In this video, we see the bright light that is Vivek Shraya standing on a stage in the middle of a messy and somewhat dark theatre while she sings about living her best life in spite of the fragility of the male ego. The catchy tune of the song as well as Shraya's choreography will make you want to jump through the screen and onto that stage to join her. 
Credits: 
Director: Gabriela Osio Vanden 
Creative Director: Vivek Shraya
Producer: Sara Linares Arbeláez 
Choreographer Rodney Diverlus
Dancers: Liana Lewis, Danah Rosales
Styling: Ariane Laezza
Hair and makeup: Alanna Chelmick
Production Manager: Danielle Tellier
Production Assistant: Alexia Dalla Rosa
Production Designer: R. Paarsalu-Parent
Art Director: Peri Greig
Set Dressers: Erica Burton, Vanessa Lanteigne, Daniel Lastres, Josh Rille
Cinematographer: Gabriela Osio Vanden 
First AC: Emily DeBackere
Second AC: Felipe Lopez
Daily Second AC: Adrian Crespo
Gaffer: Sam Holling
Grips: Ismail Ali, Nikolai Kaigorodtcev, Elfred Kim, Mahmoud Sarouji, Antoun Takla
Camera and Lenses furnished by KESLOW CAMERA, INC.
Editor: Oliver Whitfield-Smith
Colour: James Graham 
Typography and Design: Tim Singleton
Thank you: James Bunton, Adam Holman, Shemeena Shraya, Trish Yeo
We acknowledge the support of the Canada Council for the Arts.
Laroie - Stuck Here 
The music video for Stuck Here is accompanied by a bewitching tune sung by singer-songwriter Gab Godon, who goes by Laroie. This video sees queer couples in harsh arguments throughout various sections of a house, with blurry and choppy slow-motion effects which add to the tense environment created. This video shows that both straight and queer couples can become victims of unhealthy behaviour and how disoriented one can become when questioning whether to leave or stay stuck in a toxic relationship. 
Directed by Maïlis 
Produced by Laroie
Cinematographer: Thomas Fontaine 
Starring: Laroie, Juliette Gariépy, Soukayna, Allan Lambert 
Production: Station Service 
Producer: Carolan Grégoire 
Art Director: Alexandre Lechasseur-Dubé
Styliste: Laroie
Hair & Makeup Ashley Diabo 
Colorist: Marting Gaumond
Kimmortal - This Dyke  
Kimmortal's video for This Dyke is bold and does not shy away from expressing one's sexuality. The use of dark lighting and vivid red hues add a level of fearlessness to the claymation used in this video to represent Kimmortal and the person they want to 'go all night' with. This video, and the song it accompanies, is a provocative anthem for femmes, lesbians and the queer community to savour. 
Credits:
Music video by @nofac3.binch 
Typeface: @kimmortaltheartist 
Production by: @kimmortaltheartist
Mentoring in song production: @veronx.io
Mixing & Sound FX: @helm__studios
Vocal recording at: @monarchstudios
Audio engineering by: @catpictures 
Mastering: @CPSMasteringStudioVancouver 
Video Funded by: @music_bc 
Production funded by: @creativebcs 
Release support: @takeaimmedia & @uwidomusic
Management team: @uwidomusic
Ralph - Scary Hot 
Ralph's music video for Scary Hot is a pure temptation with velvety red tones, black leather clothing, sensual displays of affection and martinis. It truly encapsulates the title of the song and its lyrics, as we see queer couples kissing and touching as Ralph's catchy synth-pop tune is playing. 
Credits:
Directed by: Arden Grier
Produced by: Rosslyn Luke 
Production Manager: Jaimee Hall
Director of Photography: Tamara Santos
Edited by: Ralph
Finishing Editor: Matthieu Belanger