FYI
Music News Digest, Sept. 8, 2022
The 2022 CCMA Awards on Sunday feature Tenille Townes (pictured) leading the noms list, the Supercrawl fest begins with a $250K federal grant, and Taylor Swift, Buffy, and Honey Jam star at TIFF. Also in the news are The Weeknd, Estonian Music Week, Lexsoul Dancemachine, Music Cities Forum, CMRRA, CIMA, Patsy Cline Tribute concert, Reliant Music, The Damn Truth, Joe Coughlin, and Canzona Chamber Players.
Sep 06, 2022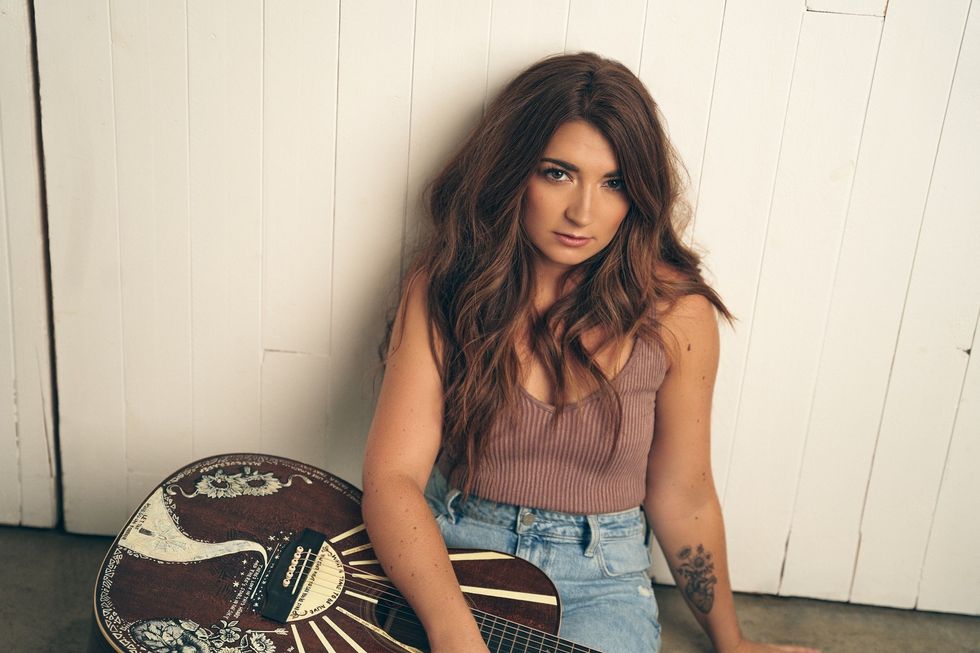 By Kerry Doole
Awards news
---
A reminder that the winners of the 2022 CCMA Awards will be announced on Sept. 11 during a live TV broadcast from Calgary's Scotiabank Saddledome, on Global at 8 pm ET. Leading the noms list is Albertan singer/songwriter Tenille Townes, with seven nods. She is closely trailed by Jade Eagleson, with six, James Barker Band (five), and Dean Brody and Brett Kissel, with four nominations apiece. See a full list of nominees here.
Festivals news
– Acknowledged as one of the country's best free outdoor music festivals, Supercrawl returns to James St. North in Hamilton this weekend. Running three days (Sept. 9-11), it offers a strong lineup of major Canadian artists (Sarah Harmer, Lido Pimienta, Charlotte Day Wilson, Tim Baker, the Dirty Nil, Hidden Cameras), rising stars (OMBIIGIZI, Nuela Charles, Tallies) and local talents (Golden Feather, The Barettas). Check the full schedule here, and read some fascinating Supercrawl facts and figures in this Hamilton City Magazine feature.
– Just ahead of the opening of TIFF (Toronto International Film festival) this week, pop superstar Taylor Swift made news with the announcement she'll be attending the fest screening of her film All Too Well, at TIFF Bell Lightbox on Sept. 9 at 7 pm. The short film recently triumphed at the Video Music Awards. In Toronto, Swift will appear in conversation with TIFF CEO Cameron Bailey to "discuss filmmaking and visual aspects of her music." More info here 
– Also premiering at TIFF is the documentary Buffy Sainte-Marie: Carry It On, a profile of the ground-breaking Indigenous Canadian singer/songwriter/author/visual artist. The subject plays a free show in Toronto tonight (Sept. 8).  Cameron Bailey, CEO of TIFF, announced on Sept. 7 that Sainte-Marie will receive the Jeff Skoll Award in Impact Media presented by Participant Media at The TIFF Tribute Awards on Sept. 11 at Fairmont Royal York Hotel. The Awards night will feature a musical performance from songwriter, poet, filmmaker, and artist Mustafa, and many celebs will appear as presenters. 
– Honey Jam Canada is partnering with TIFF for a special free performance on the Slaight Stage on Festival Street (King St. West between Peter St. & University) to celebrate women in music and women in film. The Honey Jam EmpowHER Hour is dedicated to Gutsy Women, the title of the Hillary & Chelsea Clinton docuseries premiering at TIFF.  The event is on Sept. 10, and the fun starts at 5.15 pm. More info here
– Estonian Music Week and Tartu College (Toronto), a student residence and community hub of Estonians in Canada, turned 50 in 2020 and that milestone can finally be celebrated with live music. On Sept. 21, Estonia's eminent funksters Lexsoul Dancemachine will commandeer a double-decker bus and play a series of secret locations throughout the city.  Teaming up with The Shuffle Demons, the band will bring these free concerts around key TO neighbourhoods, with the locations being revealed via the bands' social media. No tix required. Estonian Music Week then hosts an event at The Cotton Factory in Hamilton the day after (Sept. 22), featuring Lexsoul Dancemachine and other bands and DJs, dance and visual art. Tix and info here.
Industry news
– Timed to be held just prior to the big Supercrawl festival, Music Cities Forum travels to Hamilton for a full day of panels, workshops and presentations on a wide range of industry topics today (Sept. 8). The event is held at Bridgeworks, and notables participating include Andrew Cash (CIMA), Tim Potocic (Supercrawl/Sonic Unyon), Mark Sasso (Elliott Brood), Astrid Hepner, Jonathan Bunce (Wavelength), and Jesse Hartke. See the full sked here. Last night, (Sept. 7), this scribe attended the Forum's opening reception, highlighted by news that the federal government has just granted $250K to this year's edition of Supercrawl. On hand for the announcement were local councillor Jason Farr and area MPs Chad Collins and Lisa Hepfner. Accepting the last-minute largesse, SC head Tim Potocic joked that "it's too late for our suppliers to jack their prices now." The reception included sets by talented locals Bianca Bernardi and Hachey the MouthPEACE. Spied at the gathering were Mark Sasso, Sherry Sinclaire, Connie Stefanson, and Ian Sloan (New Vision United Church/The Music Hall).
– CIMA is partnering with the Canadian Musical Reproduction Rights Agency (CMRRA) for a 45-minute webinar dedicated to Reproduction Rights, to be held on Sept. 13 (1 pm EST) on Zoom. Registration here is free. CMRRA presents their role in the musical landscape, explaining how they can assist music publishers and self-published songwriters with collecting royalties. Speaker Marianne Anderson (Publisher Relations Manager) will cover topics such as the role of a collective management organization (CMO), a breakdown of musical reproduction rights and a review of the licensing and royalty collection processes.
– Making a welcome return to the Lula Lounge stage in Toronto on Sept. 8 is the Patsy Cline Tribute concert. Produced by Heather Morgan, it regularly features an A-list of Toronto-area singers and musicians paying homage to the late country music great. This year's lineup comprises Kathryn Rose, Julie Michels, Sophia Perlman, Danny Marks, Ginger St James, Russell deCarle (Prairie Oyster), Laura Hubert, Helen Stewart, Samantha Windover, Sonya Jezebel Cote, Charlotte McAfee-Brunner, The Daniel-Raum Trio, and Morgan. The evening is also in support of a great cause, Artscan Circle. Tix here.
– A&R consultancy and song management company Reliant Music in partnership with noted dance label Spinnin' Records ( Martin Garrix, Tiesto, Steve Aoki) and The Songwriters Association ofCanada is set to host an electronic music-focused songwriting camp in late Sept, in Vancouver. More info here 
Artists news
– Canadian pop singer The Weeknd cut short a concert in California on Sept. 3 after he lost his voice mid-performance. After four songs at the SoFi stadium, the performer said he needed to cancel the show and told the audience they will be getting their money back. He has just announced a second show (for Sept. 23) at Rogers Centre in Toronto, the site of a previously cancelled show due to the debacle of Rogers' online outage,
– Much-heralded Montreal rock band The Damn Truth is heading to Toronto for an El Mocambo show on Sept. 10, with manager and popular music biz veteran Ralph Alfonso in tow. The gig is part of the Music City North 10-Year Anniversary Celebration, with Carole Pope and Rough Trade also playing the venue the same night. Following the TO show, The Damn Truth head to the UK for a tour. Tix here.
– Multi-award-winning jazz vocalist Joe Coughlin's career has spanned 4 decades, and tomorrow (Sept. 9) he releases a new album, Dedicated To You, via Cellar Music Group. It comes out 40 years after his self-titled debut, and, amazingly, both albums feature the same accompanists, pianist Bernie Senensky and drummer Terry Clarke. On the new disc, they are joined by veteran bassist Neil Swainson and tenor player, Ryan Oliver. The album takes the listener on a fresh journey through the Great Aerican Songbook. Highly recommended. Coughlin has upcoming concerts in Victoria (Dave Dunnet Theatre in Oak Bay) and Vancouver (Frankie's Jazz Club) in Oct. Listen to the first single, Nature Boy, and learn more here.
– Acclaimed classical music org Canzona Chamber Players present a concert entitled Vadim Serebryany - Music and Memory on Sept. 11 (7.30 pm) at 27 Sherbourne Street, Toronto. Tix here.