FYI
Music News Digest, May 4, 2020
The Guess Who celebrate a milestone anniversary for a signature song (pictured), Drake teases more new music, and Jesse Cook finds global collaborators. Others in the news include Jesse Cook, Brandi Sidoryk, Mike Boguski, Buck 65, French Montana, Tory Lanez, and farewell Bobby Lewis and Greg McLean.
May 04, 2020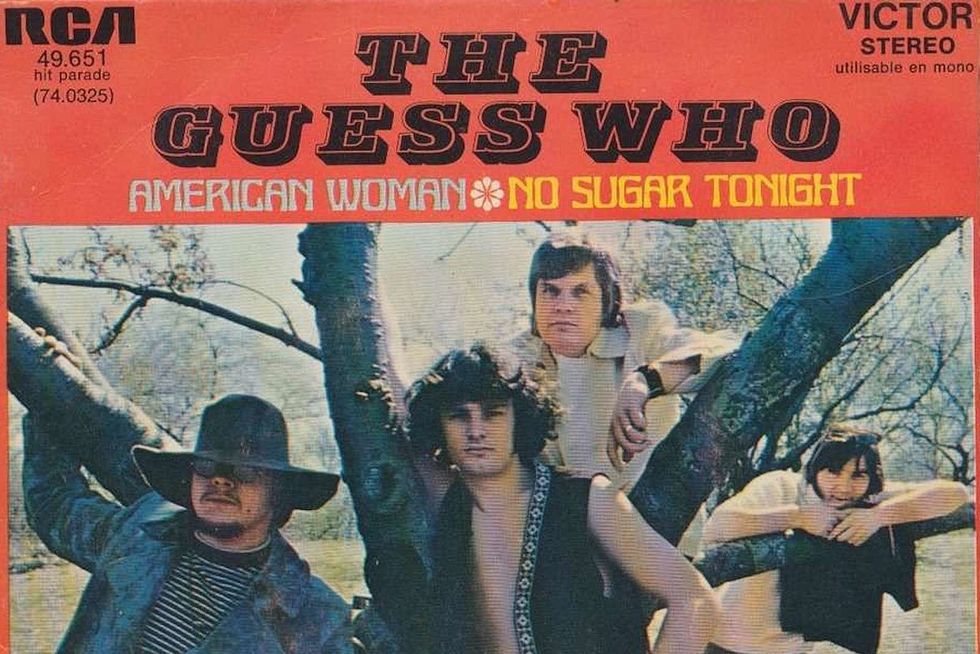 By Kerry Doole
Not content with the surprise release of a new mixtape, Dark Lane Demo Tapes, on May 1, Drake has teased more new music on Instagram. The recent Instagram Live session featured Drake in the studio, and he previewed new tracks that included one with Roddy Ricch and another featuring some bars in French. Drake recently wrote on Instagram, "My 6th STUDIO ALBUM DROPPING SUMMER 2020!!!," so this new material may surface there. Source: GRM Daily
---
– 50 years ago this week, The Guess Who made history as the first Canadian rock band to earn the #1 position on the Billboard Hot 100. American Woman reigned atop the Billboard and RPM Canadian chart for three consecutive weeks and was #3 on Billboard's 1970 year-end best singles list. This milestone anniversary is now celebrated with a Sony Music/Legacy re-release of the original American Woman full-length LP on 180-gram, translucent blue vinyl.
– Justin Bieber, Meek Mill, Miguel, Robert DeNiro and Martin Scorsese are among the notables participating in the All In Challenge, donating "once-in-a-lifetime" fan experiences and rare items to raise money to feed those in need amidst the covid-19 crisis. The Biebs has offered to fly out to sing One Less Lonely Girl at the house of the person with the winning entry. Spearheaded by Philadelphia 76ers partner Michael Rubin, the initiative will benefit Meals on Wheels, No Kid Hungry and America's Food Fund. Source: Rolling Stone
– Two weeks ago, highly-lauded guitarist, composer and producer Jesse Cook called on his tens of thousands of fans to collaborate on his newest song. "I asked if we could sing a song, together, from all over the world," Cook shares in a press release. "Initially, I wasn't sure if anyone would take me up on my offer, so I was completely unprepared for the flood of videos. They came from India, France, the US, Bangladesh, South Africa, Germany, China, Switzerland, Turkey, and, of course, lots from Canada!  I've spent the last two weeks downloading these videos, putting them together in this song, One World, One Voice, and every day I get chills hearing those voices." 
– Albertan country artist Brandi Sidoryk has been named 2020 Songwriter in Residence at the Calgary Public Library. This new 10-week residency supports emerging and established songwriters working in any genre. Sign up for a session with her here. Sidoryk has had songs recorded by acts in Canada and the US and is a member of the CCMA-nominated band Nice Horse.
– Blue Rodeo keyboardist Mike Boguski earned kudos for his 2019 solo piano album, Blues For The Penitent. His cool new psychedelic jazz cut, Message From Mars, features Cowboy Junkies guitarist Michael Timmins and Blue Rodeo's original rhythm section, Bazil Donovan and Cleave Anderson.
– Without any advance fanfare, hip-hop veteran turned CBC radio host Buck 65 (Rich Terfry) has released a new album. Tommy and Richie present "Billy" is a collaborative project with producer Controller 7 and is out on Bandcamp.
– US hip-hop star French Montana has recruited Canadian Tory Lanez for his new single, Cold, out via Epic. This is the first collaboration between the pair, though last month they faced off for a Quarantine Radio hit-for-hit song battle that attracted 300,000-plus viewers.
Obits
Bobby (Robert Allan) Lewis, R&B singer best known for the hit Tossin' and Turnin', has died, at age 97.
The Indiana native performed as a singer with the Leo Hines Orchestra before moving to New York to jumpstart a solo singing career. After a few minor releases, he hit paydirt in 1960 (at age 35) with Tossin' and Turnin', one of the defining songs of the era. It was a monster recording, topping the charts for nearly two months, and has been recorded by countless other acts over the years, but none bested Lewis's original.
Lewis hit the chart again a year later with the top ten entry One Track Mind, but that became his last major release, as his label, Beltone Records, went out of business. He was not able to rekindle his career well for his future label, ABC-Paramount.
Despite his limited recording period, Lewis reportedly continued to perform well into his '90s and was adored by his East Coast audiences. Source: Soultracks
Greg McLean, a Swift Current music teacher and conductor, has passed away on April 25, from cancer, at age 67.
McLean taught at the Swift Current Comprehensive High School from 1989 until 2010. He also co-conducted the Swift Current Oratorio Choir and created and conducted the Swift Current Jazz Orchestra. He also played the role of an adjudicator in Canadian music competitions and had countless music concert successes to his name through his student bands.
He was also the Interim Director of Bands for a year at the University of Regina. Source: Swift Current Online