FYI
Music News Digest, March 8, 2021
Drake releases a new EP and launches a radio channel, Greg Keelor (pictured) announces a new solo album, and Madison Violet host an International Women's Day concert. Others in the news include Minor Empire, Liona Boyd, HRL, Blu Bones, Lil Berete, SING!, Annabelle Chvostek, High Priestess, Sound of Music Festival, Fateh, the Ice Walk, and farewell Jorge Perez, Bhaskar Menon, and Michael Stanley.
Mar 08, 2021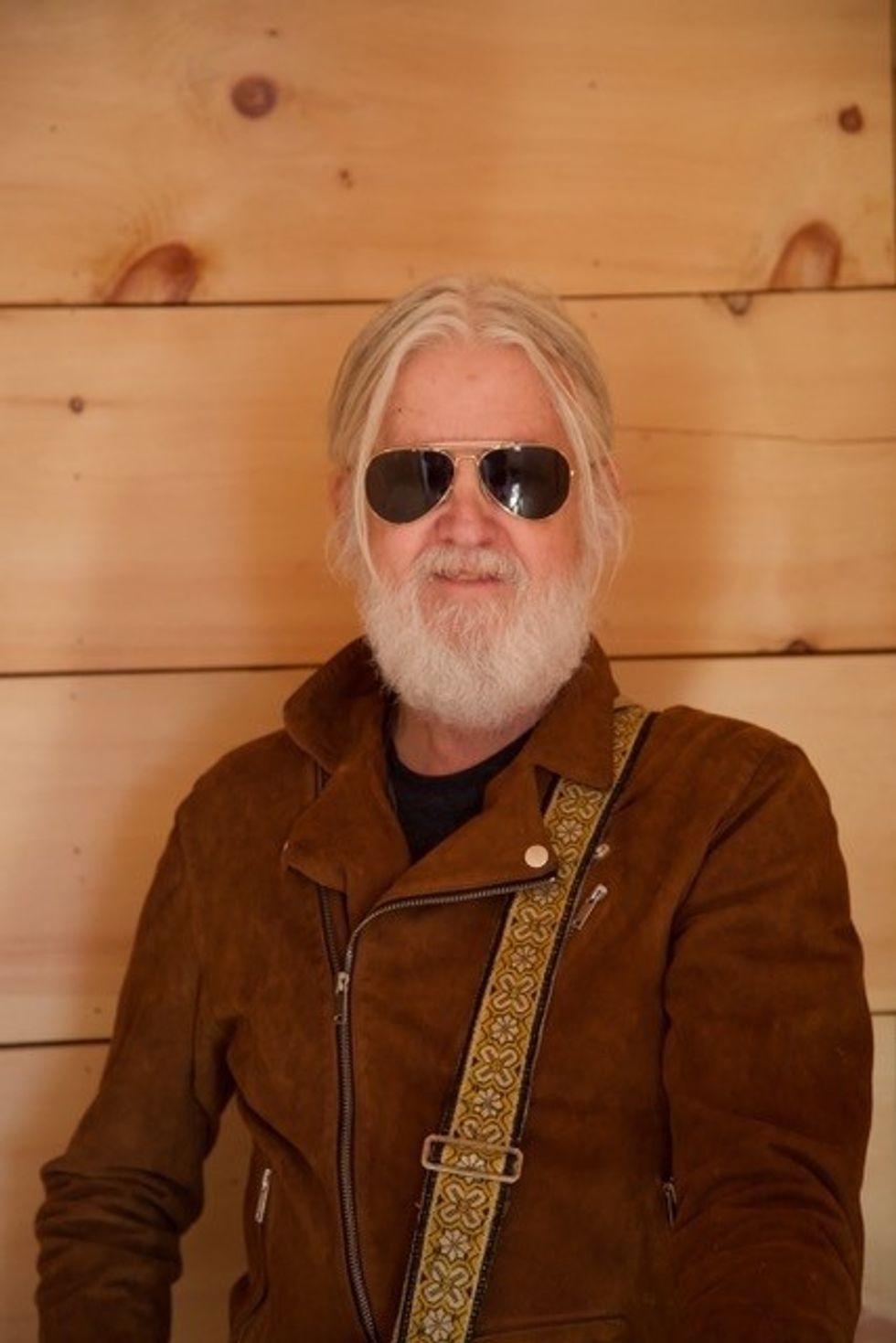 By Kerry Doole
With zero advance fanfare, Drake released a new three-song EP called Scary Hours 2 last Thursday, at midnight. He also announced, on his OVO Sound Radio program on SIRIUS-XM, a new 24-hour fully curated radio channel, Sound 42. Drizzy also addressed the much-discussed upcoming album, Certified Lover Boy, stating that "I don't have an exact release date but just know it's in a pot and it's coming soon. I'm just really excited about the music that we're making."
---
The lead track from Scary Hours 2 is out with a video (below). The other two cuts are Wants and Needs, featuring Lil Baby, and Lemon Pepper Freestyle, with guest Rick Ross. Source: Toronto Star
– The solo work of Blue Rodeo comrade Jim Cuddy may have had a higher profile, but Greg Keelor has a sizeable solo discography of a high quality. He has just announced that his sixth album, Share the Love, comes out on April 16, preceded by the release of the first single, Wonder. A press release informs that to make the album, "Keelor assembled a band, booked a community centre near his Kawartha farm, had everyone tested beforehand, and spent two days playing the new material live."  He will perform a live-stream on March 11 at 4 pm EST on his Instagram page.
– While Hugh's Room Live in Toronto no longer has a venue space, it is remaining active in presenting shows. HRL has now forged a partnership with the El Mocambo to host live-streamed shows there. Coming up on March 25 is a concert by Dan Hill, with a special VIP Green Room hosted after the show by Jully Black. Info and tickets here. HRL patrons that purchased tickets for Hill's concert scheduled in 2020. Other shows the Elmo is presenting include Matt Dusk on March 14 and Glass Tiger, March 21 (both shows at 2 pm EST). 
– Acclaimed Turkish-Canadian group Minor Empire honours International Women's Day (March 8) with the release of its new music video, Uyuttum Atlari.
– Today March 8) at 4.30 pm EST, The Sound of Music & Cogeco presents: International Women's Day, with Madison Violet & Friends​. The star-studded live-stream concert features Jill Barber, Kathryn Calder, Ivan Coyote, Maia Davies, Leela Gilday, The Good Lovelies, Madison Violet, Catherine MacLellan, Melissa MacLelland, Sarah MacDougall, Andrea Ramolo, Ember Swift, and Oh Susanna)​. The concert will be streamed on Sound Of Music Facebook and YouTube.​ Tickets are free, but donations are welcome and will be divided among the artists. Click here to donate.
– On Friday, hotly-tipped Toronto rapper Lil Berete released his Icebreaker 2 mixtape. Focus track Big Man features Detroit rapper Sada Baby, and other tracks feature UK rapper and singer Nafe Smallz, British DJ/producer Unimerce, and emerging Louisville rapper 2KBABY.
– As the hype around the new NFT (non-fungible tokens) format grows quickly, classic rockers Blu Bones claim to be the first Canadian act to release a single and video via NFT. Recently reunited after more than 25 years, the band from London, ON, minted a unique non-fungible token for their single, She's Got a Way With Love. It is currently on auction via Rariable – the digital marketplace for creator-based NFTs.
– The 2021 SING! Festival – taking place virtually from May 27 to June 6 – will include the inaugural SING! Collegiate A Cappella Competition. Entries from a cappella ensembles associated with Canadian post-secondary institutions are welcomed. More info here.
– A Toronto singer/songwriter and former member of The Wailin' Jennys, Annabelle Chvostek has shared the video to the title track of her forthcoming album, String of Pearls, out on March 26. The track deals with Chvostek's hearing loss, triggered by a feedback blast during soundcheck.  
– High Priestess Publishing and Six Shooter Records have announced the hiring of Temi Argyropoulos to the team as Publishing and Sync Manager. The industry veteran will work with a wide scope of repertoire including the label's extensive 20-year catalogue, Six Shooter's own publishing company Girl On A Horse (Tanya Tagaq, Amelia Curran, Zaki Ibrahim, and more), and new venture High Priestess Publishing, run by Kim Temple. High Priestess has also announced two new signings: Winnipeg songwriter Lana Winterhalt, and film and TV composer Jesse Northey (formerly of Jesse and the Dandelions).
– Last year, Burlington, Ontario's popular 10-day Sound of Music Festival was cancelled because of the pandemic. This year it returns, in virtual form, with Return to Live, a series of live-streamed concerts, running from March until August. Launching the fun are local hard rock heroes Monster Truck, streaming from the Burlington Performing Arts Centre stage on March 27. Tix on sale here from tomorrow.
– The nominations for the Academy of Country Music (ACM) Awards were announced recently. Two Canadian names we spied were singer/songwriter Tenille Arts and producer Joey Moi. Full list here.
– Desi-born, Brampton-based rapper, Fateh is the featured subject of the sixth episode of The Juno Awards's docuseries, Rising. Now streaming on the Juno Awards Facebook and YouTube channels, the digital content series has garnered over 1 million streams across all platforms. Watch the episode here.
– Beneath the Path of Crows is a new song designed to raise money for Indigenous youth empowerment initiatives. It features vocals by Tara MacLean and Tim Chaisson, with Dennis Ellsworth contributing guitar. A donation link for Indigenous youth leadership programs can be found here. The song was requested by the Mi'kmaq community on PEI, to be written about them. It is being released to radio in conjunction with the Ice Walk, an epic event set for March 15 that consists of a walk across the frozen path between Port Hill and Lennox Island by those who wish to unite in solidarity with the Mi'kmaq people.  The event is not open to the public, but you can participate by watching the event live-streamed on YouTube. More info here.
– Guitar virtuoso Liona Boyd has just put out a new music video, a fresh take on a classical favourite. It fittingly coincides with International Women's Day.
– Act fast (by March 9) to score Super Earlybird Tickets to the INDIE 101 online conference, running April 20-24. The event focuses on education for artists and emerging music businesses, covering everything from music creation, production, distribution, publishing, rights & royalties, to marketing and exporting your music and career. Tix here.
RIP
Jorge Eduardo Perez, a noted promoter of Latin music in Canada, died on March 1, in a car crash outside Toronto, at age 45. 
Perez headed JEP Concerts and JEP Agency in Toronto. Founded by him in 1995, JEP is considered the leading company in event production, artist representation and advertising agency within the Canadian Hispanic Market.
JEP has produced concerts by such Latin stars as Marc Anthony, Romeo Santos, Ozuna, Luis Miguel, Carlos Vives, Chayanne, Marco Antonio Solis, Juan Luis Guerra, Ricardo Arjona and many others. The company also boosted the careers of such Canadian Latin artists as Chantel Collado and Rafael and Energía Dominicana, and it operates the Miss Canada Latina contest. JEP's work and commitment to the development of the Latin Music industry in Canada was recognized by Billboard in a 2009 feature. Sources: HoyToronto, Glenda Rush, JEP website
International
– (Vijaya) Bhaskar Menon, the founding chairman and CEO at EMI Music Worldwide, died on March 4 at his home in Beverly Hills. He was 86.
Over his 34-year tenure at EMI, Menon worked with a slew of major artists including the Beatles, The Rolling Stones, Queen, David Bowie and Tina Turner. He is widely credited for breaking Pink Floyd in the US and presiding over one of Capitol Records' most successful eras.
"Determined to achieve excellence, Bhaskar Menon built EMI into a music powerhouse and one of our most iconic, global institutions," said Universal Music Group chairman and CEO Lucian Grainge in a statement. "Music and the world have lost a special one. Our hearts go out to his loved ones."
Asked in 1971 to lead Capitol, in which EMI held a majority interest, Menon would go on to orchestrate a massive, company-wide campaign around the release of Pink Floyd's 1973 album The Dark Side of the Moon despite the band's failure to break in the US  over the preceding years.
The gambit paid off: The Dark Side of the Moon soon rocketed to No. 1 on the Billboard 200, minted the band as major stars in America and has since been certified 15-times multi-platinum by the RIAA. In the process, he reversed the fortunes of the label — which had experienced a major hit to its bottom line after the breakup of its top act the Beatles in 1970 — virtually overnight.
Menon was born in India, where his father KRK would go on to serve as India's first Finance Minister.
After earning his master's degree from Christ Church, Oxford, Menon began his 34-year run at EMI in 1956 after being recruited to the company directly from the university. In 1957, he moved to EMI's Indian subsidiary, Gramophone Company of India, where he rose through the ranks before eventually being elevated to chairman in 1969.
In 1971, when he relocated to Los Angeles in 1971 to take the helm at Capitol, where he allegedly laid down the following motto for employees: "'Uncompromising excellence in what you do goes without saying. We expect more than that."
In addition to the monster success of The Dark Side of the Moon, which would remain on the Billboard 200 for 14 years, Menon would preside over successful releases from acts including Grand Funk Railroad, Linda Ronstadt, Helen Reddy, Wings, Natalie Cole, Bob Seger, and The Steve Miller Band.
Menon's tenure at Capitol came to an end in 1978, when he was named chairman and CEO of EMO Music Worldwide, a position he held for the next 12 years (along with the dual role of chairman of EMI Films & TV for North America).
 In 1990, he would be awarded the IFPI Medal of Honour for services to the global music industry after serving for many years as IFPI's chairman and president. That same year, he was appointed to the rank of Chevalier De L'Ordre Des Arts et Des Lettres.
After leaving the music business in the early 1990s, Menon remained in Los Angeles and founded the company International Media Investments in 1995, through which he invested in and provided consultation services for a variety of entertainment and media businesses, including Indian broadcaster NDTV, where he held a seat on the board. Sources: Billboard, THR
– Michael Stanley (Gee), a Cleveland rock legend and noted local radio and TV personality, died on March 5 at the age of 72 from lung cancer,
Stanley suffered a heart attack in 1991 and also battled subsequent prostate cancer and a quadruple bypass.
"I had three pretty good, separate careers with music, the television, the radio," Stanley told The Plain Dealer in 2019, before receiving the Cleveland Arts Prize Lifetime Achievement Award. 
Stanley went on to a very successful broadcasting career, winning 11 local Emmy Awards as co-host of WJW Channel 8′s PM Magazine from 1987. He then spent another year on the station's Cleveland Tonight, and played himself on an episode of The Drew Carey Show. He spent more than 30 years on WNCX, weekday afternoons and Saturday mornings, ending just last month.
 In the late '60s, producer-engineer Bill Szymczyk signed one of Stanley's early bands, The Tree Stumps to ABC Records, albeit suggesting a name change that became Silk for the 1969 release Smooth As Raw Silk.
After Silk's demise Szymczyk brought Stanley to the Colorado-based Tumbleweed Records label, producing his self-titled solo album and Friends and Legends, both in 1973 and the latter featuring Joe Walsh.
In 1974, Stanley formed the Michael Stanley Band, a muscular, blue-collar outfit whose dynamic performances were mentioned in the same breath as populist rock peers such as Bruce Springsteen, Bob Seger and John Mellencamp. The band played multiple-night stands at the Richfield Coliseum and Blossom Music Center. Mellencamp, Billy Joel, Foreigner and others opened for him early in their careers.
The group reached the peak of their popularity nationally in 1981 when the single He Can't Love You from the album Heartland  made the Top 40 (#33 Billboard, #27 Cash Box) and "n the Heartland from the album North Coast went to #6 on Billboard's Top Tracks chart. The band's last Top 40 hit was "My Town" in 1983.
The Michael Stanley Band ended in 1986, but Stanley continued to record and play live with his bands the Resonators and the Midlife Chrysler.
Stanley then embarked on a bonus career few might have expected. He won 11 local Emmy Awards as co-host of WJW Channel 8′s PM Magazine from 1987 to 1990, and then spent another year on the station's Cleveland Tonight. He played himself on an episode of The Drew Carey Show.
On the radio, Stanley spent more than 30 years on WNCX, weekday afternoons and Saturday mornings, ending just last month.
The Rock and Roll Hall of Fame issued a statement Saturday, remembering Stanley as "our city's most beloved musician, songwriter and rocker." Sources: Cleveland.com