FYI
Music News Digest, March 6, 2019
The Tenors and (pictured) Sean Jones,  Boots & Hearts, and SCMA Awards nominees are announced. Also in the news are YYC Music Awards, Broken Social Scene, CIMA, The Great Escape, Selina Martin, James Bryan, Arcade Fire, Michael Davidson and Dan Fortin, Jackie Richardson, Daniel Romano, Sonic Publishing, Dave Sampson, Blue Standard, and farewell Sara Romweber and Keith Flint. Videos added for your enjoyment.
Mar 06, 2019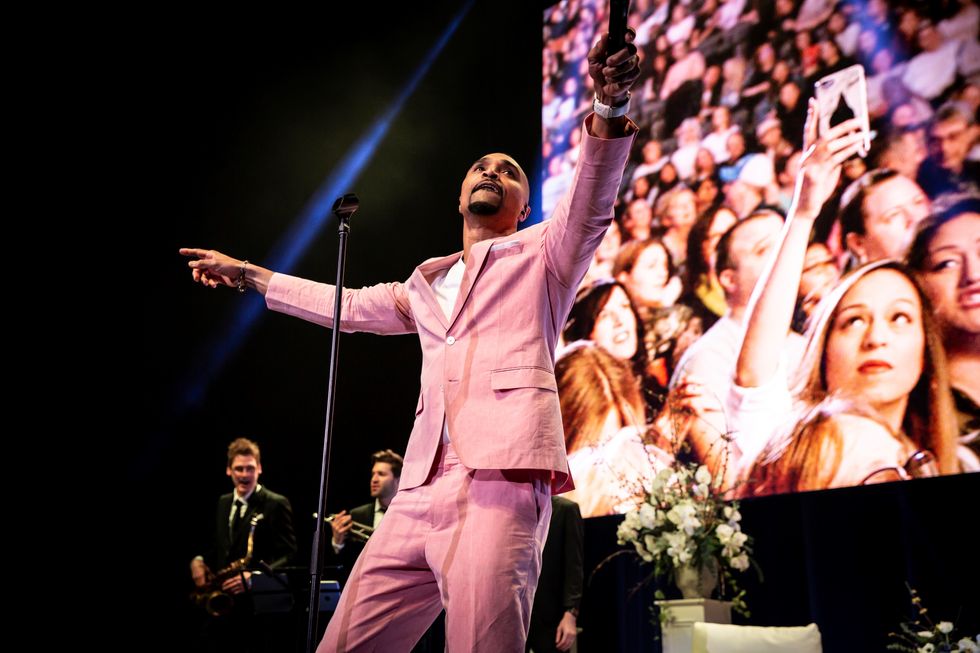 By FYI Staff
JL Entertainment Toronto made hay in having their artists The Tenors and (pictured) Sean Jones & The Righteous Echo invited back to open for Ellen DeGeneres last weekend for her arena shows, billed as 'A Conversation with Ellen'.
---
The vocal trio, consisting of  Victor Micallef, Fraser Walters and Clifton Murray, performed at the evening shows at Montreal's Bell Centre Friday and Toronto's Scotiabank Arena on Sunday, while Juno award winning artist Sean Jones and his band The Righteous Echo opened the matinee show in Toronto. The US comic, television host, actress, writer, producer, and LGBT activist turned the stadiums into living rooms as she sat and took questions from the crowd and provided insights into how she got her start in comedy and why she loves to scare her guests on screen.
– Republic Live has announced the full line-up for 2019's Boots & Hearts Music Festival. Chase Rice, Michael Ray, Tim Hicks, Carly Pearce, Mitchell Tenpenny, LANCO, Ashley McBryde, Morgan Wallen and more will join previously announced headliners Jason Aldean, Miranda Lambert, Maren Morris, Cole Swindell, Kane Brown and Kip Moore. 
This is the 8th year for Boots and Hearts, Canada's largest country music festival, held at Burl's Creek Event Grounds in Oro-Medonte, ON, Aug. 8-11. The fest was recently announced as the only Canadian nominee for the Academy of Country Music (ACM) Festival of the Year award.
 – The Saskatchewan Country Music Association has released the nominees for the 30th annual Saskatchewan Country Music Awards, featuring 31 categories this year. Leading with six nominations are Tenille Arts and Lisa Moen, with The Hunter Brothers named in five categories. The awards weekend runs April 12-14 in Saskatoon with the final awards presented on the televised awards show April 13. Source: PA Now
 – Calgary's YYC Music Awards has announced that artist submissions for its 4th annual gala are now open, with a deadline of May 31. The awards show is on Sept. 22, at The Palace Theatre. This year's 2019 YYCMA's will celebrate artists in 23 categories (up from 2018's 20) with nominations and tickets for the gala TBA on July 26. Full info here
 – Toronto indie rock stalwarts Broken Social Scene are heading to SXSW in Austin. A highlight of their seven scheduled gigs is expected to come at the Arts & Crafts showcase on March 15, when they reprise breakthrough album You Forgot It In People. BSS released a new EP, Let's Try The After Vol. 1, last month, and have upcoming residencies in Toronto, NYC, Montreal, LA, and Seattle. Dates here
 – Music Export Canada is staging Canada House at The Great Escape (TGE), at The Green Door Store in Brighton, England from May 9-11. Business packages are being offered to Canadian companies to attend and participate in professional activities in Brighton. The first seven companies to sign up will receive a free TGE delegate badge. The deadline for applications is April 12. For any questions or concerns, contact CIMA's Music Export Manager, Trisha Carter, at trisha@cimamusic.ca.
 – Long a popular member of the Toronto music community, art-rocker Selina Martin is now domiciled in France. She has returned to her province for a few gigs and delivered a superb set at The Casbah in Hamilton on Sunday night. Accompanied by Jesse Baird and Doug Friesen, she ripped through material from a selection of her albums with fire and panache, her strong vocals supplemented by her inventive and adventurous fretting (think PJ Harvey as a reference point). Spied enjoying the show was Teenage Head's Gord Lewis. Opening the show in an entertaining fashion was local fave Buckshot Bebee. Martin has upcoming shows at London's Music Club (March 9), Peterborough's Twisted Wheel (15), and Toronto's Tranzac (16). She then stars in A Blow In The Face, a play at Toronto's Nightwood Theatre that runs March 26-April 14.
 – As well as being a Philosopher King and one-half of Prozzak, guitarist/songwriter James Bryan (McCollum) is also a solo recording artist. Tomorrow (March 7), he plays a solo guitar concert, Guitar Magic, in his new hometown of Hamilton, at Artword Artbar. Classical guitarist Emma Rush also plays a set. On March 29, Bryan releases a new solo acoustic guitar album, Hush, and launches it at Burdock in Toronto that evening.
 – Arcade Fire has released a snippet of its latest track, 'Baby Mine,' in a trailer for Tim Burton's upcoming live-action adaptation of Disney's Dumbo, scheduled for a March 29 release. The track is a cover of the Betty Noyes' version from the original animated feature of Dumbo (1941). "Baby Mine" was originally written by Ned Washington and composed by Frank Churchill.
 – Vibraphonist Michael Davidson (Hobson's Choice, Otterville) and double bassist Dan Fortin (Myriad3, Bernice) are two of Toronto's most in-demand musicians. They have been playing together for over a decade, and recently recorded a debut album, Clock Radio. It is being launched with a performance at the Canadian Music Centre in Toronto on March 23.
 – Canadian singer and actor Jackie Richardson received the African Nova Scotian Music Association's Lifetime Achievement Award at its annual gala last Saturday at Spatz Theatre in Halifax. The honour is for "spreading the sound of African Nova Scotian musicians across the country." The Toronto-based Richardson has regularly appeared on stage, radio, film and TV in Nova Scotia. Source: Chronicle-Herald
 – Alt-country maverick Daniel Romano has earned a significant audience in the UK and Europe in recent years. He begins an extensive tour there on April 29 in London, followed by 29 more dates, running through June 15. Shows in Bristol and Newcastle are in support of The Sadies. 
 – Nova Scotia-based Sonic Publishing has announced the signing of a publishing administration deal with local singer-songwriter Dave Sampson. He is the first addition to the newly created publishing division of Sonic Entertainment Group, with his forthcoming EP set for release later this spring. Sampson has co-written with such artists and songwriters as Classified, Gordie Sampson, Donovan Woods, Alan Doyle, Matt Andersen, Neon Dreams, Port Cities, and Caitlyn Smith. The title track from his 2014 release No Pressure No Diamonds was sampled by hip-hop star Classified on his gold-selling single. Sonic Publishing administers a substantive catalogue of works by Adam Baldwin, Alan Doyle, Dave Sampson, Matt Andersen, and Matt Mays.
 – Blue Standard, the new Toronto blues/jazz duo comprising Raoul Bhaneja and Jesse Whiteley, has been receiving rave reviews for debut album A Good Thing. A US debut takes place with a New York City CD release show at Rockwood Music Club on March 17.
RIP
Sara Romweber, drummer with Let's Active, Snatches of Pink and the Dex Romweber Duo, died on March 4, of a brain tumour She was 55.
Romweber first rose to mainstream recognition with the '80s-era trio Let's Active, which was led by early R.E.M. coproducer Mitch Easter. The power-pop group enjoyed success on college-radio charts and opened tours for R.E.M. and other acts; Romweber, then in her late teens, played on the group's 1983 debut EP, Afoot, and the 1984 album, Cypress.
Romweber went on to join and record with the Winston-Salem-area group Snatches of Pink and most recently with her younger brother Dexter in the rockabilly-leaning Dex Romweber Duo. The latter group released four albums between 2009 and 2014 and collaborated with Jack White on "The Wind Did Move" single in 2009, which was released on White's Third Man Records. One of the duo's albums was recorded live at White's Third Man Studios. Sources: Variety, Bloodshot Records 
Keith Flint, the vocalist for UK band The Prodigy, died on March 4, aged 49. 
The Prodigy released a statement confirming the news, saying: "It is with deepest shock and sadness that we can confirm the death of our brother and best friend, Keith Flint. A true pioneer, innovator and legend. He will be forever missed."
Liam Howlett, who formed the group in 1990, confirmed his death was a suicide. "The news is true, I can't believe I'm saying this, but our brother Keith took his own life over the weekend," he wrote on Instagram. "I'm shell shocked, fuckin angry, confused and heartbroken ..... r.i.p brother Liam".
Formerly a dancer with the group, Flint performed the vocals on The Prodigy's No 1 hit singles, 1997's "Firestarter" and "Breathe."
Through this role, Flint became an icon of the British electronic scene during the 1990s and was best known for his devil-horned haircut and sporadic dance moves, Sources: The Guardian, Celebrity Access