FYI
Music News Digest, June 23, 2022
Kyle McKearney (pictured) wins of the first ever Henry Armstrong Award, Alanis Morissette cancels her Down Under tour, and Tom Treumuth launches a podcast. Also in the news are HUFF, MusicNL, Decimate Metal Fest, Harbourfront Centre, Tami Neilson, Dream in High Park, True Myth, Allan Slaight Juno Master Class, JoJo Bennett, Symphonic Distribution, Jerry Leger, Storry, and Tara MacLean.
Jun 23, 2022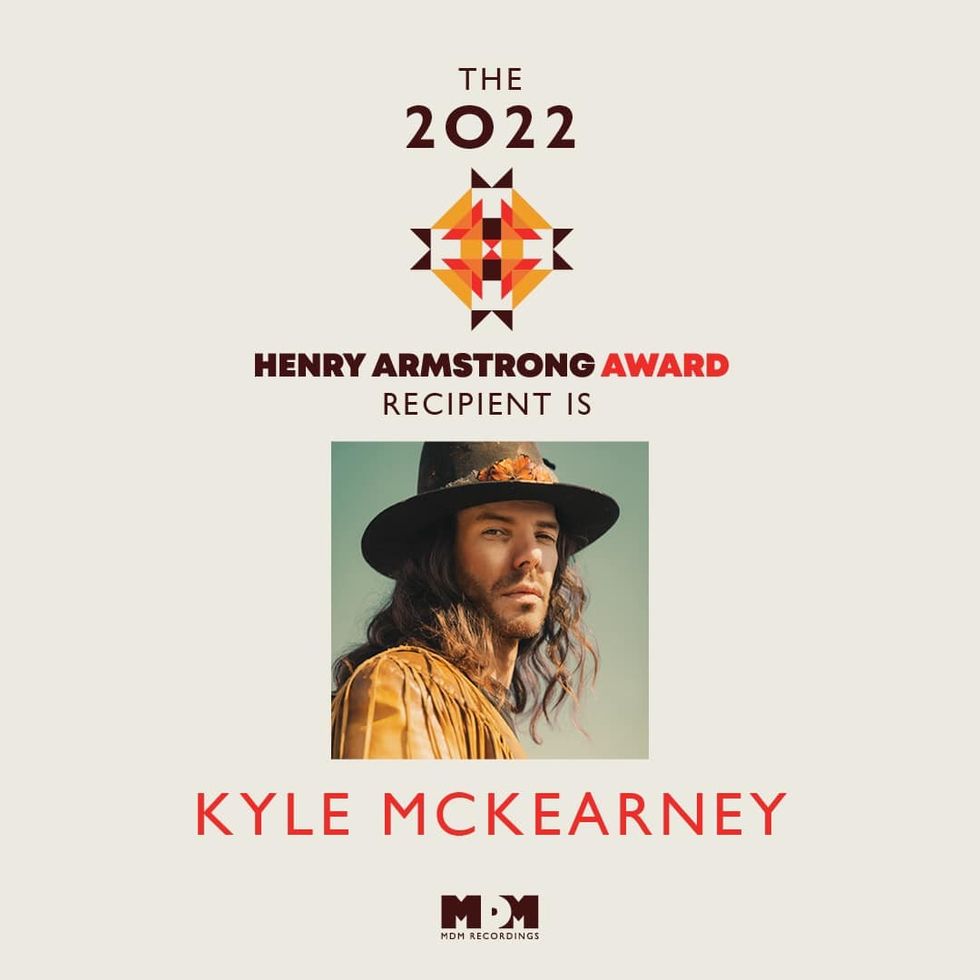 By Kerry Doole
Awards news
---
MusicNL Award applications are now open here until July 3.  All MusicNL members in good standing are eligible for both music and industry awards, to be presented during Music CelebrationWeek 2022, Oct 26-29, in Corner Brook. 
– On National Indigenous Peoples Day (June 21) Mike Denney of MDM Recordings announced Americana Roots artist Kyle McKearney as the winner of the first Henry Armstrong Award. The Award, created by Denney, is a bursary and mentorship program created to develop, elevate, and support the diverse talents in the Canadian Indigenous music community. The winner receives a $10K bursary along with a mentorship program of professional development services.                                    
Festivals news
–  The Halifax Urban Folk Festival returns Aug. 28-Sept. 4, with shows at four city venues. One, the Carleton, has just announced an impressive lineup, including Jake Clemons, Reeny Smith, Adam Baldwin, Pillow Fit, and Kim Harris. More info here
add video
–  Attention headbangers: Western Canada's Decimate Metal Fest will host its two-day open-air extreme and all-ages live music event on June 24 and 25 in High River, AB, on the outdoor grounds of the High River Brewing Company. The 3rd edition of the Fest, presented by Voxx Entertainment, will feature headliners Planet Eater and Arrival of Autumn, and 20+ acts. Full lineup here. 
–  Toronto's Harbourfront Centre has announced an impressive season of free summer concerts by the lake. It features over 40 performances from July 1–24 and the return of Island Soul from July 29 - Aug. 1. Serena Ryder is followed by shows with Cœur de pirate, Allison Russell, Begonia, Rose Cousins, Tami Neilson, Leyla McCalla, Choir! Choir! Choir!, Celeigh Cardinal, Evangeline Gentle, GusGus, Vök, Eivør and more. Island Soul features veteran star Jay Douglas, comedy with Trixx and friends, and celebrations of the 60th birthdays of Jamaica and Trinidad and Tobago. More info here.
–  Toronto concert series Dream in High Park has expanded its lineup for 2022. From June 30 to July 15, there will be six outdoor concerts in the beloved West End park: Jully Black, Ron Sexsmith, Beau Dixon, Dan Mangan, Hawksley Workman, KUNÉ, and Martha Wainwright. More info here.
Industry news
– A reminder that the deadline for submissions for the 2022/2023 Allan Slaight Juno Master Class, Canada's leading artist development program, is fast approaching. Apply here, by June 30. Now in its eighth iteration, the Master Class is designed to support emerging artists with opportunities to refine their craft and further develop their music careers. The program is valued at over $100K.
– Canadian music industry veteran Tom Treumuth has made a mark as a record producer (Honeymoon Suite, Helix, Big Sugar), musician, label head, artist manager, and booking agent, and he has now added podcaster to his varied resume. Along with co-host Andrew Schalk, his The Talk Music Podcast will feature music-related subjects, banter about established and emerging Canadian and International artists, and a look at select music, book and documentary releases.
The first episode includes a feature on Treumuth's former band True Myth, one he asserts recorded the world's first digital rock album and made history doing so. Interviewed are guests including Gary Furniss (President of Sony Music Publishing), Gary Muth (former Warner A&R executive) and 2 band members. The self-titled album is being released for the first time digitally in conjunction with the podcast (streaming link here). Check out episode 1 of the podcast here or on Spotify, Apple or wherever you listen to your podcasts. Episode 2 will feature Hamilton's renaissance man of music, art, and literature, Tom Wilson. 
–  A celebration of the life of much-loved Toronto reggae fixture JoJo Bennett (The Sattalites) will be held at The Pilot in Toronto on July 13. Organised by reggae booster Reuben Kincaid, the event serves as a fundraiser for Alpha Boys School in Jamaica, where Bennett learned his craft. Bennett remained grateful for the school that rescued him from poverty, and maintained a lifelong affection for Alpha, did fundraisers and visited occasionally throughout the years. More info here.
– Noted US independent music distributor Symphonic Distribution is expanding its business to Canada via a strategic merger with Higher Reign Music Distribution, a new division of Higher Reign Music Group. HRMG executives Steven Leblanc and Antoine Regniere will be in charge of overseeing Symphonic's operations in Canada.
Artist news
– Alanis Morissette's long-awaited 2022 Australasian tour has been cancelled. The Canadian singer made the announcement this week, with promoter Live Nation citing "scheduling issues" and "the unprecedented logistical challenges of global touring in 2022". The upcoming run of arena shows in Nov., which had previously been rescheduled due to Covid, were to commemorate the 25th anniversary of her blockbuster album Jagged Little Pill. Live Nation said that, in consultation with the singer's management, they felt it was "best to refund the ticket holders now" and that they were hoping to schedule new dates "at the earliest possible time." Source: The Music
–  Prolific Toronto roots troubadour Jerry Leger played at Mills Hardware in Hamilton last weekend. Ably abetted by longtime bassist Dan Mock, Leger played material from throughout his extensive catalogue, again impressing with the quality of his songwriting (he closed out with a fave of this scribe, Factory Made). Spied in the small but appreciative crowd were music journo Graham Rockingham and local singer/songwriters Ben Somer (who opened the show), and Lindy Vopnfjord. Leger and Mock have upcoming shows in Bracebridge, Trenton, and Ottawa this week. Dates here.
–  Presented by Hugh's Room Live, blues maestro Paul Reddick plays at 3030 Dundas Street West, in Toronto tonight (June 23). His most recent recording, Ride the One (on Stony Plain Records), received the 2016 Juno for Best Blues Album, and we hope he has another one planned soon. The gig is highly recommended. Tix here
– Folk-pop singer/songwriter Tara MacLean (Shaye) is writing a memoir, Song Of The Sparrow, to be published by HarperCollins, and will release a new solo album, Sparrow, next March. A  reimagined version of her hit single If I Fall is coming out today (June 23).
– Much-heralded Toronto singer/songwriter Storry is releasing her new single Intimate Abuse today (June 23). She's also performing at the Toronto Jazz Festival (June 25) and Montreal Jazz Festival (July 1), both free outdoor shows.