FYI
Music News Digest, June 22, 2018
Canada's Walk of Fame is giving Stompin' Tom Connors a permanent star in PEI, the Indigenous Arts Festival comes to Toronto, and a big cheque goes to the family of Dolores O'Riordan. Also in the news are the Canadian Music Cafe, SXSW, ole, Phil Barton, Glass Tiger, Paul McCartney, Double Double Land, Toronto Jazz Festival, Andy Shauf, and Wood & Water. Videos added for your enjoyment.
Jun 22, 2018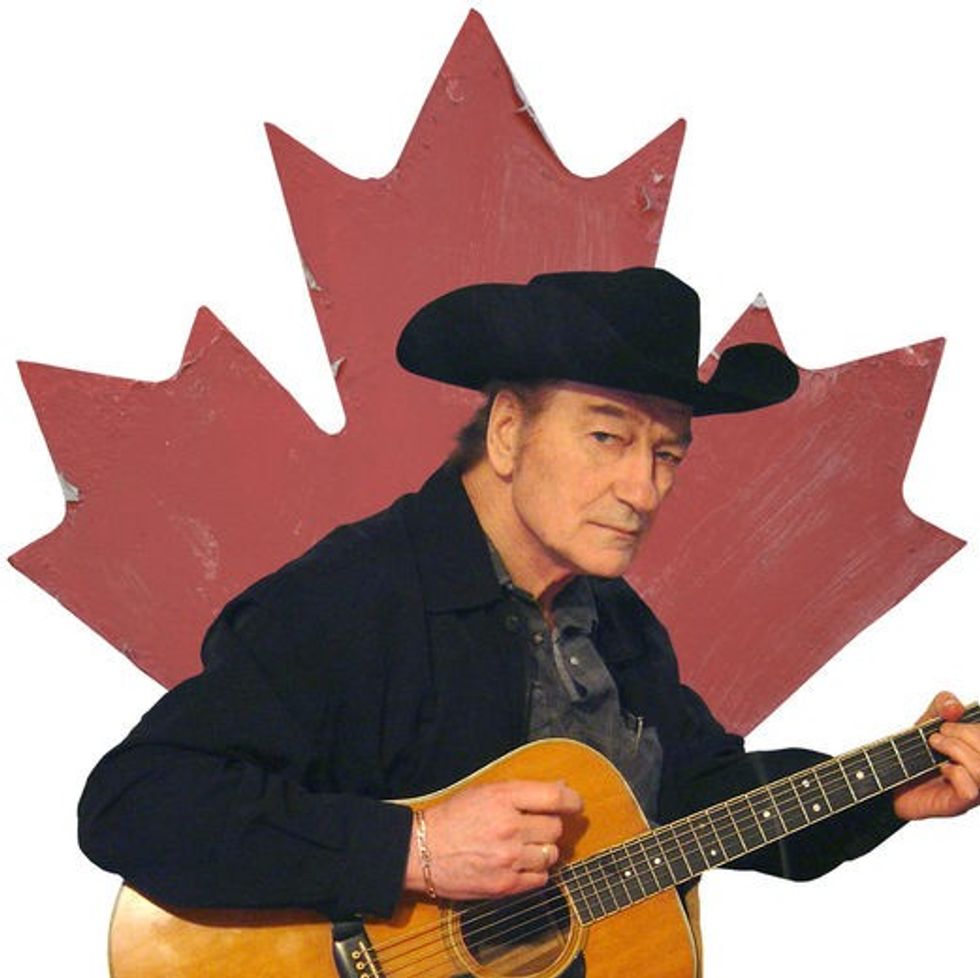 By Kerry Doole
Canada's Walk of Fame is giving Stompin' Tom Connors a permanent star near his boyhood home in Skinners Pond, PEI. The honour will come at a public event at the Stompin' Tom Centre on Canada Day. Connors, who died in 2013, was inducted into Canada's Walk of Fame last year.
---
He's among the first group of influential Canadians to receive a star outside the province of Ontario, and this comes just days after human rights trailblazer Viola Desmond will receive a posthumous honour, set for June 29 at the Halifax Ferry Terminal. Environmentalist David Suzuki was the first to get a hometown star at CBC's Vancouver broadcast centre in March The moves comes as Walk of Fame organizers continue to expand the "hometown star" initiative, which launched earlier this year.
– TheIndigenous Arts Festivaltaking place at Fork York in Toronto this weekend (June 23-24) has a strong music component. Artists appearing include Digging Roots, Kardinal Offishall, Mob Bounce, Ansley Simpson, Logan Staats (The Launch), Shawnee & Ria Mae, and more. It is a free fest.
– Earlier this week US rock band Bad Wolves presented a $250K (US) cheque to the family of late Cranberries singer Dolores O'Riordan at a NYC gig. This represents proceeds from the Bad Wolves hit cover of Cranberries classic "Zombie." The presentation was made to O'Riordan's two sons, Donny Jr. and Taylor Burton, alongside their father, Canadian Don Burton, and the check was also accepted on behalf of O'Riordan's younger daughters,  Molly and Dakota Burton. The singer had been set to record vocals on the track on the day of her passing.
– Today (June 22) is the last day for applications to play the Canadian Music Cafe. Held in Toronto during the Toronto International Film Festival (TIFF), it is designed to place Canadian music in front of film and television music supervisors and the filmed media community gathering at TIFF. Apply here
– The Toronto Jazz Festival (TJF) begins today (June 22) and runs through July 1. Major names performing include Herbie Hancock, Seal, Holly Cole, Gregory Porter, Liona Boyd, Alison Krauss, Bela Fleck and The Flecktones, and Bettye Lavette. There is also a strong soul and blues lineup of free shows in Yorkville, dubbed "a sanctuary of soul." Artists there include Macy Gray, CeCe Winans, Jake Clemons, Jay Douglas, and Shakura Saida. See the full sked here
– ole has announced a new joint publishing arrangement with Liz Rose Music to sign Phil Barton. The country songwriter has written tunes for a host of top country artists, including Lee Brice's #1 hit single, "A Woman Like You." In addition to writing with Liz Rose (Taylor Swift, Little Big Town), Barton also collaborates with a number of ole songwriters including Meghan Patrick and Gord Bamford. 
– Austin's SXSW Conference & Festivals remains a prime destination for Canadian artists wanting to display their wares. Applications to showcase at the event next March open on Monday (June 25), with a deadline of Oct. 25 (early deadline is Sept. 13). The 2019 SXSW Music Festival runs March 11-17.
– Glass Tiger revisited their hit song "Diamond Sun," recording a new version with acclaimed First Nations singer Susan Aglukark and percussionist/vocalist David Maracle. The recording appears on the band's album 31, and it will be performed live with Aglukark and Maracle for the first time on June 23, at Massey Hall. "Diamond Sun" was the title track of GT's 1988 triple platinum album.
– In collaboration with the Polaris Music Prize, Niagara Parks is presenting a free summer music series every Saturday night in Niagara Falls, ON. These events feature Canadian artists who have been listed and recognised by the prestigious Prize. Artists lined up include Basia Bulat (who launches the series on July 1), Weaves, The Darcys, Nap Eyes, Jessy Lanza and Fiver. 
– Paul McCartney's next album, Egypt Station, comes out on Sept. 7. It is preceded by two of its tracks, a ballad, "I Don't Know," and a rocker, "Come On To Me." It's Macca's first album since in 2013.
– Singer/songwriter Andy Shauf will debut new material in solo acoustic performances at intimate venues across North America in the fall. Stops on the just-announced tour include Ottawa, Victoria,  Vancouver, Toronto, and Montreal. He'll perform with a full band at Canadian festivals including CityFolk (Ottawa), Rifflandia (Victoria), and Westward (Vancouver), and in Europe. Shauf has been recording a follow-up to his acclaimed album The Party.
– Double Double Land, a popular music and arts performing space in Toronto's Kensington Market since 2009, closed down on Wednesday. Co-founder Jon McCurley passed on the news via Facebook, blaming landlord issues. A new locale for the space is being sought.
– Wood & Water is an acoustic soul and reggae trio led by Fergus Hambleton, of Sattalites fame. The group debuts at The Senator Winebar in Toronto tomorrow (June 23). Recommended.