FYI
Music News Digest, Feb. 5, 2020
Bruce Cockburn (pictured) announces a 50th-anniversary North American tour, Canadian Live Music Industry Awards noms are open, and Sass Jordan tours with the David Bowie Alumni Band. Also in the news are NSMW, CIMA, Tim Baker, Contact East 2020, and farewell Luther Randolph and Tyronne Noseworthy.
Feb 05, 2020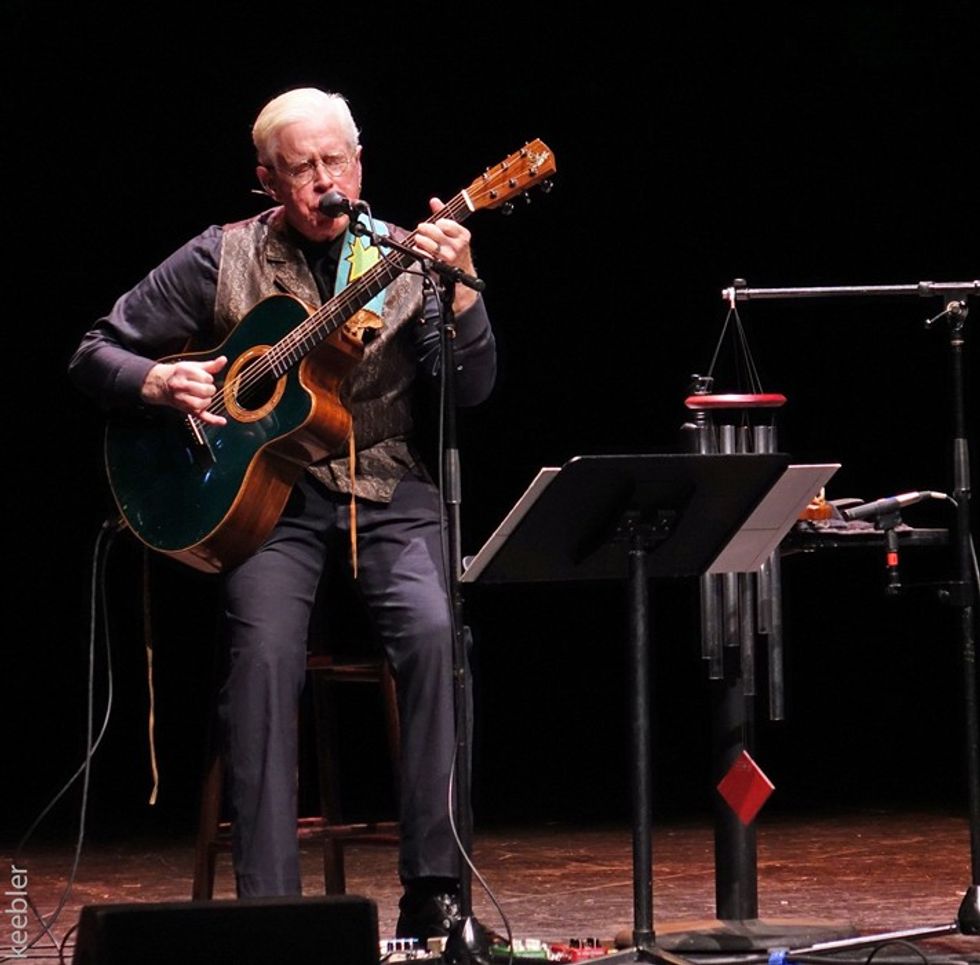 By Kerry Doole
On Monday, veteran folk troubadour Bruce Cockburn announced an upcoming 50th-anniversary North American tour. Yes, it has been a full half-century since he released his self-titled debut album, the first-ever release distributed by Toronto-based independent label True North Records. The tour begins on April 10 in Stanford CA, concluding six weeks later in Key West, FL. on May 24. Cockburn will return to Canada in the fall for five shows across Ontario.
---
Cockburn stated that "Looking back over the arc of 50 years of recording, performing, and travel, not to mention relationships and personal challenges, I can only shake my head and mutter a word of thanks for all of it." Tour dates here 
— Sydney, Cape Breton will host the 2020 edition of Nova Scotia Music Week (NSMW), taking place Nov. 5-8. Truro will host the events in 2021.
— Now in their fifth year, the 2020 Canadian Live Music Industry Awards will be held at the Sheraton Centre Toronto on Friday, May 22, from 5:30-7:30 pm. Nominations are now open here, closing March 30. Voting is open from April 6 and closes on May 6. Stay tuned for future announcements, including the announcement of the Legends of Live recipients and performers.
— CIMA is accepting applications for its third mission to Mexico surrounding the FIMPRO festival and conference. Working with FIMPRO, CIMA will organize a showcase and business initiative to Guadalajara from May 25-29 with 6-8 Canadian delegates and their artists. CIMA may also organize a pre-event in Mexico City focusing on showcasing and networking for select mission participants. Apply here by March 13.
— The David Bowie Alumni Band, comprising former bandmates of the Thin White Duke, has announced a 2020 North American Tour, featuring shows from March 3 to April 11. This iteration of "A Bowie Celebration" will include renditions of both Ziggy Stardust And The Spiders From Mars and Diamond Dogs in full. Guest vocalists for the tour include Living Colour founder Corey Glover, Canadian rocker Sass Jordan, Evan Rachel Wood, and Joe (son of Sting) Sumner. Canadian shows are in Vancouver, Calgary, Winnipeg, and Toronto. Dates here 
— Former Hey Rosetta! leader Tim Baker has won acclaim and awards for his 2019 debut solo record, Forever Overhead.  Early iterations of its songs are now available asThe Side Door Sessions EP, an eight-track song collection from this time that also features three previously unreleased tracks. The EP was mixed and mastered by Howie Beck.
— APA has opened submissions for Contact East 2020, taking place Sept. 24-27 in Moncton, NB. Applications from all disciplines of the performing arts from around the world are now being accepted. The deadline to apply here is March 13. Celebrating its 45th year, Contact East is Atlantic Canada's premier performing arts booking, showcasing and professional development conference that brings together over 200 presenters, agents, managers and artists from around the world.
Obits
Luther A. Randolph, a US jazz organist, producer and record label owner, died on Jan. 27. He was 84.
Randolph began his semi-professional career playing piano for the First Baptist Church of Morton. At 16, he began playing R&B and jazz professionally with jazz trumpeter Marcus Belgrave. Fascinated by the artistry of Jimmy Smith, Randolph began playing jazz-organ in 1960 and quickly became proficient at it.
As co-founder of Harthon Records, Randolph produced records for Barbara Mason, Herb Ward and many others. He produced Mason's Yes, I'm Ready, which peaked at No. 2 on the Billboard R&B Charts in 1965. They also produced Eddie Holman's hit single, Hey There Lonely Girl, which landed at No. 2 on the U.S. Billboard Hot 100 Pop Chart, and No. 1 on the Canadian RPM Chart
Randolph became a legend on the Philadelphia music scene, where he helped create the Sound of Philadelphia, a musical genre well regarded throughout the world. He was also an educator and civil rights activist. Source: Philly Trib
Tyronne Noseworthy, a Toronto rapper who went by the name fourty4double0 and was one-half of the rap duo Tallup Twinz, was shot and killed on Jan. 31, age 19. He was among three men killed at a condo being rented on Airbnb n downtown Toronto.
Noseworthy's videos were posted under the banner of UpTop Movement, a local rap collective. Source: Toronto Star