FYI
Music News Digest, Aug. 23, 2021
Don Everly has passed away. Pictured here at the 1986 Rock 'n' Roll Hall of Fame. He was 84 years of age.
Aug 23, 2021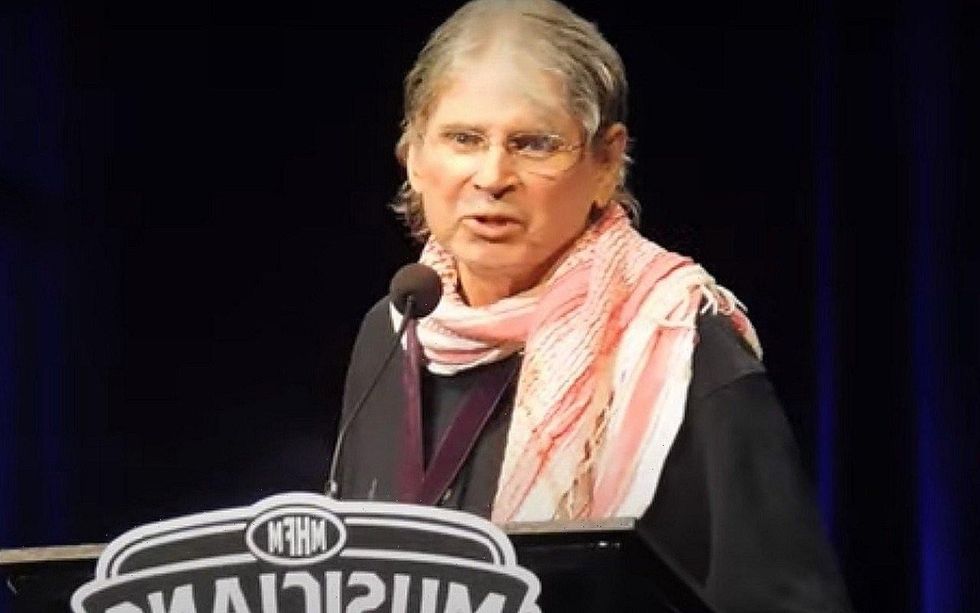 By Kerry Doole
One of the most keenly-anticipated Canadian tours of the fall has been scrapped. The Saints & Sinners Tour was to feature veteran Canrock faves Sloan, Headstones, The Tea Party and Moist on a 15-city trek in Nov., but they pulled the plug on Friday, citing "immovable pandemic-related roadblocks" and public health restrictions. There no plans to reschedule.
---
In a joint statement, the bands wrote, "Music says it all — we miss the conversation and sharing it with you — it means everything to us. Whatever the coming days and months have in store, let's face it together, so we come out the other side of this thing still talking to each other and ready to fill the venues across Canada with music again." They also lamented that "it'd have been a fuck of a lot of fun."
– Another casualty of the ongoing pandemic is Neil Young's presence at  this year's Farm Aid.  In a statement announcing his exit, Young said, "Lots going on in our world right now. I find myself wondering whether Farm Aid will be safe for everyone with the Covid pandemic surging. I worry about that. I don't want to let anybody down, but still can't shake the feeling that it might not be safe for everyone. I worry about audiences coming together in these times. My soul tells me it would be wrong to risk having anyone die because they wanted to hear music and be with friends." The event will continue in Hartford, CT, on Sept. 25, with festival founder Willie Nelson, John Cougar Mellencamp and Dave Matthews still set to perform.
In other Young news, he is kicking off his long-awaited Bootleg Series by releasing his Dec. 4, 1970 show at New York's Carnegie Hall. It will come out Oct. 1 on double vinyl, CD, and High-Res Digital Audio.
– The former home of the Toronto music venue The Mod Club is resurfacing as the Axis Club. It is reopening on Sept. 9 with a two-day hybrid fest featuring such notables as DijahSB, Savannah Ré, DJ Shub, The Dirty Nil, Korea Town Acid, Olivia Lunny. The event combines virtual sets on Happin and in-person performances. New general manager Orin Bristol told NOW last month that the club will integrate livestreaming into its permanent identity no matter how long the pandemic lasts.
– Last year, Sudbury's Northern Lights Festival Boréal (NLFB) hosted the city's first ever drive-in concert. A traditional in-person version is planned at Bell Park's Grace Hartman Amphitheatre, Sept. 10-11. The strong lineup features headliners Dan Mangan and Jeremy Dutcher, as well as Tanika Charles, OKAN, Cindy Doire, Reney Ray, Dany Laj & The Looks, Frank Deresti & The Lake Effect, and more. Tix now available here. Info on fest covid protocols here.
– Last week, TMZ reported that The Weeknd has just bought a massive Bel-Air, California, estate, for a reported US$70M. It is a 33K square-foot home that comes with 9 bedrooms, a spa, indoor and outdoor pools, sports court and a music studio. He still owns a $25M Beverly Hills penthouse that he has called home for a few years now.
– Rush's Alex Lifeson and Geddy Lee have partnered with Toronto's Henderson Brewing for Rush Golden Ale, a new signature beer. Source: Music Radar
– On Sept. 17, acclaimed Toronto jazz singer June Garber releases her fourth album, Off the Carousel, via Vesuvius Music. Recorded with veteran producer/arranger Lou Pomanti, it features her versions of material that reflects on her life's journey thus far. The disc will be launched with a Sept. 16 performance at Toronto's Paradise Theatre venue, with labelmate Jocelyn Barth opening. Tix here. Stream the first single, He Never Mentioned Love, here.
– Produced by the folks behind Toronto's Festival of Beer, Fall BeerFest T.O. runs Sept. 24 and 25 at Bandshell Park, Exhibition Place. Dwayne Gretzky will headline on Sept. 25, with other fest performers TBA shortly. Tix here.
– Toronto jazz pianist/singer/composer Hannah Barstow officially released her new album, Beneath, on Aug. 13, and will support it with a performance at Jazz Bistro on Sept. 22. She was featured as the Rising Young Star at the Prince Edward County Jazz Festival (2016), and she has performed on a short tour of Chile, with Mike Murley (2018).
– Vancouver-based hip-hop star SonReal (Aaron Hoffman) released a new EP, i can't make this up, on Friday. Here's a just-released video for one of the tracks,
– Music Canada certifications over the past month include a Platinum single for Dani & Lizzy's Dancing in the Sky and Gold single honours for Casper TNG's Freeze and Brett Kissel's Make A Life, Not A Living.
RIP
Don (Isaac Donald) Everly, a singer who with his late younger sibling Phil established the template for close harmony vocalizing in the duo the Everly Brothers, died on Aug. 21, at age 84 in Nashville. No cause of death was immediately disclosed.
Don and Phil's parents worked as country musicians, and the siblings went on to enjoy a career that made them inaugural inductees in the Rock and Roll Hall of Fame in 1986. They also joined the Country Music Hall of Fame in 2001, and Don Everly entered the Musicians Hall of Fame in 2019.
 It is widely acknowledged that their sound had a huge influence on the likes of the Beatles, Simon and Garfunkel, the Byrds, Gram Parsons, Emmylou Harris and the Eagles.
Beginning in 1957, the duo cut a groundbreaking series of hit ballads and rockers for the Cadence and Warner Bros. labels.
Their first session for Cadence Records resulted in Bye Bye Love, which topped the US pop charts and also reached No. 2 on the country rolls, racking up a six-month run. More chart-toppers came with Wake Up Little Susie and All I Have to Do is Dream, plus other hits like Bird Dog, Problems, Devoted to You and (Till) I Kissed You.
1958's concept album Songs Our Daddy Taught Us was a commercial flop, but went on to influence the country-rock and Americana sound.
A move to Warner Bros. in 1960 brought more hits, including a final No. 1 pop single, Cathy's Clown. Their original tune, it sold eight million copies and became the duo's biggest-selling record. A 1968 album, Roots, is now viewed as a country-rock classic. Following albums flopped, and tensions between the two brothers deepened, leading to a breakup in 1973.
Don Everly pursued a solo career, with little success. Prompted by his sideman, guitarist Albert Lee, the Everly Brothers reunited for an emotional concert at London's Royal Albert Hall. This rekindled interest in the group, which signed to Mercury Records. Longtime fan Paul McCartney contributed to On the Wings of a Nightingale, the first single from EB 84, the brothers' first studio album in 12 years. The less successful Born Yesterday (1986) and Some Hearts (1988) followed.
The brothers reunited only sporadically thereafter. They recorded a song for Andrew Lloyd Webber and Jim Steinman's musical Whistle Down the Wind in 1998, and opened a tour for Paul Simon in 2003-04.
Phil Everly died of lung disease at 74 in 2014. Sources: Rolling Stone, Variety, LA Times, The Guardian  
– Tom T. Hall, Country Music Hall of Fame legend, died on Aug. 20, at age 85.
Hall was nicknamed "The Storyteller" by Tex Ritter, another country great, for his songwriting style.
His hits included Harper Valley P.T.A., which became a major crossover smash for Jeanie C. Riley in 1968, That's How I Got To Memphis, Homecoming, (Old Dogs, Children, and) Watermelon Wine, A Week in a Country Jail, I Love, Country Is, I Care, and many more. His songs have been recorded by the likes of Johnny Cash, Alan Jackson, Waylon Jennings, George Jones, Miranda Lambert, Bobby Bare, and Loretta Lynn.
Hall was inducted into the Country Music Hall of Fame in 2008 and was a Grand Ole Opry member since 1971. Rolling Stone included the Olive Hill, Kentucky native on their '100 Greatest Songwriters' list, and he became a member of the Songwriters Hall of Fame in 2019.
Although he was known for chronicling unusual characters and small-town sentiments, Hall also was not afraid to take on topical subject matter in somewhat acerbic form, as with 1973's Watergate Blue and 1972's The Monkey That Became President..
"Damn," wrote Patterson Hood of the band Drive-By Truckers, in a tweet. "The greatest storyteller songwriter of all time. A writer's writer. There's at least a dozen categories of song that he wrote arguably the best ever example of."
Other peers quick to pay tribute included Don McLean, Jason Isbell, The Oak Ridge Boys, T. Graham Brown, Janie Fricke, and Lacy J. Dalton.
Sources: Variety, The Tennessean