FYI
Music Biz Headlines, March 10, 2022
Hill Kourkoutis (pictured) makes Juno history, Jean Grand-Maître says goodbye with a Bowie ballet, and the US record industry reports record revenues. Also in the headlines are the Kubasonics, Brian Auger, Luna Li, Orville Peck, Phoenix Concert Theatre, Shambhala, Alessia Cara, UMG, Kobalt, TikTok, Glass Animals, Ed Sheeran, The Grammys, Madonna, music fests, Dua Lipa, Kanye, Morgan Wallen, Harry Styles, and Mick Fleetwood.
Mar 09, 2022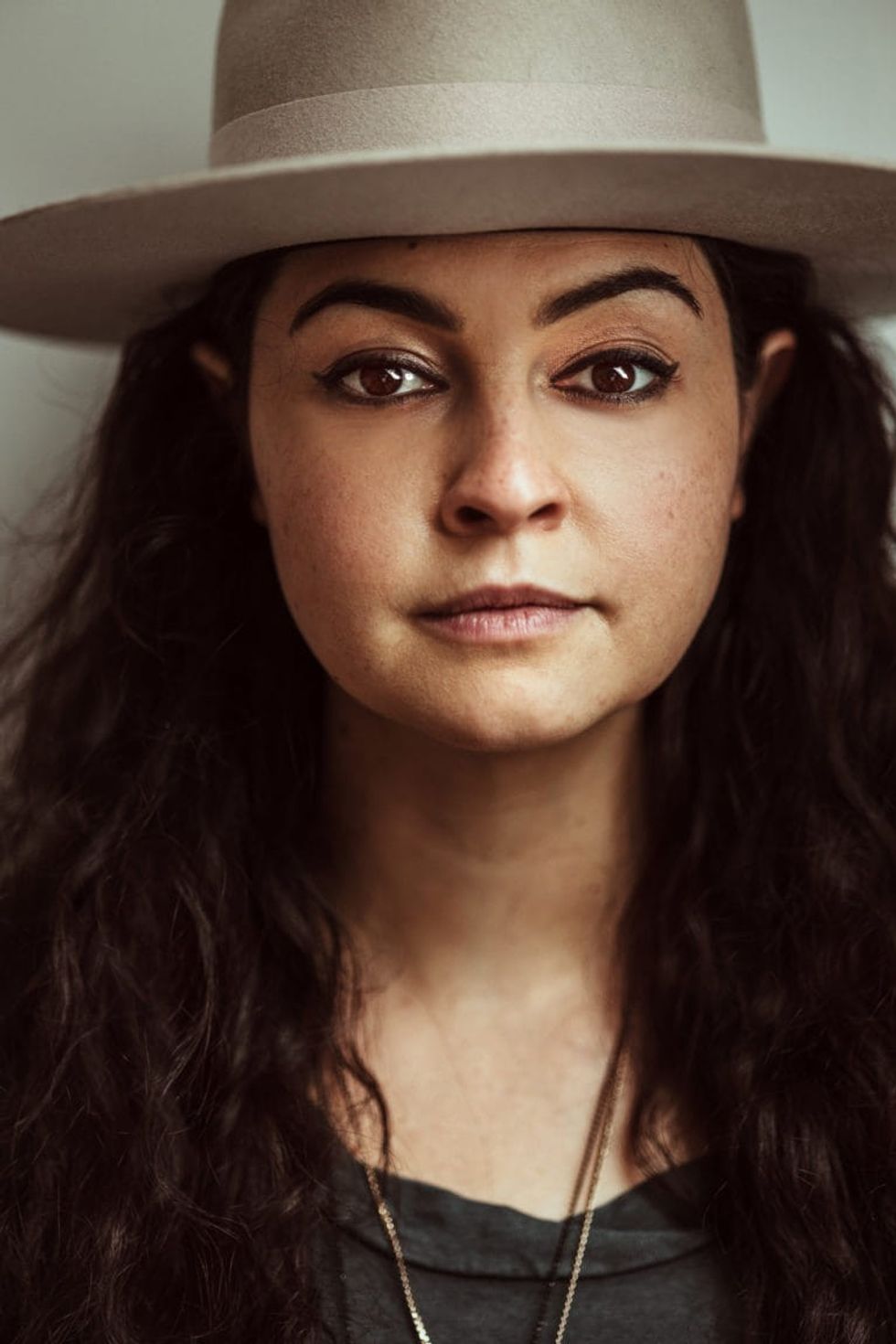 By Kerry Doole
In the early 20th century, recording engineers all wore lab coats. And while they no longer don the white garb, the uniformity remains. When the 2022 Juno Award nominations were announced last week, the press release revealed a bit of history in the making: Hill Kourkoutis, in the running for engineer of the year. Kourkoutis, based in Barrie, is the first female to ever make the short list for the award. – Brad Wheeler, Globe and Mail
---
Ukrainian-Canadian 'speed-folk' band the Kubasonics feels Newfoundland and Labrador understands his band. The group launched a new album in St. John's as Russian forces continued their violent invasion of Ukraine. – CP
There is a line in Alberta that runs from Joni Mitchell to David Bowie. It is the creation of Jean Grand-Maître, who is retiring this spring as artistic director of Alberta Ballet. Since arriving from his native Quebec he's brought international attention to the company with ballets danced to the music of Mitchell, Elton John, Sarah McLachlan, k.d. lang, The Tragically Hip, and Gordon Lightfoot. This week, he will premiere another portrait ballet: Phi, danced to songs by David Bowie. – Marsha Lederman, Globe and Mail
If you're going to make a statement, it might as well be so difficult to believe that there's no way it's anything but true. Orville Peck has just done precisely that with the video for "Daytona Sand", off his upcoming sophomore album Bronco. – Mike Usinger, Georgia Straight
'Having the lead singer write a message is a nice touch': Prof. – Jon Wells, Hamilton Spectator
What Luna Li said was originally slated to be a "fun, simple, minimal indie record" became a mix of sounds that perfectly balance each other. – Demar Grant, Toronto Star
Ontario has lifted mandatory vaccine requirements for indoor settings — but businesses may still choose to require vaccine passports, which some spaces are doing. Now, Toronto's Phoenix has announced its own vaccine policy. In an Instagram post, the venue announced that it would be following the wishes of the artist and/or promoter. In other words, if a band playing the Phoenix wants to ensure that everyone in the room is vaccinated, they can do that. – Alex Hudson, Exclaim
Twain will feature the first all-Canadian, all-female stage. – Jane Stevenson, Toronto Sun
The giant EDM event of the B.C. summer is back. – Stuart Derdeyn, Vancouver Sun
Grammy-winning singer Alessia Cara will perform between periods Sunday during the outdoor NHL Heritage Classic at Tim Hortons Field in Hamilton between the Toronto Maple Leafs and the Buffalo Sabres. – Graham Rockingham, Spectator
International
The US recorded music industry generated USD $14.99 billion in 2021 – its biggest annual tally in history. That stat, revealed today by MBW, comes from RIAA year-end data, and was up by a whopping 23% (or by $2.85 billion) on the equivalent figure from 2020 ($12.14bn). In fact, you'd need to go all the way back to 1999 – over two decades ago – to find the previous peak year for the US industry, when it generated $14.6 billion. – Tim Ingham, MBW
Universal Music Group, the world's largest rightsholder, has suspended all operations in Russia and has closed its offices in the country. The move, announced March 8, comes as Russia's invasion of Ukraine continues. Over the past two weeks, over 200 multi-national companies have boycotted the Russian market in protest of its military action. Some of those firms include Mastercard, Visa, Apple, Ikea and Samsung. – Murray Stassen, MBW
TikTok is officially a music distributor now. The ByteDance-owned viral video app has just launched its own promotion and music distribution platform, called SoundOn. It is already Live in the UK, US, Brazil and Indonesia, and it lets artists upload their music directly to TikTok and RESSO. It can also distribute their music to other platforms like Spotify, Apple Music and Instagram. MBW
Without the banner areas of its company – namely AWAL and Kobalt Neighbouring Rights, both sold to Sony ten months ago in a $430M deal – just how big a business is the newly-slimmed-down Kobalt in 2022? The answer may surprise you. It expects to generate somewhere close to USD $625M in gross collections in its current financial year, to the end of June 2022, with around a tenth of that figure, $65M, in EBITDA profit. – Tim Ingham, MBW
Kobalt is going to continue to buy heritage copyrights amid the current music catalog gold-rush, it's been revealed. Only this time, it's not using other outside investor money – it's using its own, including a hunk of debt. According to Bloomberg, Kobalt Music Group has successfully raised $550M in debt financing from JPMorgan Chase & Co. and HPS Investment Partners. Kobalt intends to use the funds to build out its owned catalog of music rights. – MBW
Glass Animals have gone to number one in the US with their sleeper hit Heat Waves, setting a new record for the longest time to reach the top. The Oxford indie group's song spent 59 weeks on its slow ascent to the summit of the Billboard Hot 100. The previous record was held by Mariah Carey's All I Want For Christmas Is You, on 35 weeks. – BBC News
"I'm a well-known person in this part of the world and I'm trying to use this [position] and do whatever I can," he says. – Mark Savage, BBC
The 'Bad Habits' hitmaker took to the stand at the High Court in London on Monday as part of a copyright claim over his 2017 hit 'Shape of You'. Ed is in a dispute with musicians Sami Chokri – a grime artist - and Ross O'Donoghue, who allege that the track infringes "particular lines and phrases" from their song 'Oh Why', which was released in 2015. – Bang Showbiz
The Recording Academy is celebrating its upcoming Grammy Awards with the launch of an exclusive NFT collection. Fans can get a free NFT as part of the deal, one of which has a "Golden Ticket" prize that grants the bearer an all-inclusive trip to the 64th awards April 3 in Las Vegas. – Deadline
As you'll see in the following list of bands with no original members, not everybody can be U2 and keep the same lineup. Some  have experienced so much change over the years that they share no connection at all with their co-founding lineup. Examplis in our list include Blood Sweat and Tears, Renaissance, Ratt, The Little River Band, and Blackfoot. – Ultimate Classic Rock.
Music festivals are back, baby, and we're rounding up everything you need to know. – Sadie Bell, Thrillist
Contenders in the running to play the star in a new biopic are facing gruelling training to land the part. – The Guardian
Madrid's Teatro Real has cancelled performances of the prestigious Bolshoi Ballet scheduled in May because of the Russian invasion of Ukraine and the "painful humanitarian emergency" it has caused. – Reuters
Anger is the root of Donda 2, but the record doesn't try to frame the experience in a manner that makes it accessible to non-billionaires. – Craig Jenkins Vulture
Songwriters L Russell Brown and Sandy Linzer claim opening melody is a 'duplicate' of their songs Wiggle and Giggle All Night and Don Diablo. – Laura Snapes, The Guardian
Tickets on sale March 11 for Chicago fest taking place July 15-17, headlined by The National, Mitski, and The Roots. – Pitchfork
"He's correct, the rest of them are useless."  – Elizabeth Aubrey, NME
The keys wizard played with Rod Stewart and turned down Hendrix but has never enjoyed the renown of his peers. At 82, on the cusp of a new reissue collection, his passion is undimmed. – Garth Cartwright, The Guardian
 Styles enlisted the 74-year-old Fleetwood Mac drummer — his musical hero and confidant — to represent Pleasing, which Styles launched late last year. Among the looks: The British rocker is captured sporting a lavender, zebra-print suit accompanied by a purple top hat and wearing Pleasing nail polish. – LA Times
Every month, our team compiles a list of our favorite songs from the month's new releases. February saw highlights from Spotlight artist Erin Rae, as well as selections from albums we loved including Steve Poltz's Stardust and Satellites, Hurray for the Riff Raff's Life on Earth, and so much more. – No Depression
Wallen took home the prize on Monday night for "Dangerous: The Double Album," a year after he was removed from the ACMs ballot after he was caught on camera using a racial slur.  –LA Times
 From Gayle to Olivia to Demi to Taylor, the Spotify charts are filled with young women gleefully deploying expletives with a newly found freedom. – LA Times