FYI
Loreena McKennitt To Enter The Canadian Songwriters Hall of Fame
The internationally-acclaimed and platinum selling world music artist will be recognized at the Inaugural Women in Music Canada Honours event in Toronto on International Women's Day, March 8.
Mar 01, 2023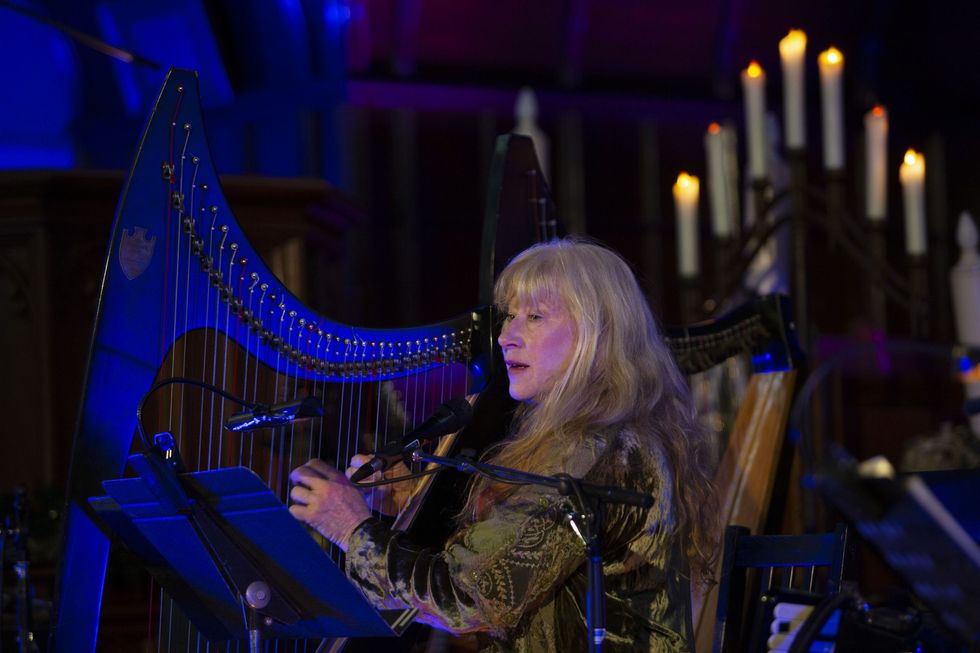 By FYI Staff
World Music luminary Loreena McKennitt is to be inducted into the Canadian Songwriters Hall of Fame, the CSHF announced yesterday (March 1). The internationally-acclaimed singer-songwriter from Stratford who has sold more than 14 million albums worldwide will be recognized at the Inaugural Women in Music Canada Honours event in Toronto on International Women's Day, March 8.
---
The CSHF press release notes that "McKennitt is the first Inductee to the Class of 2023. Her masterful songwriting, ethereal soprano voice, and imaginative arrangements that combine her passion for traditional Celtic music with world music influences, have forged her own distinctive genre of 'eclectic Celtic.' The CSHF will honour Loreena McKennitt on Wednesday, March 8 at the Opera House in Toronto to celebrate her esteemed catalogue spanning nearly four decades. The Induction presentation will be one of the highlights of the Women in Music Canada Honours event. The inaugural program celebrates and supports female Canadian innovators and creators who have had outstanding success in their field."
"Loreena is a musical enigma whose songs are seamlessly timeless yet current; rooted in tradition yet inventive. She is a storyteller who can weave through eras, cultures, and transcend boundaries," says Stan Meissner, Board Chairman, CSHF. "Loreena has achieved global success on her own terms and has remained steadfast as an independent recording artist, which is both admirable and deserving of recognition."
 
"I am deeply honoured to be receiving this recognition," says McKennitt. "For 25 years this organization has shown a deep devotion to celebrating and promoting Canadian songwriters and this country's rich, musical legacy. We have all been enriched by their work. I feel so privileged to have my name added to their list of distinguished Canadian songwriters."
Loreena McKennitt relocated from Winnipeg to Stratford, ON in 1981, and began her career as an actress, singer, and composer for the Stratford Festival, appearing in The Tempest (1982) and The Two Gentlemen of Verona (1984).  In 1985, she learned to play the troubadour harp and embarked on a solo music career, founding her Quinlan Road label and financing her Irish-based debut recording, Elemental, by busking in Toronto. 
 
Early on, McKennitt decided to focus her songwriting on her passion, Celtic music, rather than autobiographical songwriting.  Her original songs and her skilful musical arrangements of time-honoured English and Irish poems, such as Tennyson's Lady of Shalott and W.B. Yeats's Stolen Child, were part world music, folk-roots and Celtic Wave infused with a classical finesse.
 
After forging a distribution deal with Warner Music Canada, she won her first JUuno Award in 1992 for the multi-platinum album The Visit, and her second Juno win for Best Roots Album came in 1995 for The Mask and Mirror, exploring Celtic connections to Spanish and Arab music. She has garnered a total of 11 Juno nominations, including three for Best Female Vocalist and Artist of the Year in 2007.
 
She followed this with The Book of Secrets and its Juno--nominated single The Mummers' Dance, its chorus borrowed from a traditional Oxfordshire song. The album became her highest-charting effort, at No. 3 on Billboard and selling over four million copies worldwide, of which over two million were in the United States. That hit earned a BMI Award and is now a SOCAN Classic. 
Her subsequent albums An Ancient Muse and Troubadours on the Rhine both earned Grammy nominations. 
 
Available in more than 40 countries, her albums have garnered critical international acclaim, and gold, platinum, and multi-platinum awards in 15 countries across four continents including Canada, the United States, Australia, New Zealand, Brazil, France, Spain, Italy, Turkey, and Greece. She has also composed music for a wide range of films. Her first screen credits include the National Film Board of Canada's Women and Spirituality series (1989 – 1993) and Jean-Claude Lauzon's Léolo (1992). McKennitt contributed both music and narration for Disney's SantaClause (1994) and Tinker Bell (2008).
 
 McKennitt  recently wrapped her Under a Winter's Moon Tour and released a new album of the same title featuring carols and readings by Indigenous actor Tom Jackson, Gemini award-winning actor Cedric Smith, and Ojibway artist and flautist Jeffrey "Red" George.
 
Following her induction presentation in Toronto, a permanent exhibit will be dedicated to Loreena at the Canadian Songwriters Hall of Fame at the National Music Centre in Calgary. This year the CSHF will mark its 25th anniversary of celebrating Canada's greatest songwriters and Inductees.  
 
More info on the CSHF here.
Check out Bill King's FYI podcast conversation with Loreena McKennitt here.