FYI
Kaytranada Leads Canadian Grammy Winners List
The Montreal producer (pictured) led the Canadian contingent with two victories in LA last night. His compatriots did score some notable victories in a wide range of categories announced at a pre-broadcast ceremony.
Mar 15, 2021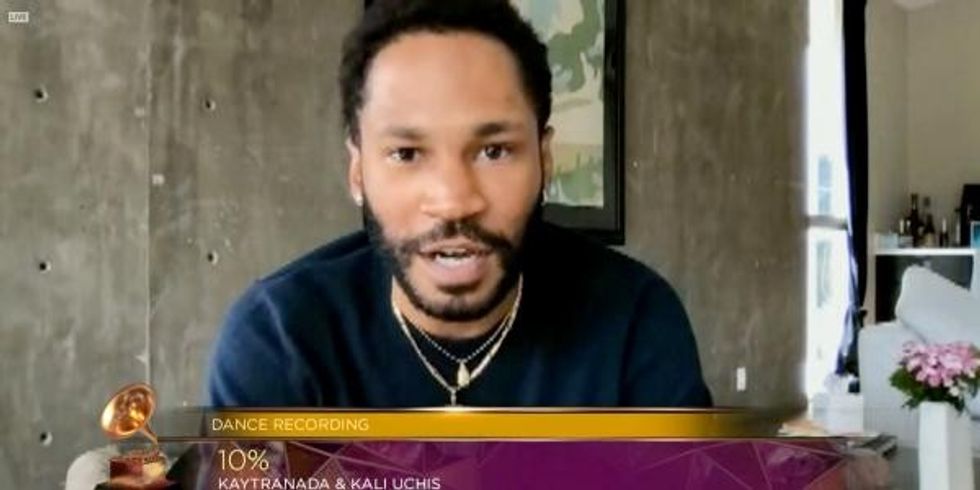 By Kerry Doole
Canadian artists were absent from the performance stage of the televised Grammy Awards in Los Angeles last night, but they did score some notable victories in a wide range of categories announced at a pre-broadcast ceremony.
---
Leading the way was Montreal-based producer and recording artist Kaytranada, who won for Best Dance/Electronic Album, for Bubba, and for Best Dance Recording, for his track 10%, featuring Kali Uchis. He was also nominated in the New Artist of the Year category, losing out to Megan Thee Stallion.
Justin Bieber shared in the Best Country Duo/Group Performance Award via his featured appearance on Dan & Shay's hit, 10,000 Hours, while Jagged Little Pill, based on the songs of Alanis Morissette, won for Best Musical Theater Album.
Albertan-raised recording engineer Shawn Everett won the Grammy for Best Engineered Album, Non-Classical for Beck's Hyperspace, sharing the award with a team of fellow engineers who worked on the album.
Canadian producer/songwriter Stephen Kozmeniuk co-wrote two and co-produced three songs on Dua Lipa's Future Nostalgia, winner of the Best Pop Vocal Album.
Toronto drummer Larnell Lewis is a member of the US/Canadian ensemble Snarky Puppy, winners in the Best Contemporary Instrumental Album, for Live At The Royal Albert Hall.
Known as the guitarist for "Weird Al" Yankovic, Toronto's Jim (Kimo) West earned the Best New Age album Grammy for his solo record, More Guitar Stories.
Montreal hip-hop producer DrtWrk (Michał Suski) co-produced Use This Gospel, a track on Kanye West's album Jesus Is King, winner of the Grammy for Best Contemporary Christian Music Album.
It could be argued that the artist who had the most impact on the 2021 Grammy Awards was a Canadian. The inexplicable omission of The Weeknd from the list of nominees generated a great deal of controversy, and Abel Tesfaye exacted his revenge last week by pledging to boycott the awards in the future.
The highest-profile Grammys were shared quite evenly amongst artists such as Taylor Swift, Beyonce, Dua Lipa, Billie Eilish, Harry Styles, and Megan Thee Stallion. See the full list of winners here.