FYI
The FYI Bulletin: July 20, 2023
The CCMA will induct Brian Edwards (Stan Klees Builder) and Jason McCoy (Artist) into the Canadian Country Music Hall of Fame at a ceremony in Hamilton, ON, Sept. 14–16.
Jul 20, 2023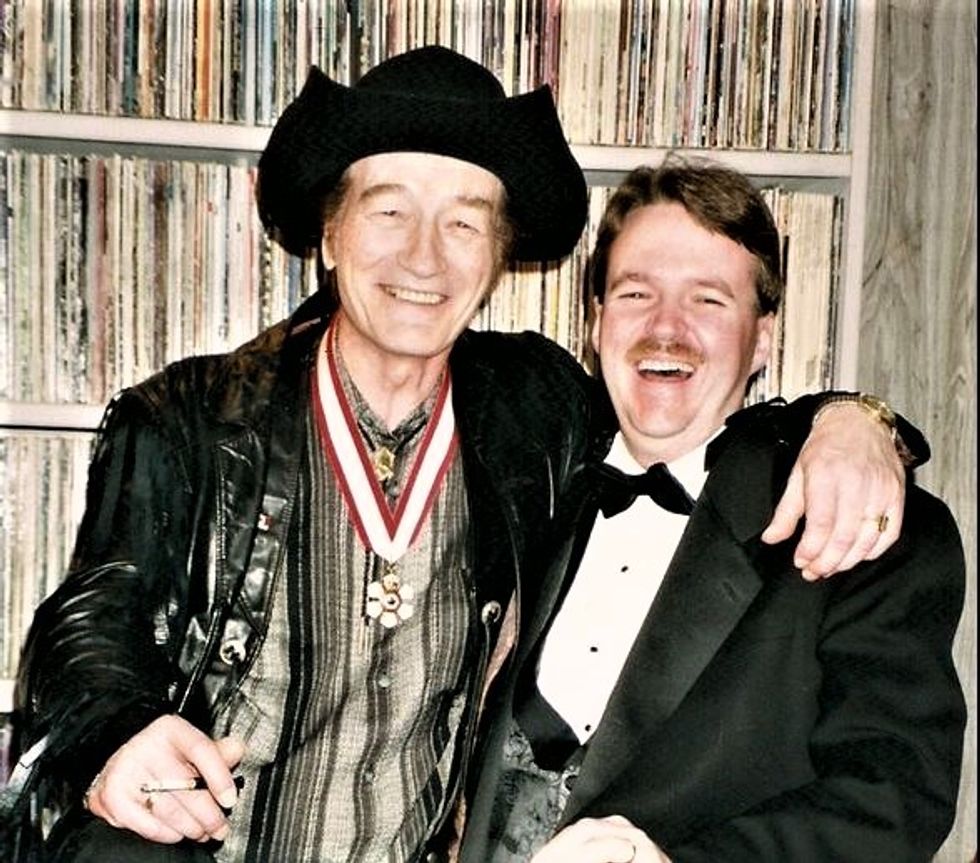 By David Farrell
The CCMA will induct Brian Edwards (Stan Klees Builder) and Jason McCoy (Artist) into the Canadian Country Music Hall of Fame at a ceremony in Hamilton, ON, Sept. 14–16.
---
Edwards, self-employed and CEO Rockland Entertainment, has been promoting shows for 43 years from his headquarters in Peterborough, ON., counting Stompin' Tom Connors (pictured above) as a client for 25 years, four decades with Tommy Hunter and many others that include Red Green, The Leahy Family, Rita MacNeil, Charley Pride, Mickey Gilley, George Jones, Tammy Wynette, and, earlier still, Kitty Wells and Wilf Carter. His backstory and relationships are well documented in an autobiography, co-authored with Ed Arnold and published by Rockland in 2020.
McCoy (born Jason Dwight Campsall) has earned accolades with the CCMA, SOCAN, and CMA Awards and amassed a sizeable arsenal of hits and hit albums in his 25-year career. Perhaps his greatest pride comes with helming The Road Hammers, which has become the best-selling band in Canadian Country music history. In addition to a full touring schedule, McCoy is an award-winning morning host with Pure Country 106 in Orillia, ON, and host of the Nationally Syndicated weekly show Nothin' But The '90s. 
– Gareth Jones has left his post as VP at DMD Promo to launch You Are Hear – a radio promotion and management company based in Toronto that caters to domestic and international artists and labels. E – gareth@youarehear.ca
– Handsome Boy Jeff Rogers recently returned from watching the ascendency of (Sharon) Kovacs in Europe; she, a Dutch singer he now co-manages, has a fascinating backstory. Child Of Sin is her latest song video, one that spins a sinful story wrapped in a creampuff arrangement that's as sumptuously arresting as any by Sinéad O'Connor in her most prickly top-of-the-pops era.
– The June 13-18 North by Northeast (NXNE) festival reports big gains following "the covid nap," with 9,500 attendees who made 21,000 visits to affiliated venues to hear 250 acts and 308 performances this year. The 2024 festival will take place from June 12-16.
Artist News
– Canadian Songwriters Hall of Fame inductees Mister Zero (John Picard) and David Diamond (David Broadbent), better known as The Kings alongside Sonny Keyes and Todd Reynolds, who replaces Max Styles, are hoping to tip the scales of fame 40-plus years later since Bob Ezrin famously segued This Beat Goes On with Switchin' To Glide and created a North American Rock radio staple that to this day continues to earn royalties. Sadly, it also created the perception that The Kings were a one-hit-wonder. In the aughts, Ezrin's failed attempt to revive the magic in another mix that combined Circle of Friends with Man That I Am added to the dark cloud that dogged them since their initial fame. But Zero and Diamond are dogged in determination to recreate themselves, and Always Off the Deep End is the kick-off to rejuvenation. It's a single that sparkles. It's also the kick-off track from the cheekily titled upcoming album entitled The Longest Story Ever Told. Joe Bamford now manages: joe@getoffthebusconcerts.com)
– Paul Brandt joins award-winning songwriters Jamie O'Neal (There Is No Arizona, When I Think About Angels), Wendell Mobley (How Forever Feels, by Kenny Chesney), and Lee Thomas Miller (Whiskey & You, by Chris Stapleton) and Grammy Award winner Tim Nichols (Live Like You Were Dying, by Tim McGraw) at the 5th annual 97 South Song Sessions at the Penticton Trade & Convention Centre and the Penticton Lakeside Resort, today through July 22. The annual is the pet project of ole (now Anthem Ent.) founder and former chairman Robert Ott.
– Midland, ON author Peter Jennings' latest book, Until I Smile at You: How one girl's heartbreak electrified Frank Sinatra's fame! is being turned into a Hollywood movie, but a writers' strike has put the production on hold. The book and the future film are based on the life of Toronto songwriter Ruth Lowe. Bradford Today's Giselle Winton Sarvis has the story.
– The online Canadian Encyclopedia has a new entry acknowledging Ottawa's Café Le Hibou, which became a mecca for folk, R&B and blues musicians on the road in the '60s and '70s.
– Major music labels, including Universal, Sony and Warner, are warning against regulations under Ottawa's Online Streaming Act that could lead to people "spoofing" their online location outside the country to avoid being force-fed Canadian music they don't like. So posits Marie Woolf in a Globe and Mail story headlined Major music labels ask for light touch on Bill C-11 to continue content curation.