FYI
Five Questions With… Rick Fines
The prolific veteran roots artist has released a new album, Solar Powered Too. Here he talks about the friends who helped him put it out, his favourite songs, online performances, and personal goals to accomplish as the pandemic drags on.
Oct 29, 2020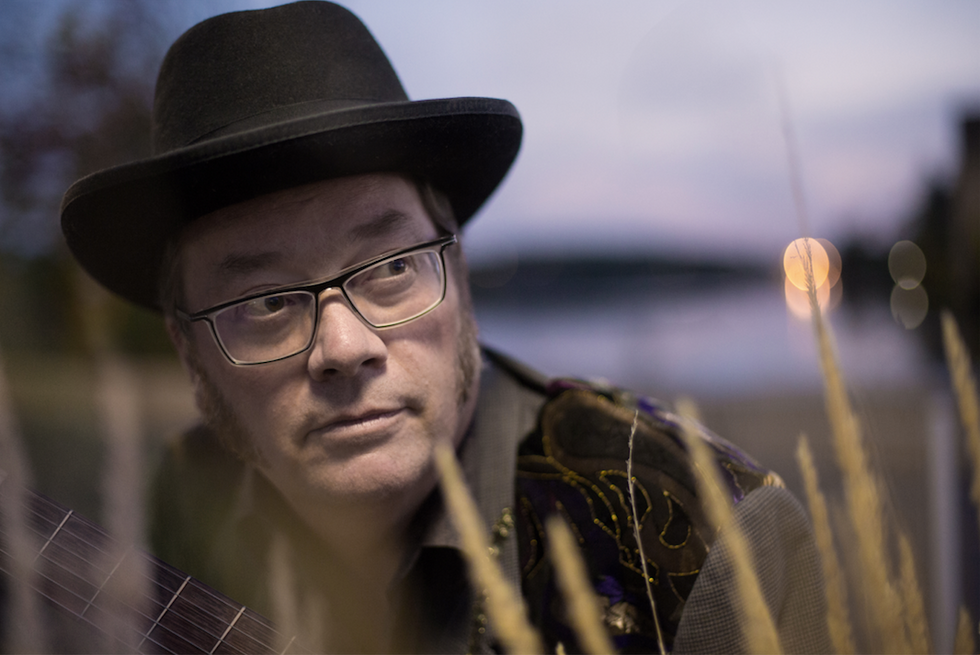 By Jason Schneider
Singer/songwriter Rick Fines has had a long and storied career as one of Canada's hardest working musicians. He has toured across the country countless times solo, as a duo or with a full band and has recorded over 14 albums and been a guest on many others.
---
Fines' latest release, Solar Powered Too, is a reflection of a lot of the isolation 2020 has brought, with the bulk of the songs recorded (as the title suggests) using a setup consisting of two solar panels and four golf cart batteries in a little gazebo in the North Kawartha woods. Crickets and cicadas are audible in the background.
The seclusion of the recording process has paid off, enhancing Fines' honest lyrics and rough-cut melodies. The end results are a worthy addition to Fines' catalogue steeped in warm-hearted blues, juke joint folk, and dockside soul, topped by his signature vocal growl.
First gaining attention as part of the Juno-nominated blues trio Jackson Delta, Fines went on to release four solo albums, another with his own Rick Fines Trio, and a critically acclaimed disc with fellow troubadour, Suzie Vinnick. Solar Powered Too is available now at rickfines.ca.
Had you been planning to make a new record prior to quarantine restrictions?
The album was actually all recorded prior to the lockdown. The mixing and mastering were done after. The decision to go ahead with releasing the album during a worldwide pandemic became clear to me after I realized that things were not going to change quickly. I had friends come forward to help with the artwork. I sold a guitar to pay for the mastering, which made perfect sense to me as I have a few guitars and I had an album that needed completing. Another friend came forward with an offer for an interest-free loan to get the manufacturing and promotion done. Everyone involved from the writing through to the recording was a friend and it seemed my friends were going to help this album see the light of day.
Which songs on the record have particularly special meaning for you?
To choose two, I would say Below The Surface and One Lone Loon because these are deeply personal songs about grief. I have written many songs on that subject, but the process was a sort of self-psychotherapy. I believe that in these songs I've touched on something universal and meaningful to others as well.
You managed to get a lot of guests on the album. How did that process work?
The short answer I can give is I am very grateful to have such talented friends who want to see my songs come to light.
How have you adapted to engaging with your audience over the past few months?
I have been able to do some online concerts since all the work I had lined up across the country was lost. I have also taught online guitar lessons. There have been a few live concerts in safe circumstances—mostly solo, but I did one with my friend Suzie Vinnick and two with Jackson Delta. That's been a lot of fun.
What's your mindset looking ahead to next year and the prospect of hopefully playing live?
Before next year brings a chance for live performance again, I face a long winter with all the optimism I can muster. I will treat this as if I'm going back to school. I want to take a writing course and learn video and audio editing that I haven't spent the time on. I'll also continue writing songs and exploring guitar techniques and styles, as I always have. But aside from music, I'll continue enjoying cooking for my family and building on my newfound love of baking!