FYI
Essentials… with Lowest Of The Low's Ron Hawkins
Each week, Essentials allows Canadian musicians to share the things that have helped them get through the pandemic, and why they still can't live without them. Here are the choices of the frontman of one of our most important indie rock bands.
Dec 09, 2021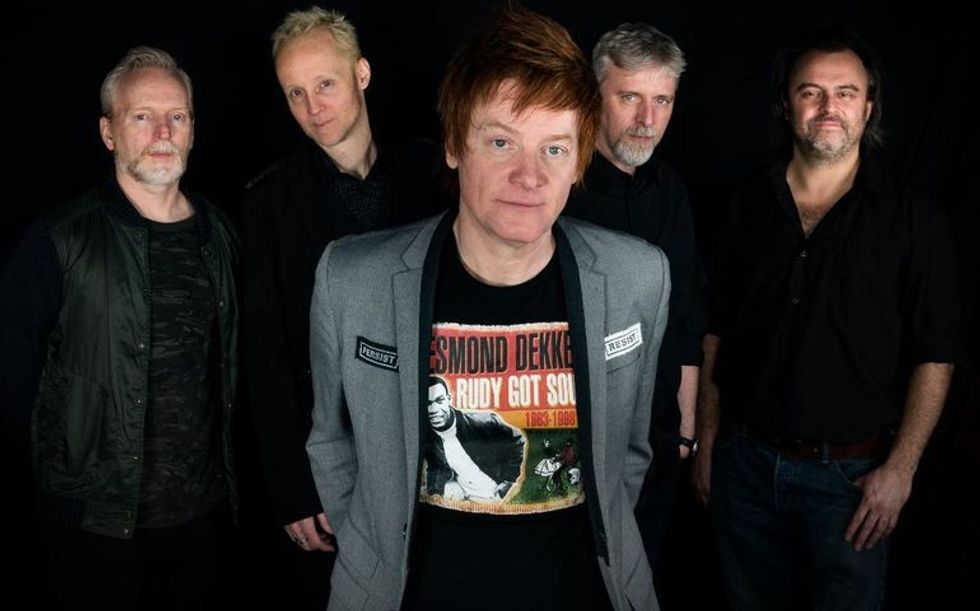 By Jason Schneider
Each week, Essentials allows Canadian musicians to share the things that have helped them get through the pandemic, and why they still can't live without them.
---
Lowest Of The Low, one of the most influential bands within the Canadian alternative music scene, is returning Dec. 10 with Taverns And Palaces, an immaculately recorded double live album featuring two eleven-song sets recorded in 2019 that span the entire catalogue of the band's 30-year career. The title is derived from the recording locations, Lee's Palace and The Horseshoe Tavern, two of the most storied venues in Toronto music history, and the site of many memorable Lowest of the Low shows for nearly four decades.
Lowest of the Low has always been known for kinetic and sometimes unpredictable live shows. The band thrives on the energy and feedback of its audience and when that circle is closed and members Ron Hawkins, Lawrence Nichols, Michael McKenzie, Greg Smith, and David Alexander are all raging in the present moment, it can be intoxicating. With this in mind, the band's decision to preserve these two nights in December 2019 now seems eerily prescient, given the onset of covid-19 a few months later.
It has been 20 years since Lowest Of The Low has released a live record, so to celebrate Taverns And Palaces the band will be performing two shows at Lee's Palace on Dec. 15 and 16, and two shows at The Horseshoe Tavern on Dec. 17 and 18. Tickets are available at lowestofthelow.com, and Taverns And Palaces can be ordered from Warner Music Canada.
Essential Album:
I've spent most of the pandemic going back to the ska and reggae tunes that first lit a fire in me as a teenager. I don't know if it's comfort food, or a compass in an uncertain world but The Specials and The Selecter make it all okay. Prince Buster and Toots & The Maytals whisper, "Shhhhh... breathe... you got this." I've been painting a lot through the pandemic and ska, reggae and dub are for me the perfect soundtrack to losing yourself in visual art for an afternoon.
Essential Book: Tressie McMillan Cottom, Thick: And Other Essays (The New Press, 2019)
I just finished this series of essays about various forms of systemic racism and the often surreal circumstances it places people in, especially women of colour. They unpack the more obvious forms racism takes in our society, but there are also essays that shine a light into the deeper niches of how systemic racism maintains itself. Though an academic, Tressie delivers these sophisticated political and philosophical ideas as if she's sharing them with a close friend. It's a must-read for anyone who gives a shit, and a heavy enough projectile to throw at those who don't.
Essential TV:Big Mouth (Netflix, 2017-present)
I've been down a Big Mouth rabbit hole as of late, watching episode after episode. Who knew there was sooooooo much to say about masturbation? Having spent 40 years in bands touring around the world in a small van at close proximity, I would've thought for sure that I'd heard it all, but this show never ceases to dig deeper and reach farther into that most adolescent of topics.
Essential Movie:The Beatles: Get Back (Disney+, 2021)
I could try to pick something small, niche, indie, that only me and ten other cool kids are watching but let's face it... it's the Peter Jackson opus Get Back. As a songwriter and a lifelong musician it's compelling on so many fronts. First off, we all breathe a sigh of relief in Episode One when, for the first 30 minutes or so we have the revelation that, "Wow! The Beatles SUCK right now." It really takes a while for Ringo to find the pocket and for the lads to get tuned and focused, and I found that refreshing and reassuring somehow.
Second, drugs really affect one's mannerisms. In Episode One we think, "Hmmm, I thought John was a hyperactive class clown... but he's actually a George A. Romero character." Then in Episode 2 we think, "Whoa! What have you done with John?" or "Whoa... maybe John should get back on heroin."
And finally, patriarchy! Never has one woman gotten so much shit for sitting quietly reading the paper. The world owes Yoko an apology.