FYI
Charlie Watts, Rolling Stones Drummer, Dead At 80
The timekeeper for the self-proclaimed 'greatest rock and roll band in the world' for nearly 60 years passed away in a London hospital on Aug. 24.
Aug 24, 2021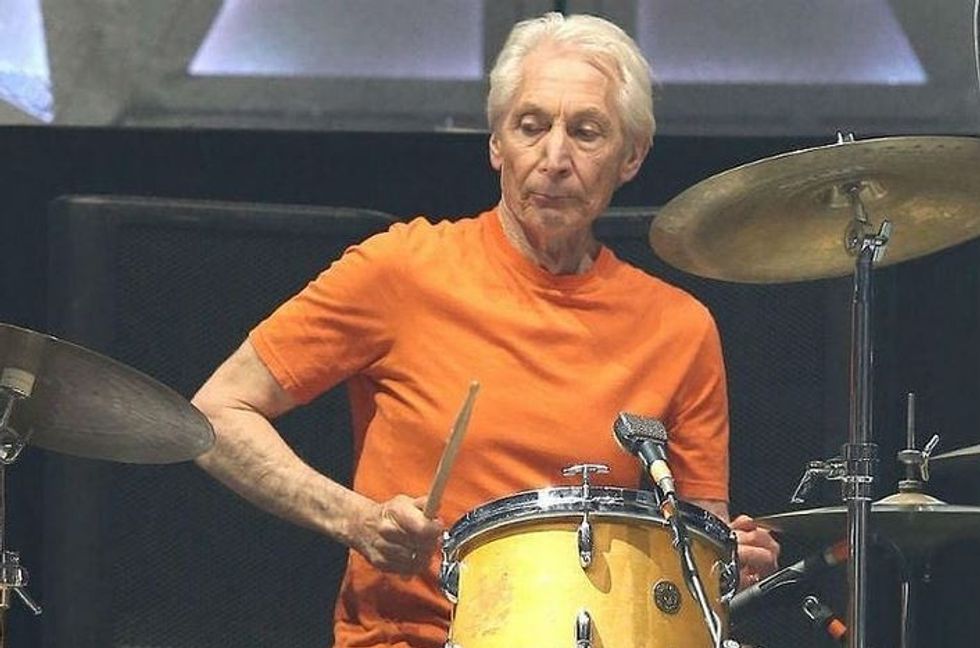 By FYI Staff
The music world was saddened today (August 24) to hear news of the passing of Charlie Watts, drummer in the Rolling Stones for the past 58 years. He was 80.
---
In a tweet posted on the Rolling Stones Twitter feed, a spokesperson stated "It is with immense sadness that we announce the death of Charlie Watts. He passed away peacefully in a London hospital earlier today, surrounded by his family.
Charlie was a cherished husband, father and grandfather, and also as a member of The Rolling Stones one of the greatest drummers of his generation."
A cause of death has not been announced, but a recent period of ill health forced Watts to withdraw from upcoming band dates. In 2004 he was diagnosed with throat cancer, but after radiotherapy the cancer went into remission.
Born Charles Robert Watts in London in 1941, he had an early interest in jazz and artists such as Jelly Roll Morton and Charlie Parker. He took up drumming at age 13, and started playing in local clubs and pubs. In 1961 he was heard by Alexis Korner, who offered him a job in his influential band, Blues Incorporated.
In that band, Watts was introduced to their guitarist, Brian Jones, and the pair were integrated into The Rolling Stones in early 1963. Watts once quipped that the result of meeting Jones was "four decades of seeing Mick Jagger's bum running around in front of me".
On Facebook, Gary Topp quoted from a 1965 Rolling Stones tour program that noted that "Charles Robert Watts is "Charlie Boy" to most of his mates. Now famed drummer with the Rolling Stones, he first started appearing in public with the Alexis Korner group, meeting up with the other Stones at the Marquee Club in London's West End. And it needs only a glance at Charlie to know that he is the Beau Brummel of the outfit...the snappy dresser, the one who actually wears smart-cut suits. If the drumming business ever folded for Charlie Boy, he'd still carve out a good living and plenty of money as a graphic designer."
"Some of Charlie's drumming has been described as "fantastic" by other musicians, for he pushes the group along like crazy. Trouble with being a drummer is that you're usually placed in the background, tucked away behind the guitar line-up---but Charlie Boy always manages to make himself heard. And, usually SEEN... He just takes life, good or bad, exactly as he finds it. "
Watts managed to remain out of the limelight and the controversies that surrounded his bandmates, while his skilled yet unobtrusive drumming style was a crucial element in the band's  sound.
The BBC noted that "as well as his musical ability, Watts' graphic design experience also proved useful. He came up with the sleeve for the 1967 album Between the Buttons, and helped create the stage sets which became an increasingly important feature of the band's tours."
Charlie Watts lived with his wife of 57 years, Shirley, on a farm in Devon, where they bred Arabian horses. He also became something of an expert on antique silver and collected everything from American Civil War memorabilia to old classic cars, even though he didn't drive.
His love of jazz remained lifelong.  Back in art college, he'd completed an illustrated biography of jazz saxophonist Charlie Parker, titled Ode To A High Flying Bird. In 1990, he used the book as the basis for a musical tribute to the man they called Bird on an album by the Charlie Watts Quintet. It featured several of his jazz musician friends, including saxophonist Pete King.
Watts played and recorded with various incarnations of big bands. At one gig, at Ronnie Scott's in London, he had a 25-piece on stage including three drummers.  Between 1986 and 2017, he released 10 albums, as The Charlie Watts Orchestra, The Charlie Watts Quintet, and The Charlie Watts Tentet, with the final one being 2017's Charlie Watts meets the Danish Radio Big Band (Live at the Danish Radio Concert Hall, Copenhagen).
His work in The Rolling Stones influenced generations of drummers, and they have been quick to pay tribute on social media. Blue Rodeo drummer Glenn Milchem paid eloquent respects in a Facebook post: "I've loved Charlie Watts since I was a kid. I loved the humble economy of his playing, his ability to make any groove swing, his complete lack of flashiness offset by his ability to surprise the listener with the unexpected. I loved how he was always calm, cool and collected. I could never be like him but I always felt his quiet, self effacing strength and lack of bullshit was something to aspire to. I named my eldest son after him. Thanks for being you, Charlie Watts."
Elton John took to Twitter to commemorate "A very sad day. Charlie Watts was the ultimate drummer. The most stylish of men, and such brilliant company."
Watts was inducted into the Rock and Roll Hall of Fame as a member of the Stones in 1989.
Read more about Watts' life and career in these sources: BBC, Billboard, Consequence of Sound, New York Times, Variety, The Guardian