FYI
The Beatles Chart In A Post Malone World
The 50th-anniversary edition of Abbey Road, the Beatles' last studio recording, charts this week. The jacket art was revolutionary in its time with its textless image. Pictured here is an outtake from the cover-photo session.
Oct 06, 2019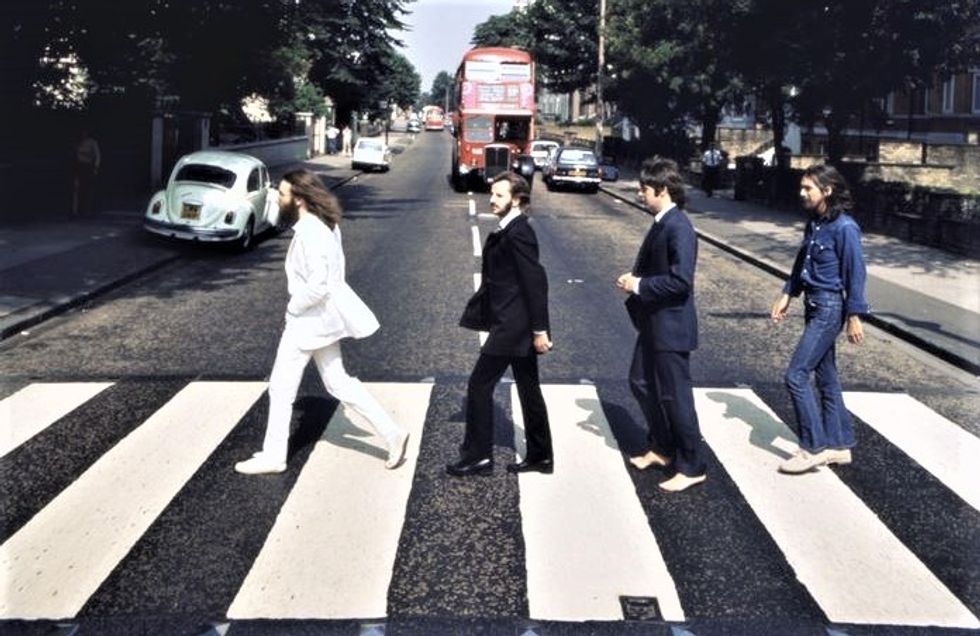 By FYI Staff
Post Malone's Hollywood's Bleeding spends its fourth consecutive week at No. 1 on the Billboard Canadian Albums chart, with 14,000 total consumption units, and again achieving the highest audio=on-demand stream and digital song totals for the week. It is now his longest-running chart-topping album to date.
---
The top new entry on the chart this week belongs to American rapper Dababy's KIRK, at No. 2, scoring the second-highest audio-on-demand stream total for the week, with 10.5 million streams. It surpasses the No. 27 peak of his first charted album, Baby on Baby, in June of this year.
With the release of the 50th anniversary of the album, the Beatles' Abbey Road bullets 120-3, picking up the highest album sales total of the week. It is the group's highest-charting album since Love debuted at No. 1 in 2006.
Lewis Capaldi's Divinely Uninspired to A Hellish Extent jumps 11-8 with an 11% consumption increase. It the album's highest chart position to date, in its 20th week on the chart. The single Someone You Loved holds at No. 1 on the Digital Songs chart.
American country singer Jon Pardi's Heartache Medication debuts at No. 18, giving him his highest-charting album to date. The album enters the Country consumption chart at No. 1.
With the release of a new vinyl version to celebrate the 25th anniversary of the original album, The Tragically Hip's Day for Night re-enters the chart at 24.
Other debuts in the top 50 include prolific U.S. mixtape star Kevin Gates' I'm Him, at 28; Tegan And Sara's Hey, I'm Just Like You, at 43; and Swedish death-metal band Opeth's In Cauda Venenum, at 49.
--- All data courtesy of SoundScan. Further detail provided by Nielsen Canada Director Paul Tuch.