FYI
Bayla Wins $20K Walk Of Fame Emerging Artist Prize
Montreal indie artist Bayla, born Brittany Kwasnik, is the Grand Prize winner in Canada's Walk of Fame 7th annual RBC Emerging Music
Oct 11, 2019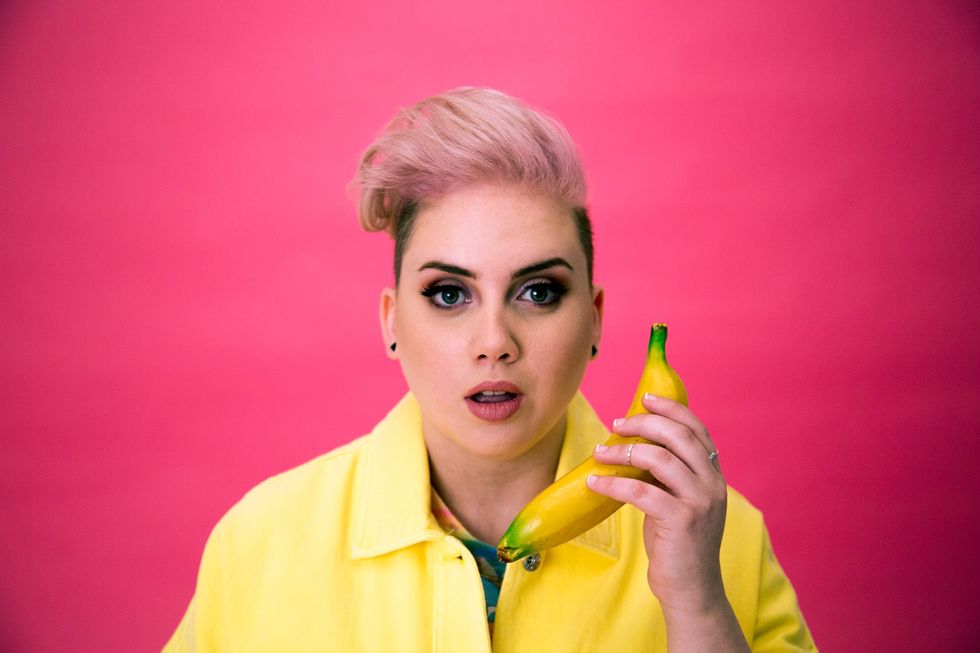 By David Farrell
Montreal indie artist Bayla, born Brittany Kwasnik, is the Grand Prize winner in Canada's Walk of Fame 7th annual RBC Emerging Musicians program and showcases at Toronto's Great Hall on November 7 and at the event gala on the 23rd.
---
The win comes with a cash prize of $20,000, recording time at Metalworks Studios, album art cover design, networking opportunities with music industry pros, plus an appearance at the gala Nov. 23 at the Metro Toronto Convention Centre.
The Grand Prize winner and indie-pop songstress describes the start of her musical career as anything but easy, but her determination and passion pushed her to move forward.  "Growing up, I never thought I'd be able to pursue my dreams. I was told by doctors that I'd never been able to sing due to a vocal cord dysfunction." 
Her debut single, Turn It Around, reached Top 40 on Canadian radio charts and peaked at #24 on Billboard (in 2015). She has since opened for many popular artists, including Simple Plan, Lights, and Bif Naked. With an emphasis on self-acceptance and living life to the fullest, she states: "My music and journey as a singer-songwriter can hopefully remind listeners that they can do anything, especially if they've been told they can't."
Five artists were selected from more than 1,600 hopefuls from coast-to-coast who submitted applications that ranged across all genres of music. Submissions to the program more than doubled in 2019.
The winners and finalists of this year's RBC Emerging Musician Program are:
Grand Prize Winner: BAYLA – Montreal
Second Prize Winner: Shylo Sharity – Vancouver
Finalist: Clay and Friends – Montreal
Finalist: Dave Sampson – Halifax
Finalist: The Sun Harmonic – Toronto
 A cash prize of $6,000 will be awarded to Vancouver-based singer Shylo Sharity for Second Prize, and cash prizes of $4,000 each will be awarded to the three Finalists. All participating artists will gather in Toronto, November 7th at The Great Hall where they will take part in industry mentorship sessions and perform during the RBC Emerging Musician Showcase.  They are also invited to perform at Festival du Voyageur in February 2020 as part of a new showcase in Winnipeg, Manitoba.
Also, Canada's Walk of Fame has announced the recipient of Canada's Walk of Fame Emerging Musician/ Metalworks Institute Scholarship. Leah McKenney will receive $10,000 tuition scholarships towards any full-time diploma program or online certificate course bundle at Metalworks Institute of Sound & Music Production.
"It's so thrilling to see the next generation of musicians determined to prove themselves on the global musical landscape. The RBC Emerging Musician Program has gained significant momentum over the past seven years and has proven itself as an extremely beneficial platform for artists who are ready to take the next step in their careers," said Jeffrey Latimer, CEO, Canada's Walk of Fame. "We couldn't be happier with the increase of submissions and calibre of talent this year, and can't wait to showcase our finalists and future music stars on the various stages as part of Canada's Walk of Fame's Emerging Musician Program."