FYI
Andy Kim Talks About The Charities He Picks For His Christmas Shows
Andy Kim gets emotional when talking about the ill children he met at the ICAR Complex racetrack in Montreal who were able to whiz around in fancy cars as part of the Starlight Children's Foundatio
Dec 07, 2018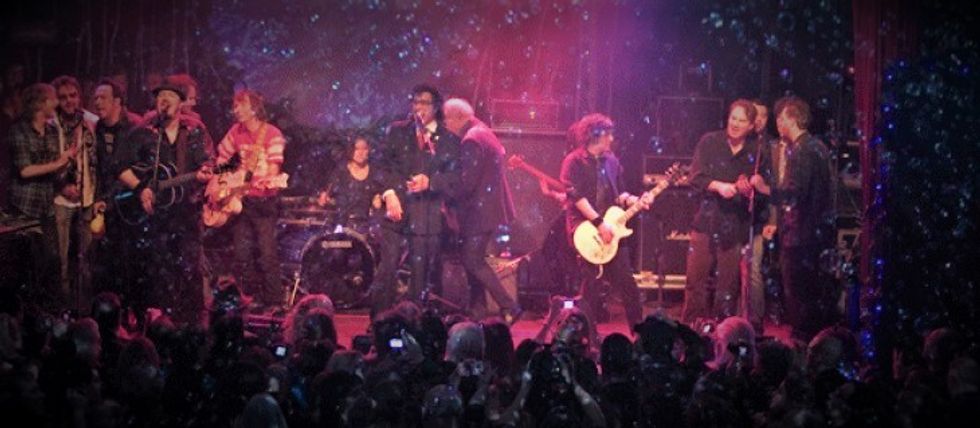 By Karen Bliss
Andy Kim gets emotional when talking about the ill children he met at the ICAR Complex racetrack in Montreal who were able to whiz around in fancy cars as part of the Starlight Children's Foundation's Drive 4 Smiles. He actually started to cry during his interview with Samaritanmag.
---
The writer of such hits as "Sugar Sugar" and "Rock Me Gently," and a recent Canada's Walk of Fame inductee, is a softie, prominently raising money for charity since establishing the Andy Kim Christmas Show 14 years ago — and he recalls using his gift of singing to entertain kids at orphanages when he began his career some 50 years ago.
Born in Montreal to Lebanese immigrants, Kim left home in his teens and worked in the now legendary Brill Building in New York. John Lennon gave him his first gold record for the No. 1 "Rock Me Gently," which had risen to the top of trade mags Billboard, Cashbox and Record World in 1974.
The past 14 years, Kim has been hip again, coaxed out of retirement, if you will, by Barenaked Ladies' Ed Robertson and Ron Sexsmith who both recorded songs with him, 2004's "I Forgot To Mention" and 2005's "Whatever Happened To Christmas," respectively. More recently, Kim formed a bond with Kevin Drew of Broken Social Scene who signed him to Arts & Crafts and made an album with him called It's Decided, released in 2015 (he released Happen Again, on KOCH, in 2011).
The Andy Kim Christmas Show has now grown from one event to three this year, in Toronto, Dec. 5, at Queen Elizabeth Theatre (hosted by Russell Peters); Montreal, Dec. 15, at Corona Theatre; and Burlington Performing Arts Centre on Dec. 20.
The concerts attract a considerable cast of guest musicians who hop onstage for a couple of songs and typically a rousing finale of "Sugar Sugar."  Among the helpers this season are Mary Margaret O'Hara, Bif Naked, Hayden, Ron Sexsmith, Billy Talent, Broken Social Scene, Jake Clemons, Sarah Slean, Coeur de pirate, Theo Tams, and The TransCanada Highwaymen (Steven Page; Chris Murphy, Craig Northey and Moe Berg). Check individual show dates for the specific lineup.
"I think about my journey and the fact that it's 50 years ago this year that I had my first international hits," Kim says of "How'd We Ever Get This Way?", "Shoot 'Em Up Baby", "Rainbow Ride" and "Rock Me Gently."  "I thought about the fact that in 50 years a lot has changed. My life has changed. The people around me have changed, but the one thing that hasn't changed is that people are in trouble and sometimes they can't help themselves. So you find a way to help people that are in trouble. That's the one thing that has not changed."
– Read Karen Bliss's complete Q&A with Andy on the SamaritanMag web portal.